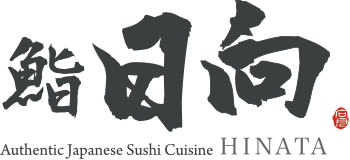 We recently dined at a Japanese Sushi Restaurant called Sushi Hinata located at the Ground Floor of St. Mary Residence in Kuala Lumpur. Established since 2013, they have since earned recognition for its fresh sushi cuisine (their speciality) that offers an authentic Japanese experience to its customers.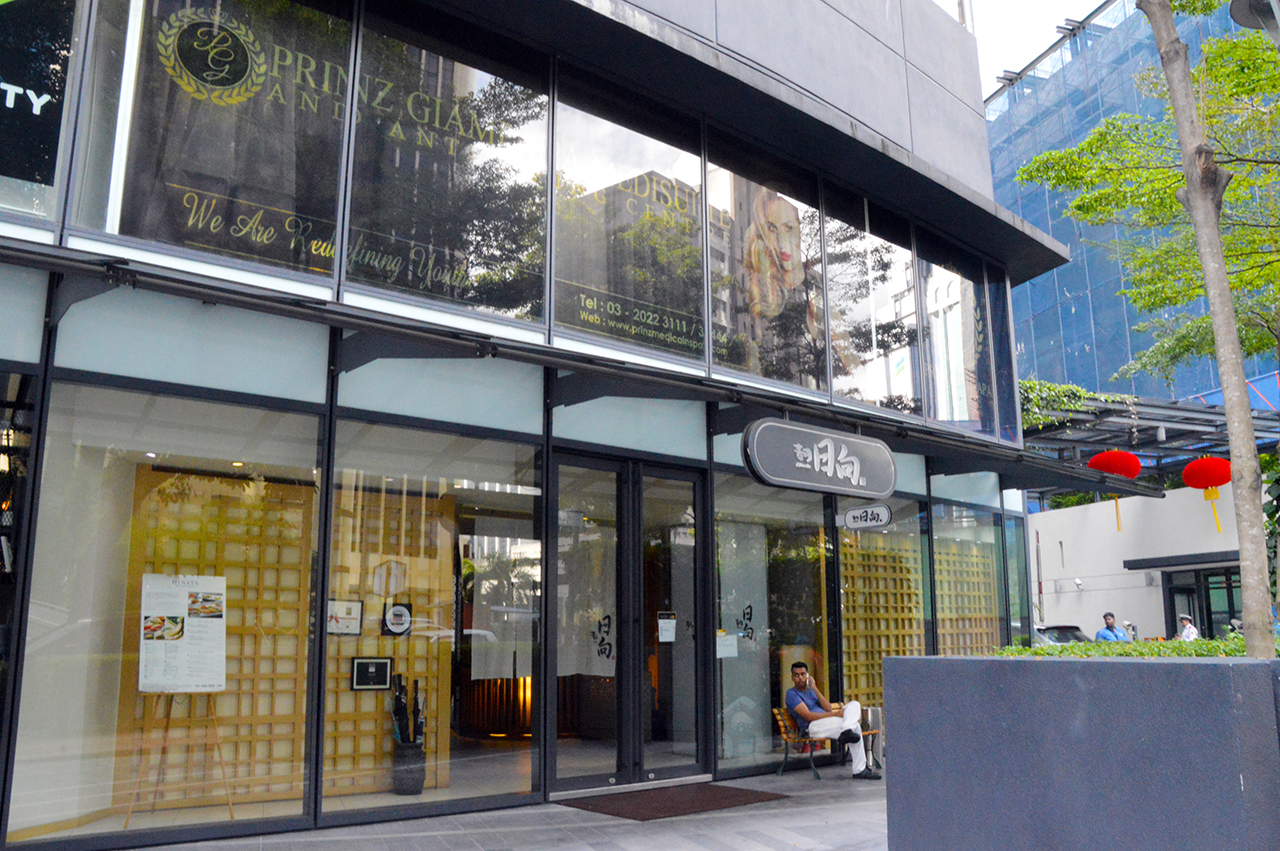 Menu Prepared by Top Chefs from Japan 
With their two main chefs hailing from Japan, you can be sure to be spoilt for choice with a unique offering of authentic Japanese cuisine.
Master Chef/Director, Yuki Iwai, can be found at the front of the sushi bar and has a skilful art as he effortlessly wields his sharp knife and slices the freshest of sashimi for plating. It's done with such delicacy and ease, it's almost hypnotic – you won't be able to keep your eyes off him. Whilst Japanese Executive Chef, Shigeo Akiba, can be mostly found in the back kitchen preparing the cooked meals which will not only delight your taste buds, but is aesthetically pleasing with his creative food presentation on a plate.
We had the pleasure of meeting them both and though very shy, you get a sense that they love what they do and are very proud to bring a taste of Japan into the streets of KL.
A Glimpse of Their Menu 
Sushi Hinata's menu offers you sets for lunch and dinner which comprise of appetisers, assorted sushi, sashimi, grilled fish, fried dishes, soup and dessert. You can order their Omakase (RM275 for lunch; RM385 for dinner) which offers the chef's special selection of a full lunch/dinner course.
They also have a fugu course available from December until February and Master Chef Yuki has obtained his license for handling fugu fish straight from Japan – so it's most definitely safe to eat. The course is priced at RM500+ per person.
You can also enjoy a range of Sake, Shouchu (Japanese spirits), Ume Shu, Wine, Champagne at their eatery. (Of course green tea, water, and soft drinks are available too)
Freshest Ingredients Flown in from Japan
What's particularly unique and special about Sushi Hinata is their monthly specials. These are seasonal offerings based on what typically grows fruitfully during the four seasons.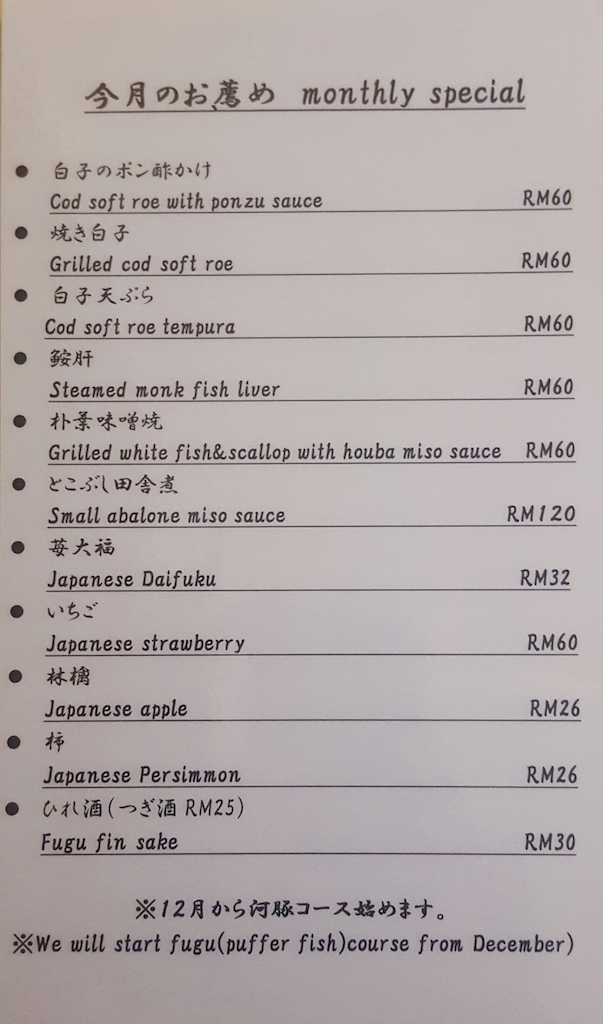 As their main ingredients are directly imported from Japan about 3-4 times per week, this means that the menu is creatively designed to match the bulk of the produce that is imported or is growing most right now. Completely intrigued by this idea, we decided to sample their monthly specials which are popular meals to eat in Japan during winter (the season right now).
Our Spread Included Only the Freshest of Ingredients Flown in from Japan:
Appetiser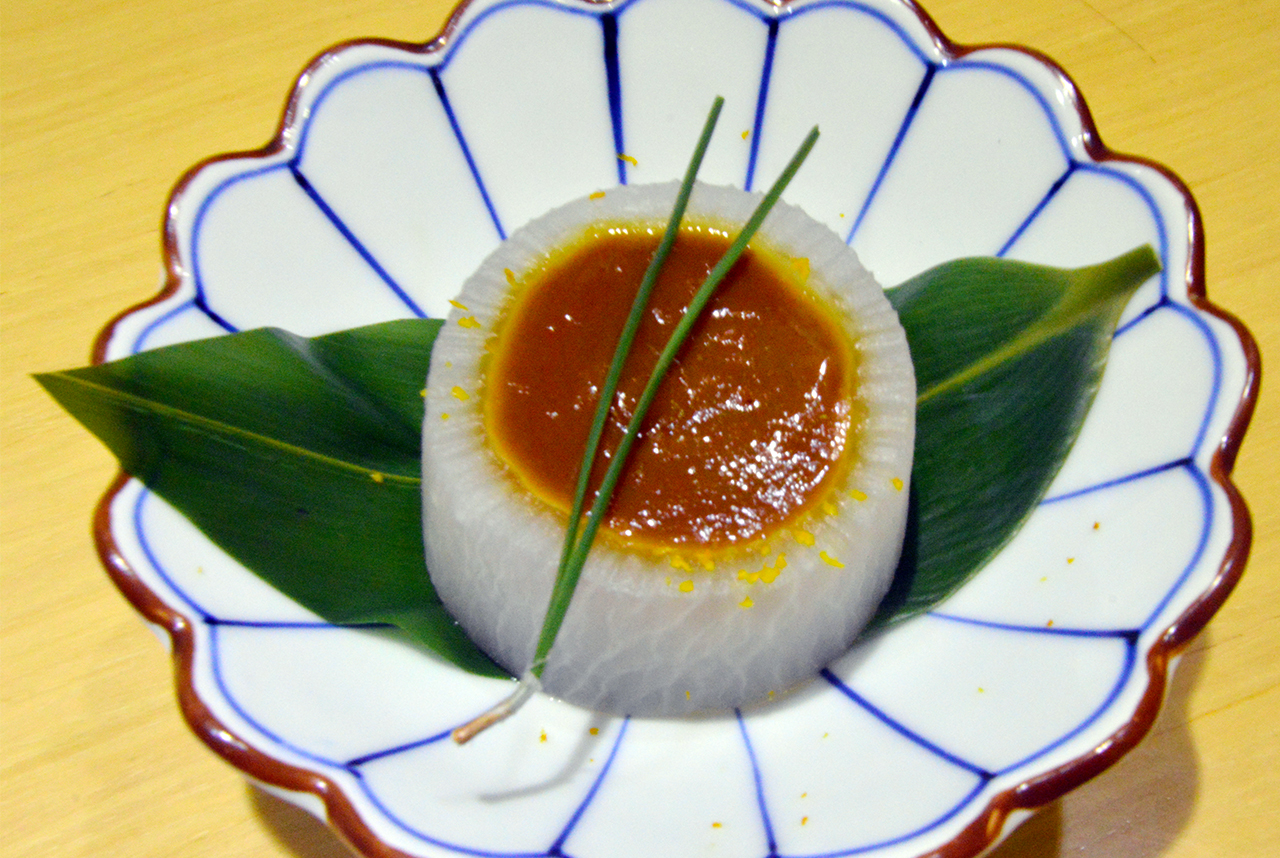 Steamed white radish and miso with shavings of yuzu for aroma and colour. The radish was incredibly soft and juicy, coupled with the miso and yuzu – this was an absolute melt-in-your-mouth delight.
Steamed Soup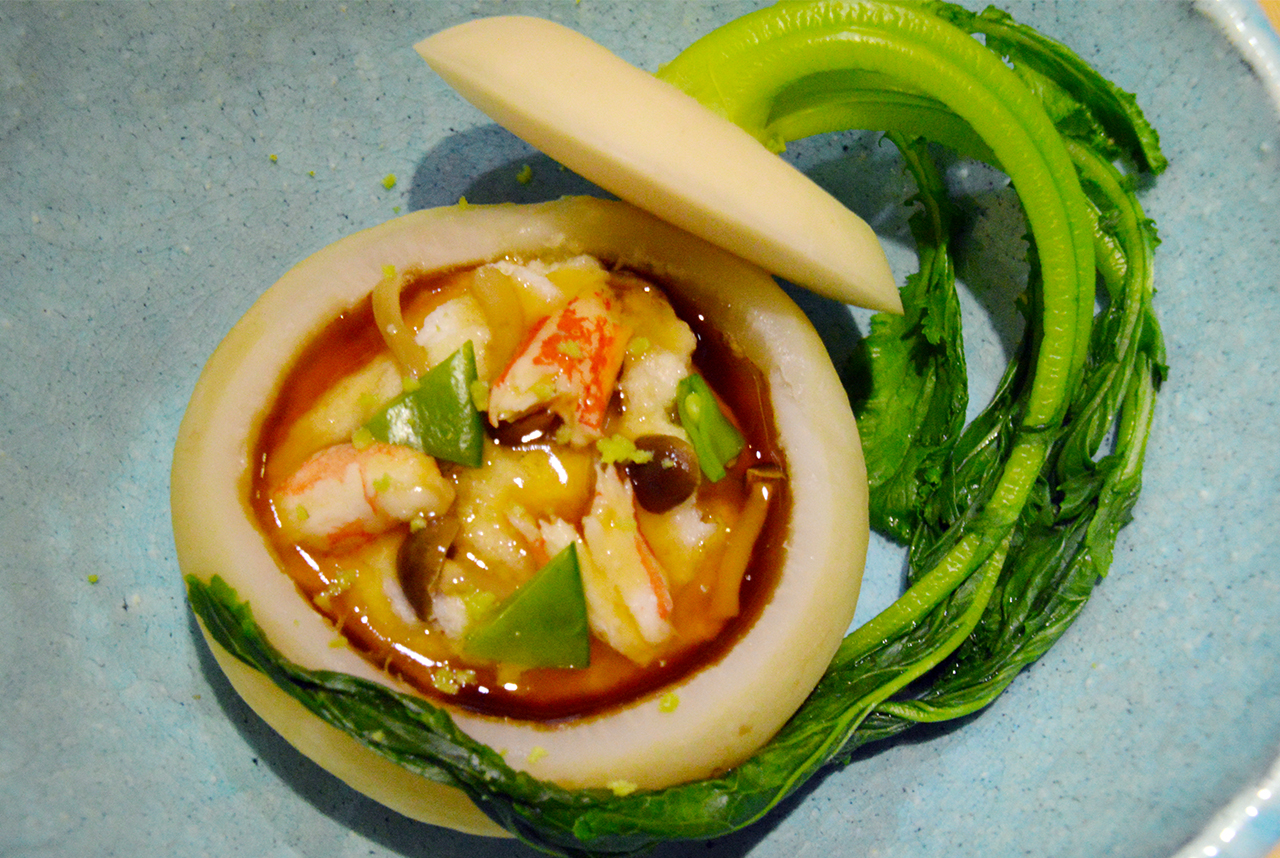 A creative dish comprising of scallop, sea eel, crab, egg white, mushrooms, grounded turnip and gravy served in a whole turnip. As you dig into the dish, you immediately get the mixed flavours of the seafood, coupled with the delicate powdery soft texture of the ground turnip. Best to be eaten while the dish is still hot.
Entree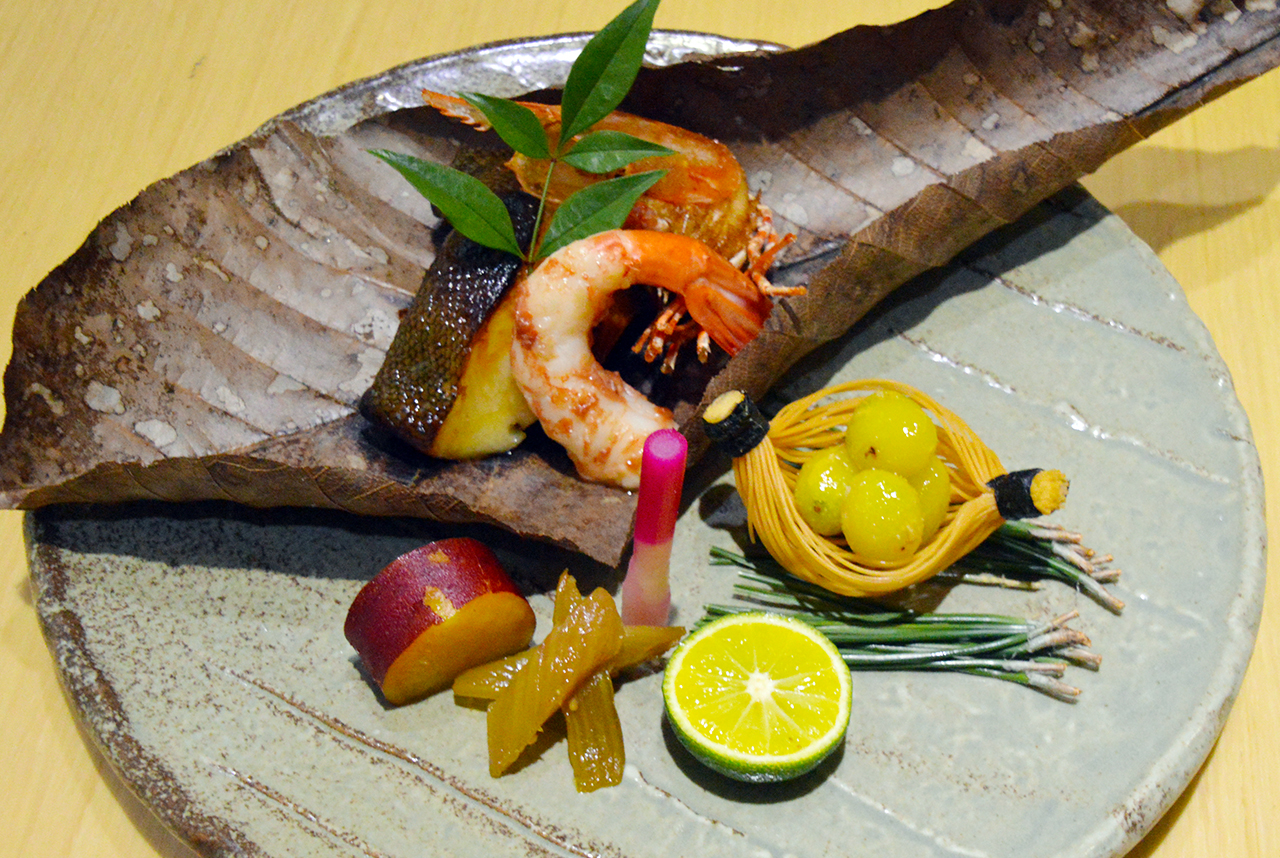 Their popular dish of black cod which has been soaked in miso for 10 days served with prawns soaked in a little salt, presented with sweet potato cooked in lemon and gingko nuts on the side. The fish was cooked and had a level of sweetness from being soaked in miso, eaten with the sweet potato they balance each other's flavours really well.
Sashimi Platter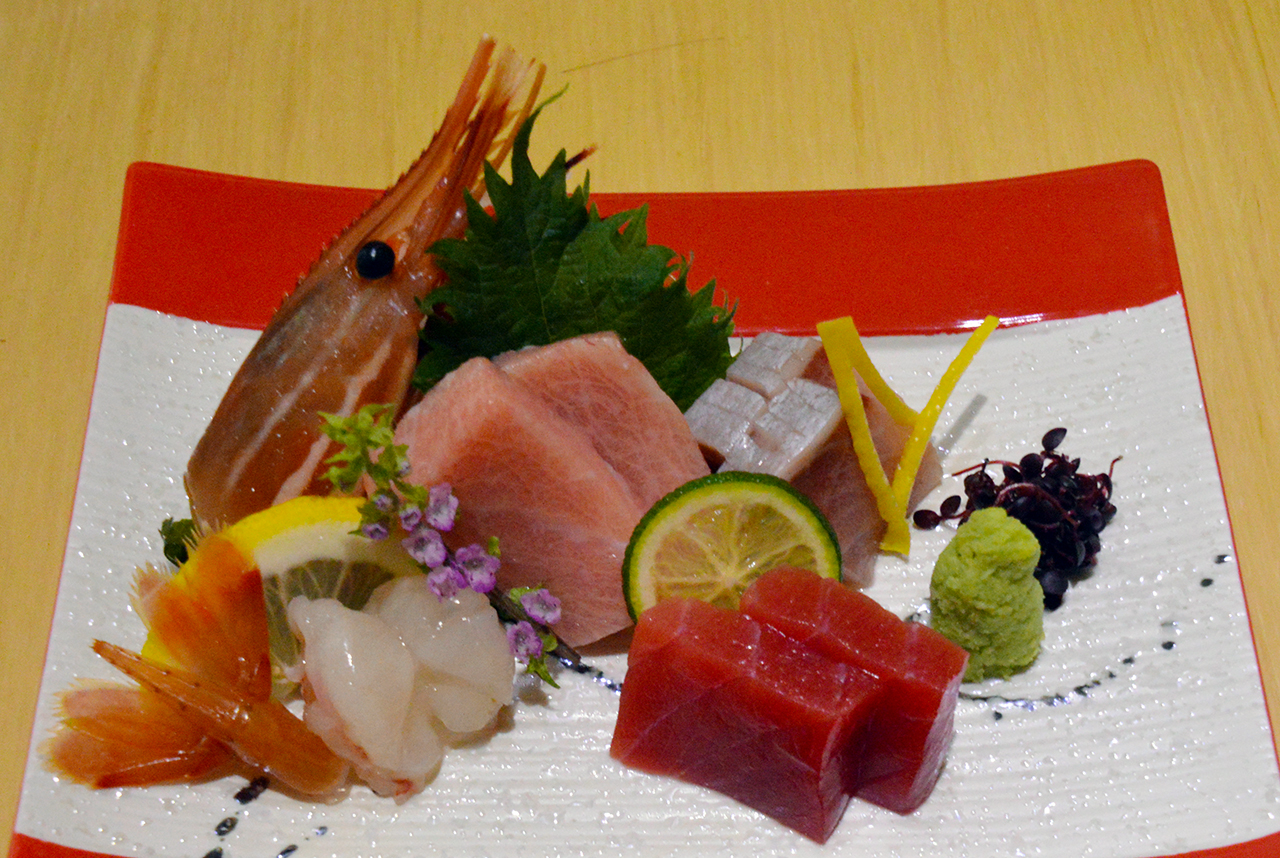 Shrimp from Hokkaido, blue fine tuna belly, and yellowtail back served with their own freshly made wasabi. Being served only the freshest raw fish and top of the range, you know your taste buds are in for a treat. This was the quickest dish to disappear, and each serving of sashimi just kept getting better.
Here are a few amazing lessons on the Japanese tradition of eating sashimi that Restaurant Manager, Yasuko Terada shared with us in order to make the most of our sashimi experience:
Start your sashimi experience with the lighter fish (white meat, tuna back) and then only proceed to fatty fish (tuna belly, salmon belly) in order to fully enjoy the flavours. Doing it in reverse, means your taste will be overpowered with the oil and fattiness, it would hide the flavours of the lighter fish.
The Japanese do not melt the wasabi into the dish of soya sauce. Instead, put some wasabi directly on the fish, dip the fish into the soya sauce, and then consume and enjoy the aroma of the wasabi.
Did you know?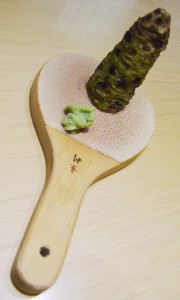 Sushi Hinata's wasabi root comes from the base of Mount Fuji in Japan. It can only grow in clean water and cooler temperatures.
They make their own wasabi as it's grounded against a tool made from shark's skin.
Typically, in the mass market, wasabi is mixed in with horse radish which gives it that added boost of spiciness – but this isn't what is eaten traditionally in Japan. You may think the wasabi is milder and not so spicy, but it's fresh and authentic. We absolutely enjoyed the wasabi and couldn't get enough of it!
Wasabi was traditionally eaten to help ease stomach pains and to refresh your mouth before moving onto your next dish
Main Course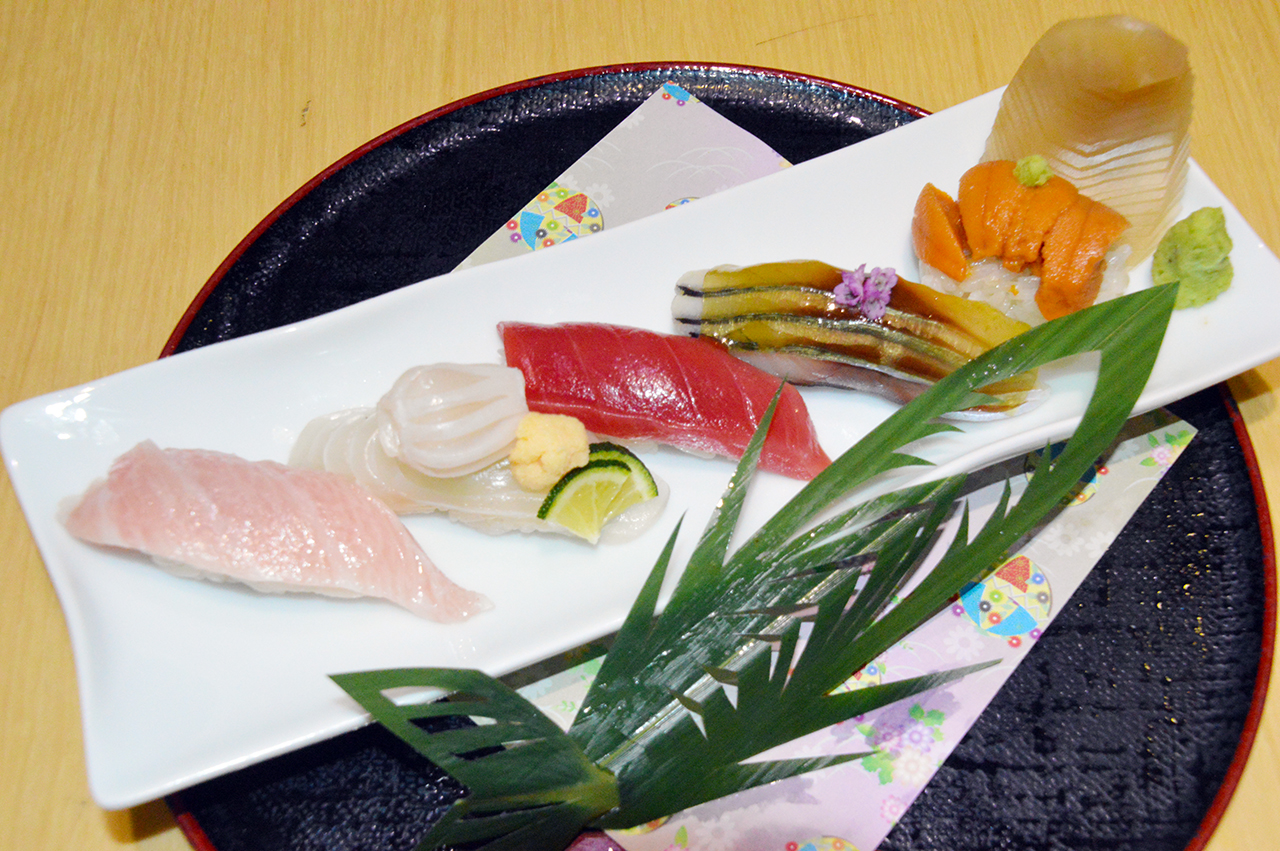 5 pieces of assorted sushi of sea urchin, grilled mackerel, blue fin tuna back, flounder fish, and blue fin tuna belly. We can see why they call themselves a sushi bar and it's clear that they take pride in providing only the finest quality of fish and seafood to their customers. Each mouthful is an explosion of flavour and the freshness of the fish leaves you wanting more.
Did you know?
Traditionally the Japanese eat sushi with their hands, Sushi Hinata provides their patrons with finger towels for you to use to clean before you begin to eat. Yasuko shares it's much easier to eat since the rice will crumble if held by chopsticks.
Sushi Hinata do not use any sugar in their sushi rice. Some eateries do this because it makes it easier to bind the rice but this also fills you up very quickly. Sushi Hinata's rice is made with red bean and salt.
This is the reason Sushi Hinata does not do take-away for their sushi's. Dine-in only because the rice will actually harden if left out for too long. It's as fresh as it gets!
Sushi is Japan's equivalent of junk food – I think I could eat this as junk food every single day of my life. What a healthier option.
Dessert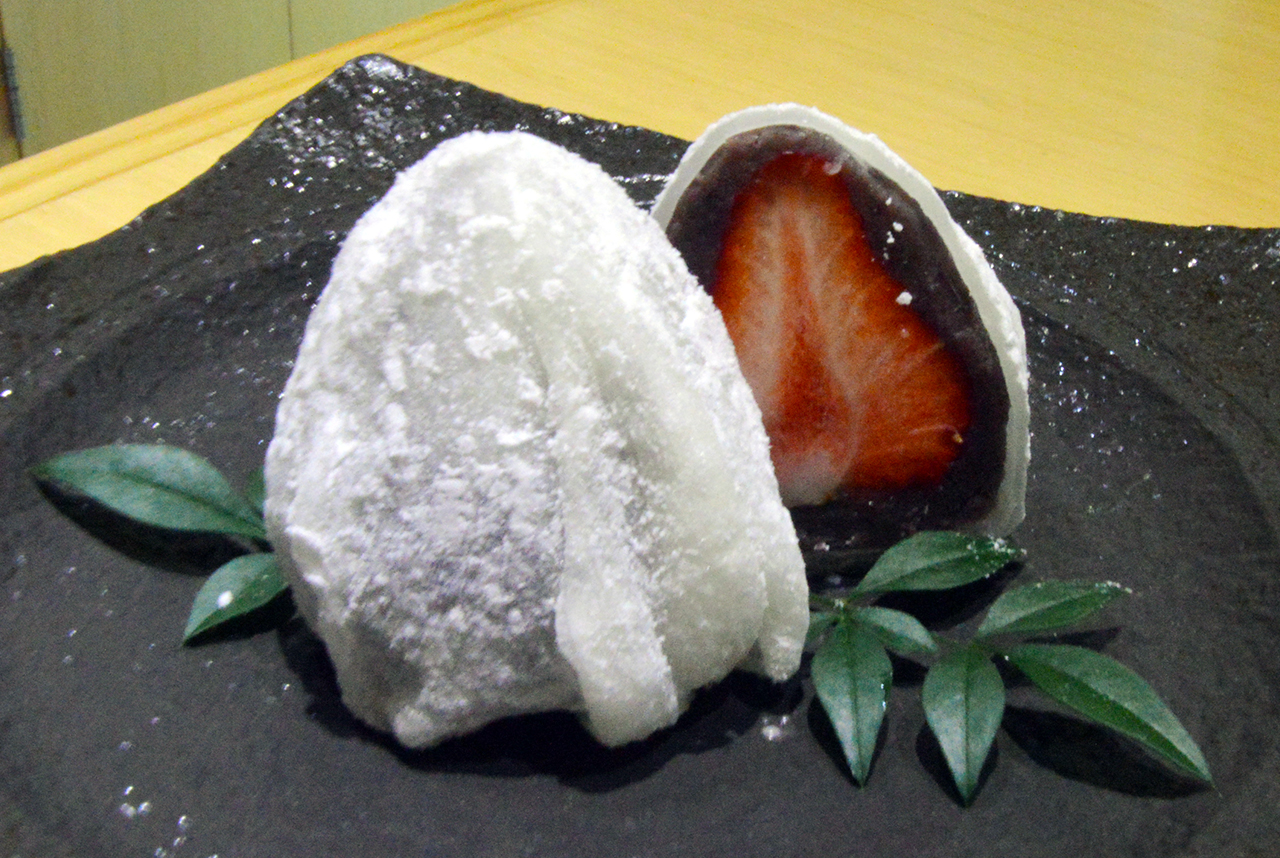 The delightful Ichigo Daifuku, which can be translated to strawberry wrapped in red bean and mochi. The strawberries are specially flown in from Fukuoka, a city in Japan, and they are delicious. Can we have more please? It has that right balance of sweet and sour. It's served cold and is so refreshing after your meal.
Japanese Hospitality and Pleasant Service 
From the moment we walked in, everyone was extremely friendly and quick to serve. Staff are well-informed and were able to provide us insights into the dishes we ordered. It was nice to get a bit of a background into the culture and traditions in Japan, many of which we Malaysians aren't aware of – and from now on, I'm not mixing the wasabi into my soya sauce!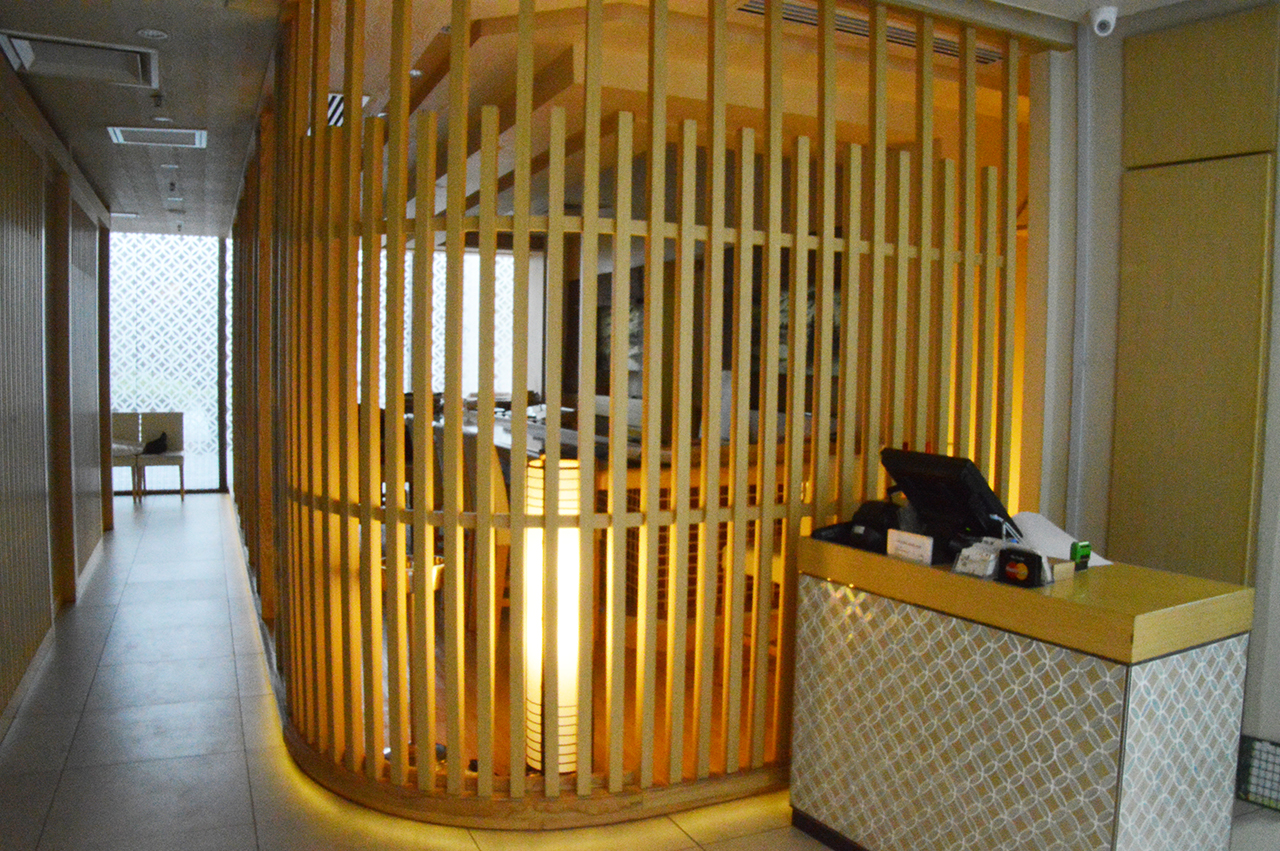 The restaurant is kid-friendly, they provide baby seats and also private dining rooms. Each room can accommodate a maximum of 6 people. The restaurant isn't a huge space, so best to call to make reservations first. If you're just having sushi, we'd recommend sitting at the sushi bar so you can see Master Chef Yuki doing his thing.
The restaurant is well lit and provides a very calm space with its traditional decor. In fact, they made the ceilings of the sushi bar quite low (like they typically would do in Japan), to ensure the smell of the fish and all its ingredients remains inside. Once you walk into the restaurant, you're immediately greeted by the smell of sushi and you know – you're in a good place with fresh, authentic Japanese cuisine.
Indulge Yourself and Enjoy the Freshest Ingredients
Would we go there again? Yes.
Would we recommend this to anyone who loves Japanese cuisine? Yes.
If you're one who appreciates authenticity of cuisine and a menu that takes pride in one's cultures and traditions, this is a great place for you. Though the prices may be on the higher scale, we can completely understand why. Be prepared to pay, but do so knowing that you're getting the freshest ingredients flown in from Japan and top chefs are preparing your meals for you. You're guaranteed a really great meal.
In fact, we were assured that they take pains to check the quality of their imports before they serve it to their customers. If it isn't up to mark, they don't serve it. They wouldn't risk their reputation or standard of food.
Details: 
Operating hours (Monday – Saturday, Closed on Sundays)
Lunch: 12pm – 3pm, last order at 2.30pm
Dinner: 6pm – 11pm, last order at 10.30pm
To make reservations, call: 
+60320221349
Address: 
A-0-1, Ground Floor St. Mary Residence,
No. 1, Jalan Tengah 50450 Kuala Lumpur
Parking:
Available at St Mary Residences public parking
First Hour: RM 5
Every subsequent hour: RM 5
Website: www.shin-hinata.com
Facebook: www.facebook.com/Sushi-Hinata
*Sushi Hinata was shortlisted Best Japanese in the Time Out KL Food Awards 2013 and is one of the restaurants in Time Out KL's Food 40 list