"Taste of Classics" – Distinguished Scotch Whiskies with Exquisite Chinese Cuisine
The colonial-style Chinese fine dining restaurant, Lai Bun Fu, in On Lan Street Central is pairing four bold-tasting specialties with the smoky flavour of venerable whiskies on a new "Taste of Classics" menu.
The menu is created by Chef Chung Kin Leung, former Head Chef at Hong Kong Government House, who introduces a new international trend in matching Scotch whiskies with Cantonese cuisine.
Chef Chung's six pairings are Daliang Chicken Liver Roll with Auchentoshan 3 Wood; Baked Squid Stuffed with Glutinous Rice and Double-boiled Angus Beef Brisket with Turnip & Chu Hau Bean Sauce, both with Bowmore 15 YO; Sifu's Crispy Chicken with 5-flavoured Condiments with Auchentoshan 12 YO; and Braised Sea Cucumber with Dry Shrimp Roe & Pomelo Reel and Braised Whole Pork Trotters, both with Glen Garioch 12 YO.
The "Taste of Classics" menu will be launched from August 15 and served up until October 30 2015. It is available for groups of at least 6 guests, and subject to reservations a week in advance, priced HK$6,280 for six guests with whisky pairing or HK$5,280 for six guests without whisky pairing.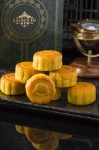 In its first year of opening, Lai Bun Fu also presents a debut mooncake collection, with boxes of 6 priced at HK$328, and pre-orders now being accepted.
Lai Bun Fu derives its name from two Chinese phrases embodying its elegant culinary experience: "Lai Bun" meaning "refined hospitality" and "Fu" abbreviated from "xi fu", meaning "Master".
Designed in British-colonial Hong Kong style with a modern touch in an elegant 2,000 sq ft venue, the restaurant seats 52 guests with private dining for up to 12 in the VIP "Lai Bun Room" which is framed in glass and brass, evoking an elegant English country house and garden.
Lai Bun Fu opens daily, from 12:00 to 15:00 and 18:30 to 23:00; Saturday and Sunday, from 11:30 to 15:00 and 18:30 to 23:00. It is located at 5/F, 18 On Lan Street, Central, Hong Kong.
For reservations, please call (852) 2564-3868. For more information, please visit www.laibunfu.com or follow facebook www.facebook.com/laibunfuhk.