Newly opened The Greater China Club at Hong Kong is elite salon-style rendezvous transporting guests back in time to the glamorous 'roaring' 1920s with Art Deco-inspired design – plus a rustic China twist.  It is located on a chic new 'urban retreat' – an exuberant reincarnation of the Gatsby era atop D2 Place (named after its MTR exit at Lai Chi Kok), a revitalised building now buzzing with eclectic bars and restaurants.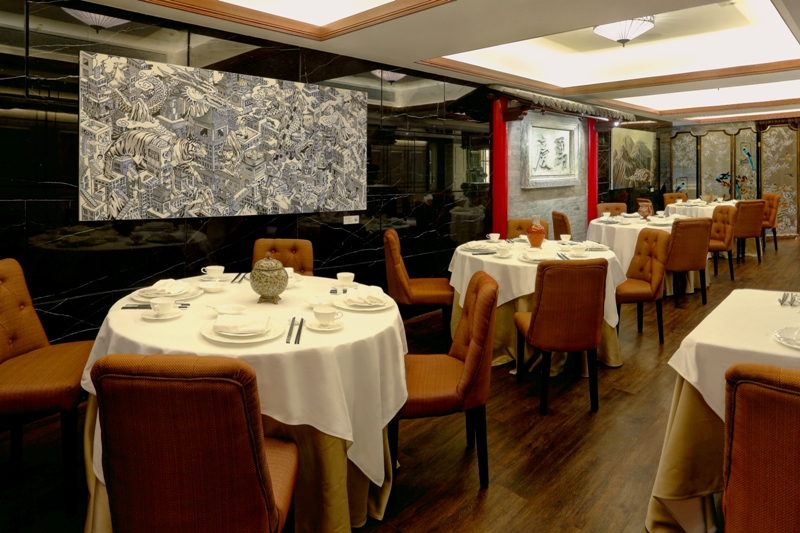 The restaurant is now offering some new mouthwatering seasonal delicacies until the end of January – autumn game specialties, warming stews and hearty hot pots twinned with traditional Chinese medicinal herbs that protect from the cold are some of the highlights.
Keeping the cold at bay are Snake soup (HK$168), Mutton Hot Pot (HK$320), and Chicken, Mushrooms & Black Truffle Hot Pot with Rice (HK$288). Seasonal winter warmers also include 'Creative Scottish Stew' with Formosan Reeve's Muntjac (HK$468), Baked quail (HK$228), Double Boiled Shell Turtle with Chinese Herbs (HK$888), Traditional Baked Shell Turtle with Black Mushrooms (HK$888), Giant Mottled Eel & Roasted Pig Clay Pot (HK$480), Double-boiled Giant Mottled Eel with Chinese Herbs (HK$888) and Chinese Preserved Meat & Crab Roe with Glutinous Rice (HK$388).
In conjunction with the celebration of Winter Solstice on December 22, the restaurant will serve in style two banquet menus on that day – a truly lavish 12-course and 14-course banquets featuring the land and ocean's finest seasonal ingredients are designed to be shared amongst family and friends to celebrate family unity and prosperity.
The 12-course feast begins with auspicious Roast Suckling Pig and warming Snake Soup, and continues with a rich, warm celebration of finest seasonal produce, from Braised Whole Abalone with Goose Web and Wok-fried Prawn Balls to Baked Pork Fillet, Lamb Hotpot and Deep-fried Chicken. Completing the hearty banquet are Poached Seasonal Vegetables with Spanish Ham in Rice Soup, Fried Rice with Scallops, Crab Roe and Crispy Garlic, Wok-fried Vermicelli with Shark's Fin, Conpoy and Egg, and desserts of Sweetened Almond Cream with Egg White and Chilled Hawthorn Pudding Cake.
The 14-course banquet commences with appetisers of Barbecue Prime Iberico Pork, Green Bamboo Shoots Marinated with Sesame Oil, Yunnan Ham with Rose Honey, Fresh Chinese Yam with Preserved Plum Sauce, Double-boiled Sliced Chicken Soup with Matsutake Mushrooms and Bamboo Pith, and Wok-fried Prawn Balls on Eggplant. Main courses are Wok-fried Grouper Fillet with Honey Bean in XO Sauce, Wok-fried Beef Tenderloin with Vegetables and Deep-fried Crispy Chicken. Completing the scrumptious feast are Braised Seasonal Vegetables with "Yunnan" Ham; Fried Rice with Barbecued Pork, Shrimps, Ham and Conpoy; Braised Vermicelli with Mined Grouper and Preserved Vegetables; and desserts of Sweet Ginger Tea & Glutinous Dumplings and Layered Pandanus Pudding with Coconut Milk.
The 12-course banquet is priced at HK$5,388 for six (Members: HK$4,988) or HK$10,688 for 12 (Members: HK$9,888). The alternative 14-course Winter Solstice dinner banquet, priced HK$3,388 for six (Members: HK$3,088) or HK$6,688 for 12 (Members: HK$6,088).
The Greater China Club opens from Monday to Thursday and Public Holidays, 12:00 noon to 12:00 midnight and Friday and Saturday, 12:00 noon to 1:00 a.m.