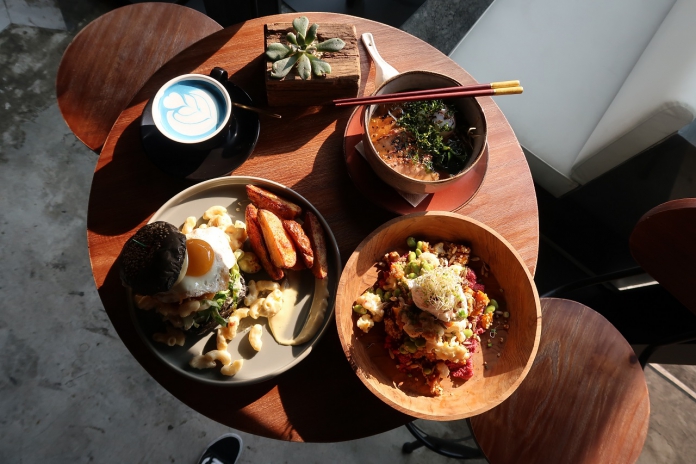 There are no monsters here but there's one Mighty Monster who has landed in Mytown Shopping Centre, Kuala Lumpur recently and it brought some delicious fare with it too! We faced our fears and explored its lair recently to see what it has to offer.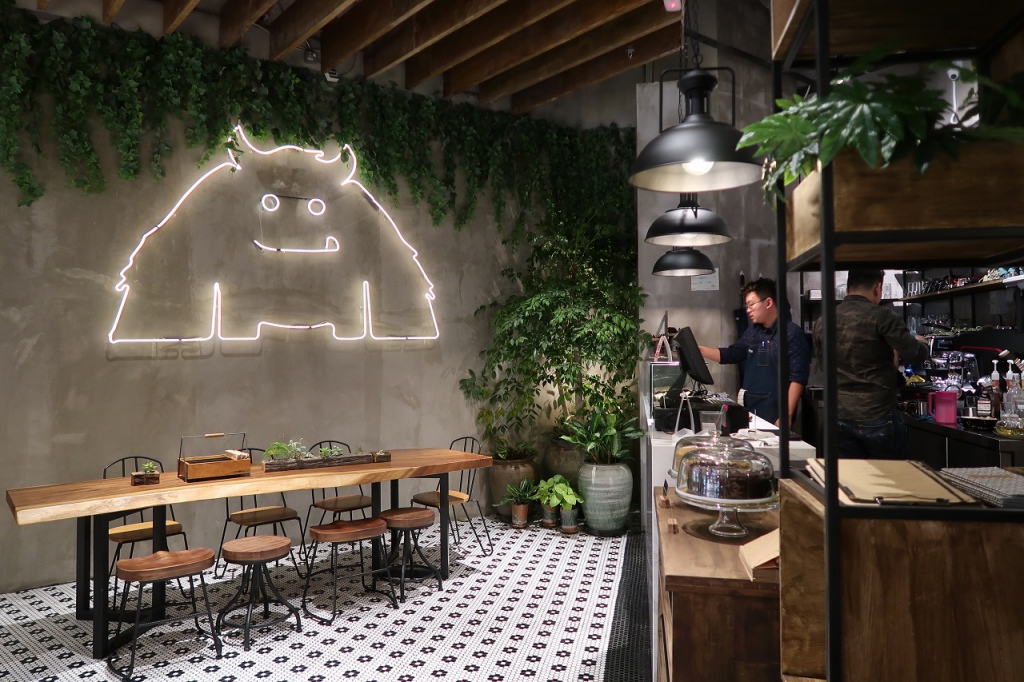 As we walked into this cafe and bar, we realized who was the Mighty Monster through its neon lights fixture, and that's not the only feature wall in the establishment. There are a few Instagram worthy feature walls you can choose from for that OOTD.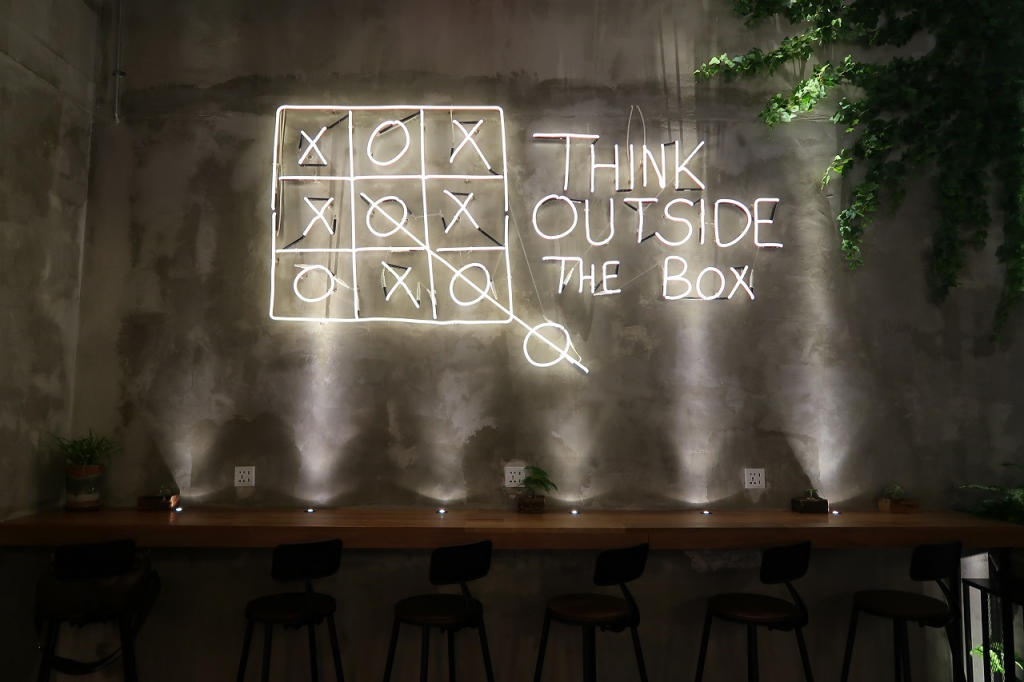 Taking inspiration from the brunch and bar scene from Australia, Mighty Monster serves brunch inspired fare with some slight variations of dishes to cater the brunch and dinner crowd of families, meetings or dates. It's also a great space for events and birthday parties.
There's a spacious bar area as well to feed your vices after work with Happy Hour offers daily.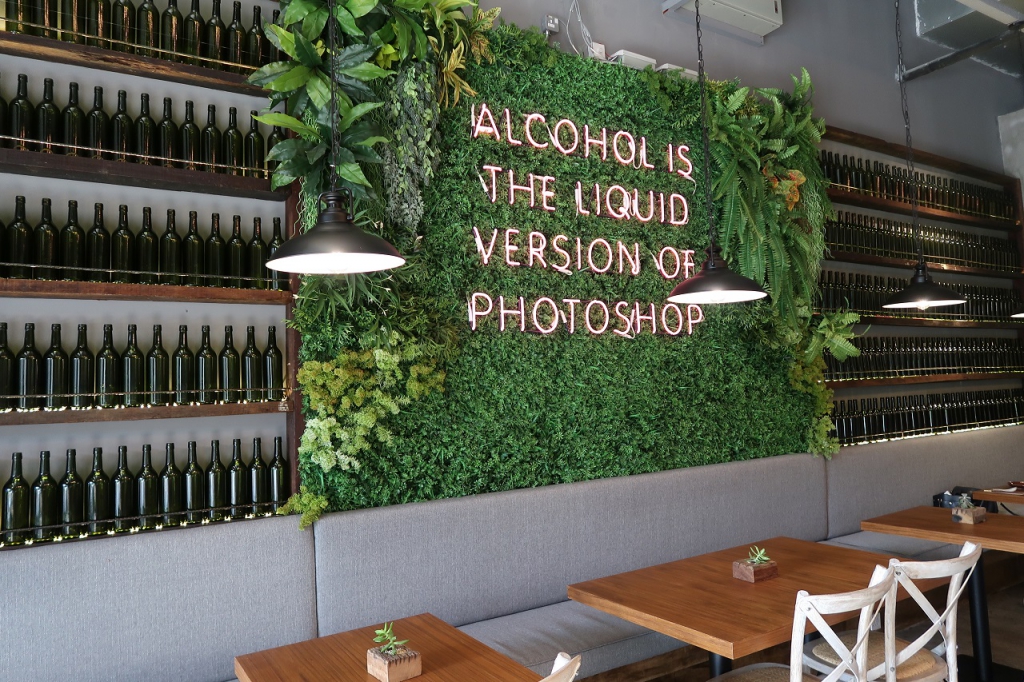 Now, onwards to the main feature which is the food! One look at the menu, we can already see how the dishes are made with an Asian & Western fusion but with a twist!
Starter: Crab Croquetas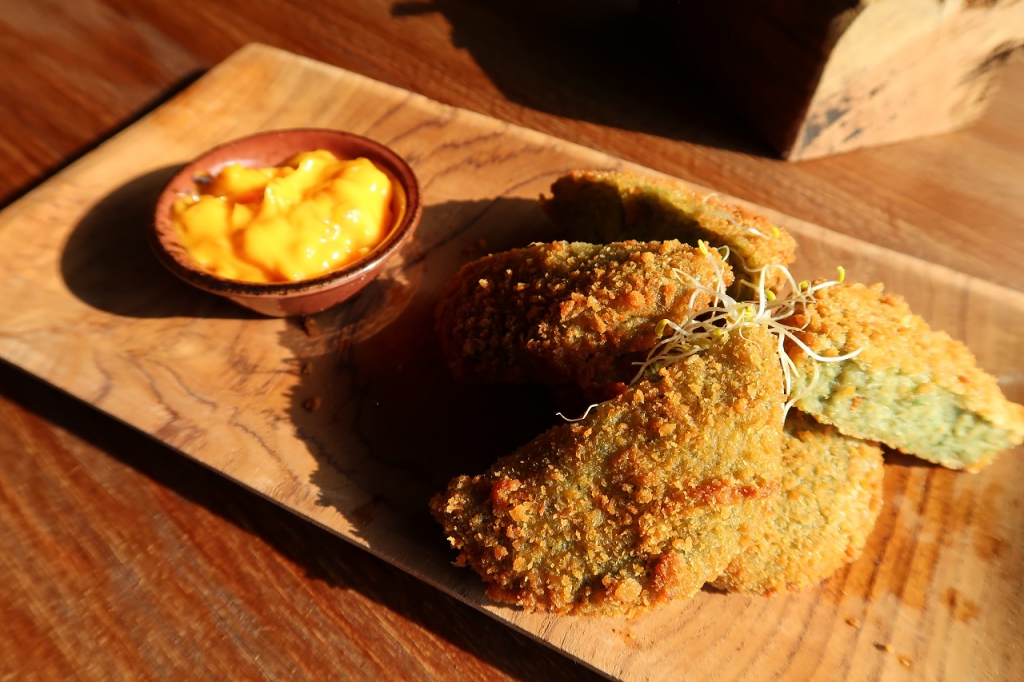 Perfect company with a drink, these Italian style croquettes served with creamy salted egg yolk sauce were moreish and could be filling too if you want a light bite.
Salad: Monster Salad (Signature)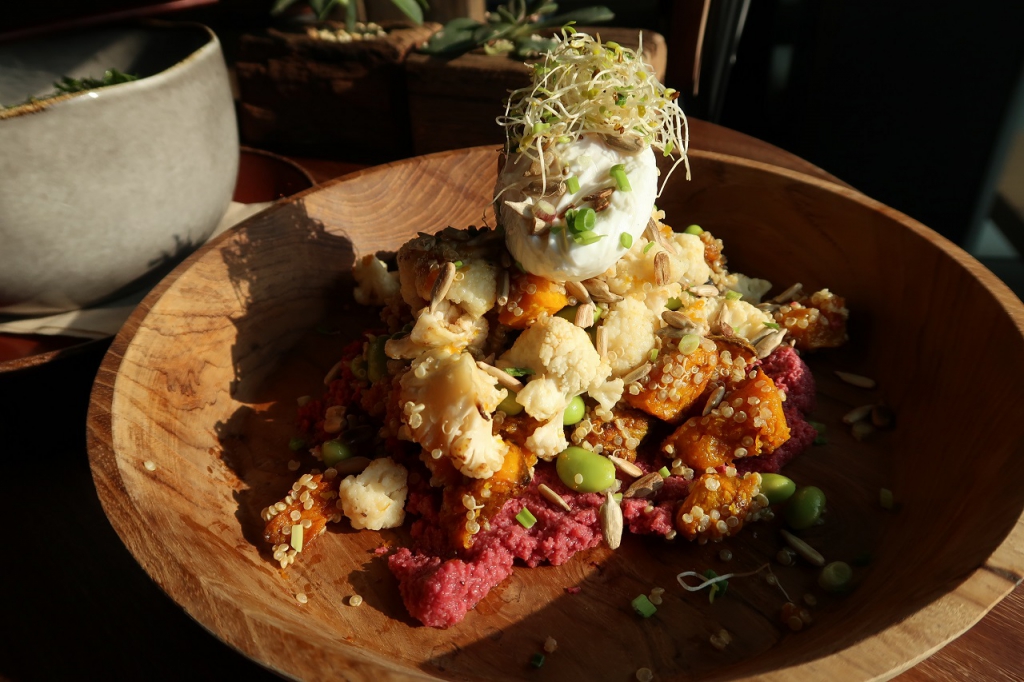 A vegetarian option, this salad has roasted pumpkin, quinoa, cauliflower, sunflower seeds and black-eyed beans served with beetroot hummus seasoned with dukkah and sesame dressing topped with poached egg. One of our favourite salads to date! The flavours and textures brought smiles to our faces and we would definitely recommend this to salad aficionados.
Brunch: Pumpkin and Cannellini Stew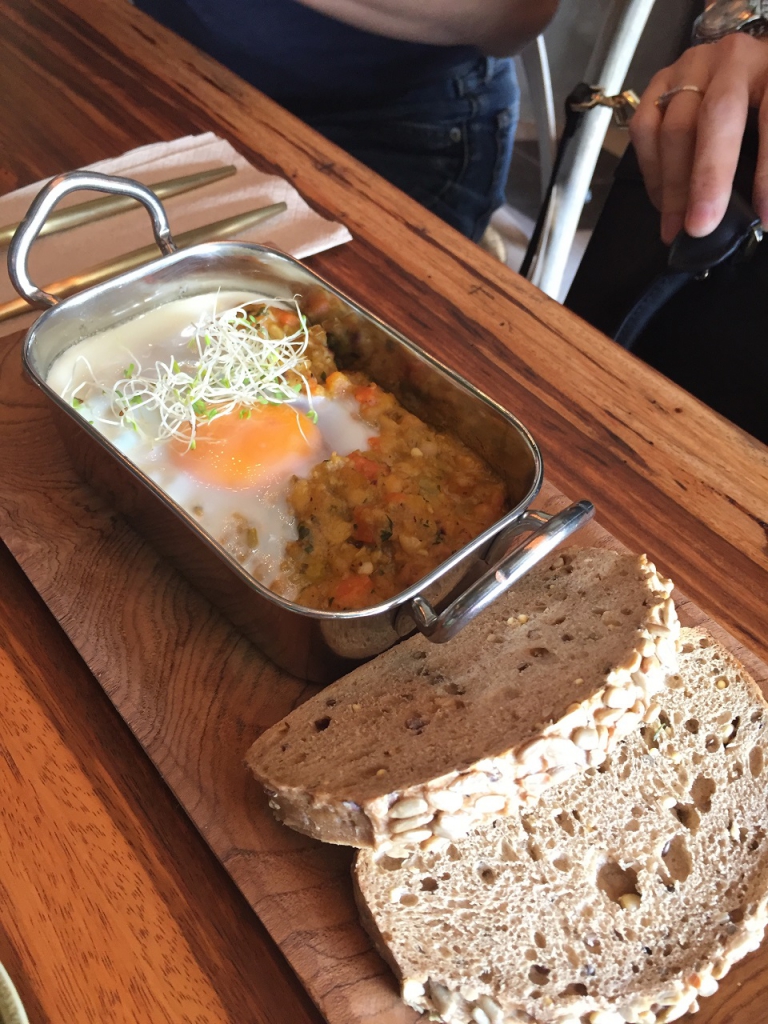 The French version of roti bakar with a dip made of pumpkin and white kidney beans stew with artisanal chicken sausage, kampung eggs and sunflower toast on the side. A new type of comfort food breakfast with a Western curry take.
Then, we had a taste of two of its signature burgers too.
Burger: Grandma's Chicken Satay Burger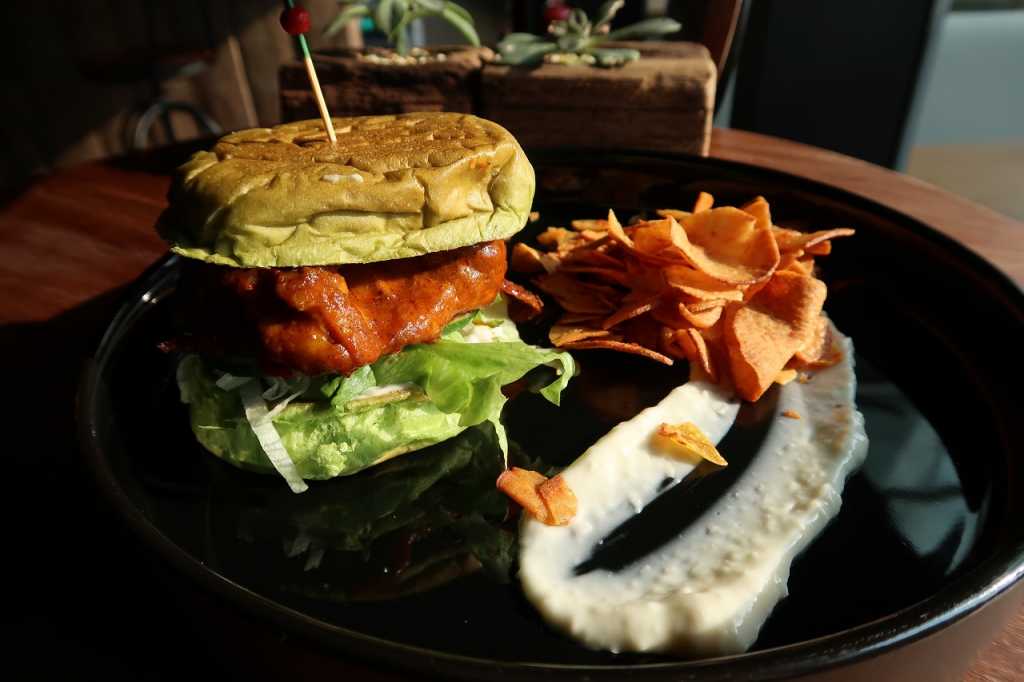 This burger brought a nostalgic feeling to us the moment we bit into it. It reminded us of a delicious tender chicken satay but it's actually sous-vide grilled chicken thigh marinated in Grandma's secret satay sauce topped with roasted capsicum compote, red radish, fresh cucumber, gado-gado peanut sauce in between matcha buns served with rustic potatoes. We don't recall any other burger joints who used Matcha buns so this is really unique!
Burger: Monster Burger (Signature)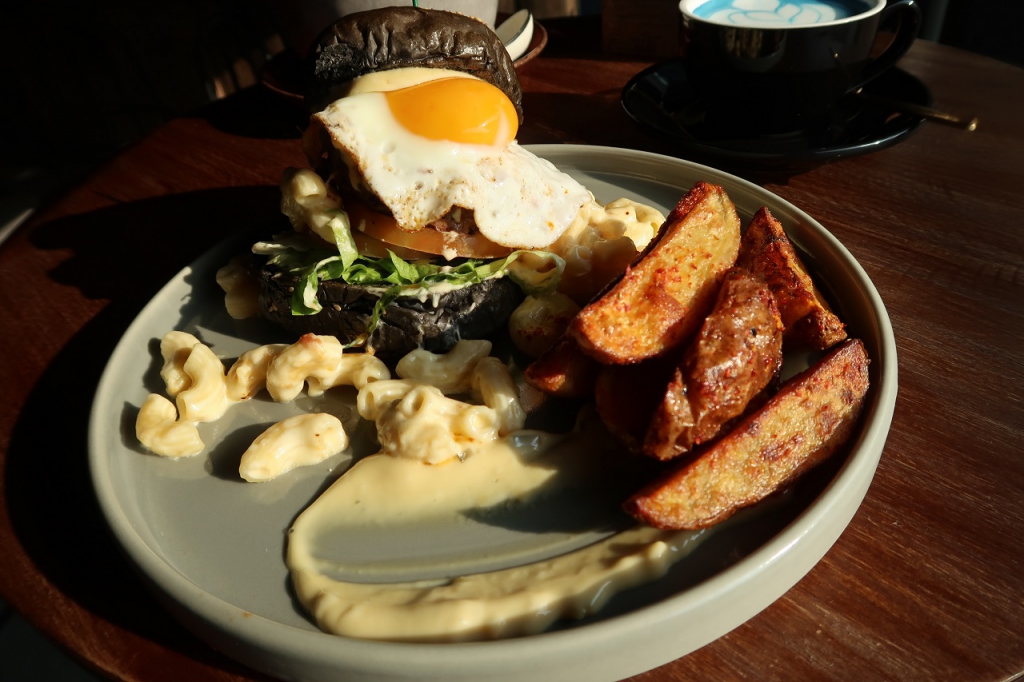 For those with a monster appetite, the Monster Burger is made with housemade signature beef brisket patty, creamy mac and cheese, chicken ham, sunny-side up egg, iceberg lettuce, fresh tomato, pickled jalapenos with a secret sauce in between a charcoal bun and a side of rustic potatoes. Meat lovers would love this as it has beef and chicken. Plus, it's creamy without being overwhelming thanks to the secret sauce and pickled jalapenos.
Dinner: Mighty Duck Ramen (Signature)
We love a rich bowl of ramen and this fits the criteria! This miso-based broth was rich in flavour it clung to the freshly made ramen noodles nicely so every bite was not left behind. The slices of sous-vide duck breast in peking marinate was tender to bite and the  63° Celsius egg added a nice touch to bind it all together, It's topped with gabo roots, crispy Chinese broccoli and wakame seaweed.
They have a Butterfly Pea Latte which looks pretty for the gram, especially for flatlays. With a slight tweak to make it less sweet, it would be just right and great for those who can't take caffeine well as it's not caffeinated.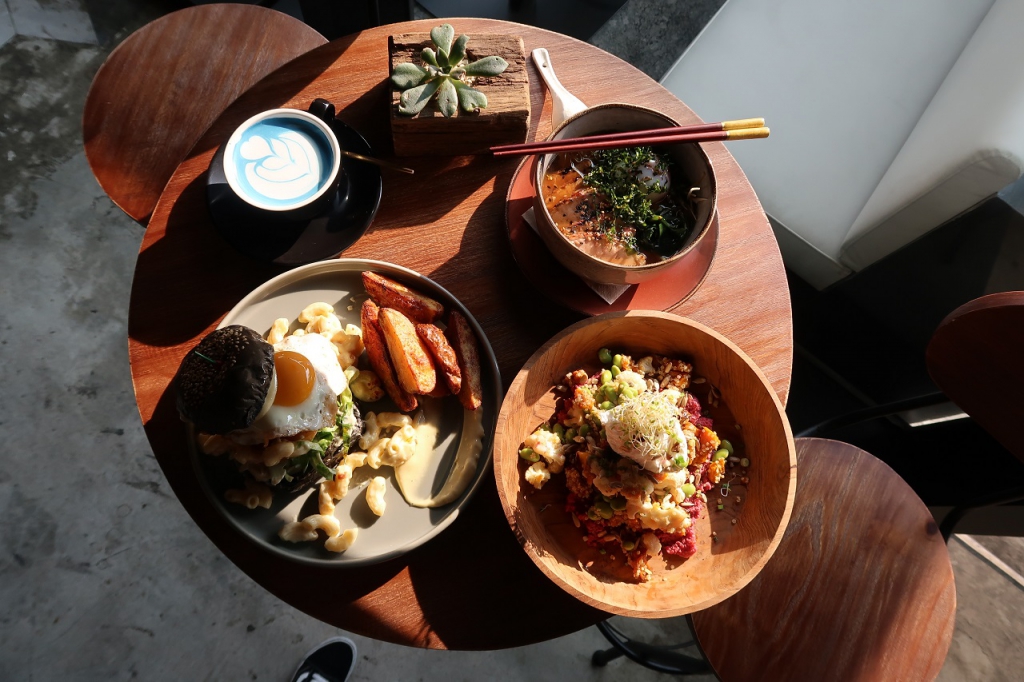 And you can't forget the dessert.
Dessert: Dulce de Leche Lava Cake (*Contains alcohol)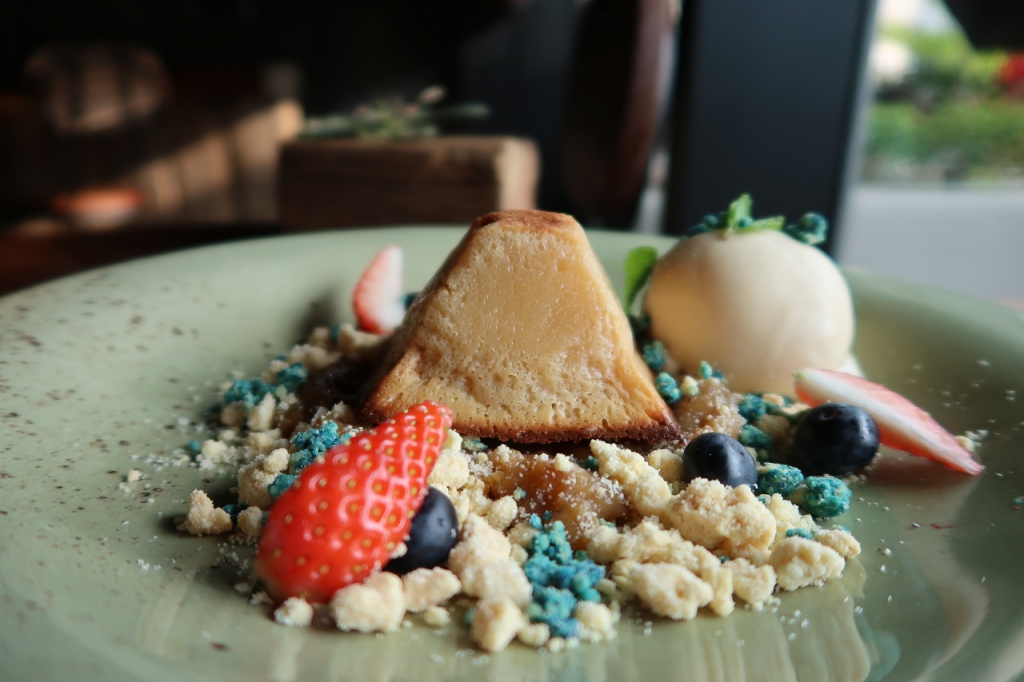 Who wants a chocolate lava cake when you have this Lava cake made of traditional South American caramel sauce served with milk crumbs, flambé banana compote and maple walnut ice cream. Best eaten the moment it reaches your table because you'll want to see that caramel lava oozing out the moment you cut it open. The maple walnut ice-cream was a tad underwhelming, we felt it could par better with a good ol' vanilla ice-cream but nonetheless, it's a pretty good dessert. It looks good from the top too.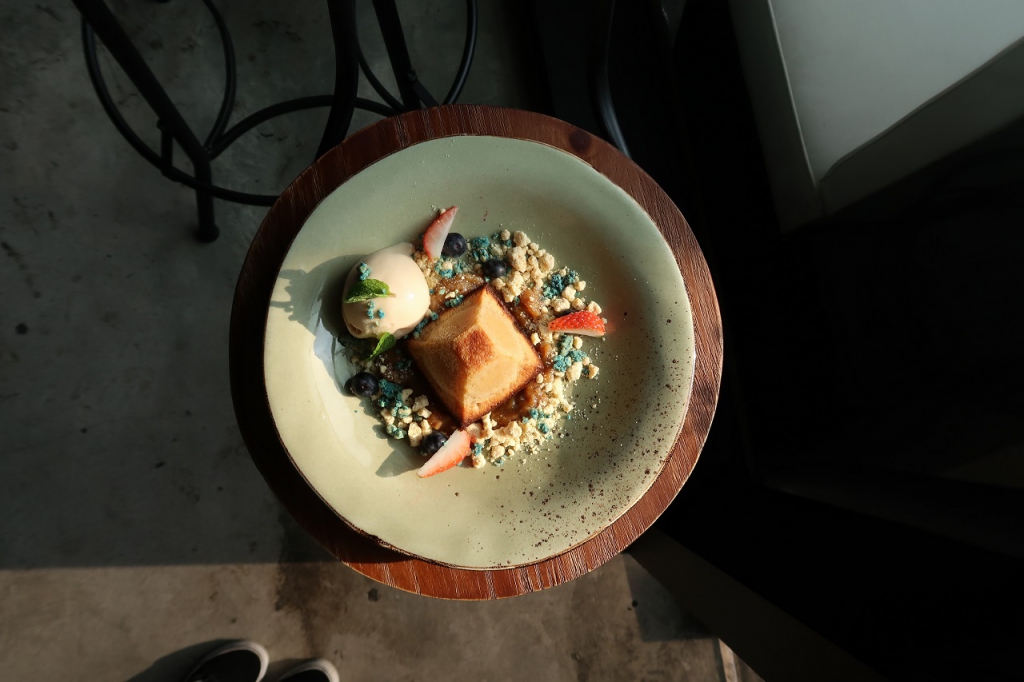 Verdict
We really enjoyed how different the dishes are compared to the usual cafe dishes that are offered in the cafe scene. It has an affordable price range and a cosy ambience that'll make you want to stay and chat with all day with your family and friends. So make your way to Mighty Monster Cafe & Bar to feast on these delicious grub that's Monster and Pamper.My-approved.
You could win a trip to Hong Kong, Bangkok or, Bali too when you dine at Mighty Monster. Check out the details below.
https://www.instagram.com/p/BfU8nLIDuwu/?taken-by=mymightymonster
Follow Mighty Monster on Facebook and Instagram for more updates.
Read also: #FoodReview: Embrace The Six-Treasure Traditions This Chinese New Year At Four Points by Sheraton Puchong