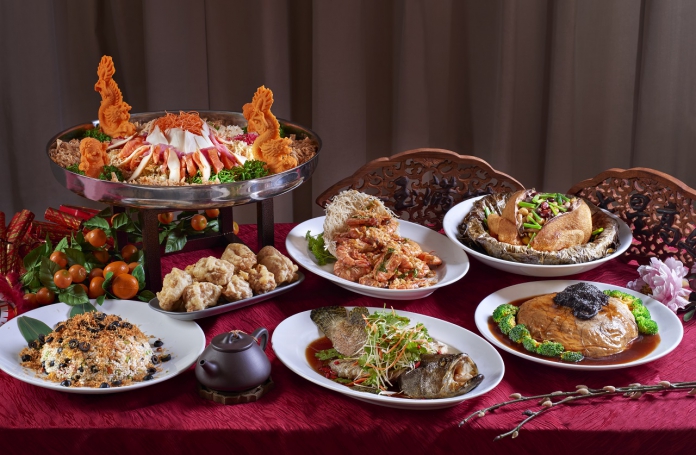 If you're looking for a pork-free location to celebrate Chinese New Year Reunion with your loved ones and friends, head to Four Points by Sheraton Puchong to celebrate the lunar new year with character and timeless oriental flair with its Six-Treasure Traditions offering. The chefs at the signature restaurant, The Eatery have prepared a myriad of mouth-watering dishes for the buffet and Chinese New Year set meals that are different than the usual traditional Chinese New Year dishes.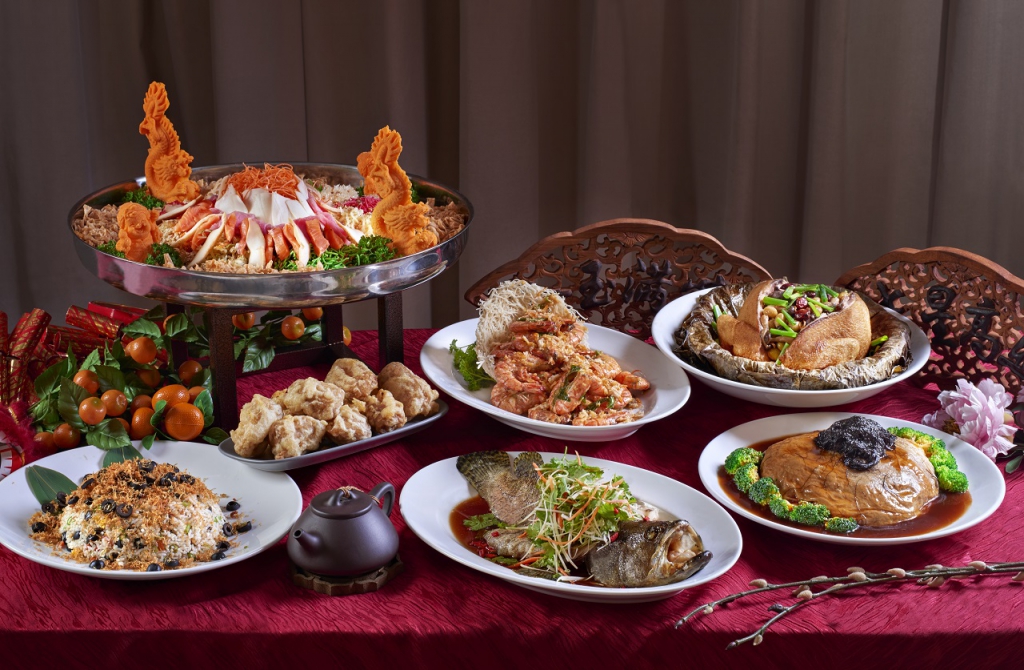 Here are the highlights of some of the dishes which are part of the Six-Treasure Traditions Chinese New Year 9-course lunch and dinner sets that are all available starting from RM1388 net per table of 10 persons each.
Six Treasure Yee Sang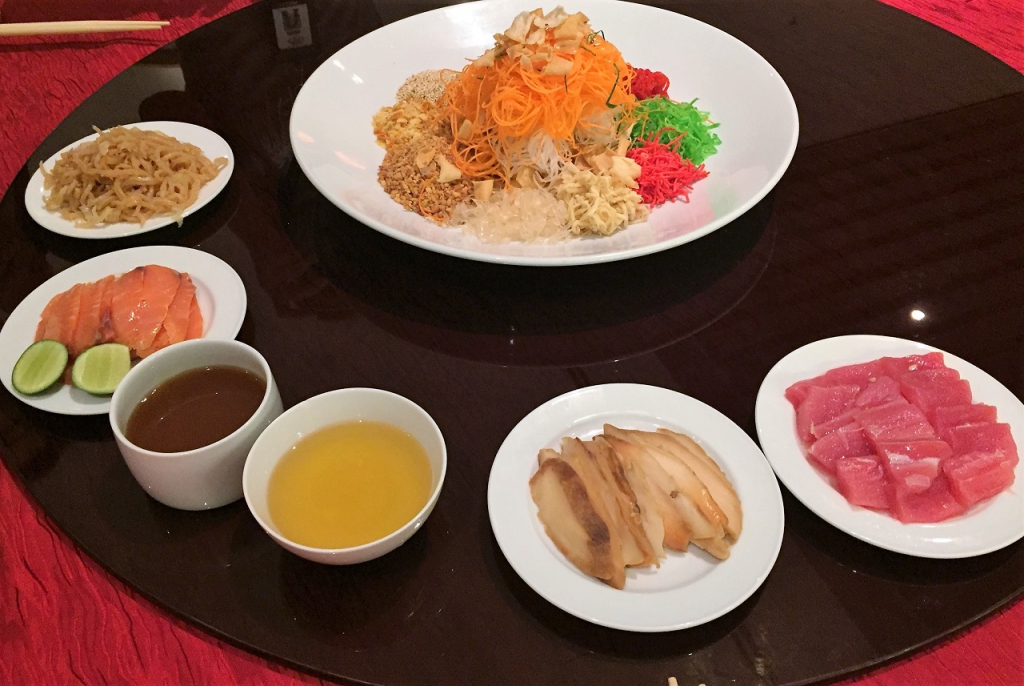 Made up grated vegetables, pickled leek, preserved papaya, and crispy textures with generous toppings of sashimi-grade salmon, tuna, white tuna, jellyfish, smoked salmon, and soy marinated clam. Not forgetting some blackcurrant-plum dressing to bind it all together, this is one of the best 'yee sang' I had in a long time! It was fresh, not overpowered by the sauce and the different textures from each component gave it a nice bite.
Double-boiled Duck Broth (from the Everlasting Prosperity Set)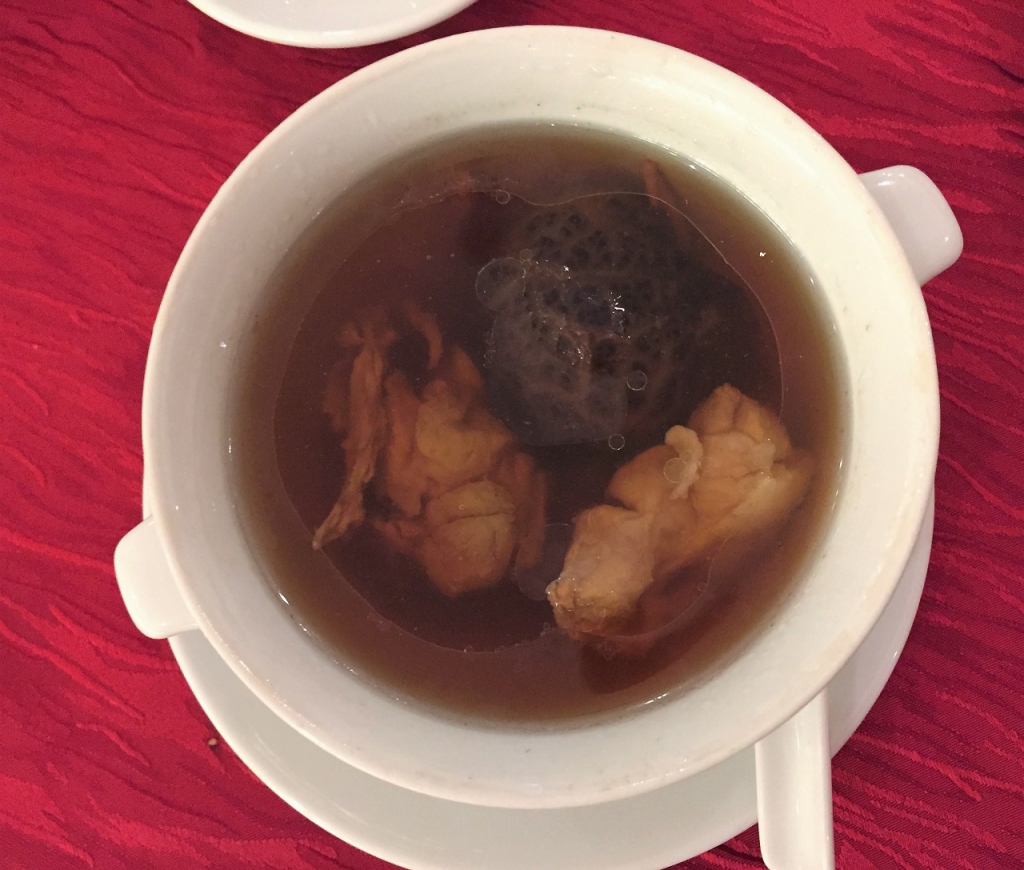 This warm, comforting soup is a rich duck broth double-boiled with tangerine peel, cordyceps and sun-dried scallops. The flavours are well-balanced and initially, I thought it was chicken soup because there wasn't any duck flavour at all, you'll only realize it when your tongue picks up that lingering sweetness after every sip.
Cherrywood Smoked Duck Breast (from the Wealth And Fortune Set)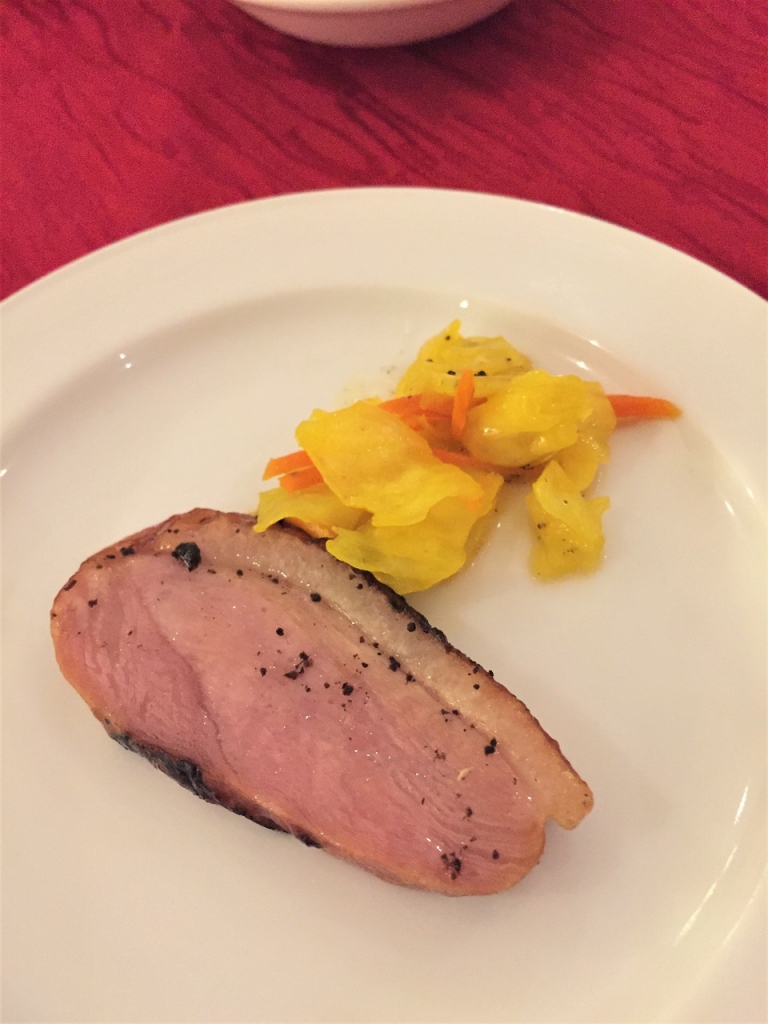 One of my favourite dishes, the smoked duck breast slices were tender and meshed deliciously with the black truffle essence. The cabbage and carrots pickles also gave the duck breasts a nice tarty flavour.
Tiger Prawn In Sun-dried Persimmon Butter Cream (from the Spring And Happiness Set)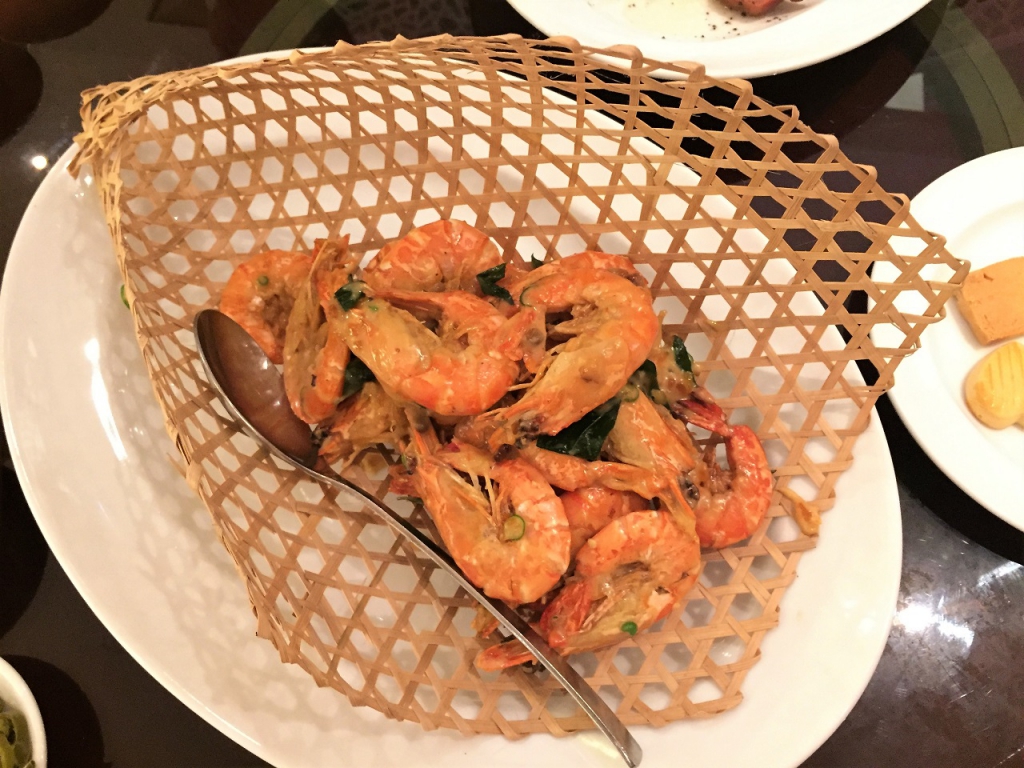 Another standout dish for me, the butter cream sauce was rich yet with a subtle sweetness due to the sun-dried persimmon and the tiger prawns were cooked just right.
Steamed Sea Nutrition Tiger-Dragon Grouper (from the Wealth And Fortune Set)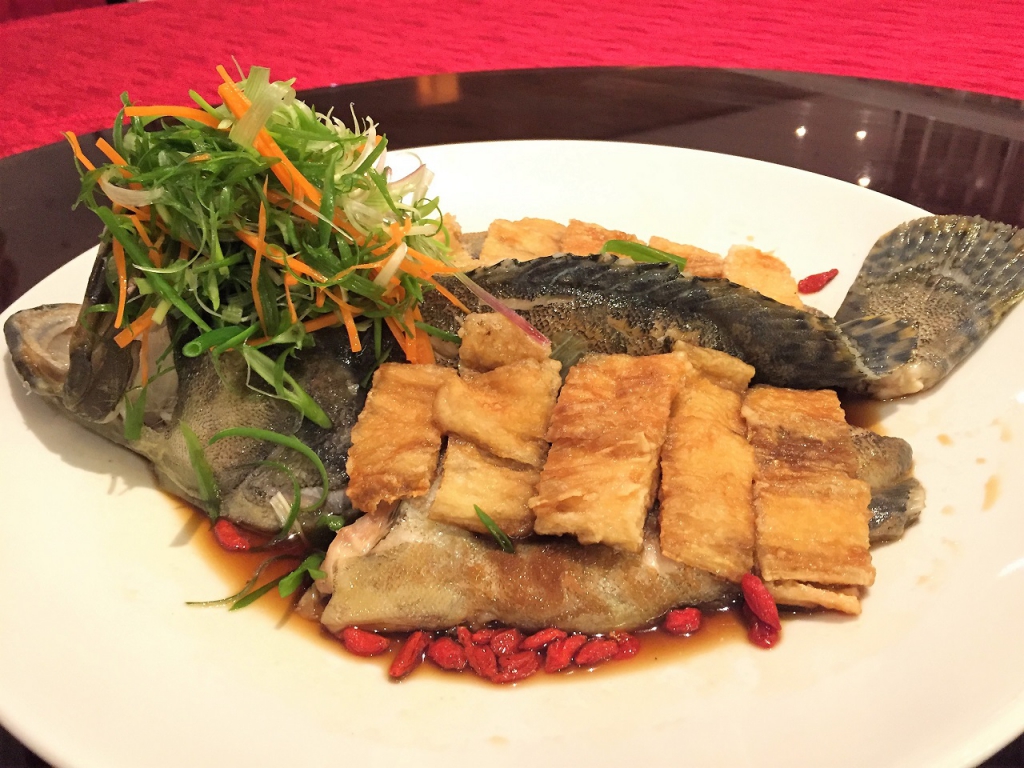 Steamed sea nutrition tiger-dragon grouper topped with fresh beancurd stick and wolfberries in light soy sauce, this was a different take to the usual steam fish dishes, with the additions of beancurd and wolfberries which sort of gave it a herbal hint to the sauce. The fish was not overcooked and the wolfberries have the soy sauce an added sweetness.
Seasonal Vegetables With Sun-dried Oysters (from the Wealth And Fortune Set)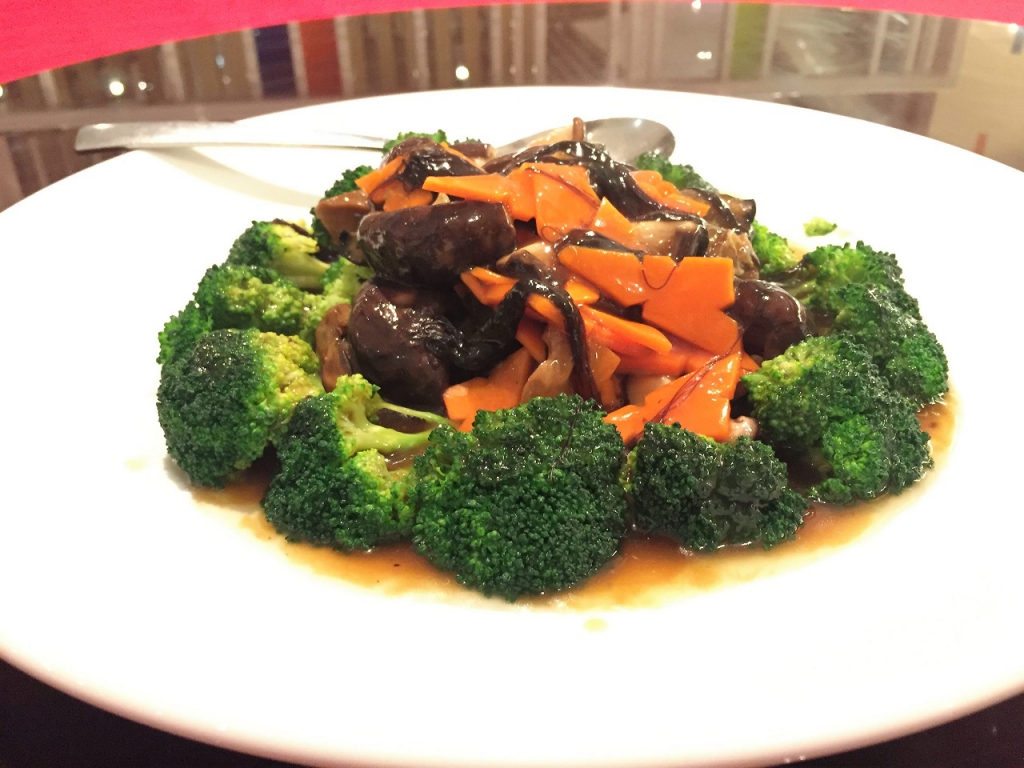 Abundant amounts of broccoli, carrot slices, shiitake mushrooms, pacific clams and sun-dried oysters to welcome more good fortune to you and your belly. The oysters were a bit tough to bite for me but other than that, the vegetables were cooked to al dente so they have a nice bite to them.
Wok-fried Rice With Scallops, Shrimp & Preserved Olives (from the Wealth And Fortune Set)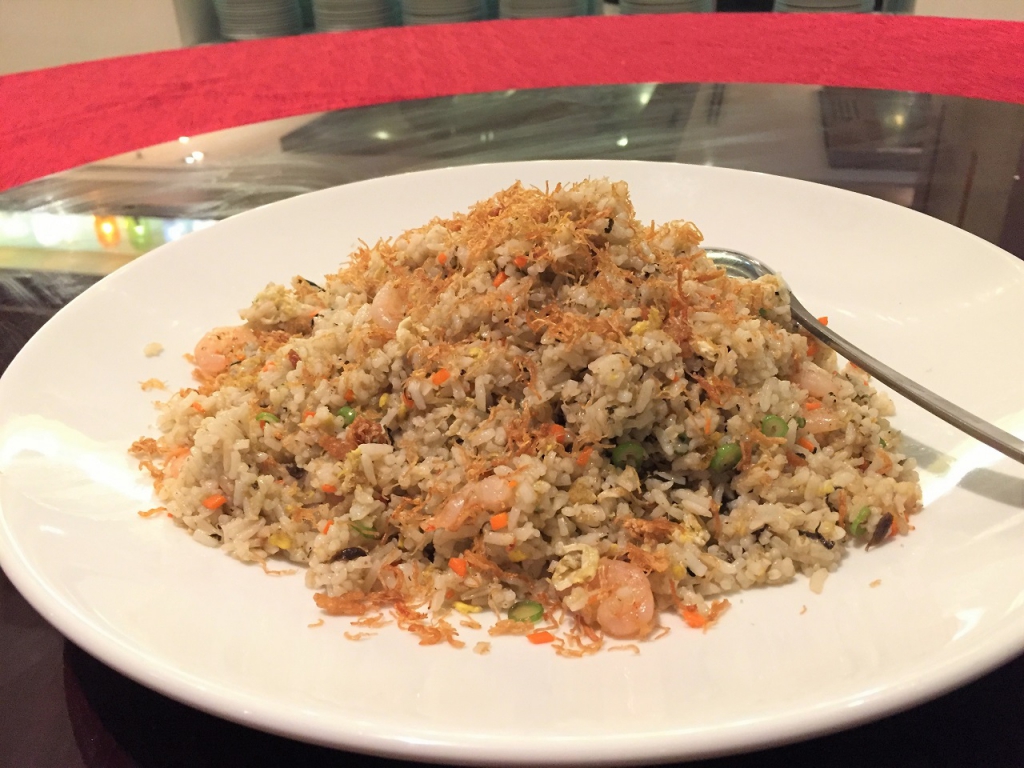 I have to admit that I'm glad that the rice dish was not the steamed glutinous rice style that most Chinese New Year menu will have. This fried rice was a nice and delicious change! It had that 'wok-hei' too and it was spiced right.
Deep-fried Chinese Brown Sugar Cake With Lotus Puff (from the Wealth And Fortune Set)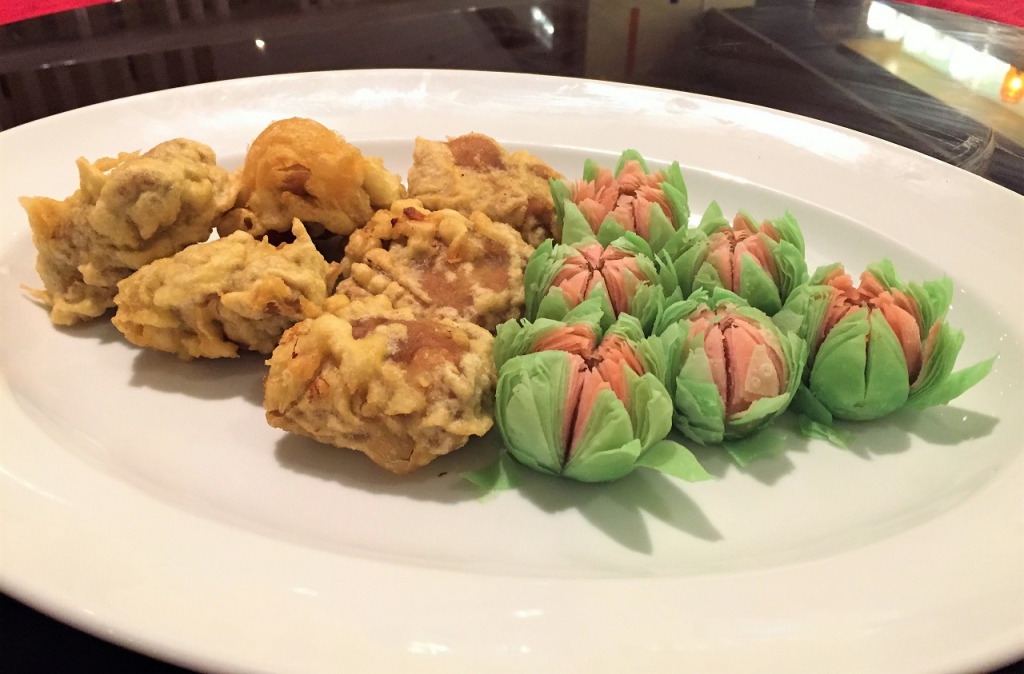 One of our favourite street snacks, fried 'nin gao' is one of the desserts served but it's the healthier version with less oil and with an equal amount of brown sugar cake, sliced sweet potato and yam. The lotus puff looks and tastes good too, it was not overly sweet and the pastry flakes have a nice bite to it.
Whether you decide to go for the buffet or the 9-course set, your bellies will come out satisfied. Pick any of the three 9-course set meal available.
On the night of 15th February 2018, there will be an opulent reunion dinner buffet special with Peking duck carvings, wok-fried tiger prawns and herbal soup of crab, mushrooms and sea cucumbers at RM 140 net per person. While from 14 January until 22 February 2018 there will be an exclusive Yee Sang counter at The Eatery's Six-Treasure Traditions dinner and hi-tea buffet for diners to customize their ingredients and toss to prosperity at RM128 (dinner) and RM100 (hi-tea), both net per person. A feast at The Eatery is never complete without Puchong's gem, fresh seafood on ice. Coupled with pan-seared salmon, noodles with abalone reduction and a sweet ending of ice cream served at the Teppanyaki ice cream bar, your year is bound for a prosperous start. Kids below 12 years dine at a cool 50% off as well.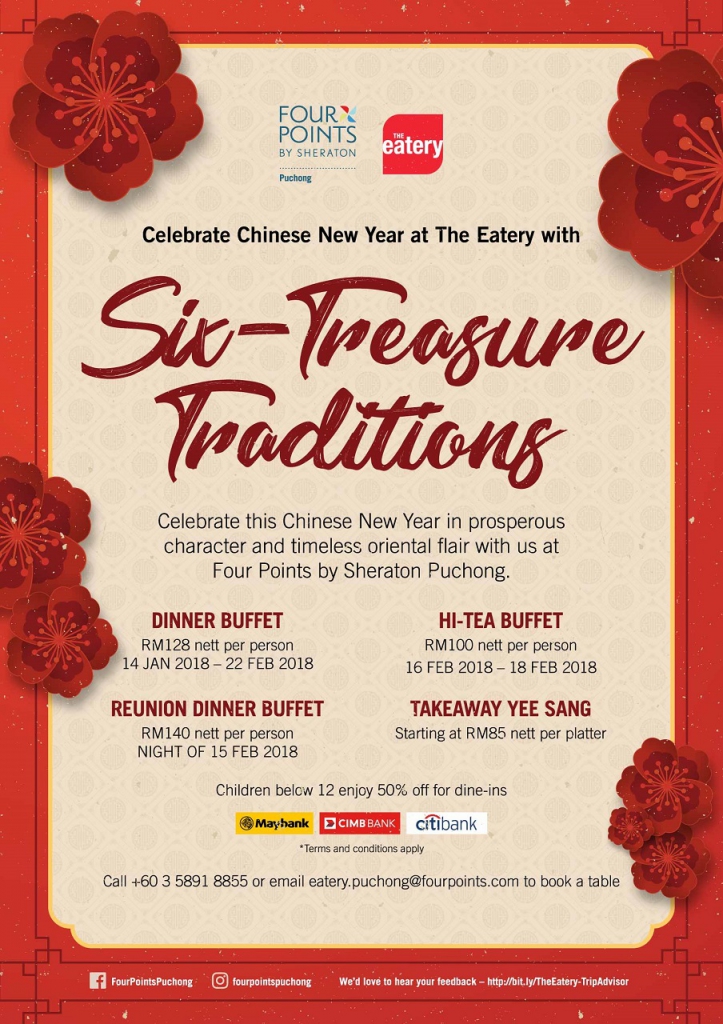 Having your reunion dinner at home? Why not take one of the boxes of specially-crafted yee sang home starting at RM 85 per platter. Reserve one out of the four varieties available (see the brochure below).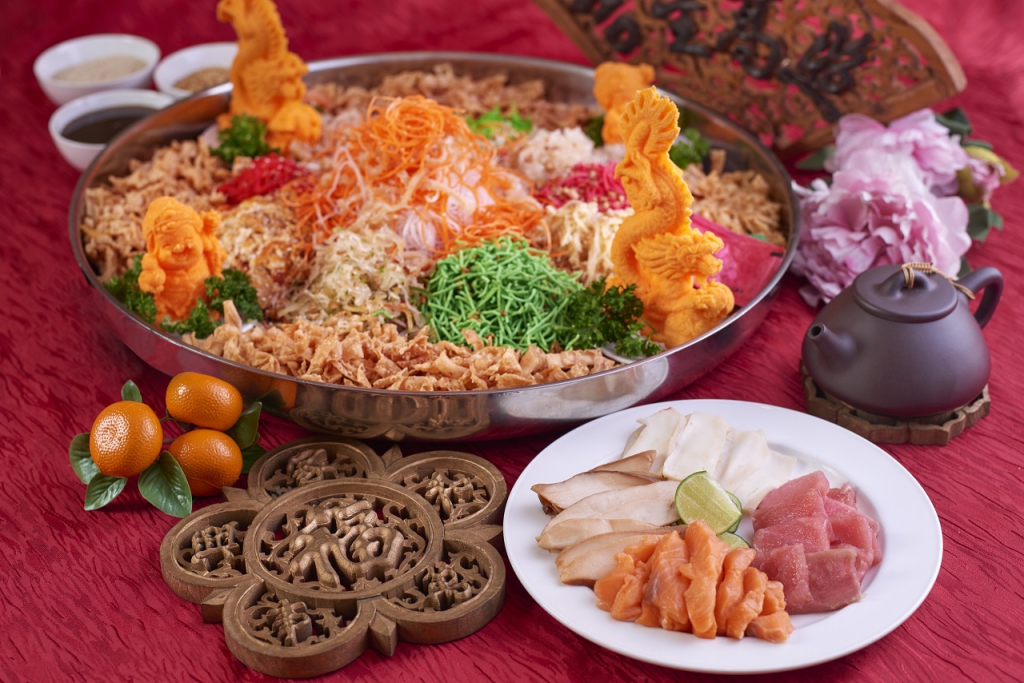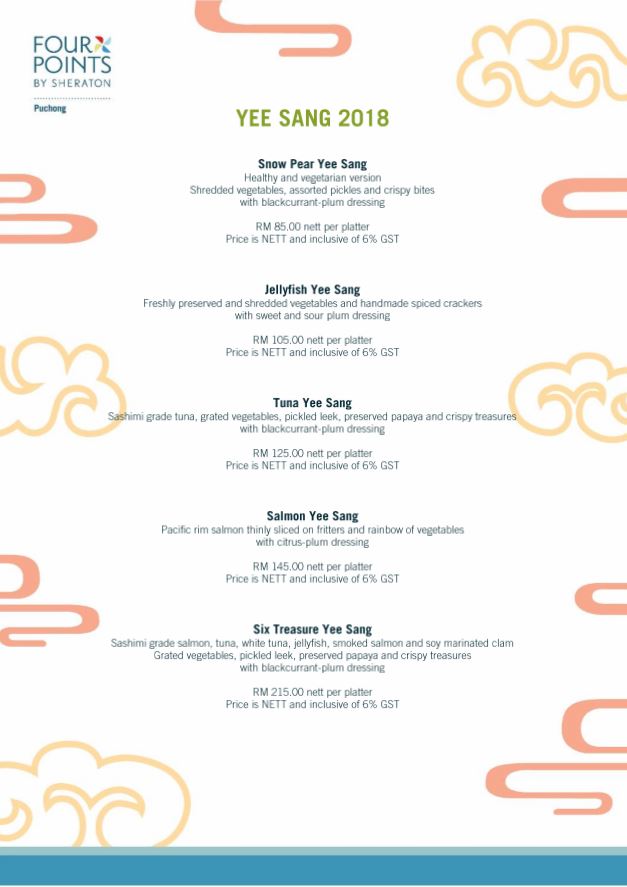 The Eatery serves wholesome cuisine daily from 6 AM until 11 PM and offers an extensive a la carte selection on weekdays with oven-fresh pastries for daily breakfast. In-room guests enjoy an additional 30% while Starwood Preferred Guest® members get to save up to 20% discount on dining.
For a casual atmosphere, relax in the Lobby Lounge to savour tasty snacks and indulge in a worldly collection of beers including authentic local favourites from the Four Points by Sheraton's renowned Best Brews™ program – all while enjoying live music performances from our in-house band.
To book a table please call +603-5891 8855 or email: eatery.puchong@fourpoints.com.
For more information, visit www.fourpointspuchong.com or follow them on Facebook.
Read also: #FoodReview: "Find Your Lucky Star" 4-Course Lunch At Sheraton Imperial Kuala Lumpur