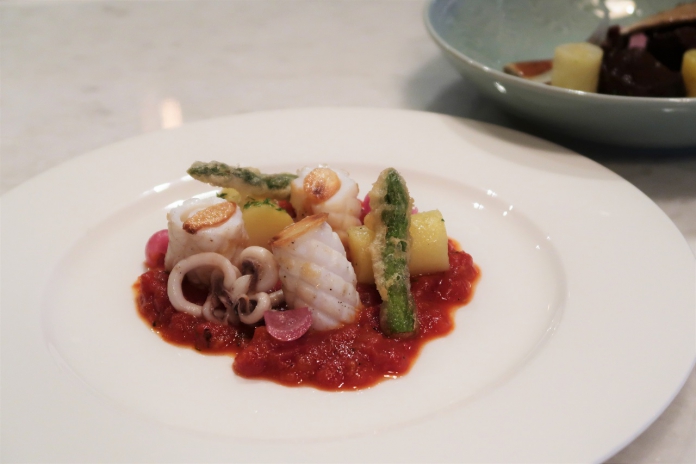 2OX French Bistro & Bar is tucked among the restaurants and cafes at The Row, Kuala Lumpur and what makes them stand out is how they revamp classic French bistro favourites without compromising on its authenticity and they're pork-free. Also, they have a wide range of wines at reasonable prices so it's a cosy spot for after-work drinks.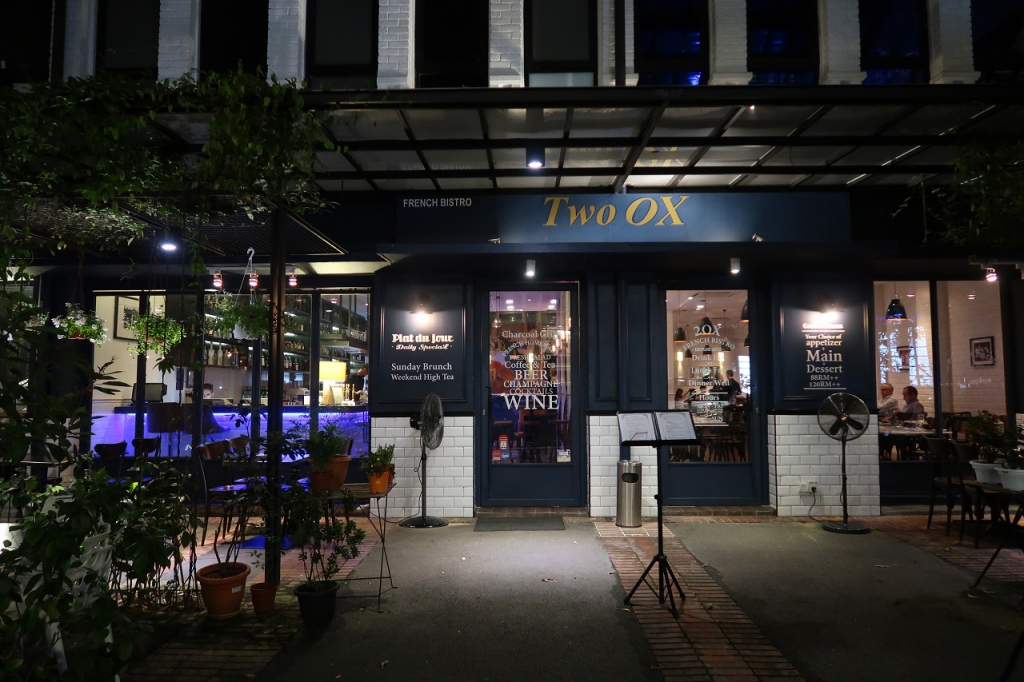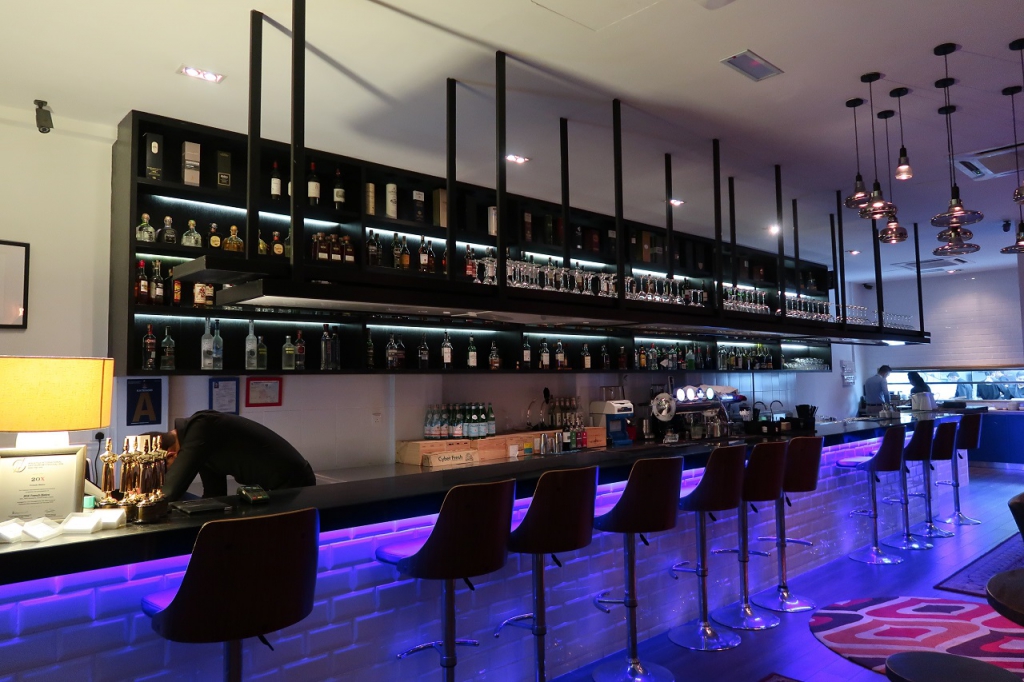 Ingredients are carefully selected with the majority imported fresh from overseas including a selection charcuterie and artisanal cheeses. Another nice feature of 2OX French Bistro is you have the choice to create your own 3-course menu choosing from the starters, mains and desserts for only RM88++ & RM 120++ which is a pretty good deal.
With new Chef Philip Murray Dominic helming the kitchen, recently we were given a taste of some of the new dishes from their revamped menu which has begun serving this month. Chef Philip Murray Dominic has 11 years of culinary experience with training in Verona, Italy and Vienna, Austria and has worked for various French Chefs in and out of the country. He has worked at Prime Steak Restaurant & Favola restaurant, Le Meridian KL, Ritz Carlton Kuala Lumpur & Avani Hotel (Perahu Restaurant) Global Cuisine.
Just like the French, every meal starts with a bread platter and these are made in-house with a herb olive oil dip. Served warm, and it was baked to perfection.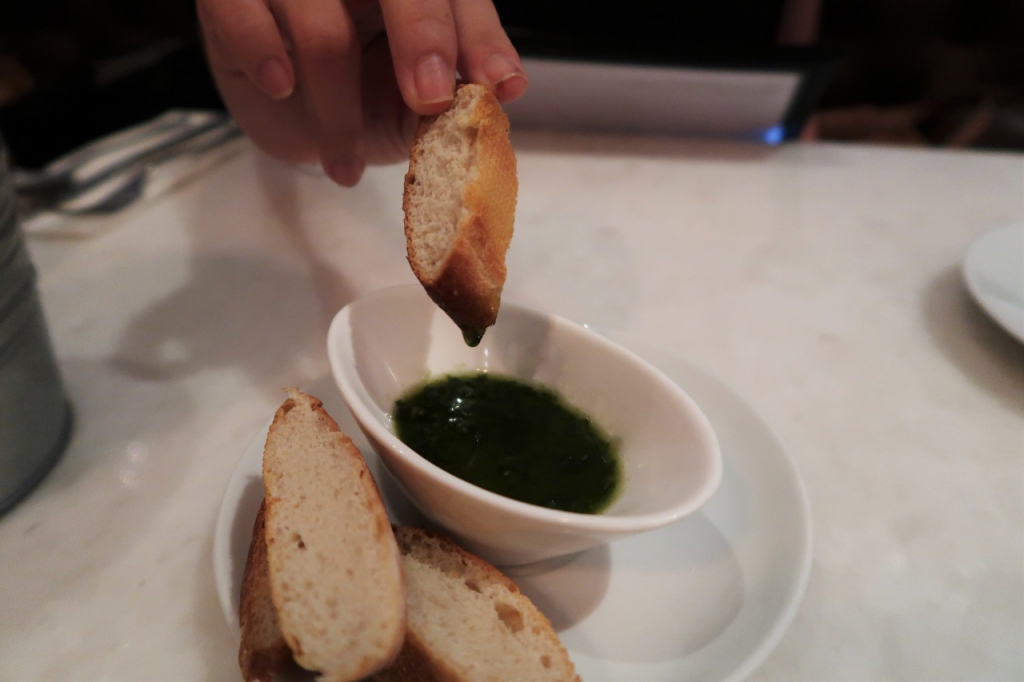 For the amuse-bouche, we had two varieties of bruschetta where the toppings are seasonal and it uses the house made bread too:
Roasted Seedless Grapes, Marinated Feta Cheese with Balsamic Reduction, RM25: You can't go wrong with grapes and cheese, so this was simply delicious.
Grilled Anjou Pear topped with Fig Marmalade and Candied Walnut, Drizzled with Olive Oil, RM25: This was a sweet starter and we like how grilling brings out a smoky sweet flavour of the pear while the walnut adds a nice bite to everything.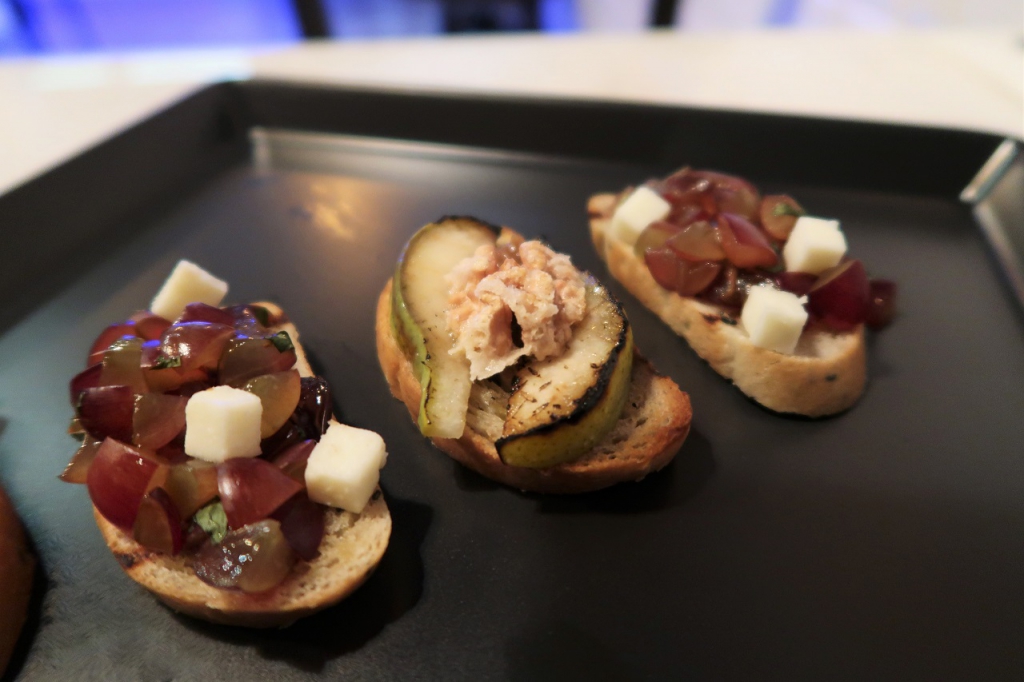 Then, it was time for appetizers, one being the Lobster Bisque with Lobster and Carrot Bon-Bon, RM26. The bisque was flavoured just right and didn't have an overpowering lobster note that could put some people off, and we love the bon-bon which had a crispy, think shell and it was tender on the inside.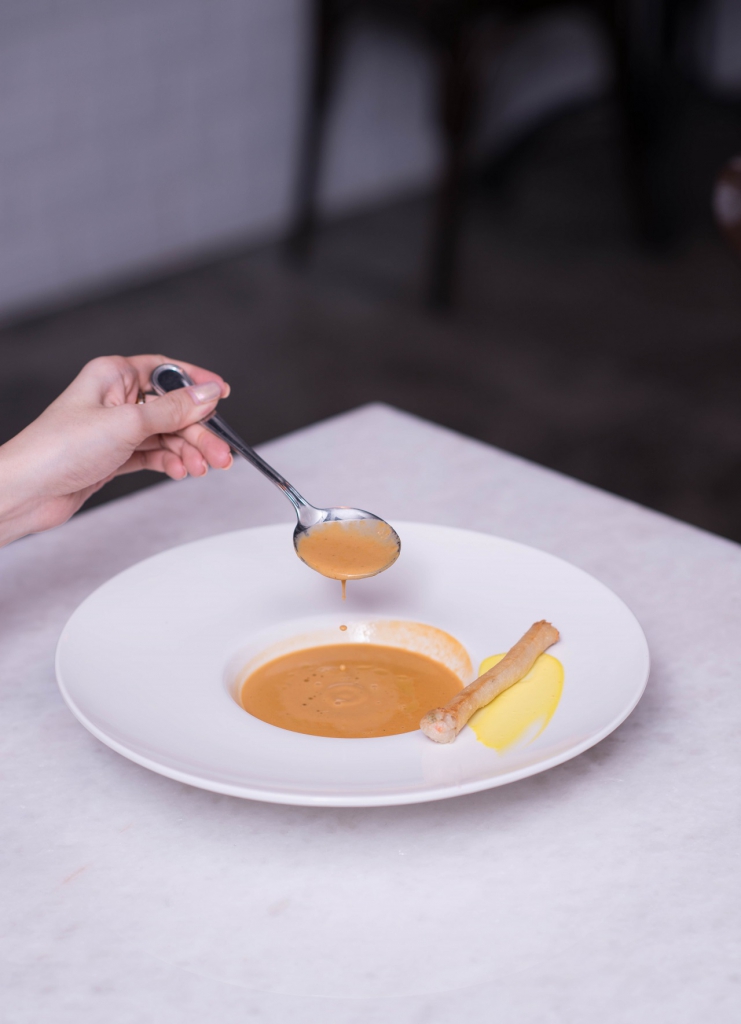 The Josper Grill Wagyu Petit Tender with Green Puy Lentils and Herb Sour Cream, RM45, is the other starter we tried and good news, the Wagyu was not overcooked! However, we felt that the sides didn't really suit the Wagyu meat, but it was flavoured nicely.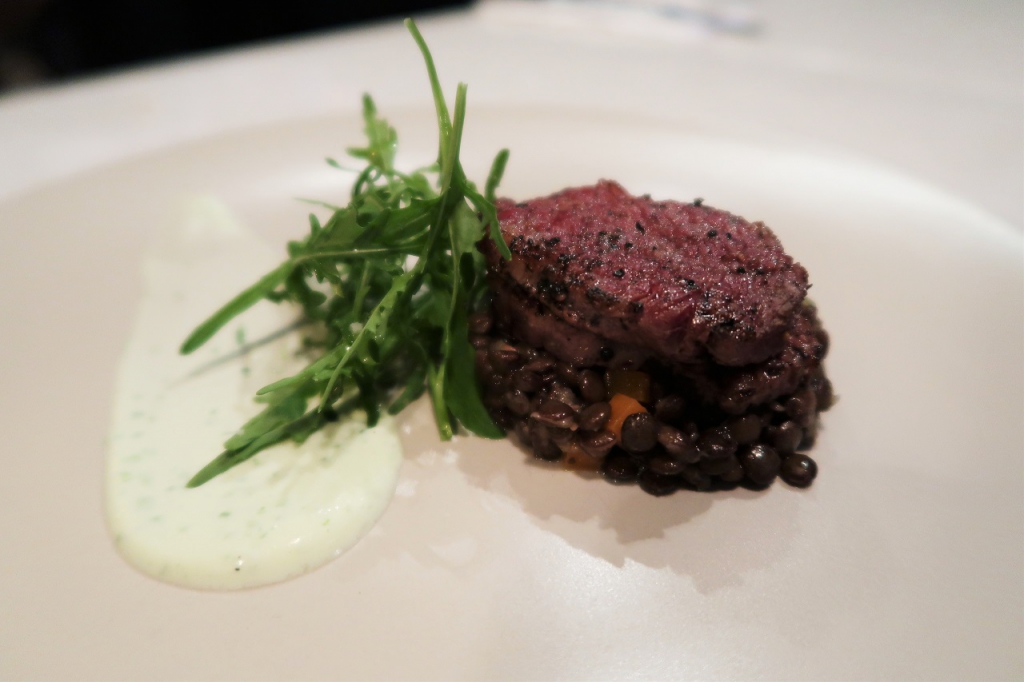 As for mains, we had the Espresso Braised Beef Short Ribs with Fondant Potatoes and King Oyster Mushroom, RM90 and the ribs were cooked till tender until it fell right off the bone, we wished there was more sauce for provided since the sauce is where most of the flavour has gone to.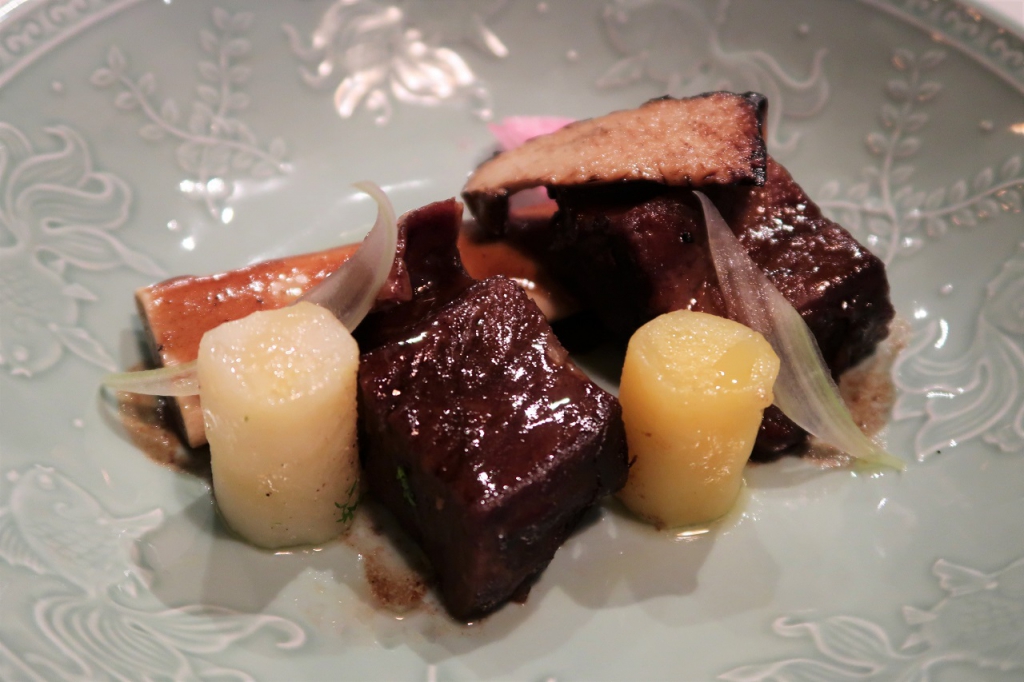 Next, we had the Pan Seared Calamari With Caramelized Garlic, Tomato Coulis Ala Provencal, Fondant Potatoes & Asparagus Tempura. This was one of our favourite dishes because the tomato coulis was not too tart, the calamari and asparagus tempura was cooked perfectly, altogether, it was a flavour explosion in our mouth.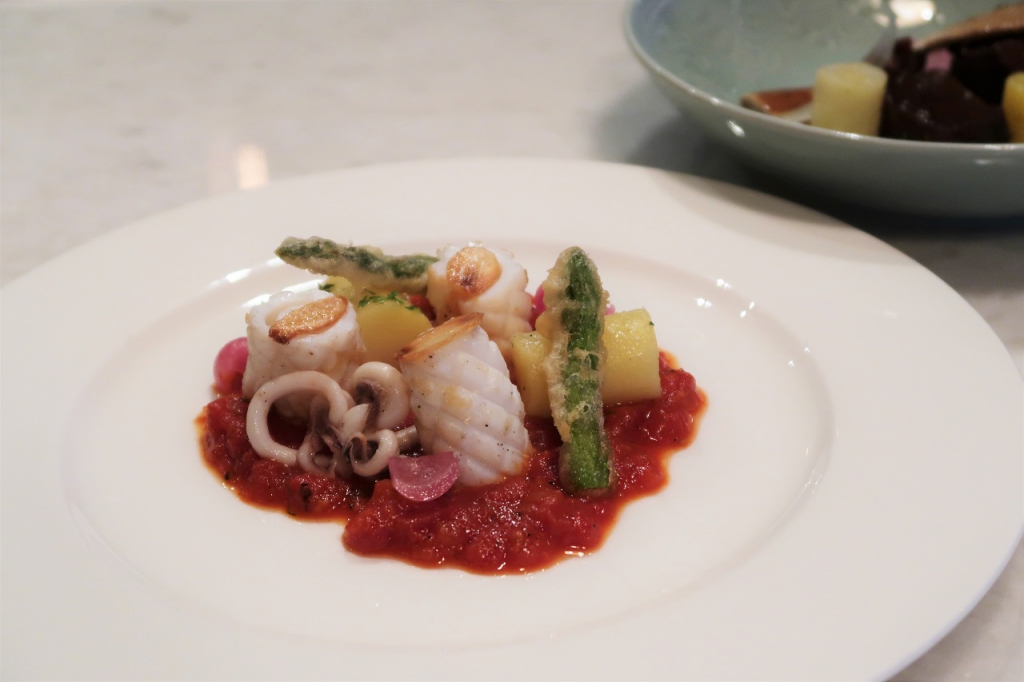 Dessert time! We were given two desserts to complete our meal, one of them is the Mousse Cheese Cake topped with Vanilla Curd and Almond Sable, RM35. We're not cheesecake experts but the cheese mousse was light, the almond sable has a nice crunch and both elements was not too sweet, so this dessert surprised us! The lemon sauce at the side adds a bit of tartness to balance out the creamy cheese mousse.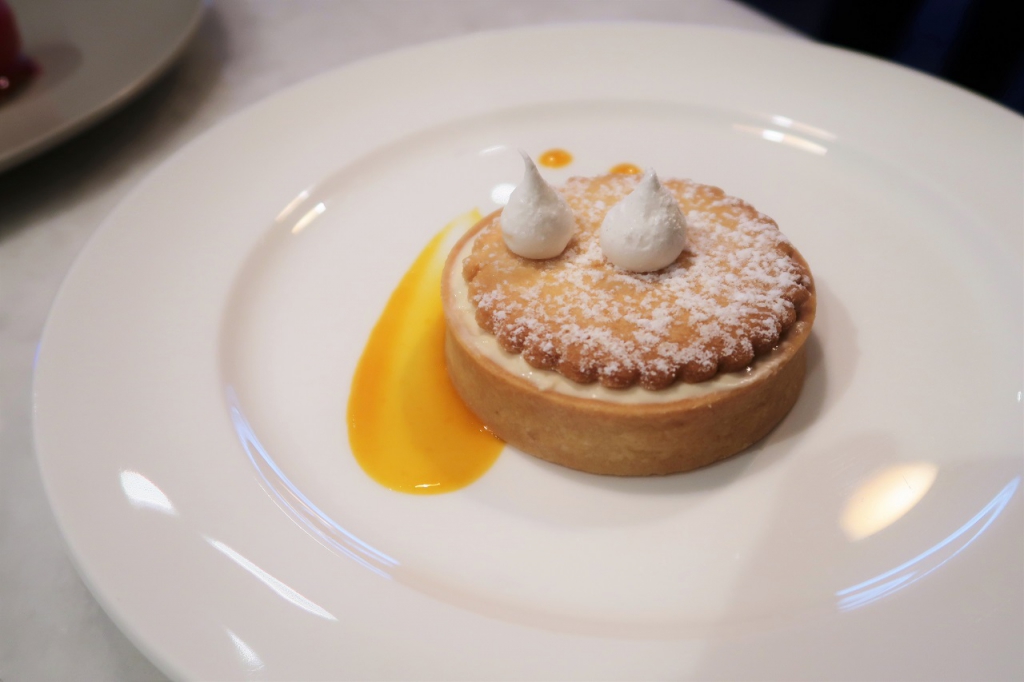 Of course, a staple dessert for most restaurants, we had to try the Chocolate Lava Cake with Raspberry Sherbet, RM30 too. It was a tad bit overcooked hence chocolate lava flow was not smooth but we love every bite of the dark chocolate cake and with the raspberry sherbet, it was a sweet and sour combo that we can't get enough of.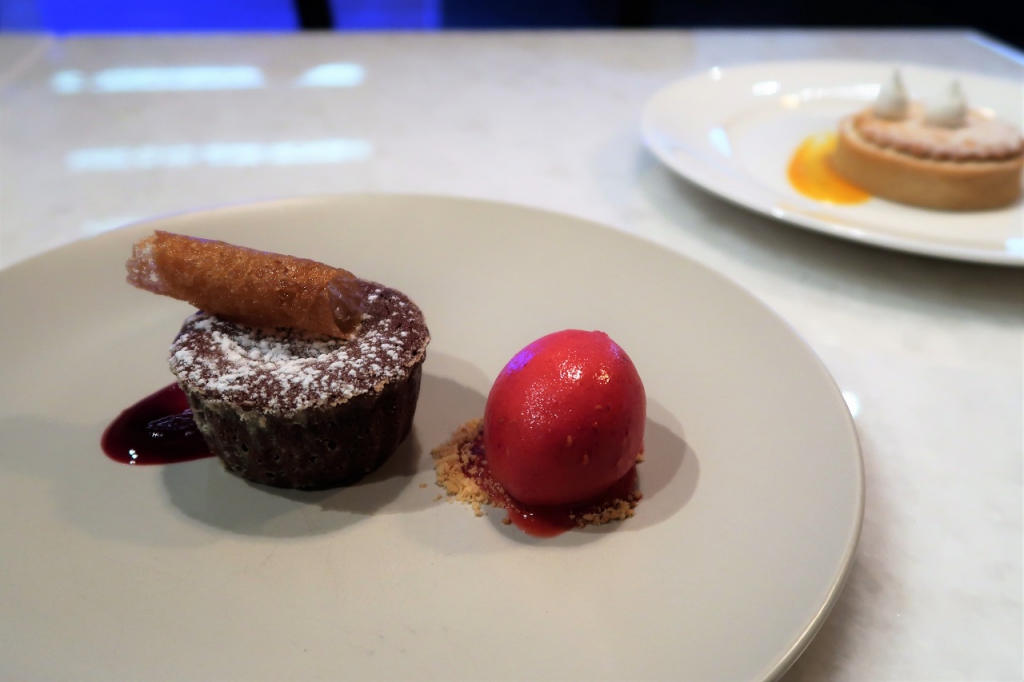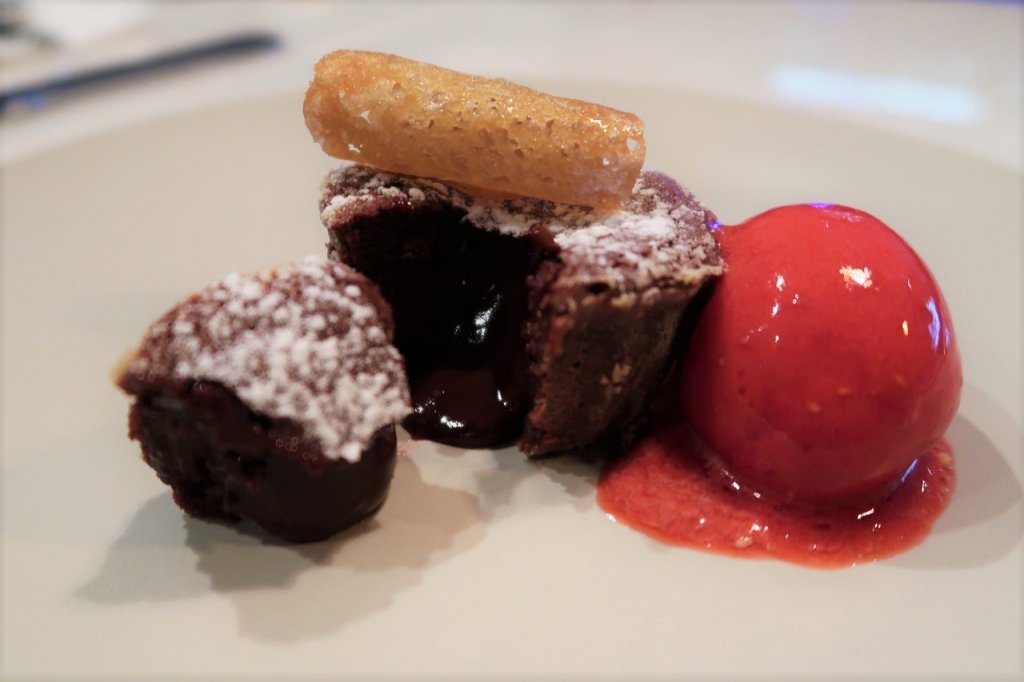 Look at that lava oozing out!
Verdict
Overall, we had some dishes that were delicious and with some that need a bit of tweaking so it can be better. We would come back to see how the classic French dishes fare such as the French Onion Soup and the Duck Confit.
Our Favourite Dishes from 2OX French Bistro & Bar:
Lobster Bisque with Lobster and Carrot Bon-Bon
Pan Seared Calamari With Caramelized Garlic, Tomato Coulis Ala Provencal, Fondant Potatoes & Asparagus Tempura
Mousse Cheese Cake topped with Vanilla Curd and Almond Sable
All items above can be ordered as an Ala Carte or diners could opt for the RM88++ &
RM120++ 3 course meal from the selected menu. These are available during lunch &
dinner.
Address: 56G, The Row, Jalan Doraisamy, Kuala Lumpur, Malaysia
Tel: 03-2692 2233
Operation Hours: Daily from 12.00pm – 11.30pm
Follow 2OX French Bistro & Bar on Facebook and Instagram for the latest updates.
Read also: #FoodReview: YG Republique Malaysia's Samgeori Butcher's