Uniworld Boutique River Cruise Collection, the world's most luxurious all-inclusive river cruise line, announces its bestseller itineraries for 2019 and the debut of a fully renovated River Royale.
River Cruising along the European rivers provides a brand new dimension for seasoned travellers to discover Europe, and Uniworld allows guests to enhance their experiences even further through personalization, making river cruising the ideal option for first-time travelers and travel veterans alike. Enjoy spectacular and ever-changing views of Europe's most enchanting waterways without having to pack and unpack one's floating hotel which travels through Europe's waterways visiting different countries with port stops in modern cities and quaint villages alike.
Uniworld's Bestseller European Itineraries
1. 10-day Holland and Belgium at Tulip Time River Cruise
Springtime blossoms will impress travellers on the 10-day Holland and Belgium at Tulip Time river cruise onboard the River Queen. Enjoy an indulgent and luxurious holiday onboard while admiring the beautiful landscapes and acres of blooming tulips as the journey meanders through Netherlands and Belgium.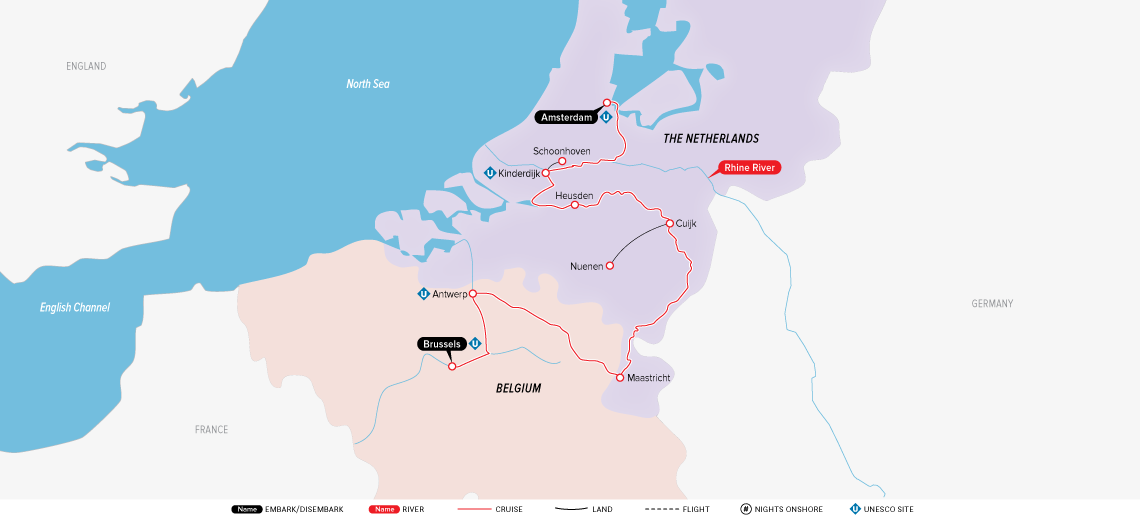 The River Queen is a sublime floating hotel designed for guests to enjoy.  One of the most unique ships cruising Europe's waterways, the River Queen has an exterior resembling the steamships of the 1930s and an elegant Art Deco interior, with richly textured blue and white fabrics, marble bathrooms and inspiring artwork.  As the ship meanders along the river, there will be medieval castles and splendid cathedrals to admire, and for those who want to cycle in the countryside, they can loan bicycles from the ship.
2. 8-day Enchanting Danube River Cruise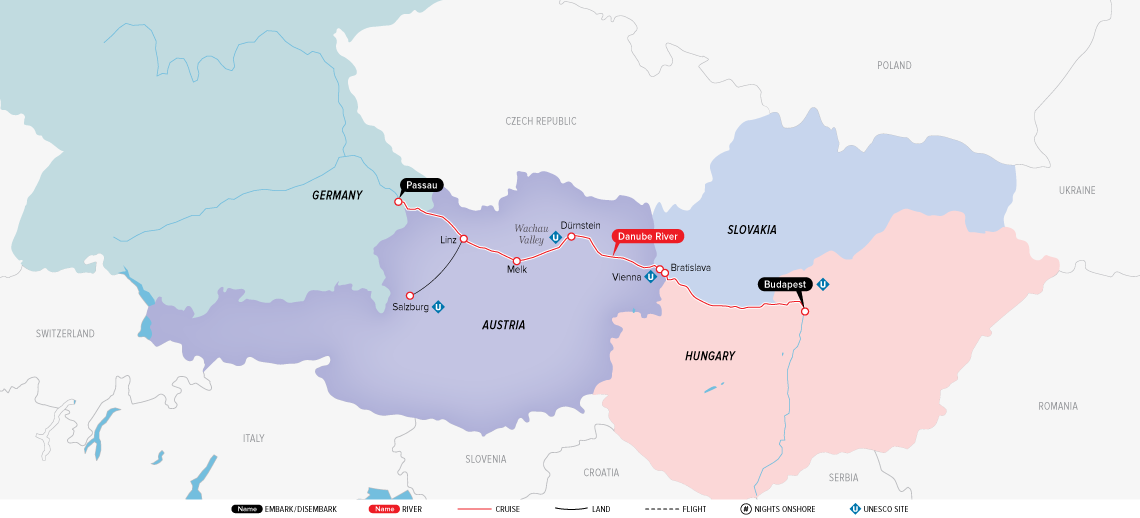 For first-time river cruises and seasoned travellers alike, a top trip to consider for travel in 2019 is the ever-popular 8-day Enchanting Danube itinerary. The journey presents a new dimension to visiting four Central Europe countries and will largely appeal to those that love history, art, architecture, music and exquisite food and wine. Guests will experience an unforgettable voyage along the Danube River from Budapest, Hungary to Passau, Germany onboard the Uniworld's S.S Maria Theresa visiting old-world capitals and charming towns and villages. Guests will enjoy VIP access to places only a privileged few will ever experience—such as a private early-morning viewing of the acclaimed art collection of the Kunstkammer Vienna.
3. 8-day Castles Along the Rhine River Cruise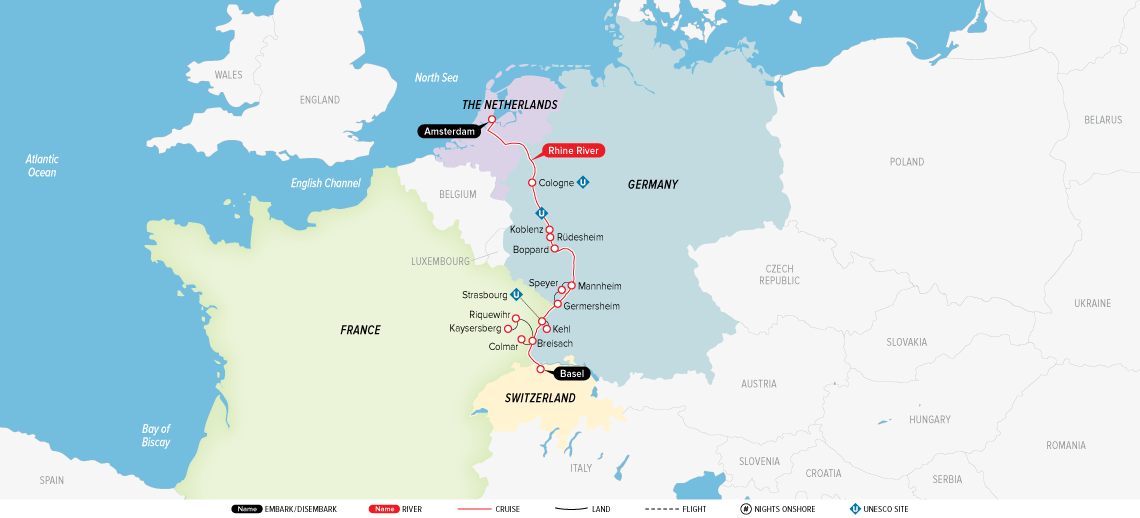 Those seeking inspiration and magical moments on-board a river cruise, should book the 8-day Castles Along the Rhine itinerary which travels from Basel to Amsterdam along Europe's second largest river. Marvel at castles that were once mighty fortresses and get an insider's look at one of the only castles on the Rhine that has never been destroyed, Marksburg Castle. The S.S. Antoneitte ship will pass through the Netherlands, Germany, France and Switzerland. Find inspiration in the romantic, soul-stirring beauty of the fabled Rhine as the spires of medieval churches and castles appear around each bend in the river, and vineyards climb the verdant hillsides.
4. 10-day Highlights of Eastern Europe River Cruise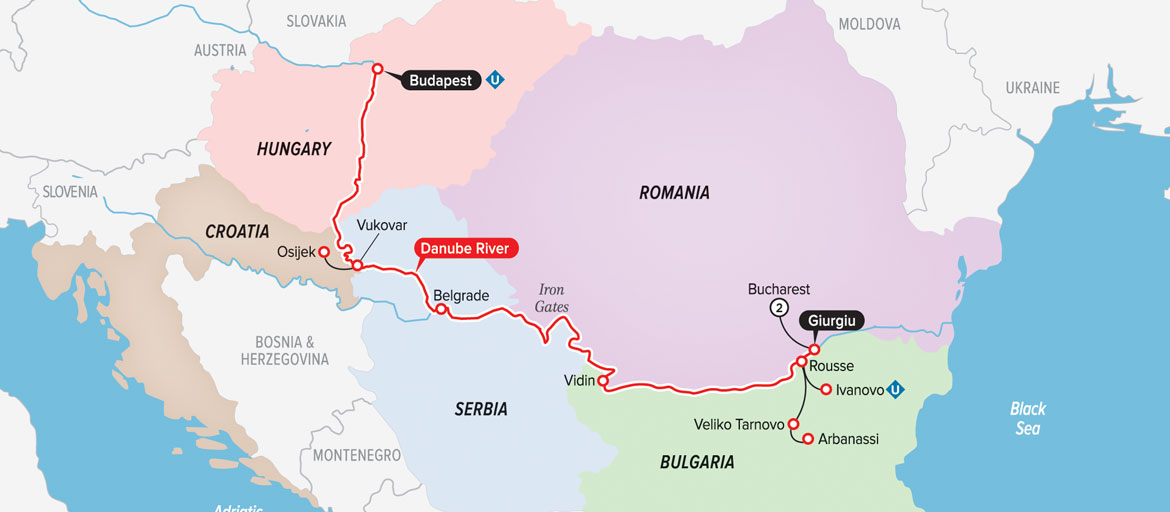 The 10-day Highlights of Eastern Europe itinerary will be a perfect trip for explorers seeking to discover iconic countries in Eastern Europe including Hungary, Croatia, Serbia, Romania and Bulgaria. The route follows a path forged by crusaders, kings and conquerers and is a buffet of new cultures and historic sites. The newly renovated S.S Beatrice will ply along this route, alternating with the River Duchess,  discovering the best that the this spectacular region has to offer. From Roman ruins to medieval fortresses,  admire majestic historic building as you sail along the Danube River, sit down for friendly, intimate meals with farmers in Croatia and artists in Romania. Uncover scores of little-known treasures, including the picturesque Bulgarian hill towns of Veliko Tarnovo and Arbanassi and the surprising rock-hewn churches of Ivanovo—a UNESCO World Heritage Site.
Upgrade of two Uniworld Ships
The upgraded S.S Beatrice started sailing in April 2018 and has a redesigned lounge that includes sofas and chairs with hand-made upholstery, and added amenities including new USB ports allowing guests to charge anywhere they are sitting. The ship has added two new restaurants, Schubert's and Max's.  Schubert's, an 18-seat café located at the bow of the ship, offers guests shared plates from lunch through dinnertime. For guests seeking an immersive culinary experience onboard the S.S Beatrice, Max's restaurant offers intimate cooking classes where guests can create local European cuisines alongside the chef. Additionally, the ship offers two new Grand Suites each measuring 310 square feet and a second 390 square foot Owner's/Royal Suite.  Connecting rooms, ideal for friends and families traveling together, have also been added.
Developments are underway in 2019 to include an interior transformation of the River Royale, Uniworld's intimate ship in the Bordeaux region of southwestern France. For wine-lovers and those interested in epicurean pursuits and culture, the 8-day Bordeaux, Vineyards and Châteaux itinerary is an insider introduction to the wine region of France.
Uniworld 2019 Launch Offer
Enjoy savings of up to US $1,000 per person as part of the "Uniworld 2019 Launch Offer". Limited cabins will be available on this amazing deal which can be booked through Holiday Tours & Travel Sdn Bhd, Uniworld's Official Retailer in Malaysia at 03-6286 6288.
Read also: Cartoon Network Wave Cruise Ship to Set Sail in Late 2018