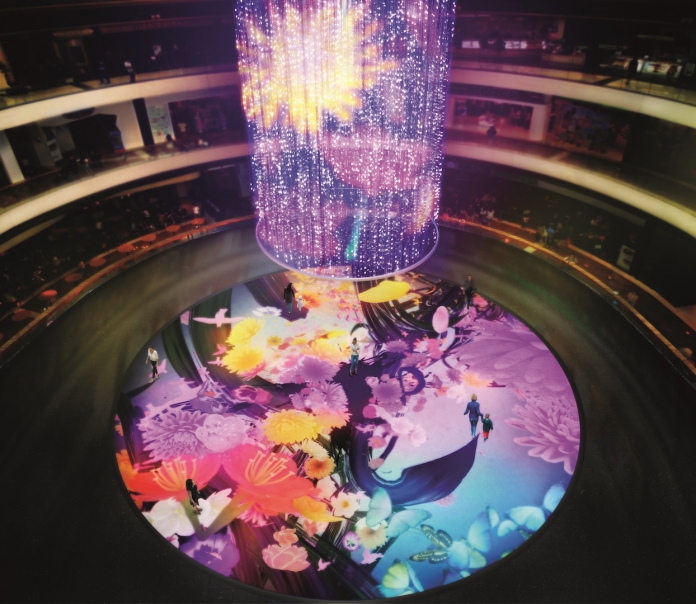 Marina Bay Sands unveiled a permanent attraction that will take immersive experiences to new heights through a multi-sensory combination of technology and digital art. Unveiled on 22 December in time for the festive holidays, the Digital Light Canvas will immerse visitors in an imaginative world of digital art, and allow them to interact with its elements through an unprecedented union of two highly dynamic technologies.
Located at the North Promenade of The Shoppes at Marina Bay Sands1, this permanent attraction is commissioned to multi-award winning Japanese art collective teamLab, who also created the landmark Future World: Where Art Meets Science exhibition at ArtScience Museum.
The new attraction, which took about two years from conception to completion, will feature teamLab's proprietary 4D vision display technology in the form of a magnificent 14-metre tall light sculpture suspended from the ceiling. More than 401,000 full-coloured LEDs are strung within 608 tubes hanging within the cylindrical sculpture. This interactive technology allows users to project pre-programmed 3D objects onto the installation via their smartphones.
The Digital Light Canvas features four different show modes accompanied by unique soundtracks throughout the day. Each scene is ever-changing and never the same. In addition to physically interacting with the LED floor to generate special effects, visitors located within the vicinity will also be able to set off a series of digital reactions and customised messages on the installation, through their mobile devices via an exclusive on- site Wi-Fi.
The Digital Light Canvas is open daily from 12pm to 8pm from Sundays to Thursdays, and until 9pm on Fridays, Saturdays, and eve of public holidays. Admission fee is S$5 per person, and complimentary for those two years and below. A unique serial code to cast an anniversary greeting, birthday wish, or wedding proposal on the LED floor is priced at S$50.
Future World exhibition ticketholders will also enjoy access to the attraction, while those who purchase a special bundle to visit three unique attractions across the integrated resort – namely the Digital Light Canvas, Sampan, and Sands SkyPark – will enjoy 15 per cent off the original ticket prices (S$32.30 per adult, S$27.20 per child).
More info, visit marinabaysands.com.
Read also: Neon Countdown 2017 | Dec 31 @ Sunway Lagoon