RugGear, the new generation of smartphones for rugged personal and work lifestyles, has arrived in Malaysia! The RugGear range of smartphones, created with lifestyle, nice looks ad performance in mind, has the distinction of versatile smartphone functions and the unparalleled hardiness for wet, rough and tumble situations of everyday life and beyond.
RugGear's foray into the Malaysian market with three latest models in RugGear's portfolio – the RG160, RG310 and RG730. All three phones have been tested to be waterproof, withstanding 30 minutes in up to two metres of water; impervious to dust and microparticles; and operate in extreme temperature range from -20°C to 60°C, biometric pressure, humidity and vibrations.
The brand targets two primary market segments to carve out its market share – one the regular mobile phone users who are also adventure seekers and sports enthusiasts; and the other, those working in rugged and tough environments that include construction, logistics, security, forestry, fishing and more.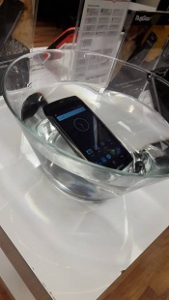 There are exciting plans for RugGear which includes the bundling of the RugGear phones with applications such as Microsoft Dynamics 365 and BPER Push-To-Talk which will equip businesses not just with a communication device but a business management tool.
Microsoft Dynamics 365 is the next generation of intelligent business applications that enable businesses to grow, evolve and transform.  It unifies CRM (Customer Relationship Management) and ERP (Enterprise Resource Planning) capabilities and works seamlessly to help manage specific business functions to meet customer needs and capture new opportunities.
BPER Push-To-Talk is a global instant one-to-one or group voice push-to-talk communication. It offers an end-to-end, IP-Based-communications and applications platform that guarantees highly-reliable, cutting-edge features, rapid, sub-second response times.
Additionally, in the first quarter of 2018, i.safe mobile, the intrinsically safe version of RugGear products designed for oil and gas, pharmaceutical and chemical industries, will make its way to Malaysian shores.  i.safe mobile is safe for use in any environment in those industries.
To discover more, visit ruggear-europe.com/, ruggear.com/ and ruggear.com.sg/.
Read also: Official Launch of HUAWEI nova 2i | Oct 13 @ Pavilion Elite KL