Fashion is the second most polluting industry in the world and with fast fashion, it's easy to see why so many clothes are being produced by the second. And with cotton being a natural material, it takes time for it to be produced by with the introduction of GMO (genetically modified organism) seeds, cotton farming is no longer natural and more pesticides are used as well for quicker and higher cotton yield. The mass production of GMO cotton is causing serious harm to the ecosystem and also to the farmers wellbeing where farmers are suffering from pesticide poisoning and cancer.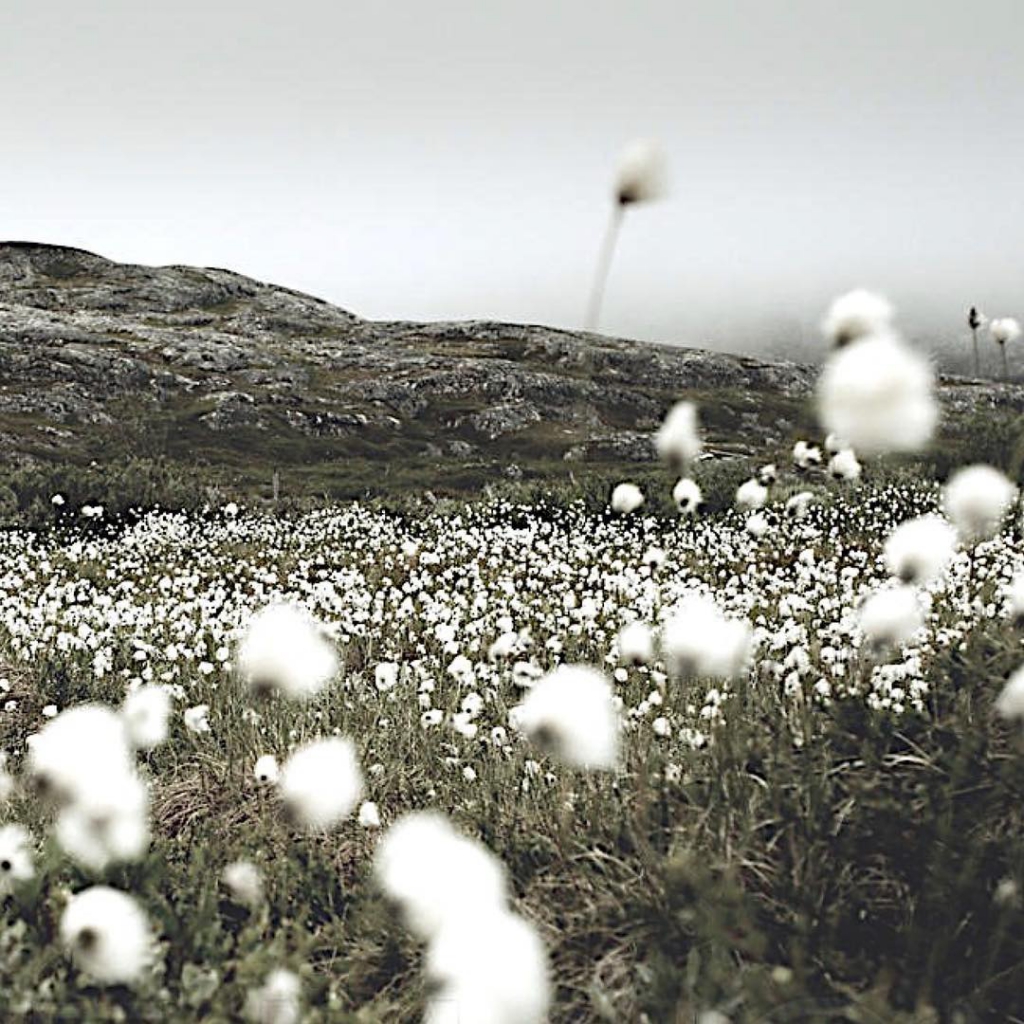 What's more, our skin absorbs more than 60% of what we apply on it so imagine what will happen when we're always exposed to GMO cotton products. Which is why Real Material (Real.m) has brought in organic, non-GMO eco-friendly lifestyle products which are safe for you and also mother nature. Famous for its peshtemals (Turkish towels), Real.m works with artisan Turkish cotton suppliers and collaborates with Connect One Threads in sourcing and moving towards procuring organic cotton. Turkey is also one of the biggest non-GMO cotton producer in the world!
For every Real.m product you purchase and each craft paper packaging returned to its stores, Real.m donates RM1 of each sale and return to Tropical Rainforest Conservation & Research Centre (TRCRC) in support of rainforest conservation. So you're also doing your part to mother nature as you bask in comfort and versatility of your peshtemals.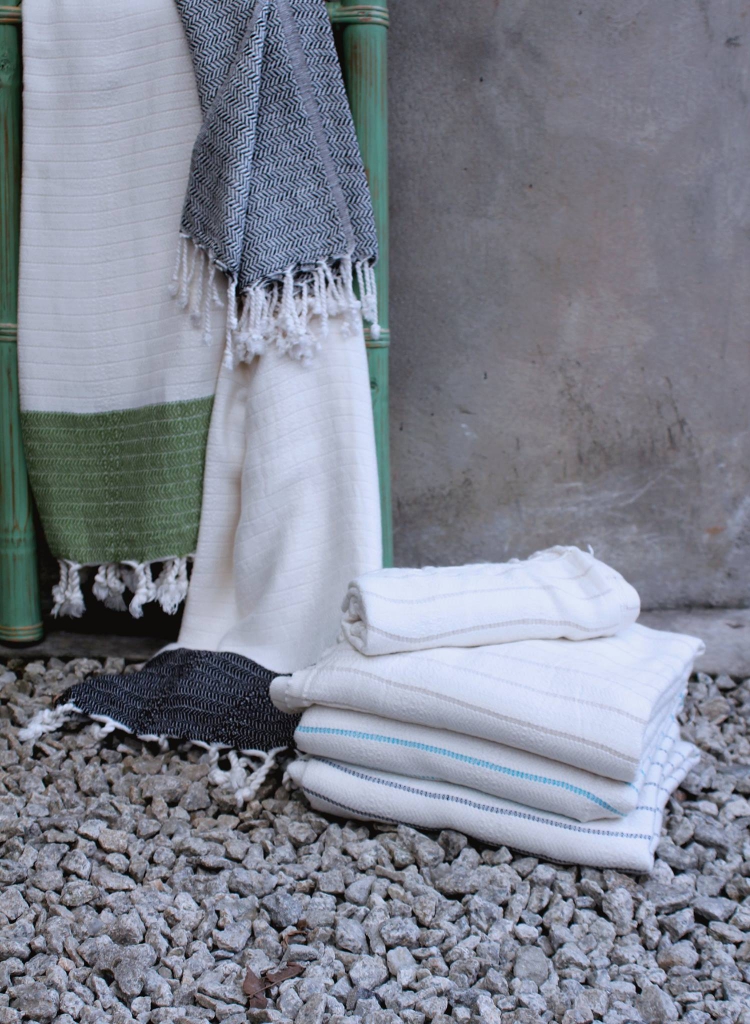 What makes peshtemals different that the usual towel? It's:
100% Natural Fibre
Highly absorbent
Highly Durable
Multifunctional
Dust & Sand free
Feather-light
Fast-drying
Naadira, Najmia, and Atiyya, the sisters and founders behind Real.m are showing how being eco-friendly can be pretty stylish and practical too with their handmade peshtemals (Turkish towels) and even taking it to the next level by translating it to casual wear.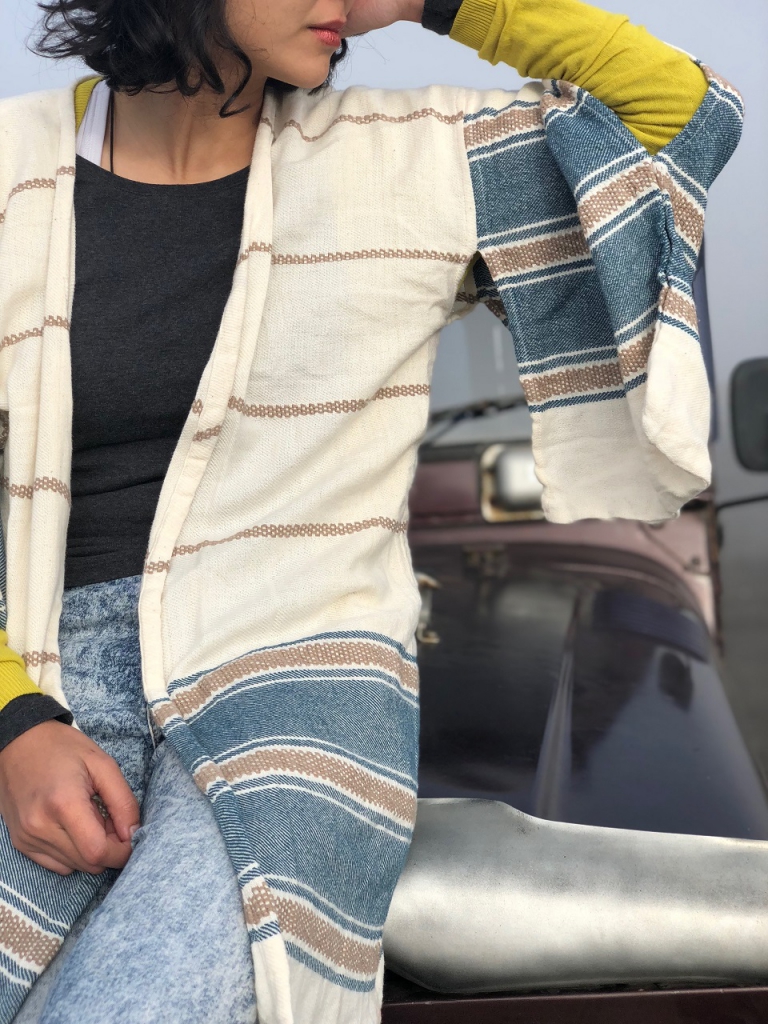 We had to find out more on how they started this business together as they bring more awareness to be more eco-friendly, one towel at a time.

Get inspired at our #PamperGirlPowerTalks with the trio!
1. How was it to start a business with your sisters?
Naadhira: Just with most things with us sisters, it all started from our many "day dreaming" and endless brainstorming sessions of what we liked, who we want to be and what values we wanted to impart. From a sparkle of enthusiam of the possibilities of what we envisoned Real.m could be, to progessively building the brand, and carrying out many of the tasks needed to make things happen, it has been a steep learning curve for all of us who ventured into business without first doing any proper business research. We all took that plunge into the unknown and still learning how to swim and surf with the tides of business.
Najmia: Fun and exciting when it comes to ideation and creation because we all have shared interest, taste and are at our core, creativity runs in our blood. Things can get challenging as a team when facing hard business decisions and dealing with challenges which is outside our comfort zone. But it's a process of learning how to work as a team and putting on professional hat on.
Atiyya: We have always wanted to do a family business since forever and we toyed with so many ideas from fashion, ID and food. We have never planned or imagine to have started and created what we have today (Real Material). It was truly organic from ideation to what it is now. Even though working family is hard but we have a bond that can be trusted. That is number one key in business, trust. Ya sure we may argue or agree to disagree but end of the day we are family and unite as one.
2. What are your roles in Real.m?
Naadhira: I predominantly cover the back-end works for Real.m from Admin, Finance to overseeing production needed for our merchandise.
Najmia: In Real.m I am at the forefront of business development. Although we all juggle various roles and multi- task as a small team, my main focus is making sure things are moving forward and implemented. With experience in project management in the creative, cultural and retail sector, this comes natural to me.
Atiyya: Branding, Art Direction, Content and Digital Marketing. We all give equal contribution to ideas when it comes to creative execution.
3. What inspired you guys to start selling towels among the sea of online clothing stores? Most towels are made with 100% cotton, what are the differences between your non-GMO peshtemals with the usual 100% cotton?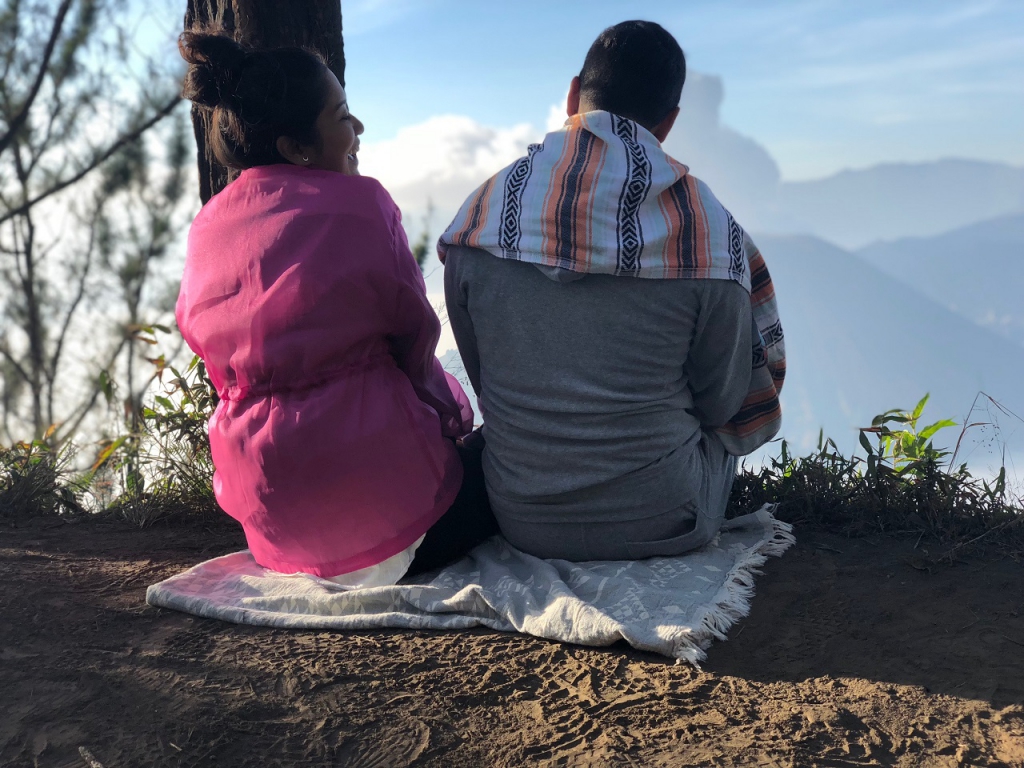 Naadhira: We fell in love with the versatility, practicality, and aesthetics of peshtemals. For us, it was never about being in trend, but what spoke to us. We also loved the fact that our peshtemals were semi-handloomed by a group of villagers in Turkey whose sole income came from producing these lovely multi-purpose towel. Knowing we are contributing to their livelihood and maintaining their craft heritage gave us a stronger purpose in promoting peshtemals. While the average terry towels are of 100% cotton, ours are of non genetically modified ones. Simply put, in production of our towels, we take a softer approach to nature where harmful chemicals are not used.
Najmia: Turkish towels embodies a lifestyle which does not compromise design, craftsmanship and practicality. It was never just about just a towel but the lifestyle and experience around its usage and the values we loved behind its production. There is a difference between Cotton, non-GMO Cotton (natural) and organic cotton. At Real.m, we source with non-GMO cotton from the Aegean Region of Turkey where there are strict policy against the usage of GMO seeds. We definitely have plans to work with the Organic certification in the near future.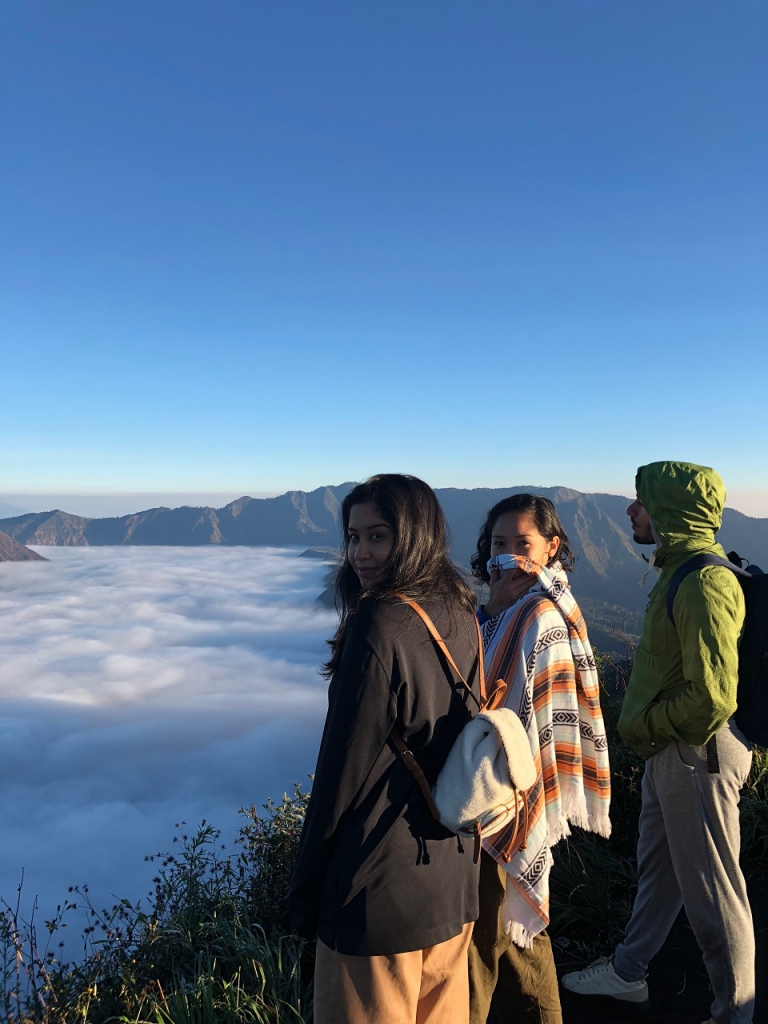 Atiyya: We wanted to go against the grid and sell something unique. It does has its consequences as being too niche in a market that hasn't fully grown in this industry of conscious lifestyle but because there is a cause and it serves a strong purpose and message, it was something that means a lot to us. Cotton can be found just about anywhere and can be produced by anyone but non-GMO cotton is only supported by a small portion of farm groups that have a social responsibility to mother nature. That is why we are called Real Material, we want to ensure that all of our materials are sustainable and ethically produced & sourced. Non-GMO cotton makes a whole lot of difference to the environment as compared to normal cotton.
4. The eco-friendly movement has been getting traction in the recent years which is great for you guys! Has it been a challenge to find a reliable source that shares the same vision as Real.M?
Naadhira: We were lucky that doors opened up to us from the beginning. We have been able to maintain great relationships with our suppliers. Also, others who do share our values do approach us. Of course finding them is more challenging compared to sourcing for other products, but we believe when you knock on the right doors, there are always someone on the opposite side waiting to welcome you.
Najmia: Generally sourcing sustainable is tricky especially more so for small businesses. It is still and underrated demand and the cost is high. We live in a fast pace consumerism culture where we want things fast, convenient, cheap and have options. This is a huge compromise on our natural resources and the natural process. Almost all things are reliant on somewhat of a synthetic process and technology. It works to have capacity in volume and to meet demands quickly. To keep up and sustain, most producers and suppliers have to change their ways. So yes, reliable sources are hard to find and afford at the same time. But we believe in taking small steps to contribute to change and inspire change. We hope to be market of educating and creating awareness to change perception. The supply chain will change if the demand of consumers change.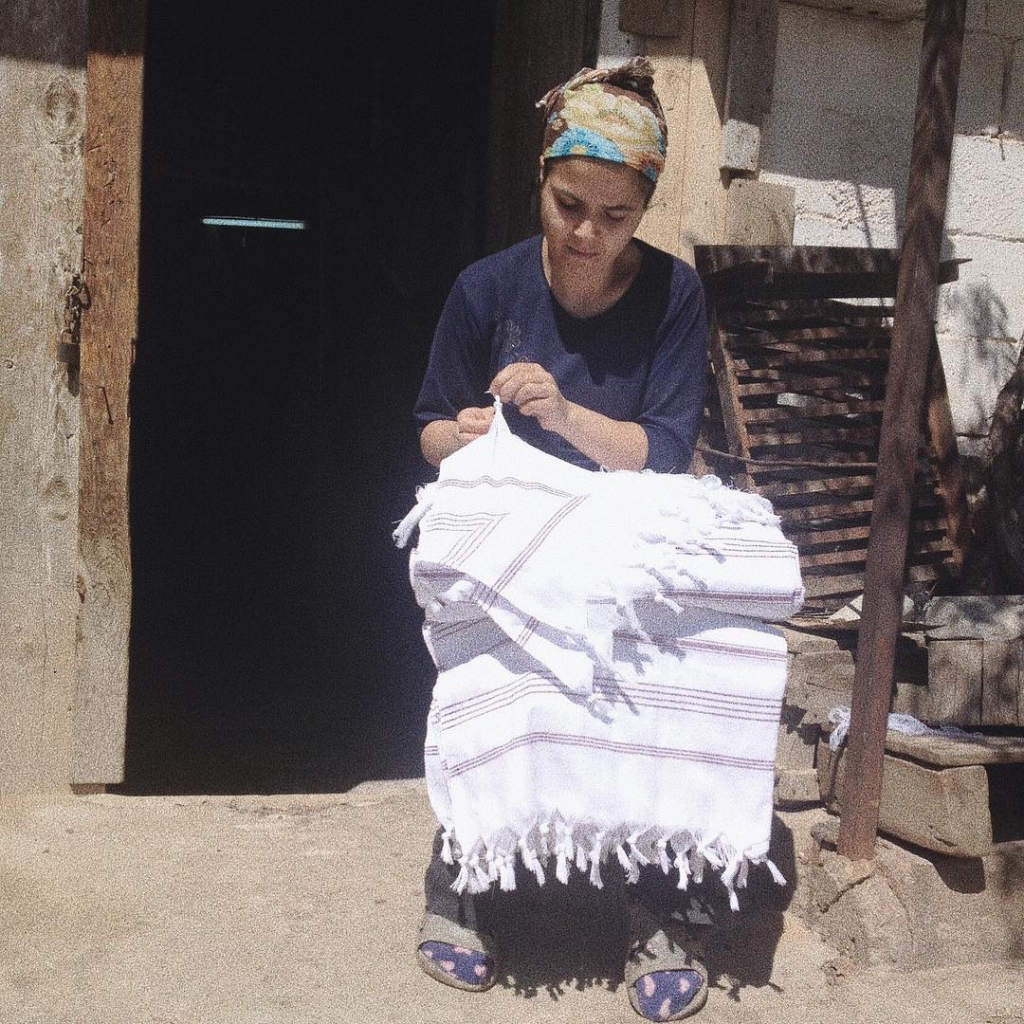 Atiyya: Finding a reliable source was only difficult in the begin just like all businesses but the minute you make one connection the rest will be paved for you as the community is very tight and everyone in this community wants to support one another. What is difficult is the logistics to getting to Malaysia. Mainly only cost of shipping. Generally getting things produced outside of your country is not only costly but time consuming and leaves a lot of room for improvement as we cannot simply do quality check on the product until it reaches to us.
5. All of you are juggling this business with either a full-time job and motherhood, how do you keep it altogether?
Naadhira: It's a lot about striking that "good balance", putting your values as priority. Even so, your values are not perfect nor permanent, hence you always have to check again the metrics on which you are measuring your life by. For me personally, I have had to  humbled myself and re-evealuate my values and priorities and readjust them or adopt new ones all together. End of the day, it is a matter of sacrifices you are willing to make. It has been a struggle to mix both family and business, and I believe it will continue to be. Just one hurdle to the next. But hopefully I am better eqquiped to handle the next. Keeping good communication is also key in this whole process. Even when problems seem unresolved, with a proper communication channel, the problems seems a little more manageable than before. 
Najmia: I do not have kids and the business itself is a handful. I salute ALL mothers who are juggling both. Time and energy is required to nuture a business let alone a family is a REAL challenge. We remind ourselves to be grounded and to acknowledge out limitations and that in the end, Family comes first.
Atiyya: Haha it is crazy! But luckily we are a team of three so we try our best to pick up after one another. We have 2 full time moms and Najmia pretty much runs the show and holds it down for us by making her magic work! Before I became a mom I had a full time job and found it hard to concentrate on both. Now that I am a mom and left my full time job, I find more reasons to make this work and to really help it grow. As for me, I only really get to sit in front of my laptop after my baby sleeps and when I'm done with dinner which is about 9pm. I honestly don't know how Naadira does it with three kids. Mia works around the clock. But, I guess this IS what its like when you have your own business. Right?
6. You recently launched a new ecowear collection, Ivory. Who's idea was it and did you guys came up with the designs together?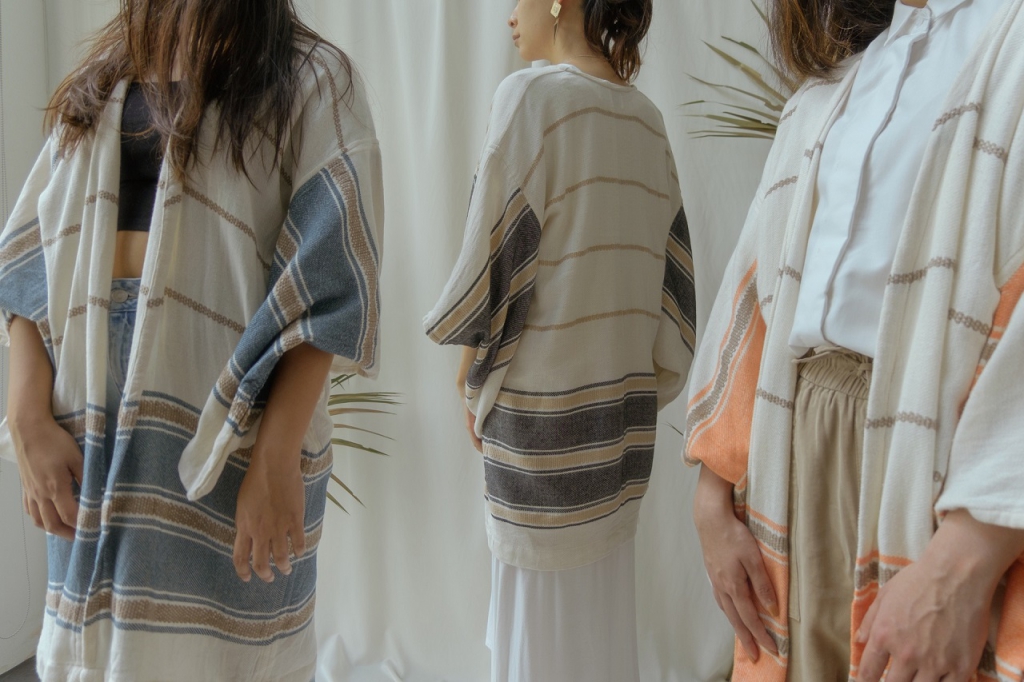 Naadhira: The Ivory collection was both Najmia's and my idea. We both worked together to design them.
Najmia: All 3 of us are part of the ideation and design process. We are very comfortable with each others critics and inputs which make the outcome, most times, better as it comes from 3 minds. In the end of the day, it boils down to trusting and admiring one another's design take.
Atiyya: Najmia and Naadira took most part in the IVORY collection as they wanted to extend our holiday wear to more everyday causal staples meant for the tropics. We wanted to steer away from being only "holiday wear" to more everyday but still somewhat serving the same purpose of being practical. The design actually came about before the concept IVORY. That's where I came in, Ivory is a shade of off-white. Off white being the "natural" aspect as pure white is often processed. Also, white is a staple colour you need to have in your closet and a colour that can't go wrong.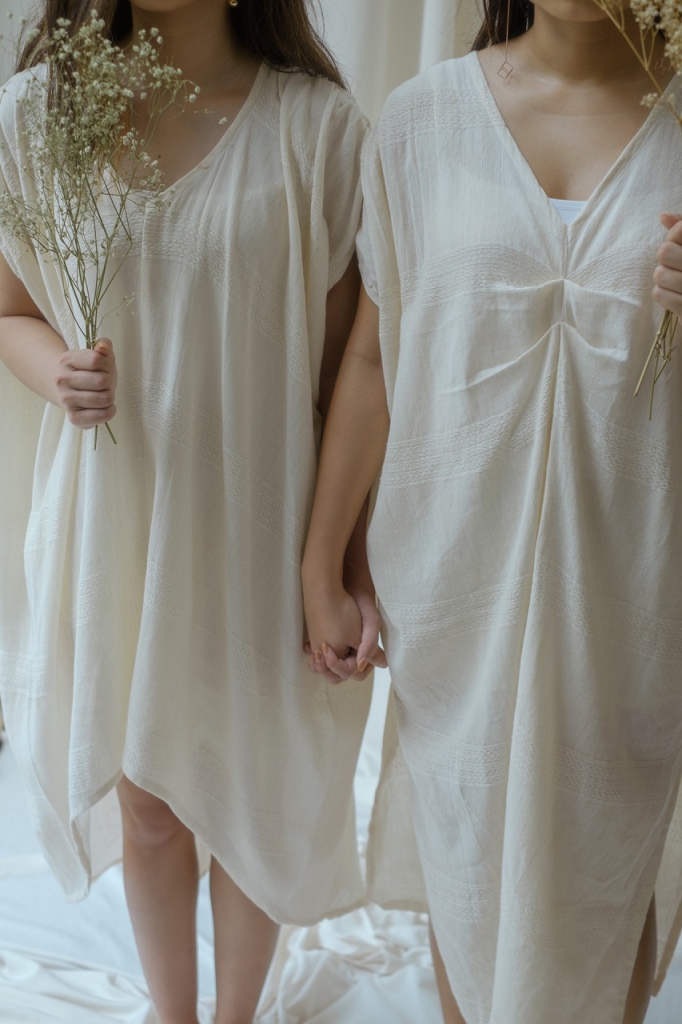 7. Can you tell us what is the one thing you're doing in your daily life to be more eco-friendly?
Naadhira: I started to create my own compost bin for my family. I wanted to teach the children concept of "nothing goes to waste", from the fruits and vegetable peels to spoilt rotten produce. I'm not sure what seeds or roots went in there, but a plant grew from our compost bin and the children and I were thrilled!
Najmia: Give away clothes as a rule for anytime I purchase clothes. This way, I buy and give and don't fall in the habit of hoarding and being wasteful.
Atiyya: Me personally, I have changed my skin care routine to using all natural products. I still have a lot of things to improve but I try to reduce wastage as much as possible wherever i can.
8. Which is your favourite Real.m product/towel?
Naadhira: My all time favorite is the Coral Caftan.
Najmia: The Cotton Travel Towels (Sands Collection). I use it for everything and its my favourite essential when traveling.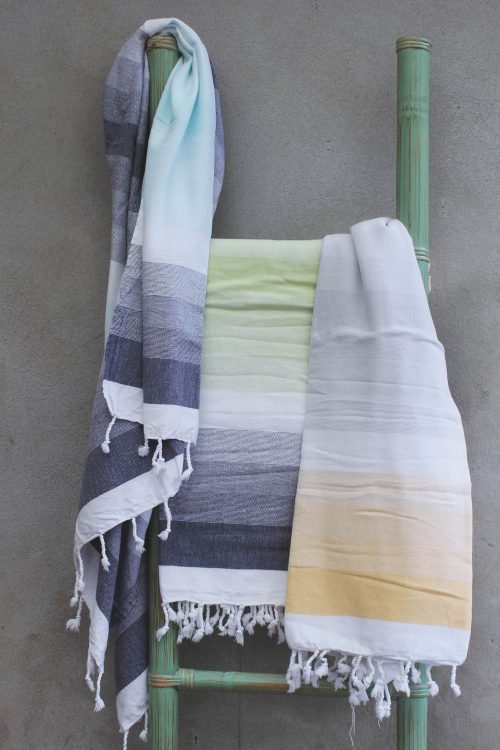 Atiyya: My favorite is the cotton travel towels. They are so light and I literally use them for EVERYTHING. My bath towel, my beach towel, my travel blanket, my outdoor mat…. you name it!
9. Since we're all about pampering, how do you pamper yourself after a long day at work?
Naadhira: Alone time away from my phone and noise of children. Just put on some feel good music and relax over a good book or chocolate is enough for me. Another is being outdoors with nature – a walk in the park, feet on grass and smelling the scent of dews…I wouldn't call being with nature "pampering" but a much needed Refresh Button to recharge my energy and spirit.
Najmia: Foot massage!!!!! It's a must to relax, get the right circulation in and to slow down.
Atiyya: Now that I'm a mom, I don't get much time but I would truly appreciate a simple long hot shower and put on a mask. I do make a point to take care of my facial routine and drink lots of water.
10. What advice would you give to women who want to start a business with their sisters, family or on their own?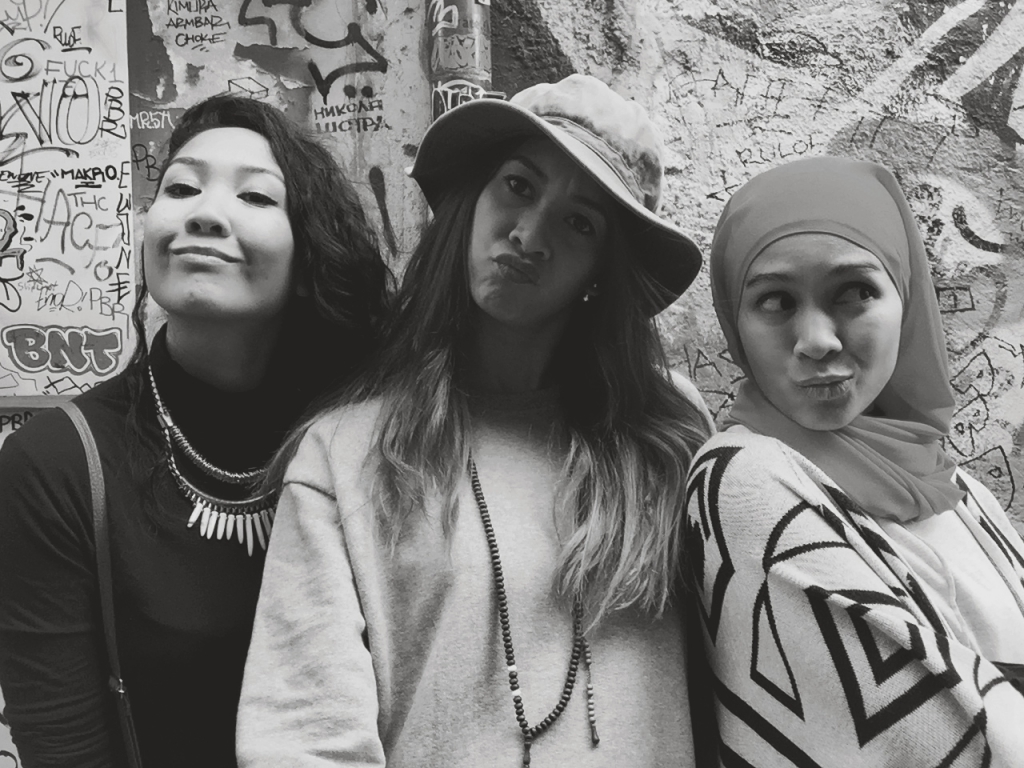 Naadhira: Have great support systems and many point of references to seek guidance from. Be prepared to do work and having many obstacles to get through. Put personal relationship with one another first, business second. Embrace and celebrate milestones, no matter how small they seem. Be greatful towards each other and learn the art of giving.
Najmia: Be honest with your intentions and anchor yourself with that.
Atiyya: JUST DO IT! If you have trust, then dont worry bout the rest. Everything will fall into place.
Start living sustainably by getting yourself a piece of Real.m at realm.com.my. Follow Real.m on Facebook & Instagram for styling and travel inspo with your sustainable Real.m towels and caftans.
Read also: #PamperGirlPowerTalks: Ballerina Natasha Watson On Playing The Graceful Odette In Swan Lake