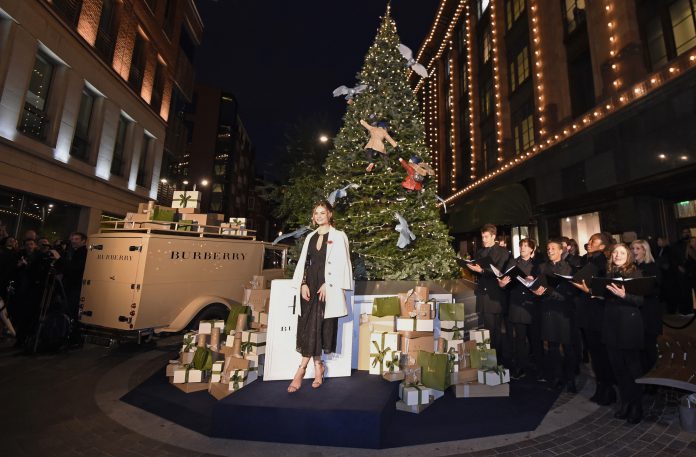 British actress, Lily James recently unveiled the new festive windows at Harrods, launching A Very British Fairy Tale, which brings together the two iconic British luxury brands.
This is the first festive partnership at Harrods, and to mark the occasion Lily switched on both the lights of Harrods' renowned storefront windows and the first ever Harrods Christmas tree on Hans Crescent. The tree, which was designed by Burberry, is situated outside the store's brand new Door 5 Grand Entrance.
A Theatrical Digital Window Experience
The 29 windows on Brompton Road, where A Very British Fairy Tale unfolds, tell the story of two children on an enchanting adventure through a snow-swept English country house, complete with flying cars, floating bathtubs, and secret passageways.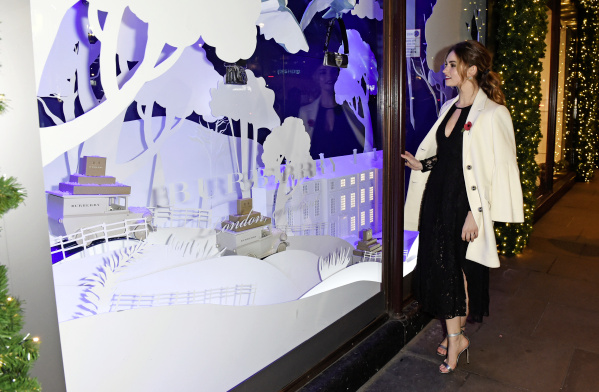 As part of the display, visitors are able to interact with a sensory window, through the use of a touch trigger mechanic and motion sensor, through which they can experiment with the lighting and music composed specifically for the display, bringing the tale to life.
An Exclusive Burberry Collection
The unveiling also coincides with the launch of an exclusive collection designed by Burberry, including limited-edition ready-to-wear, accessories and gifts, which are featured in the windows.
Thomas's At Harrods
For the Christmas period, a dedicated selection of pieces from Burberry's all day café Thomas's will be available at the Harrods Food Hall, including chocolate mince pies, biscuits and a limited edition bottle of English sparkling wine, Nyetimber, exclusive to Harrods.
Program Of Activity
Harrods' customers will also be able to enjoy a programme of activities to celebrate the partnership, with visitors able to discover the craftsmanship behind classic Burberry products live at different stations in the Harrods exhibition windows every weekend in the lead up to Christmas. Personalisation services such as Burberry Heritage trench coat demonstrations and bag painting will also be available.
A Very British Fairy Tale' at Harrods can be seen from November 3rd to December 27th 2016. So don't forget to stop by if you're in London.
For more information, visit my.burberry.com or www.burberry.com.
Read also: Burberry Premieres 'The Tale of Thomas Burberry' In Conjunction To Its 160th Anniversary