It seems that more and more designers are trying to challenge the norm on the runway. Generally, you'd expect a rising model or a famous supermodel walking the show but designers have become rather creative in recent years, putting celebrities "on" the catwalk rather than "by" the catwalk. Take the Miu Miu Resort 2019 show for example.
"Go big or go home", was what's probably on Miuccia Prada's mind when she tapped her closest celebrity friends Uma Thurman, Kate Bosworth, Chloë Sevigny, Gwendoline Christie, Sadie Sink and more to walk the show. How did she do it? Months of planning, of course! Eek! Wrong.
"We did it in one day. We decided in the morning: 'Let's do it,' and we asked and everybody said yes. They loved the idea of doing the show", she said with a laugh.
Only Miu Miu Club, a one-night-only trendy spot Prada created exclusively for her resort shows, has that big of a influence to make a celebrity say yes.
"Of course, I am the boss of the Miu Miu Club. I really love girls," proclaimed Prada. And true enough, the fashion house has been working with female directors for seven years now on its long-term short films project called "Women's Tales."
Thurman, who sashayed down the runway in a Miu Miu oversized racing-stripe overcoat (which somehow resembled the infamous Kill Bill costume palette the actress wore in the film) to close the show, revealed a long dress with a leopard-print skirt underneath through several twirly twirls.
 Uma Thurman walking down the Miu Miu Resort 2019 show
The collection, in its entirety, embraces serious fun through day, night and bed. Wait what? "Because we are in a hotel," explained Prada. Taking place in the lobby of the Belle Époque Hotel, ruffles and rhinestones decorated the designer's breathtaking take on activewear. With a sprinkle of retro-meets-futuristic experimentation, the lineup of colour-blocking coats, zippered short shorts and transparent baby doll dresses notes more freedom compared to past collections and goes out to prove that Miu Miu girls sure know how to have fun.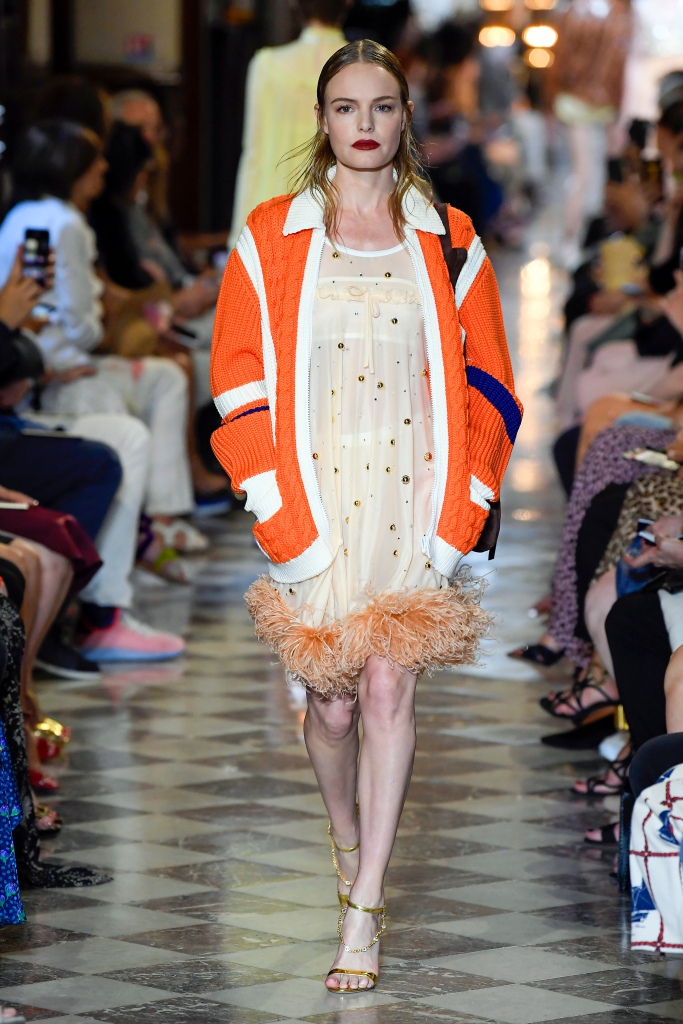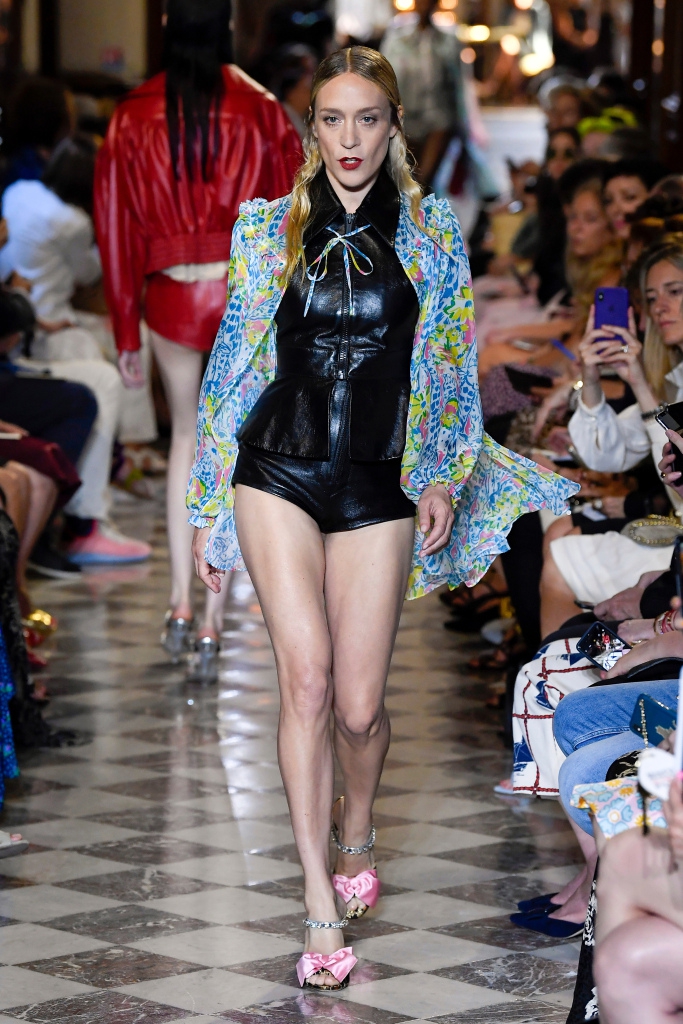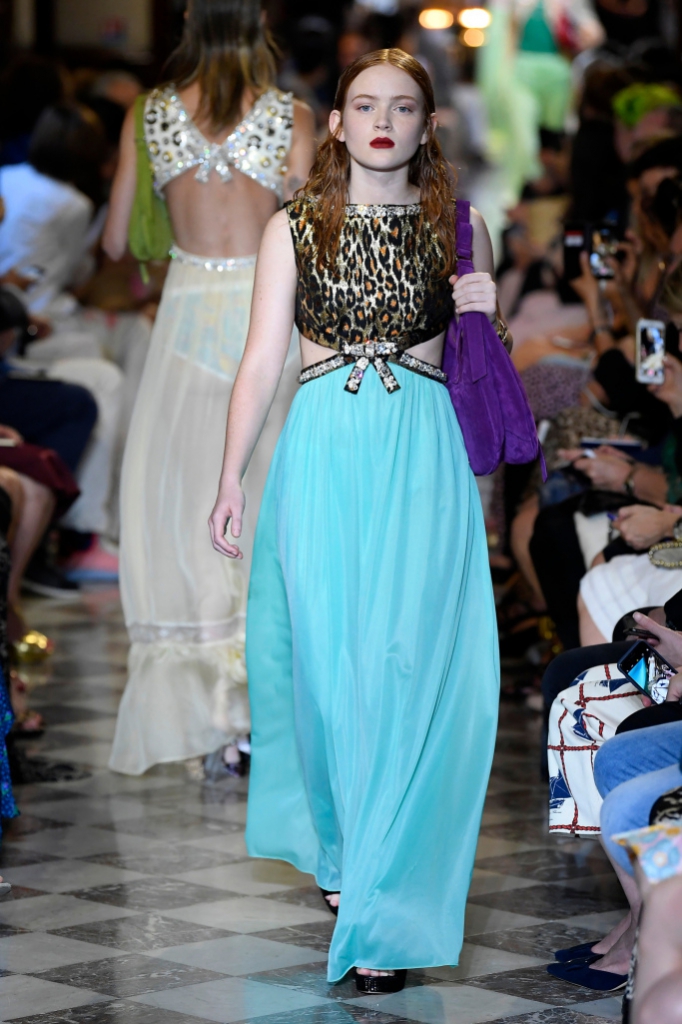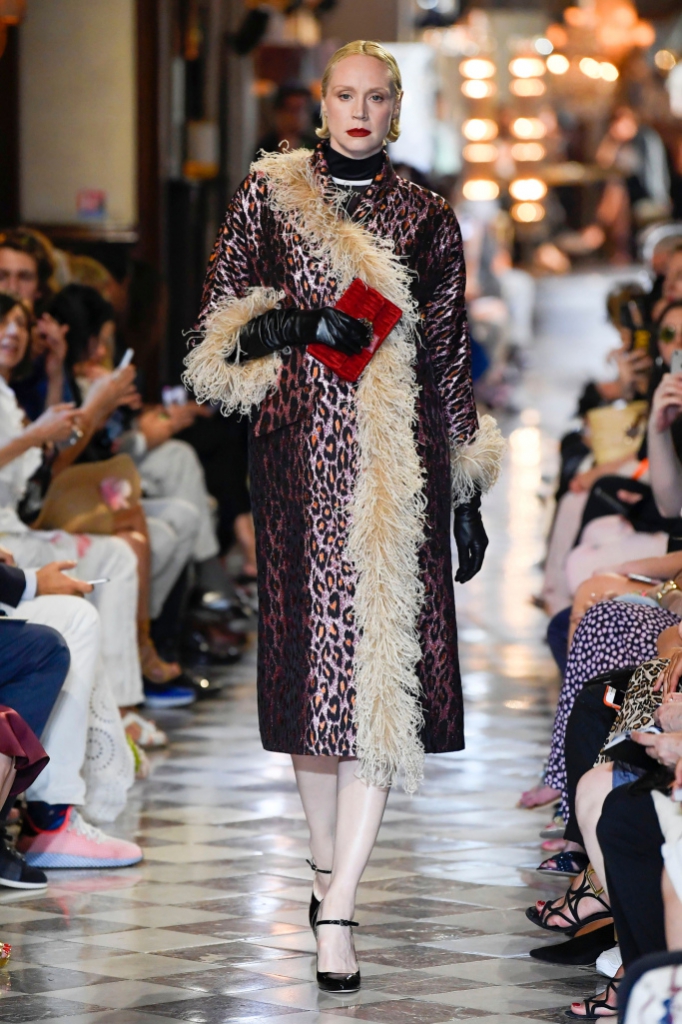 Source: WWD/REX/SHUTTERSTOCK
Read also: Double Debut: Virgil Abloh For Louis Vuitton vs Kim Jones For Dior Homme