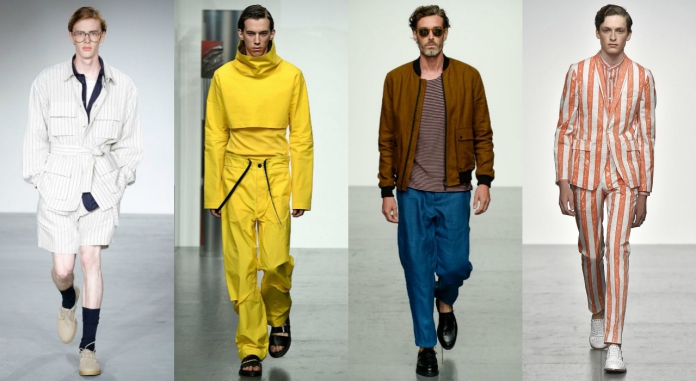 Setting the bar for Spring/Summer 2018 men's shows worldwide, the latest London Fashion Week Men's unleashed a plethora of fresh trends to prime your wardrobe. Here are five game-changing style rules straight from the runway. Gents, take note.
1. Tie Waist Jackets
Among the highlights this season, belted mid-length outerwear and longline jackets are set to become an instant hero piece come Spring. With wearable colours such as tan and navy blue, designs are versatile enough to mix and match into a man's pre-existing wardrobe.
(credit: The Business of Fashion & Vogue)
2. Reverse Layering
To switch things up this time around, designers played around with proportions and turned to reverse layering, teaching us a thing or two on how to make the most out of transitional items. The key formula is to layer the shortest piece on top of longer layers as seen on Maison Mihara Yasuhiro, Astrid Andersen and Alex Mullins.
(credit: Maison Mihara Yasuhiro & Vogue)
3. Vertical Stripes
Day two sees the ruling of bold, vertical stripes as the classic time-honoured trend gets a fashion forward makeover in the form of oversized button-downs and suits. South Korean designer, Songzoi, stole the spotlight by translating his canvas paintings into hand-painted garments.
(credit: GQ & Vogue)
4. Mid-Wash Denim
An essential pair for every man (and woman), denim can be seen cropping up at Martina Rose, Oliver Spencer, Lou Dalton and others. As a trending piece of the season, the mid-wash denim even made its way into Craig Green's collection, a designer known for his utilitarian tailoring.
(credit: GQ & Vogue)
5. Head-to-toe Monotone
Donning the same hue head-to-toe is no easy feat. Be bold and take cues from the solid colour play as seen on Oliver Spencer, Phoebe English Man and Berthold Spring/Summer 2018 Collections.
(credit: GQ & Vogue)
Read also: Top 5 Women's Shoe Trends For 2017