Melissa Shoes and Sebastian Errazuriz Unveil a New Collaboration of Wearable Art, Inspired by "12 Shoes for 12 Lovers"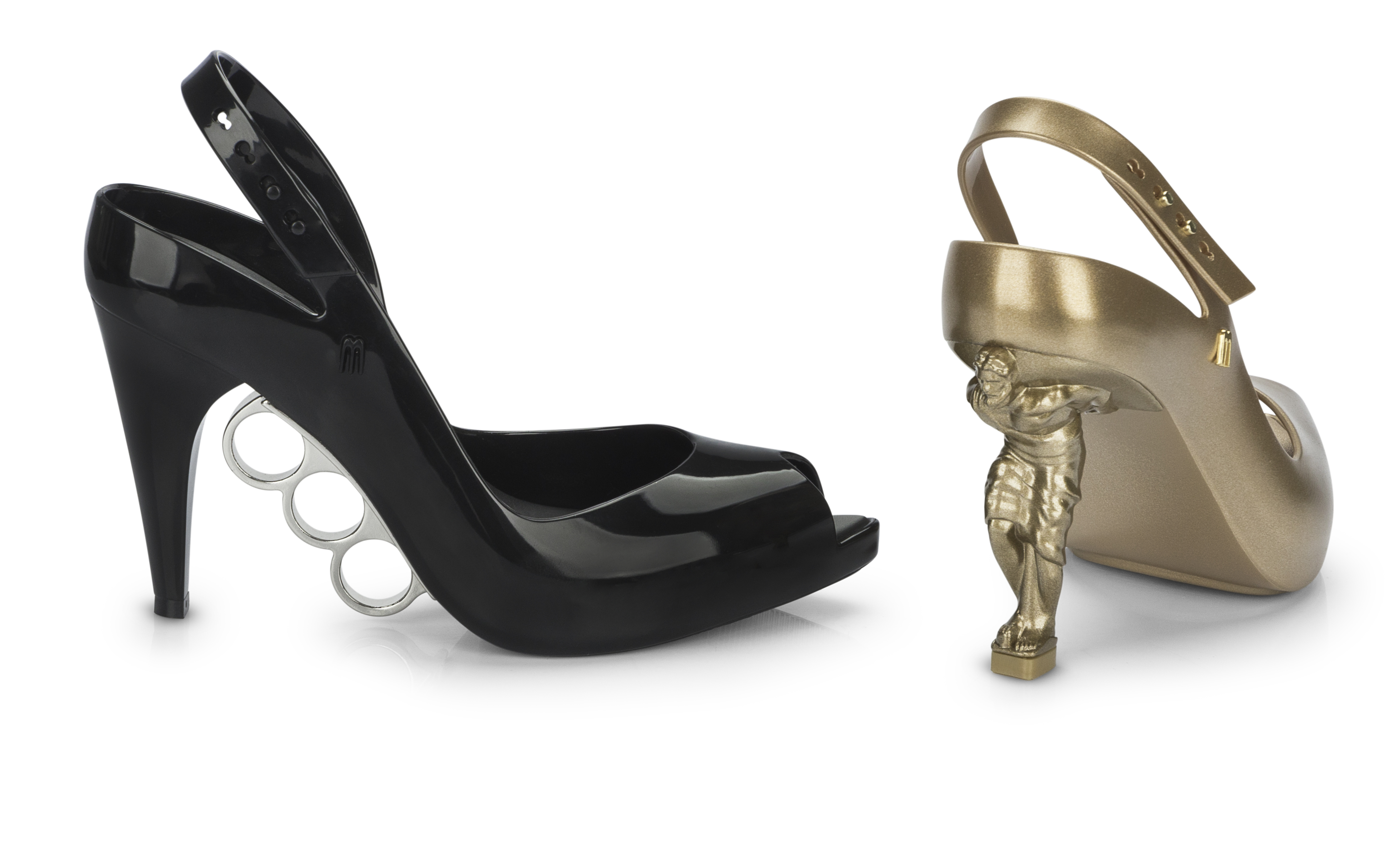 Melissa has always been more than a shoe. Sebastian Errazuriz is much more than a designer. They have teamed up to unveil a special and limited edition of two of the twelve shoe-sculptures: "Goldigger" (resembling a Golden human form as the heel of the shoe) and "The Boss" (resembling brass knuckles).
These limited edition shoes will debut at Melissa's 'Galerias' around the world: New York, Sao Paulo, and London.  The creation of these innovative and remarkably structured shoes was inspired by the tremendous response to the Twelve Shoes for Twelve Lovers installation by Errazuriz showcased at Melissa's own pop-up shop during Miami Art Basel.
For the 2013 Miami Art Basel, Errazuriz developed a collection of twelve shoe-like sculptures inspired by his own twelve ex-girlfriends. He developed each one on a 3D printer, using plastic strands as paint. Mixing past love stories with humor, wit and meticulous fabrication, Sebastian Errazuriz turned ex-lovers, and the feelings evoked by them, into beautiful, functional sculptures.
Melissa Shoes is known for partnering with the world's top design talent to create a visually exhilarating shopping experience for its customers worldwide.  For this reason, its Manhattan flagship store is called "Galeria Melissa" – the store is regularly befitted with rotating artistic work and has recently featured installations by Walt Cassidy, Karl Lagerfeld, Edson Matsuo and EPFL+ECAL Lab, David Thomas Solution, SOFTlab, a curated show by Natalie Kates, and an installation by Kreemart and Baron von Fancy.
For more information visit www.melissa.com.br/sebastianerrazuriz