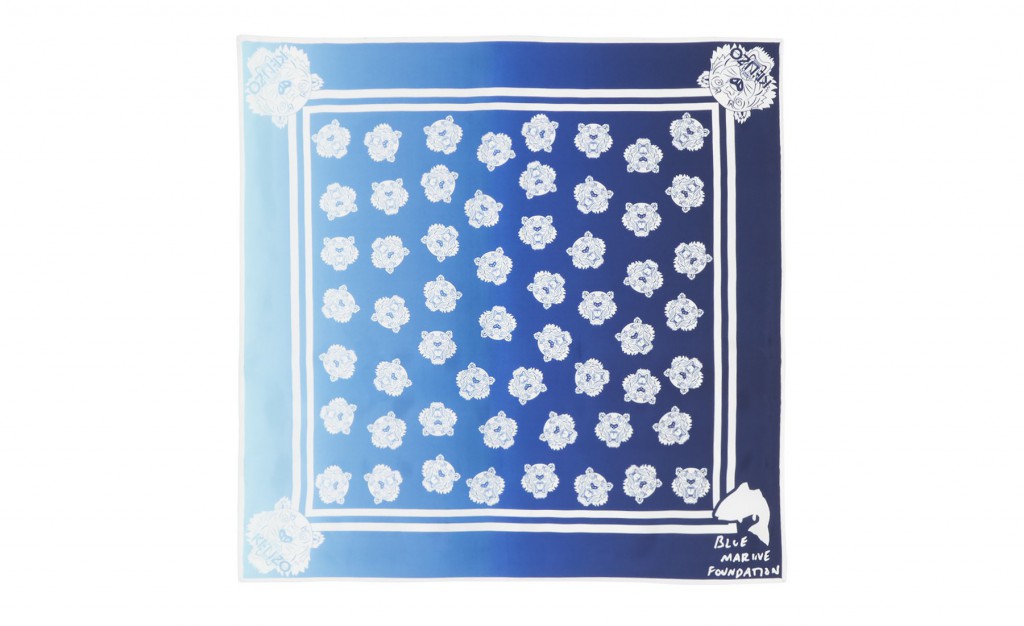 Carol Lim & Humberto Leon, creative directors of KENZO are proud to announce the creation of an exclusive, limited-edition Carré scarf in support of Blue Marine Foundation (BLUE).
BLUE, the charity founded in 2010 by George Duffield, Charles Clover and Chris Gorell Barnes, exists to fix the largest solvable problem on the planet – the crisis in our oceans. Since 2013 and the beginning of the collaboration between KENZO and the UK based charity, blue has grown in their efforts to create awareness on the plight of the oceans.
BLUE's ongoing mission is for the protection of ten percent of the world's oceans by 2020. They are doing this by placing as much of the ocean under protection by creating large scale marine reserves, like Pitcairn, and establishing working models of sustainable fishing. They are working to challenge the practice of fishing beyond sustainable levels.
This is the third product the French brand has made for the British charity following on the success of the "NOFISHNONOTHING" campaign in 2013/14 and the "BLUE MARINE BLUE" tiger sweater launched at the end of 2014.
With the sales of this scarf, KENZO continues to assist blue in their effort to achieve their goals. Made from 100% silk, the scarf's color goes from a deep to light blue Dégradé and combines KENZO's iconic tiger emblem with KENZO's symbolic emblem of the tuna representing blue.
The scarf will be available from October in KENZO stores worldwide, kenzo.com, Selfridges in the UK as well as selected KENZO partners around the globe.