Since 2008, Jaeger-LeCoultre and UNESCO have been working together to protect the 47 marine sites appearing on the UNESCO World Heritage list. The support that Jaeger-LeCoultre lends to the preservation of these unique marine treasures is part of an approach dedicated to sustaining the most precious resources on our planet.
Every year, Jaeger-LeCoultre pays tribute to a marine site appearing on the UNESCO World Heritage list. This year, the spotlight is being turned on Glacier Bay National Park and Preserve, located on the Canadian border of Alaska.
In 1958, to celebrate the first International Geophysical Year as well as the 125th anniversary of the Manufacture, Jaeger-LeCoultre created the Geophysic® choronometer embodying Swiss watchmaking excellence as well as the scientific knowledge of the time. Around 70 nations took part in the International Geophysical Year to support scientific research.
Jaeger-LeCoultre drew inspiration from this initiative in creating the Geophysic® hronometer Reference E 168, a high-precision watch based on tried and trusted construction enabling it to resist magnetic fields, shocks and immersion. These properties made it an ideal choice for the crews sailing to the North Pole where the magnetic field is at its strongest.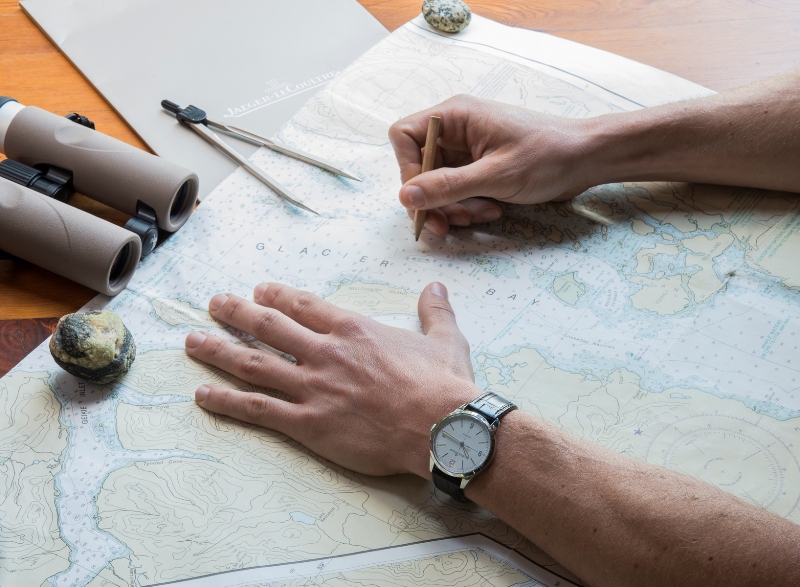 Alaskan photographer and modern explorer Mark Kelley, who has spend over two hundred days in Glacier Bay National Park, has joined Jaeger-LeCoultre and UNESCO on location, wearing the Geophysic® 1958 watch, to capture the unique ecosystem of the region and the efforts made by scientists and project managers working to preserve the site.