Last month, Swiss Luxury watchmaker Hublot celebrated its passion for art and its ongoing campaign, HUBLOT LOVES ART, by bringing together street artists Hush and Tristan Eaton for the launch of "Fame vs. Fortune"; a limited-edition art timepiece concept. Hush represents Fame symbolizing the West Coast sensibility – where the Hollywood film industry reigns supreme. Eaton in turn, represents Fortune embodying an East Coast mentality, home of New York City's Financial District which is the birth place of so many great fortunes. Each artist brings his unique sensibility rooted in his "represented" coast.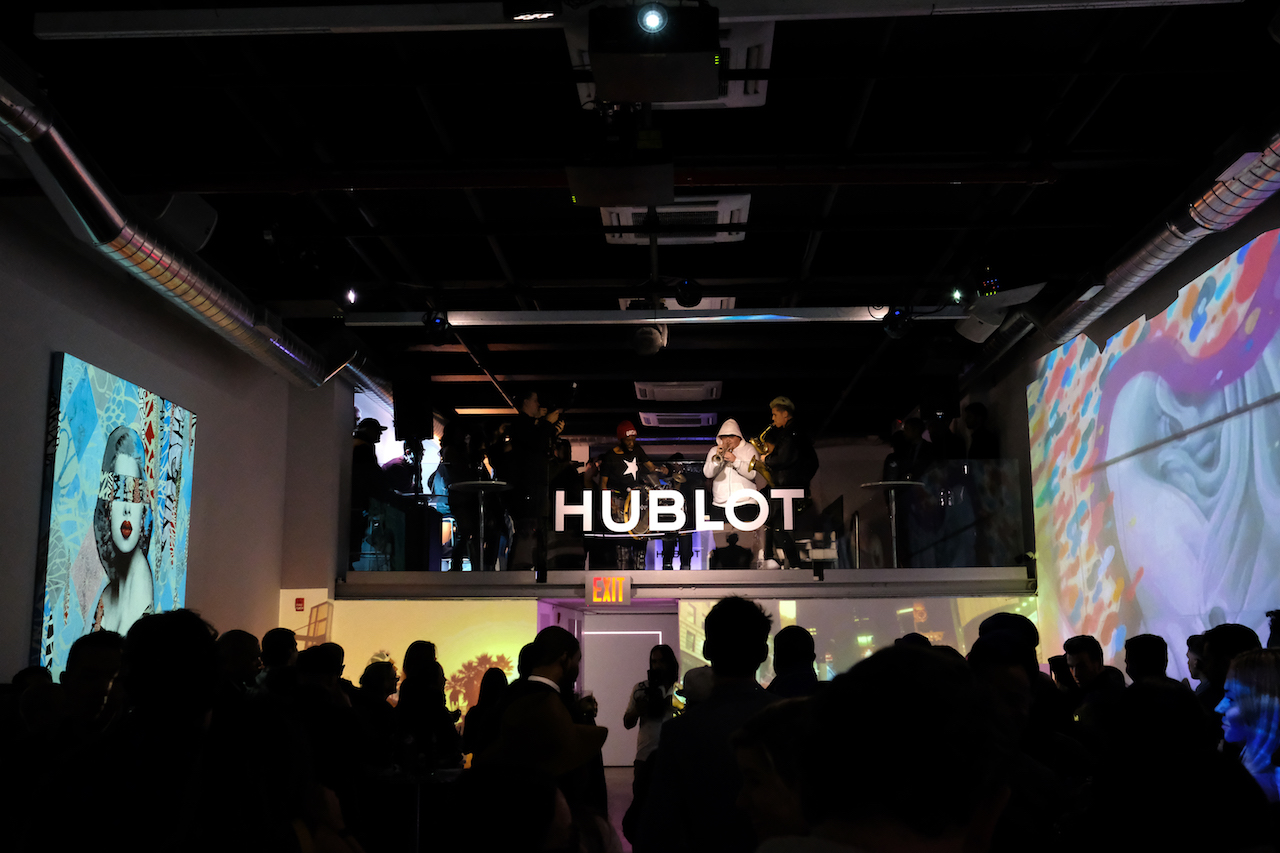 The artists appeared together at Lightbox Studios outside Times Square with Hublot of America Managing Director Jean-François Sberro, to launch their respective limited-edition timepieces, that incorporate their artistic talents. Attendees including friend of the brand Jesse Palmer, media, and fellow artists experienced this vision interpreted in dramatic video art stretched across the loft's walls. An interactive digital display provided background information on both Hush and Tristan Eaton through touch screen capabilities. To further extend the brand's "Art of Fusion" concept, entertainment was provided by mashup pioneer DJ Z-Trip and the conceptual live art-jazz musicians Too Many Zooz. Respective coastal street food served from food carts, included "Liberty Dogs" hot dogs inspired by New York and "Los Tacos" Mexican specialties inspired by Los Angeles.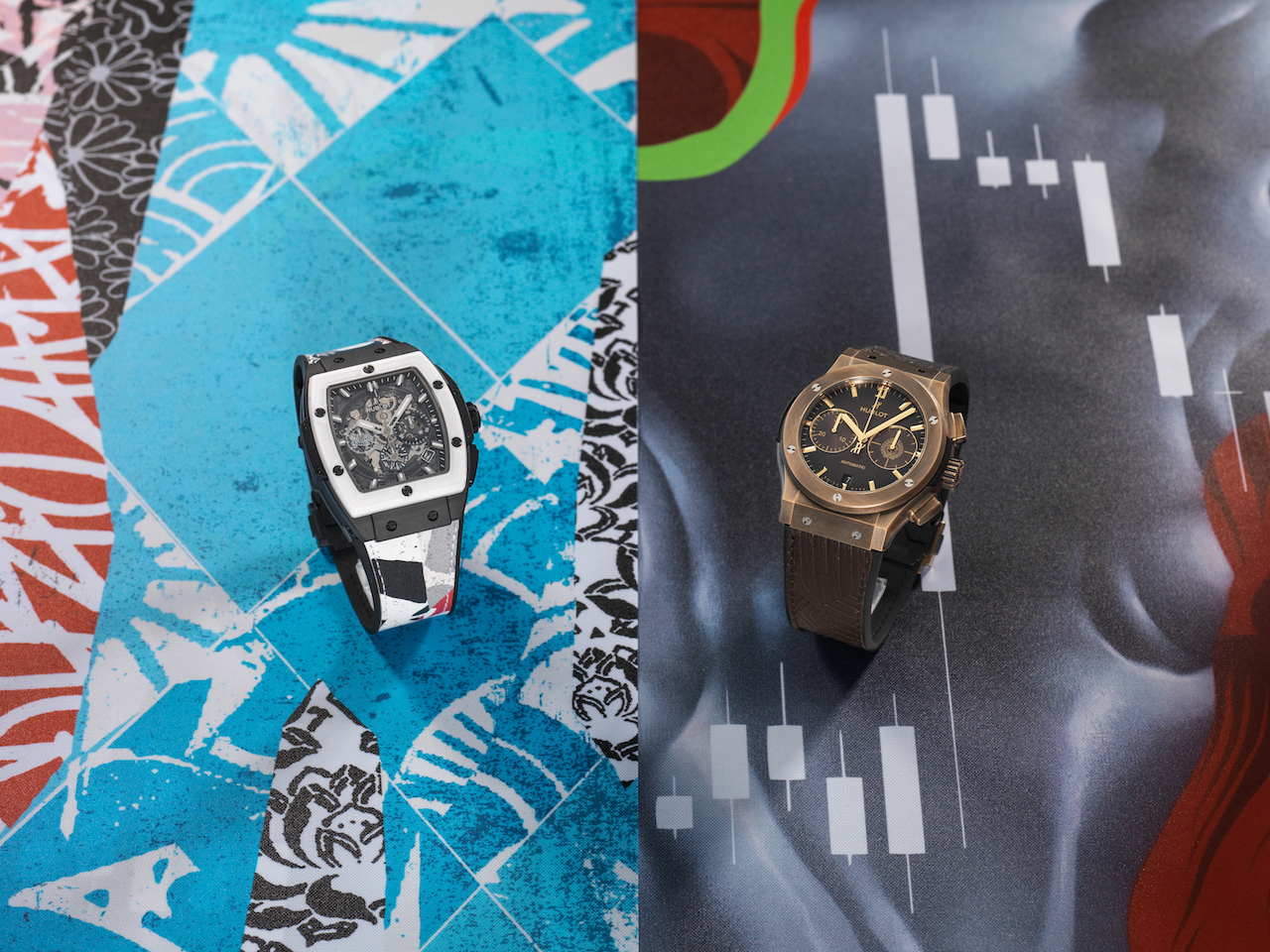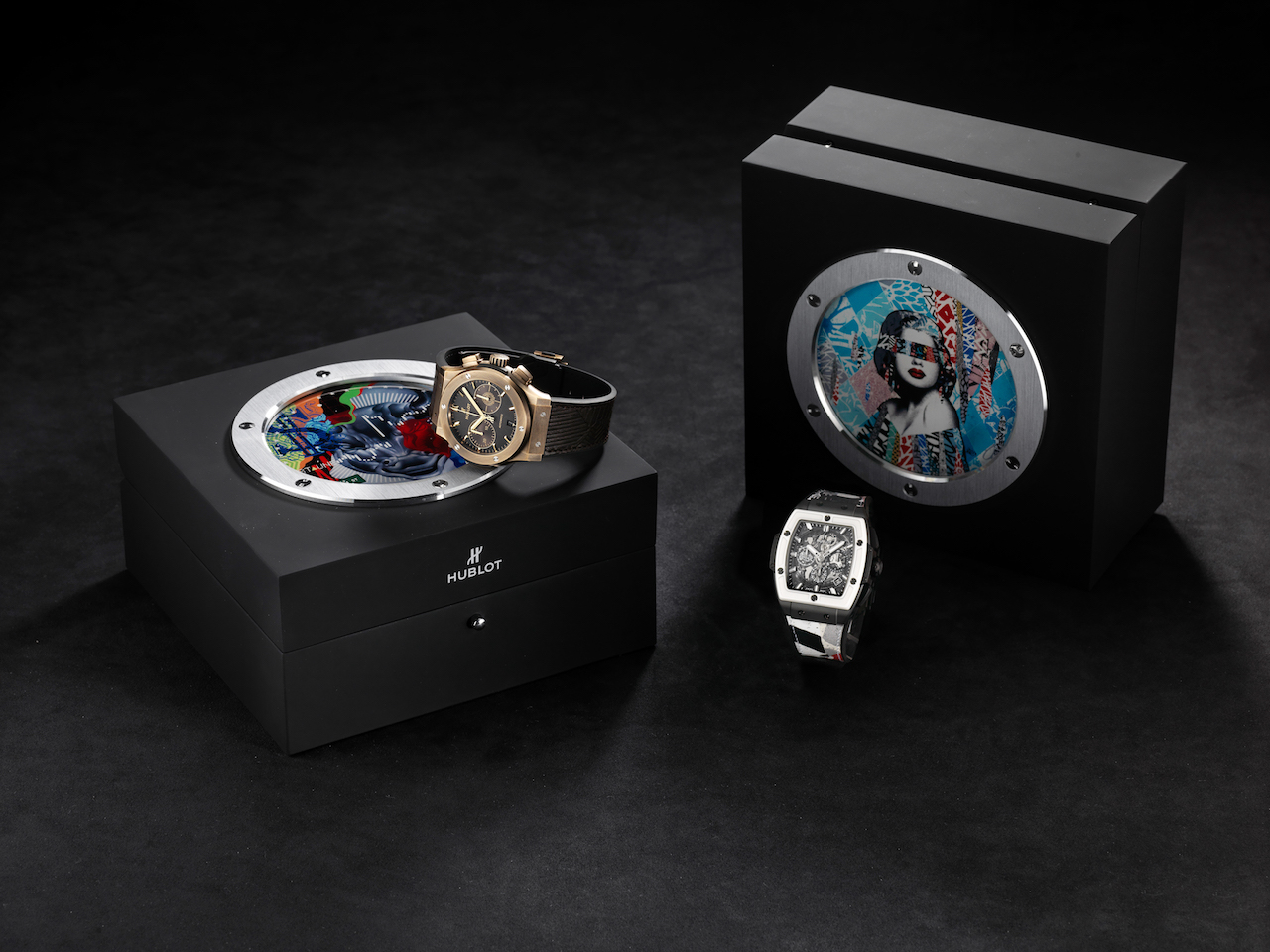 Hush, whose art is prominently found throughout various districts of Los Angeles, designed the Spirit of Big Bang West Coast Ceramic Black and White for Hublot, inspired by Hollywood icons to represent West Coast "Fame" and manifested itself as a black-and-white woman's portrait splashed across the case back in a multi-colored collage of mixed media. The timepiece features a skeletonized dial, or "Aerofusion" encased by a white ceramic bezel. Hush's frescoes have appeared throughout the heart of LA's shopping district on Melrose, downtown LA's art district, posh streets in West Hollywood, and ocean-side in Santa Monica.
As for Tristan Eaton's piece, the Classic Fusion Bronze, features brushed bronze and polished gold-plated appliques to represent East Coast "Fortune", and specifically the Charging Bull sculpture symbolizing New York City's Financial District. The case back displays a medley of motifs that illustrate a Wall Street theme, including an image of a bull, money sign, and Wall Street sign. Some of Tristan's most iconic murals are found in New York City, including the eye-catching mural of Audrey Hepburn in Little Italy, "The Monster Within" in Brooklyn's Coney Island, "Big City of Dreams" between Mulberry and Lafayette in Soho, and "Liberty" downtown which inspired Hublot's first collection with the artist.
Read also: Hublot Revealed Big Bang Chelsea FC in Partnership with Premier League Champion Chelsea Football Club