[Update] The first round of tickets to 'Wanna One World Tour <ONE: THE WORLD> in Kuala Lumpur' will be launched this Sunday, 6th May 2018 at Sungei Wang (Lower Basement One) from 10:30am to 3pm.
For the enthusiastic Wannables who live outside of the Klang Valley or who won't be able to make it out to the launch, can purchase tickets online on the same day at 9pm on https://myticket.asia.
Fans will want to take note that they will only be able to purchase up to six tickets at a time. For the safety and enjoyment of Wanna One fans of all ages, children under the age of three (based on date of birth) will be denied entry into the arena. Fans who are under the age of twelve or pregnant are kindly asked to purchase tickets for seats and not for the standing zone.
From July 3rd, 2018 onwards, tickets purchased online can be redeemed at Axiata Arena every Tuesday to Friday between the times of 11am – 8pm. Tickets may also be redeemed on the day of the concert itself from 12.30pm – 8.30pm. If you purchase a ticket online, you must have it redeemed – you will not be allowed into the arena without a printed ticket from the ticketing vendor.
Ticket categories and prices (exclusive of a RM4 processing fee):
VIP (STANDING): RM798
VIP (SEAT): RM798
CAT 1 (STANDING): RM768
CAT 1 (SEAT): RM768
CAT 2: RM668
CAT 3: RM568
CAT 4: RM368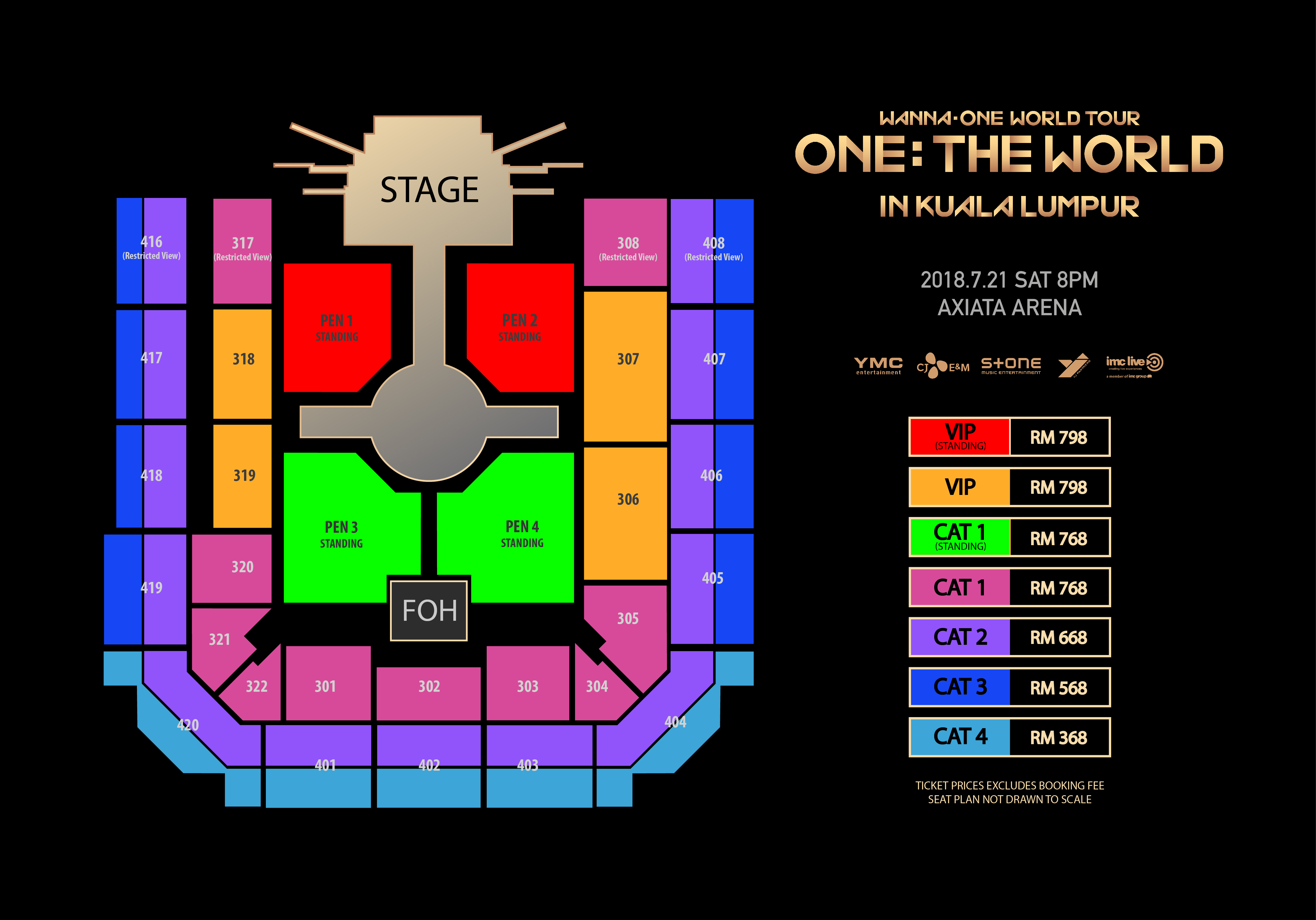 One of Korea's most popular K-pop bands, Wanna One, is gearing up to tear across the world. Concert organiser, YJ Partners, is proud to announce that they will be making a stop in Kuala Lumpur on 21st July 2018.
Since the formation of Wanna One through the show Produce 101 Season 2 (2017), the group has enjoyed massive success with adoring fans and brand deals following them wherever they go. They are the first K-pop group to have ever sold over a million copies of their debut album.
The band's second album 0+1=1 (I Promise You) was released on 19th March 2018,Wanna One intends to pour their energy into making this their best year for their fans – celebrating their time together.
Wanna One will also be taking their show through the US cities of San José, Dallas, Chicago, and Atlanta as well as Singapore, Jakarta, Hong Kong, Bangkok, and Melbourne.
The show will be held in Axiata Arena on 21st July 2018. For more information, visit facebook.com/YJPartnersOfficial.
For more information, please visit YJ PARTNERS' official SNS:
Facebook: facebook.com/YJPartnersOfficial
Instagram: instagram.com/yjpartnersofficial
Twitter: twitter.com/YJPARTNERS
Read also: Meet G.E.M. at World Vision Malaysia's 30-Hour Famine Countdown | July 22 @ Stadium Malawati, Shah Alam