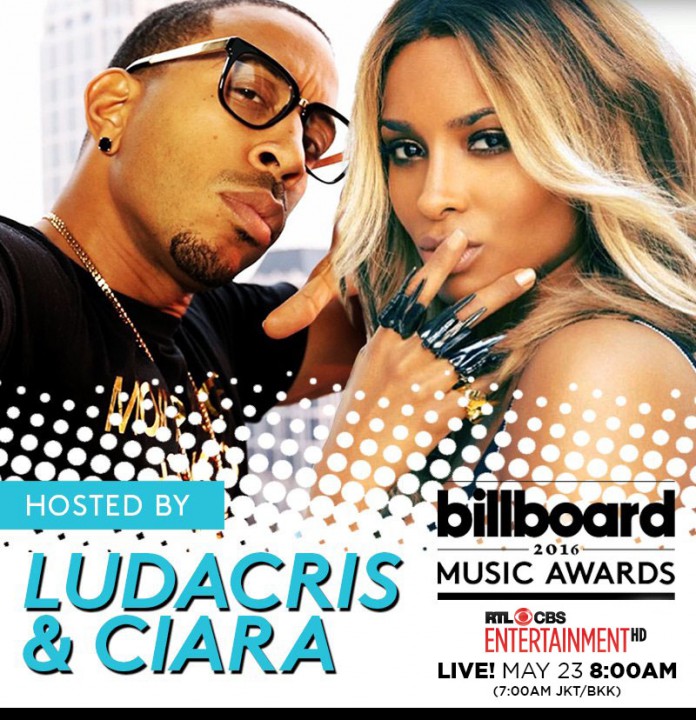 For the third year in a row, Ludacris will return to host the Billboard Music Awards and will be joined by Ciara as his co-host for the annual extravaganza at the brand-new T-Mobile Arena in Las Vegas. The 2016 Billboard Music Awards will be broadcasted live from Las Vegas on May 23, Monday at 8am on RTLCBS Entertainment HD (HyppTV channel 616).
This year's show will showcase big performances, unexpected collaborations and much-discussed pop culture moments. The "2016 Billboard Music Awards" will announce the winners for the six categories, including: Top Artist, Top Male Artist, Top Female Artist, Top New Artist, Top Billboard 200 Album and Top Hot 100 Song.
Some Interesting Facts of 2016 Top Finalist Chart
Adele is a finalist in eight categories and is a contender to earn the most BBMA wins of any artist in history, a record currently held by Taylor Swift, with 20 wins. Adele has previously won 13 BBMAs. Swift herself is a finalist in eight 2016 BBMA categories.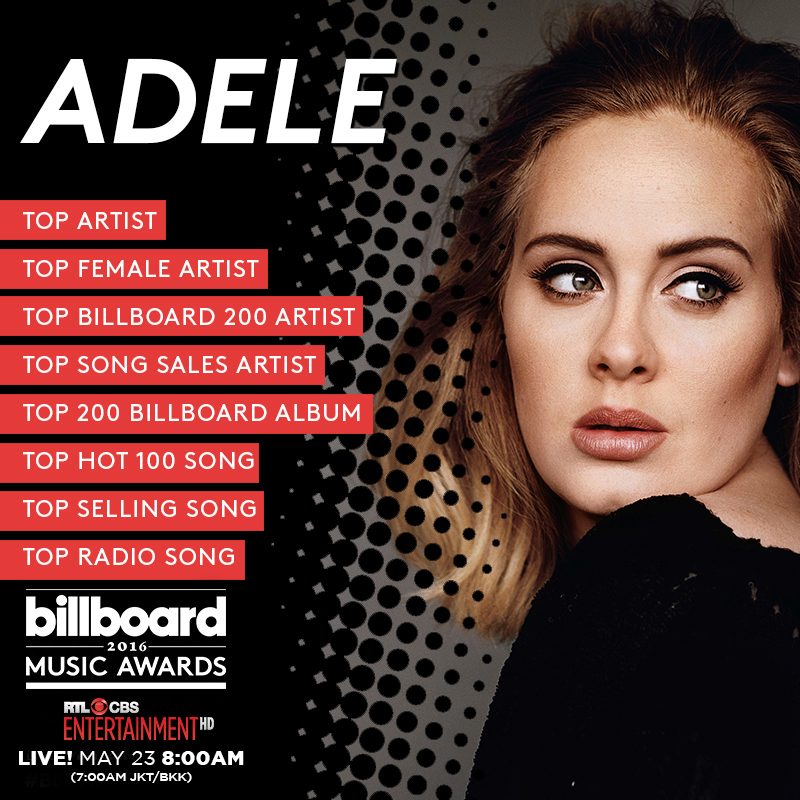 Justin Bieber is a finalist in 11 categories and could surpass Garth Brooks, who currently is the highest winning male with 19 wins, if he takes home six or more BBMA trophies. If Bieber takes home more than eight trophies, he has the chance of beating Taylor Swift's current all-time leading record of 20, pending other results.
Drake is a finalist in 10 categories. If he wins, he will take home his first BBMA trophy. He has previously been a finalist in 21 categories.
First time finalist Fetty Wap is a contender in 10 categories, including Top Male Artist, Top Hot 100 Artist, Top Song Sales Artist, Top Streaming Songs Artists, Top Rap Artist, Top Streaming Song (Audio)and Top Rap Song.
Hillsong UNITED is a finalist in three categories including Top Christian Artist and Top Christian Album.
Sam Hunt is a finalist in three categories – the most of any country artist this year — including Top Country Artist and Top Country Album. If he wins, he will take home his first BBMA trophy.
First time finalist Silentó is a contender for Top New Artist, Top Rap Artist, Top Rap Song, Top Streaming Songs Artist and Top Streaming Song (Video).
This year could prove to be historic, in that Taylor Swift could beat her own all-time record for the most BBMA wins (she has 20), while Justin Bieber and Adele are also vying to surpass Swift's record. Swift is a finalist in eight categories this year, and thus could extend her own record, or can be caught or surpassed by Bieber (an 11 times finalist this year with 13 prior BBMA trophies) or Adele (a finalist in 8 categories this year and also with 13 all-time BBMAs to her name).
The Weeknd is a first-time Billboard Music Award finalist and leads all artists with nods in 16 categories (including multiple songs competing in the Top Hot 100 Song and Top R&B Song categories). If he wins, he will take home his first Billboard Music Award trophy. With a near sweep of his 16 categories, The Weeknd could set the record for taking home the most trophies in one night.That single-night mark is held by Adele with 12 trophies in 2012.
Thanks to their smash collaboration "See You Again," Charlie Puth and Wiz Khalifa are finalists in six categories each, including Top New Artist for Puth, a category won by Khalifa in 2012.
Billboard Music Awards finalists are based on key fan interactions with music, including album and digital songs sales, radio airplay, streaming, touring and social interactions on Facebook, Twitter, Instagram, YouTube, Spotify and other popular online destinations for music. These measurements are tracked year-round by Billboard and its data partners, including Nielsen Music and Next Big Sound. The awards are based on the reporting period of tracking dates March 23, 2015 through March 17, 2016 and Billboard chart dates April 11, 2015 through April 2, 2016.
The complete list of finalists for the "2016 Billboard Music Awards" can be found on billboardmusicawards.com.