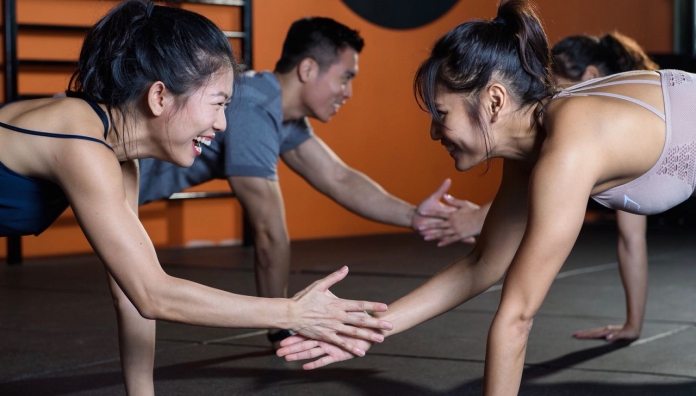 Starting from October 1, 2018, GuavaPass, the leading provider of boutique fitness classes to thousands of users across 12 global cities, is celebrating of its milestone of turning one in Malaysia, with a 6-week 'Be Like Victoria' Challenge, Guava Turns 1 birthday bash, and exciting discounts!
The subscription based service offers a single membership that provides access to over 100,000 premium classes every day, at over 2,000 fitness studios, with workouts like HIIT, Boxing, Pilates, Yoga and more.
To celebrate turning one, GuavaPass decided to show off the one thing that is most valuable, and prized to them, their members! The 'Be Like Victoria' Challenge is unlike anything you've seen before from a fitness provider or company, it is a celebration of their top user, featuring her as the face of a 6-week, total body, transformation challenge. Instead of influencers, celebrities or high-flying athletes, this challenge is for real people, based on real members, and their story – in Kuala Lumpur, it's Victoria Ngow.
Since joining GuavaPass almost one year ago as one of the first members in Kuala Lumpur, she's booked, sweated through and completed over 170 classes! GuavaPass is now encouraging all of their Kuala Lumpur members to Be Like Victoria.
The challenge will take members on a 6-week fitness journey from 15 October till 26 November, open to everyone no matter what their fitness level is. All you need to be is a GuavaPass member. The goal is simple: book and complete three classes per week, and each week receive an exciting prize from sponsored partners like Zalora, Grab and PurelyB, plus perks from GuavaPass. Top customers from each market globally will stand a chance to win the grand prize which will include USD 50 worth of GuavaPass credits and other exciting perks!
"The entire GuavaPass team is extremely excited about turning one! We've seen a twenty fold growth in acquisition this year, which proves that the fitness trend is on the rise here in Kuala Lumpur and we hope that this will continue as Malaysians pay more attention to their overall wellness. We can't wait to see what we accomplish by our second birthday," said Diane Chia, General Manager of GuavaPass.
KL's city folks' favourite workouts include Core workouts, HIIT classes and boxing, and you're most likely to spot team GuavaPass KL on Tuesday nights sweating it out. The birthday celebration lineup continues with a massive first birthday bash on 27 October at YTL Land's Sentul Depot. The 12-hour festival includes a host of fitness and wellness sessions, F&B vendors, surprises from Buro 24/7, lululemon, Calvin Klein Performance, photo, styling and lifestyle booths (and more!), and everyone's invited.
GuavaPass is also extending exciting offers from 1 October with 50 percent off on the first month on the 3-month unlimited plan, 30 percent off on the 20-class package and 25 percent off on the 10-class package.
Founded in 2015 in Singapore by Jeffrey Liu and Rob Patcher, GuavaPass has revolutionised the fitness and wellness landscape in the region, and has since grown to become the largest healthy living community in Asia and the Middle East, offering members a curated selection of unlimited fitness classes.
Nothing gets better than GuavaPass with the platform thoughtfully selecting each class and studio offered – and is regularly tested by the team themselves. This is done to ensure only the highest quality of experiences for their members.
In Kuala Lumpur, top studio partners include: Activ Studio, KOA Fitness, Omology Yoga, REV, Union Strength and Urban Spring Pilates, among others. GuavaPass is constantly vetting new studios to spoil its' members with more fresh and exciting workouts. They offer their members a little extra with GuavaPerks, a system that includes member benefits from the likes of Amazin' Graze, GoGet, Kind Kones, La Juiceria, Rawsome SOCAR, The Stretch Clinic and many more. With GuavaPerks, members are encouraged to adopt a well-rounded wellness lifestyle.
For more information, visit www.guavapass.com or download the app on GooglePlay or Apple's App Store.
Follow GuavaPass KL on Facebook & Instagram for the latest updates.
Read also: Fitness App GuavaPass Is Now Available In Malaysia