As a woman, a slim and sexy stomach is what we want. Although we tried to reduce food consumption and hoping for a flatter stomach, but you must remember that exercise is the key. Simply stick with a healthy diet with the following moves, it will improve your core and give you a flatter stomach by the end of the month. Start exercise today!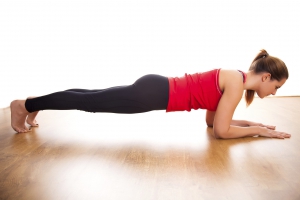 1. Planks
To do plank, place the forearms on the ground with the elbows aligned below the shoulders. Your arms should be parallel to the body at about the shoulder
2. Opposite Arm and Leg Raises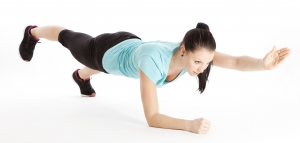 Align your knees under your hips and your wrists under your shoulders. Raise your left arm to shoulder height and your right leg to hip height.Hold for 2 counts, then repeat the exercise on the opposite side which means on the opposite side.
3. Reverse Crunches
Next, lie on the ground with your feet flat on the floor and hands on both side. Press your lower back into the floor and pull in your belly button to lift your feet off the floor. Your knees should bent at 90-degree angles. Keep your knees together. Put your knee down on the floor and repeat the process.
4. Mountain Climbers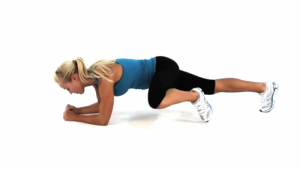 Place the forearms on the ground. Keep your body straight, place your right foot near your right hand and extend your left leg behind you. Switch your legs while keeping your arms in the same position. Repeat the process.
5. Leg Raises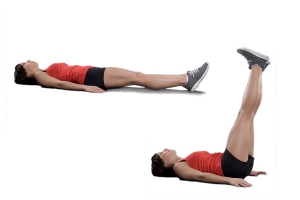 Lie on your back, keep both hands straight on the side and legs straight together. Lift your legs up to the ceiling until your butt comes off the floor. Slowly lower your legs back down until just above the floor. Do not touch the floor. Hold for a moment, then raise your legs back up.
6. Scissors Kicks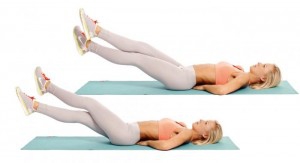 Lie on your back with your legs side by side and extended. Next, put your hands inder yor hips to support yourself. Slightly tuck your pelvis in, lift both leg up 45-degree and cross both legs in opposite ways.
For all of the exercises, repeat 3 sets, each sets 45 seconds. You can feel the difference after a month. Keep working out for the flat tummy!