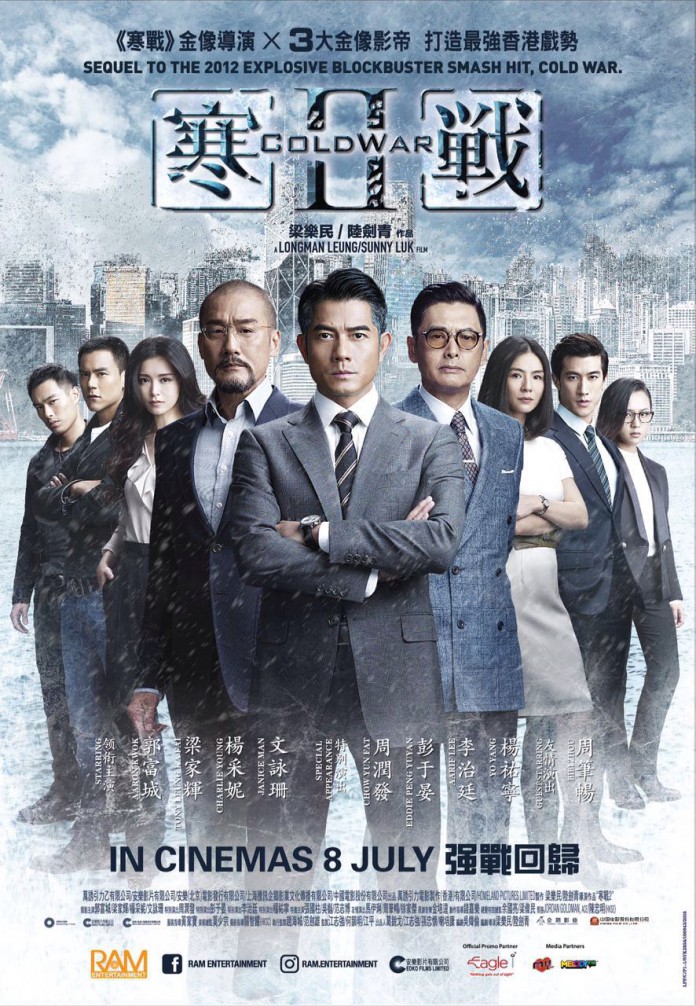 Win limited edition signature pen from Hong Kong crime thriller film "Cold War 2" starring Aaron Kwok and Chow Yun Fatt released on July 8, 2016.

Answer two simple questions below to enroll:
Name one of the main actors of "Cold War 2";
When was the release date of "Cold War 2" in Malaysia cinemas?
The first five (5) contestants who have the correct answers to the two questions will win 2pcs of limited edition signature pen each.
Send your answers and details (full name, NRIC, mobile number, email and correspondence address) to editor@pamper.my by 11.59p.m. on July 15, 2016.
Terms & conditions:
Closing date: 11.59p.m. on July 15, 2016 (Friday)
Only one (1) submission from each contestant will be entertained.
Contestants are to include their personal particulars including their name, NRIC number, address, email, and contact number in their contest entry.
Contest is open to Malaysian residents only.
Any incomplete submissions received will be rendered null and void.
All the decisions made by Pamper.My are final.
All winners will be notified by email, through the contact details provided in their entry.
Winners will have to bring their I.C. with them when collecting their prizes.
Prizes may not be exchanged for cash and are not transferable to another person and/or party.
Pamper.My reserves the right to amend the contest rules, terms and conditions or terminate the contest at its sole and absolute discretion.
"Cold War", the codename for the rescue operation of five hijacked police officers, is deemed a partial success. Despite political outcry, the potent rescue led by Acting Police Commissioner Sean Lau (Aaron Kwok) gains him promotion to the highest rank in the police force, yet causes Deputy Police Commissioner Waise Lee (Tony Leung Ka Fai) his reputable career. Joe Lee (Eddie Peng Yuyan), son of Waise and the sole suspect of the conspiracy, is captured and taken into custody. The missing of the hi-tech police sprinter is still a misery.
Before the case is drawn to a close, however, a bigger threat lies ahead of the newly-appointed Chief Police Commissioner. Sean's wife is taken captive in broad daylight, with anonymous kidnappers demanding that he personally releases and escorts Joe in exchange of her freedom. To save his wife is to put his career at stake, but he has no other option. Though his wife eventually comes out unharmed, Joe flees and is saved by a mysterious man. Sean realizes Joe does not act alone; a powerful figure is masterminding every move and is always one step ahead.
The judiciary committee initiates an impeachment proceeding against Sean for his alleged abuse of power. One of the jury is Osward Kan (Chow Yun Fat), an influential senior counsel and independent member of the judicial council. He becomes the key figure in determining Sean's fate. No one can tell whether he is friend or foe. Sean's adversaries within the police force, in an attempt to bring down his career, are desperate to get Osward on their side.
With the enemies moved from the street to the political arena, the real kingpin, who's been lurking in the dark all along, is bringing his master plan into play.