When was the last time you took a photo with your parents? In celebration of Mother's Day in May and Father's Day in June, and in the spirit of love for our beloved parents, we at Pamper.My will be running our very first #PamperMyParents Photo Contest Campaign from May 18 to June 7, 2016.
We would like you to share with us one of your most favorite photos taken with your parents and tell us the reason why it's your favorite. You could win attractive prizes, sponsored by our partners, for yourself and your parents!
Entering the contest is easy, just do the following steps:
LIKE Pamper.My Facebook Page (recommended) – facebook.com/Pamper.My;
UPLOAD your most favorite photo taken with your parents on #PamperMyParents Facebook Contest Page and tell us the reason why it's your favorite in the caption;
SHARE the photo on your Facebook, Instagram or Twitter and hashtag #PamperMyParents and #PamperMy; and
INVITE your friends to vote by 'LIKING' your photo!
Submissions will be selected and judged by Pamper.My team and sponsor partners based on creativity, quality, originality and number of Likes gained. A total of seven (7) winners will be selected and awarded prizes sponsored by our partners.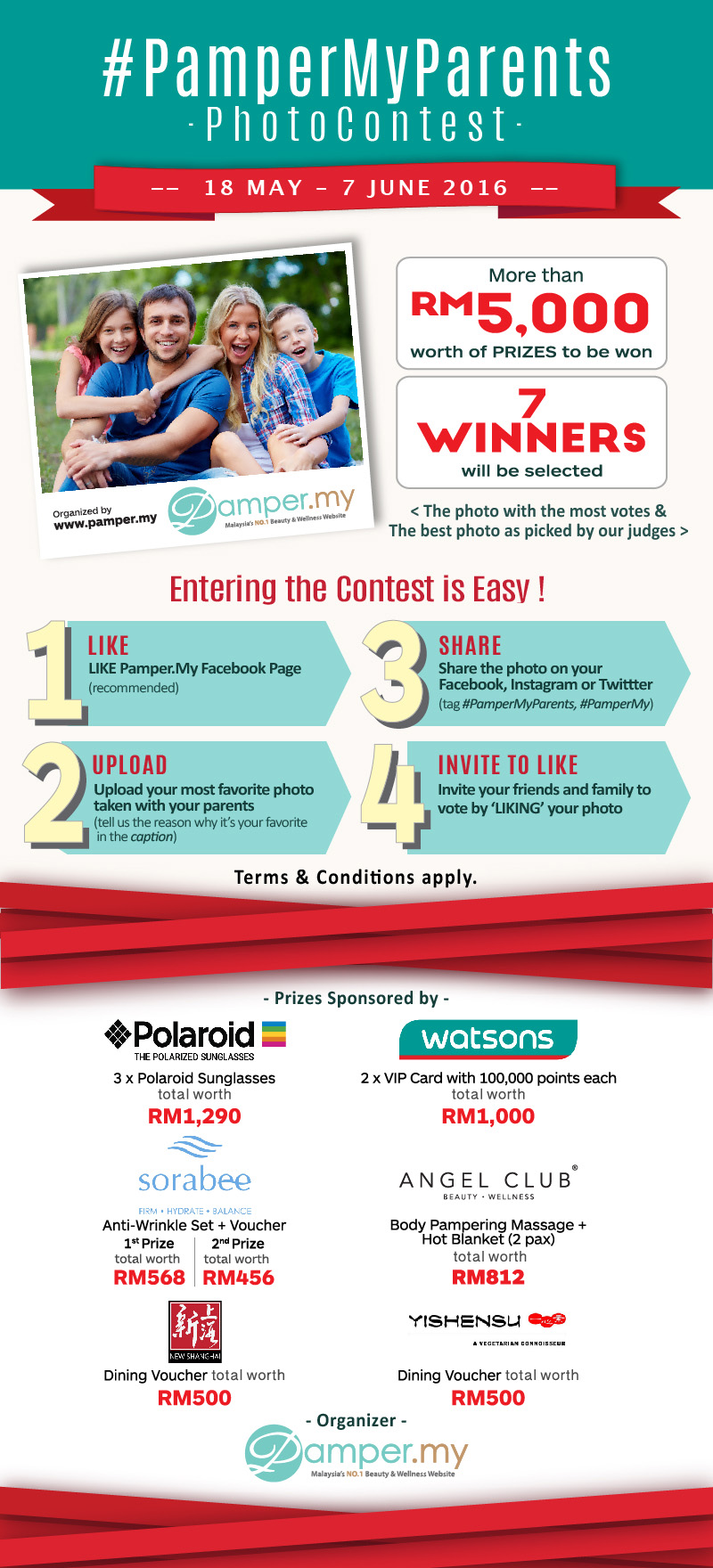 More than

RM5,000

worth of prizes to be won!
Terms & Conditions:
This contest is in no way sponsored, endorsed or administered by or associated with Facebook.
Each person can submit as many photo entries as they please. The photo(s) you wish to submit must be uploaded on #PamperMyParents Photo Contest page.
All work submitted must be an original work. We will accept photos taken by you or photos of you. If you submit a photo of you taken by someone else, you MUST have their consent to use the picture that you submit.
We reserve the right to reject any photos which we, in our sole and absolute discretion, deem offensive, violative of law or unsuitable in any other manner. Examples of the following types of photos we will reject include the following:
– Pornographic or nude images
– Images promoting illegal drug use
– Images depicting crimes of any nature
Pamper.My is not required to provide any explanation for the rejection.
Contact information (email and phone number) submitted during participation will only be used for winner notification and verification and will not be disseminated to any third-party nor used for any other purposes.
All photos submitted that abide by the above rules will be entered into the contest pool. The winner who submits the winning photo with the most votes (or "Likes") will be contacted via Facebook message or email for their mailing address. Mailing address will be used only to send the winning prize. Mailing address will not be distributed nor used for any other purpose. Winner will be chosen based on the most votes (or "Likes") and as picked by our judges and notified via Facebook message or email. All decisions of the contest will be final and binding.
The Pamper.My #PamperMyParents Photo Contest begins on Wednesday, May 18, 2016 and ends on Tuesday, June 7, 2016. All photo entries must be submitted on or before June 7, 2016.
Entrants must be 18 years of age or older to enter the Contest. Entrants must also be legal residents of Malaysia.  Employees of Pamper.My and its affiliates, and their immediate family members, are not eligible.
In entering the contest you subject yourself to both the Contest and the Legal Terms and Conditions. By submitting images to the Contest, you are deemed to have reviewed, read and accepted both.