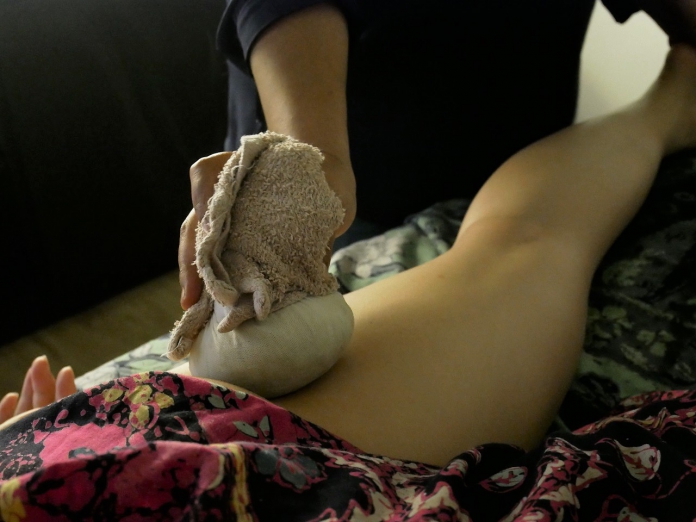 Our evangelist, Ren, recently welcomed a baby boy and with her confinement done, she still felt that her body has not fully recovered from the natural birth. And, since we've heard of good reviews of Tanamera's Postnatal Ritual Treatment, we thought she can review the treatment and give her honest opinions on how it went.
Check out Ren's experience with Tanamera's Postnatal Treatment in her own words below.
I made my way to Tanamera at The Starling Mall to try out the Postnatal Ritual treatment that has a duration of 2-hour and is designed based on Ayurveda, traditional Chinese medicine, and Malay herbal traditions to help new mothers recover from childbirth whether it's natural or C-section in the shortest time possible. This treatment is said to help:
Strengthen and fortify your body
Soothe and calm your inner spirit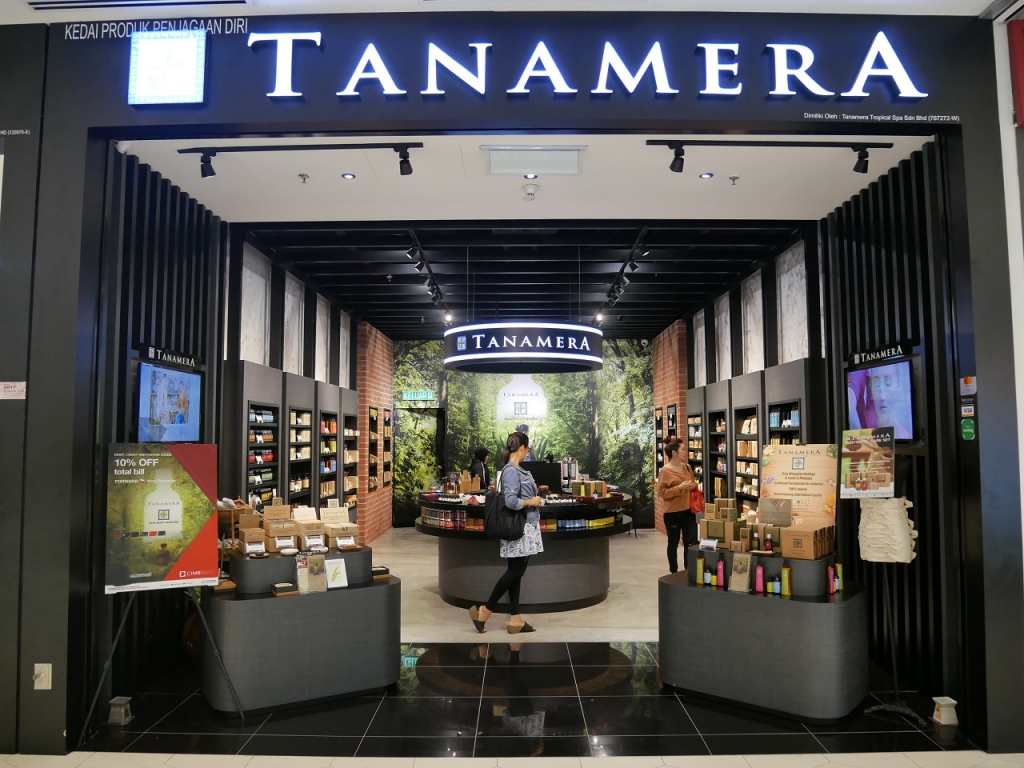 Tanamera is known for its award-winning natural products range that are carefully made from raw materials sourced from Malaysia's tropical rainforests while staying eco-friendly with its recyclable packaging and ingredients. I was told that some of the products that will be used for my treatment are also found in Tanamera's Postnatal Care Set (RM370).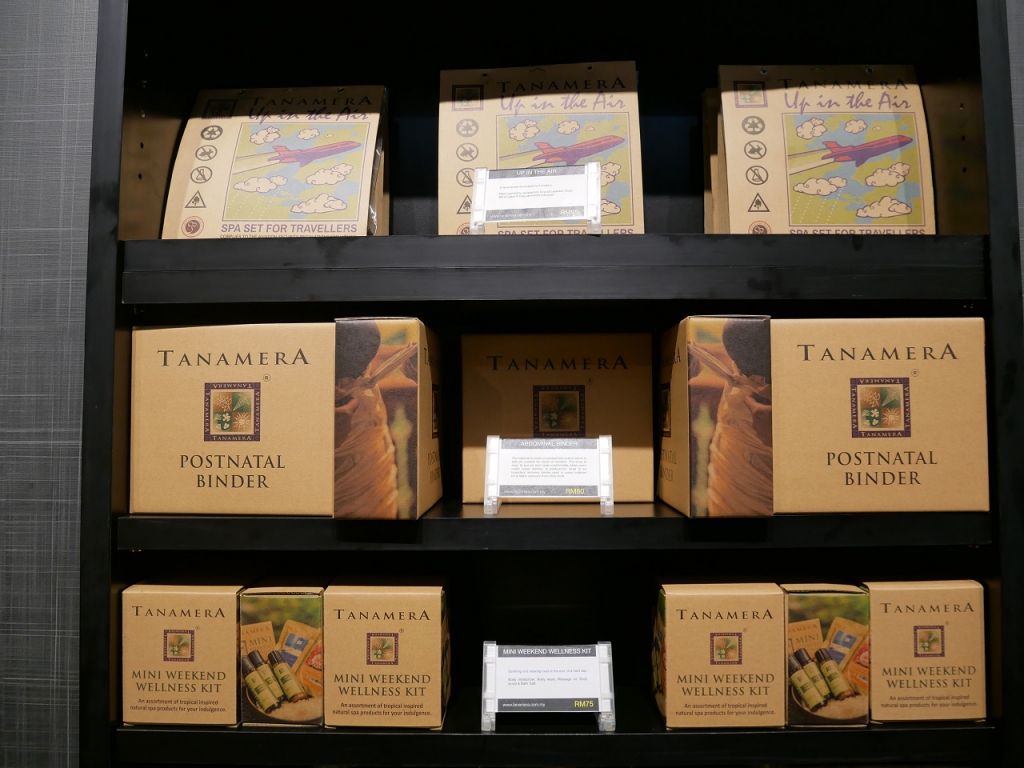 So I had no doubts that I'll be in good hands. \
This product range is created based on Asian tropical spa treatments and is conveniently packaged to be used at home, while travelling, or for use in professional spas.
"Malaysian beauty treatments can be traced back nearly a thousand years and are highly influenced by local Malay, Arab, Chinese, Indian, Javanese and many other cultures that have resided in Malaysia over generations.
Traditionally, Malay beauty treatments are family secrets handed down from generation to generation and rarely shared outside the home. However, with younger generations showing less interest in the traditional beauty treatments, older generations are more willing to share so the art does not die out due to a lack of practitioners. So, what was once practiced behind closed doors by midwives, healers and wedding planners, or more commonly known as "mak andam", are now revived and shared with others to keep the art of Malay beauty treatments alive.
Tanamera Wellness Spas set out to popularize this art by adopting traditional Malay treatments in the spa menu. Combined with the use of our award winning natural range of spa products, clients receive the experience of a relaxing tropical journey.
The treatment room was spacious enough for 1 therapist and 1 customer, it comes with a small shower room too which can be used for other treatments.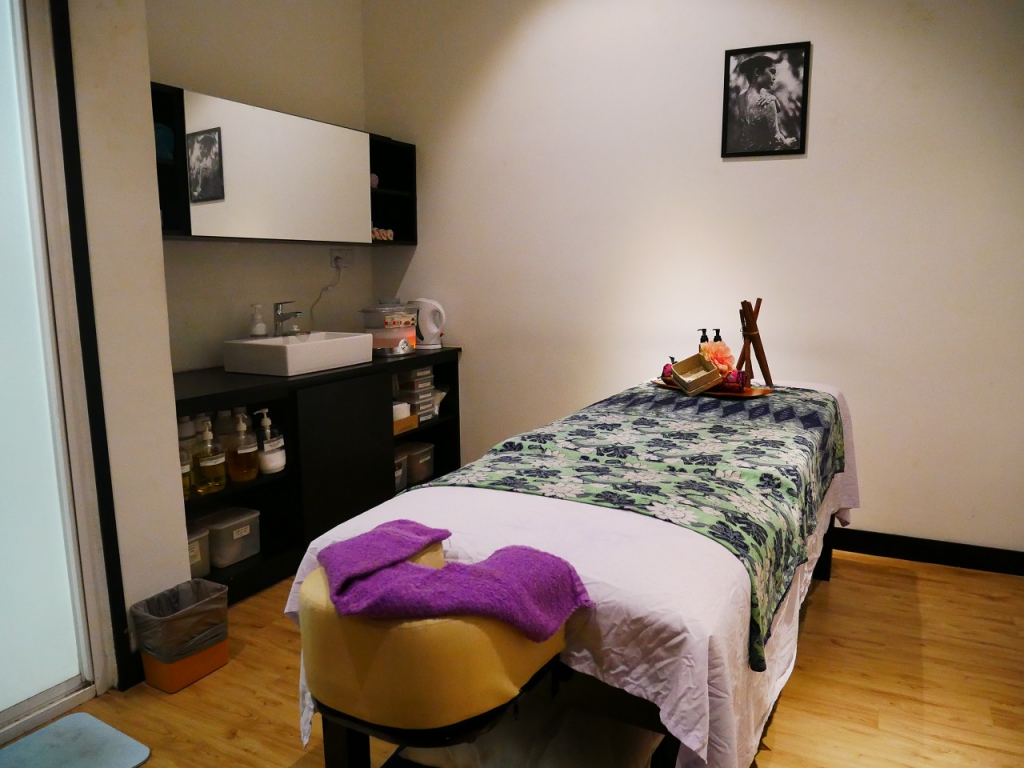 Before the treatment, I was given a bathrobe, shower cap and disposable underwear to change into. Then, I was asked on questions of my childbirth, pregnancy, and how my body is feeling by the therapist so she can customize the massage according to my body's needs.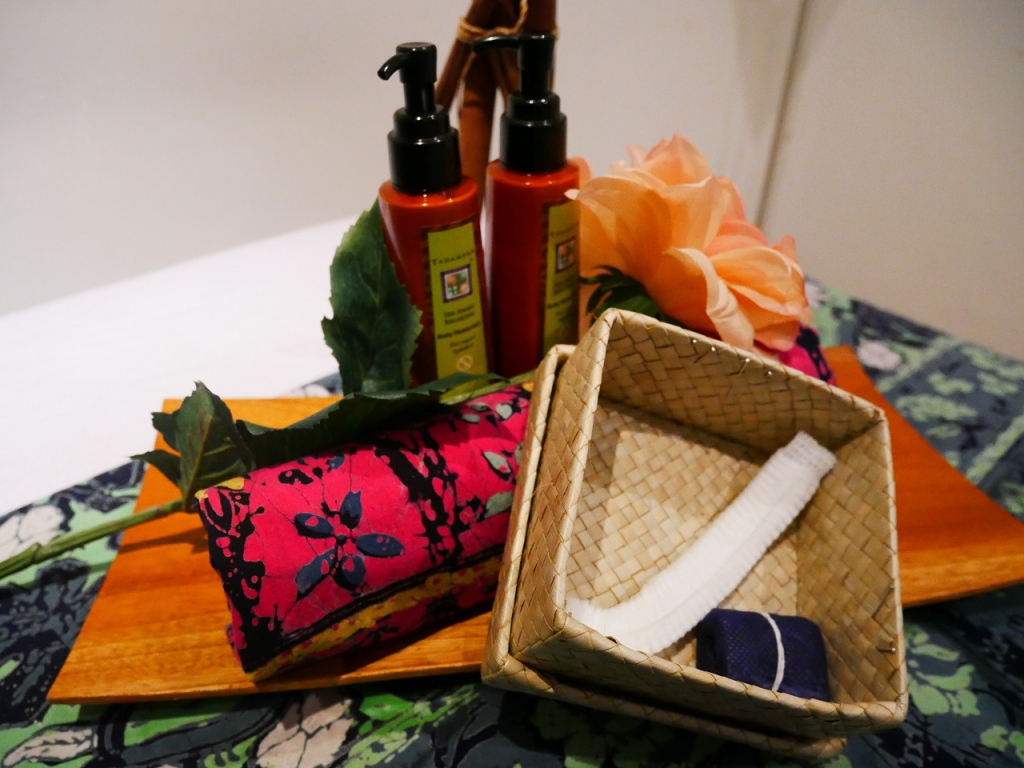 After changing, the first step of the treatment is 15-minute of Cleansing Tangas. Tangas is a traditional Malay treatment that helps to cleanse and deodorize the vaginal area. I was told to sit on the wooder chair, cover my legs with the batik cover provided to let the warm herbal steam to do its work. It's said that it helps to loosen up some muscle tightness and warm up the vaginal area to make that area less sore.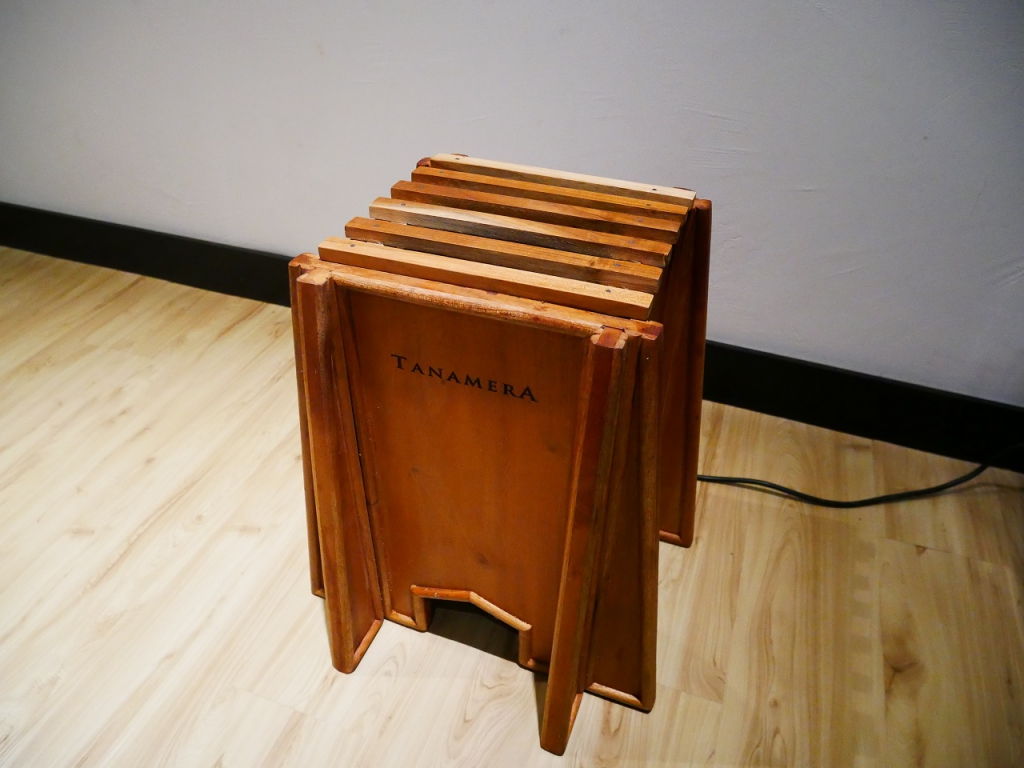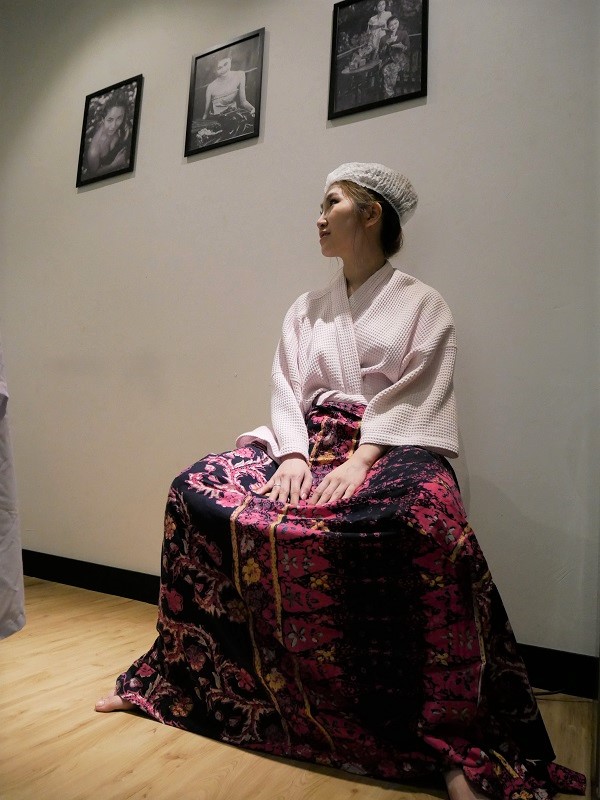 This reminded me of when Gwyneth Paltrow was raving about vaginal steaming on her lifestyle site, Goop, and who knew that it's a traditional treatment in Malaysia too and that you can do it at Tanamera Wellness Spas (You can get a 30-minute treatment done for RM85).
After 15-minutes of steaming and wiping of the excess, I was told to lay face-down on the bed to proceed with the body massage. My therapist starts pressing and massaging on the pressure points from my legs then up to my shoulders using the Herbal Massage Oil (A blend of clove, citronella, ginger, nutmeg, garlic, onion, and turmeric.) that helps to restart my body's internal circulation. It leaves a warm sensation on my skin as it helps to improve blood circulation and metabolism, release water retention and toxins from my body, tones my skin while keeping it smooth and supple.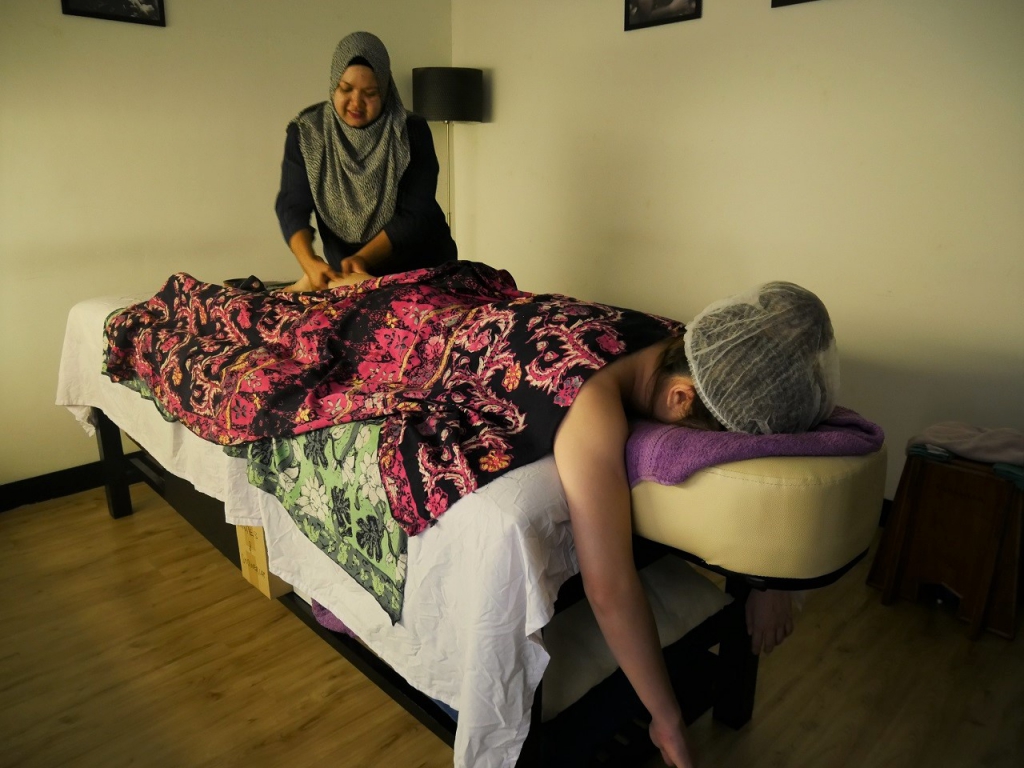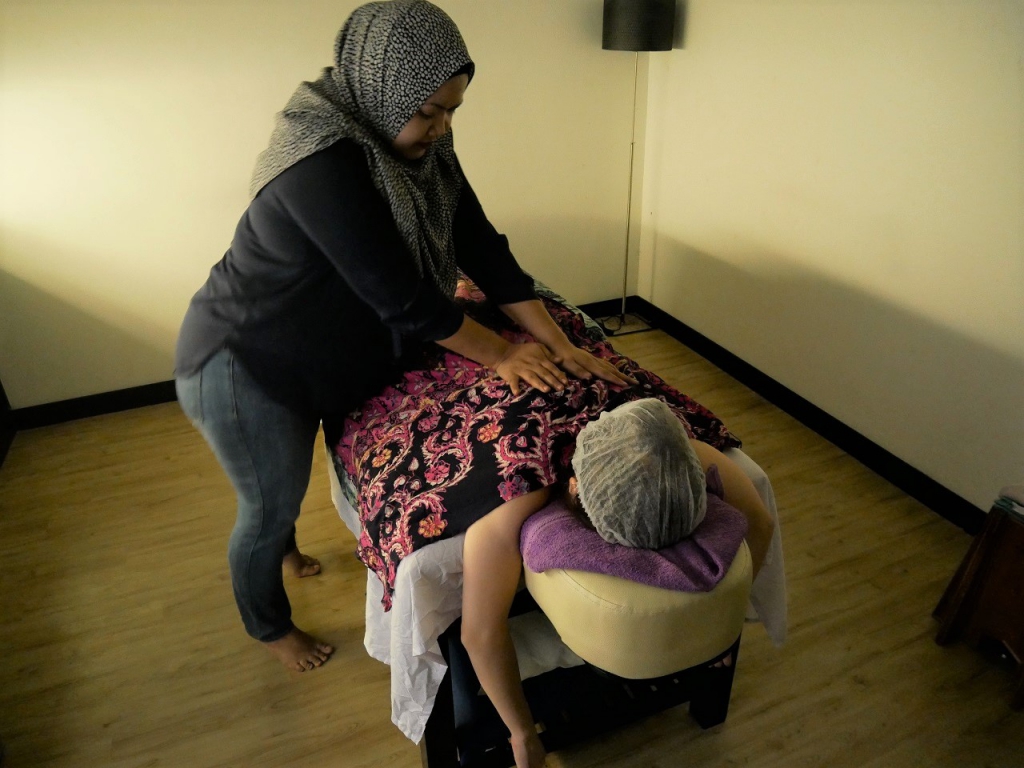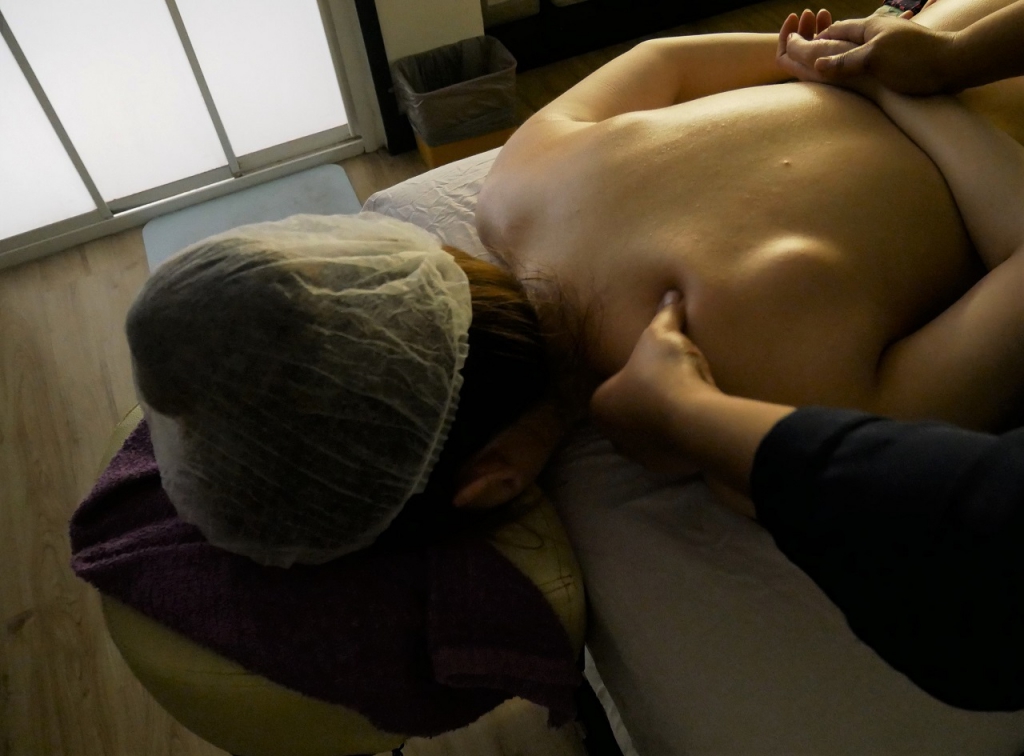 Once the therapist completed the massage, she used the hot Herbal Body Compress (Packed with amazing goodness of Bengal Ginger, Turmeric, Lemongrass, Kaffir Lime, Sweet flag, Tamarind leaves, Pandanus, Shikakai, Lilac, Jaeng, Wild turmeric, Galangal, Snake Plant, to help relieve muscular aches and pain while helping to improve blood circulation in the treated areas.) which offers the same stimulation of acupressure, to press and rub on the targeted pressure points.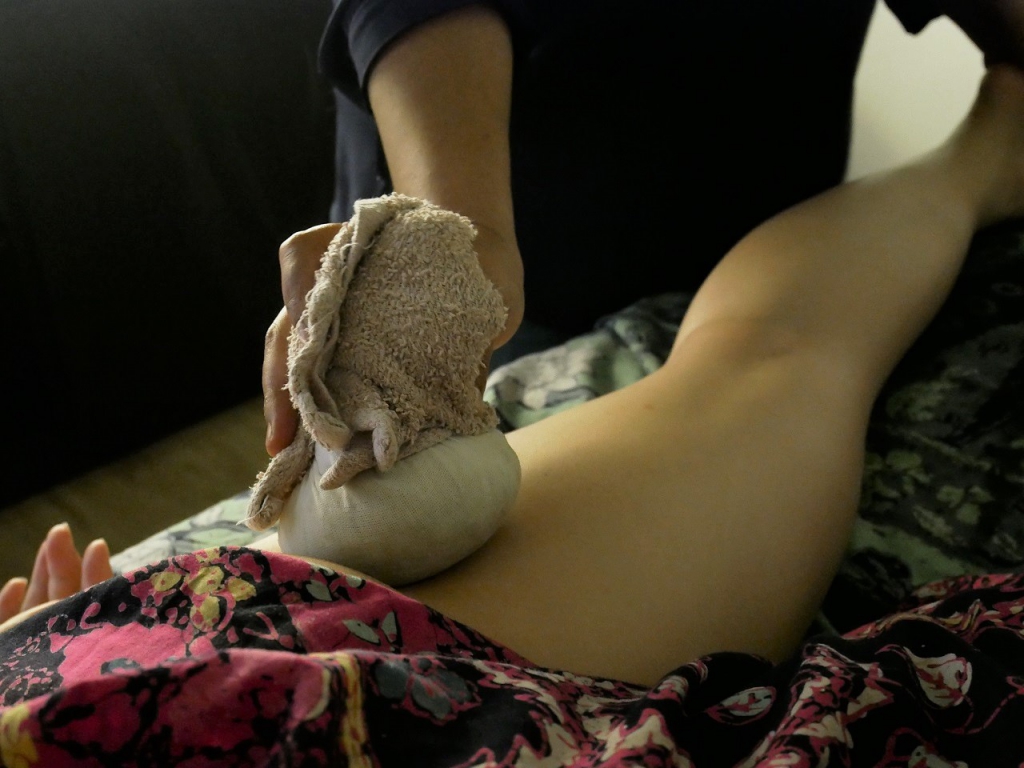 My body aches definitely lessen despite the soreness I felt at certain parts of my body during the massage. I was told to turn back to face up where the therapist repeated the same steps.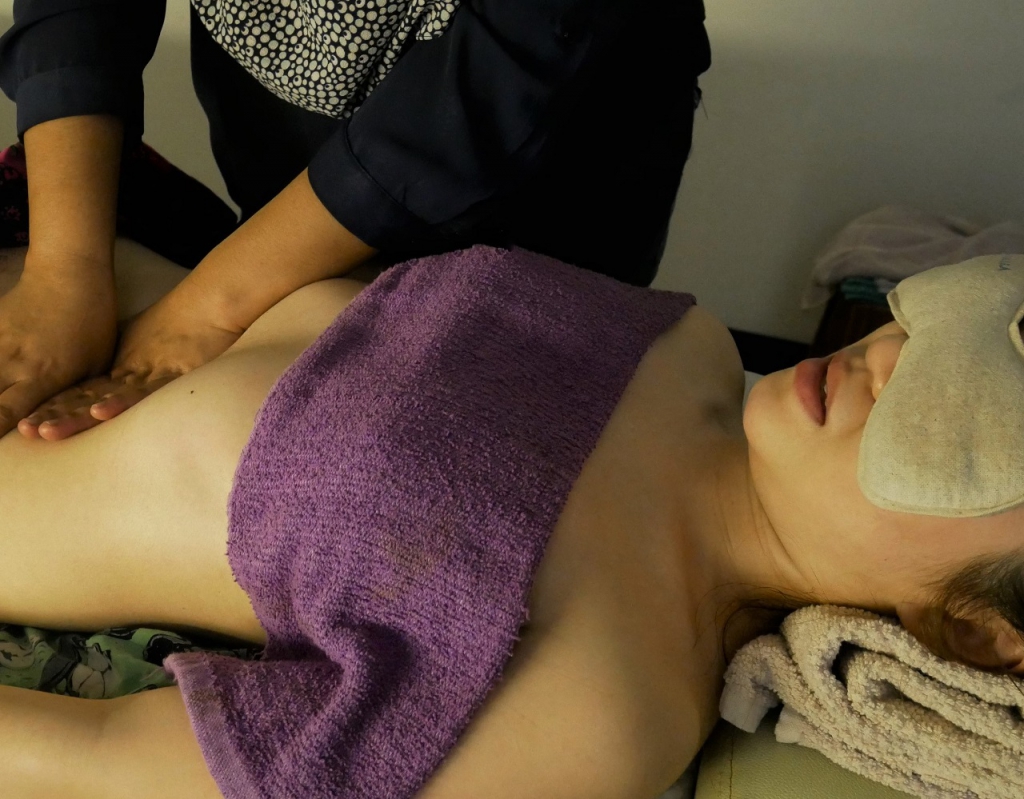 The therapist placed the Cold Sensation Eye Pillow (contains Lavender essential oil to destress and organic sesame seed to help to hold the cold and chase the eye puffiness away) on my eyes which was a relief since the massage and herbal compress were warming.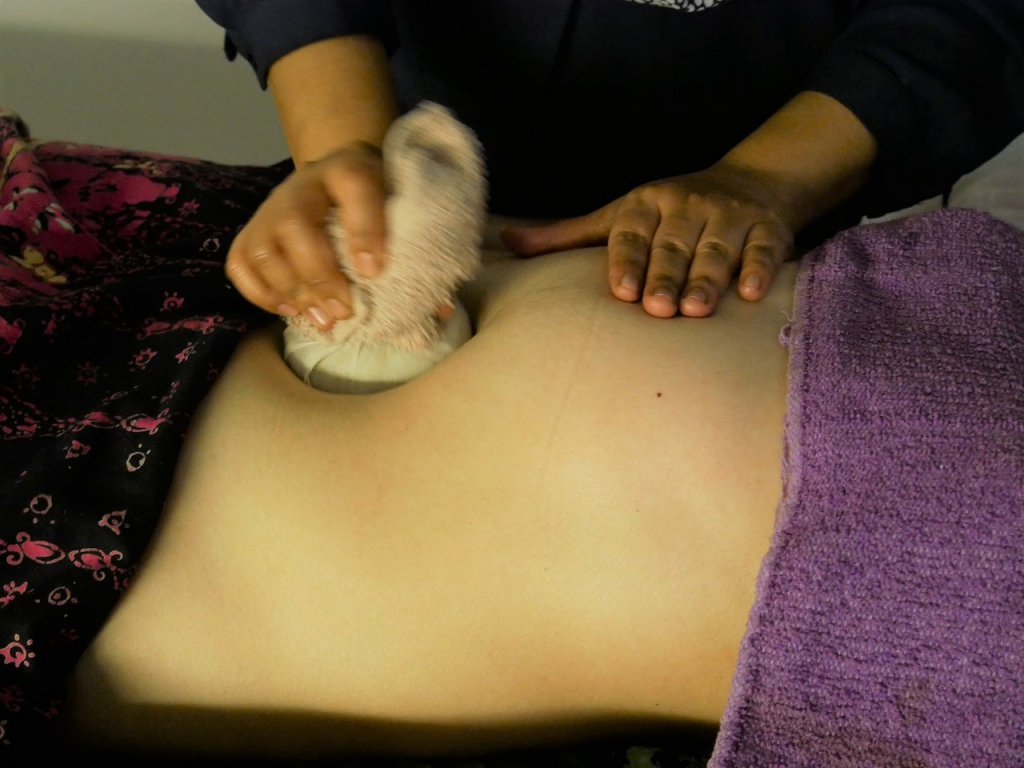 The therapist also made me do some stretches which felt really good since I was lying down for a long period and it definitely helped with the soreness and numbness I felt on my arms and fingers especially.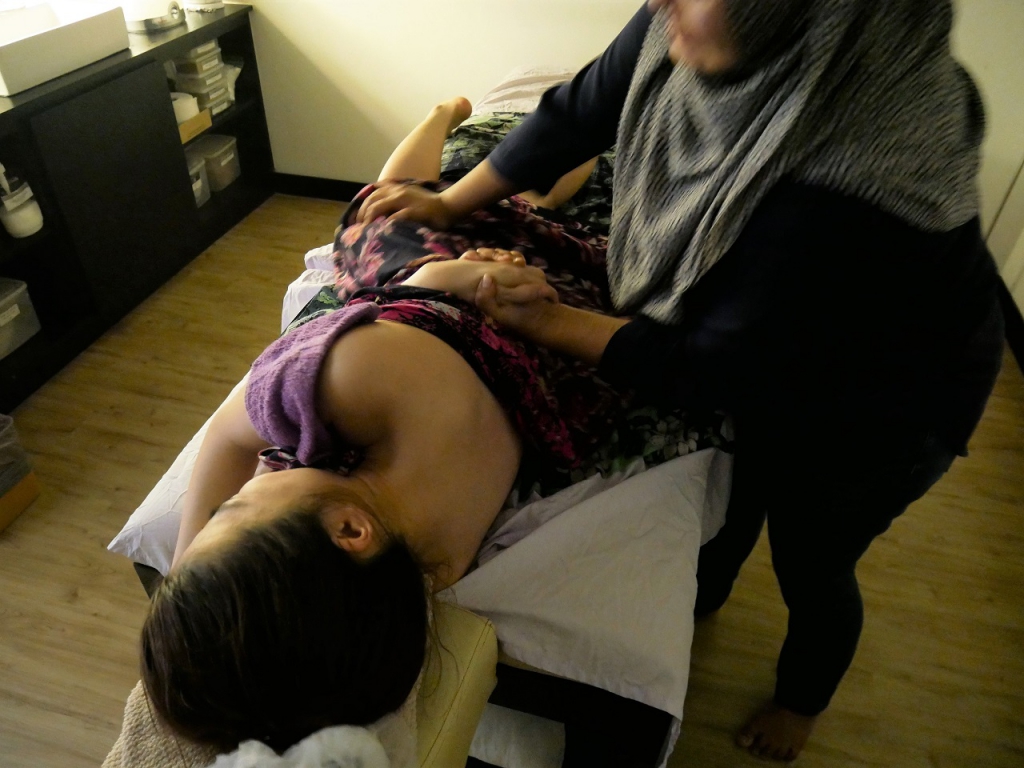 Lastly, I was given a head massage and a short back pounding massage to end the treatment.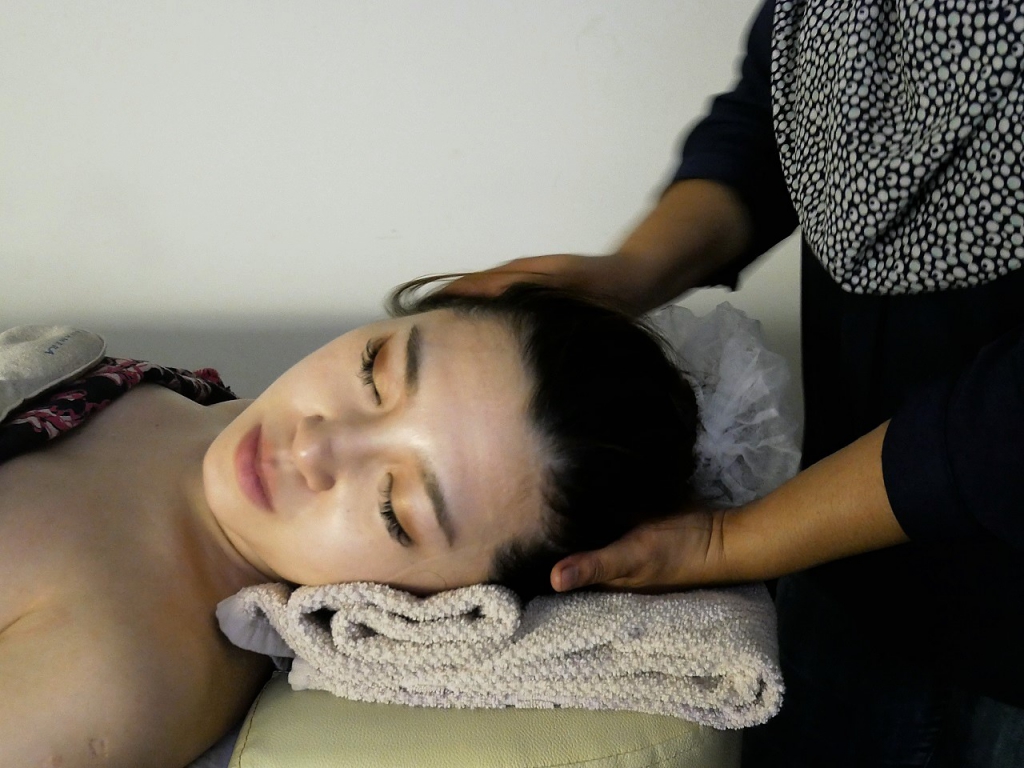 Verdict
Even after 3 months of rest (including one month of confinement), I still felt sluggish, I had lochia (vaginal discharge made mostly of blood and what is left of the uterine lining from pregnancy) and whenever I squat, I felt something is dropping out but it could the strain from the pregnancy that made everything out of its position.
When I told my therapist about my body, she was really knowledgable and explained why I'm feeling so and on what are the spots that she will be focusing on to help solve those issues.
During the massage, every point she massaged was exactly where I felt most discomfort and she can even guess which of my bad lifestyle habits contributed to certain stresses on my body such as taking showers late at night. I didn't mention about my back pains and breast milk blockage but during the massage, she felt those spots and helped to ease those kinks too, which blew my mind.
For me, the best part was when she massaged my inner thighs and lower abdomen, I could actually feel the "click" when some of my organs back in place like how a fractured finger is moved back to the right alignment.
Immediately after completing the Postnatal treatment, the first thing I felt was relief from my back pains and when I squat, the feeling of my vaginal dropping is gone. My body felt light and relaxed and all those tightness and numbness I felt from before have reduced. I was told by my therapist that I should go for the treatment at least once a week and after trying it out, I will definitely go for it again!
Disclaimer: This treatment may be suitable for most but do consult your doctor before you undergo any spa treatments during postnatal or prenatal.
There are currently six Tanamera Wellness Spas in locations around Malaysia so for more information, visit tanamera.com.my. Follow Tanamera Malaysia on Facebook and Instagram for the latest updates.