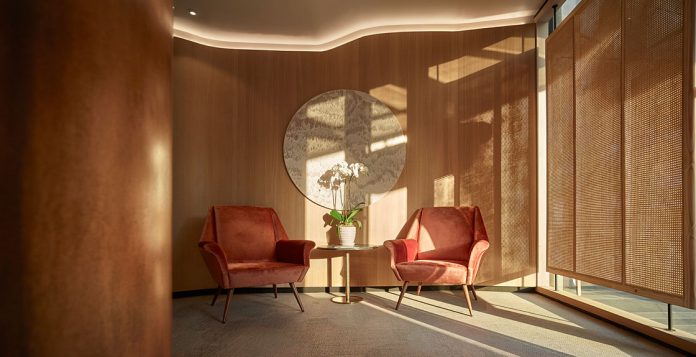 A hidden sanctuary among the busy streets of Bukit Bintang, Kuala Lumpur, EOS Wellness, located in St Mary Place believes in Prolonging Quality Active Years by living well, simply and honestly. We visited EOS Wellness to explore the treatments created through their four pillars wellness philosophy – keeping our bodies vital, minds alert, diets healthy, and homes ideal for wellbeing.
This contemporary spa spans 7,400 square feet and features four single 'Curo' treatment rooms, and two couples 'Duo' rooms with the latest in wellness equipment, including a full-spectrum infrared sauna, a Jason MicroSilk Hydrotherapy bath and a Gharieni 360-degree floating bed that replicates a Watsu experience on water, as the tabletop glides back and forth during the treatment. With quiet spaces located around the centre for meditation, yoga and other relaxing therapies, this place is a great escape that we all need.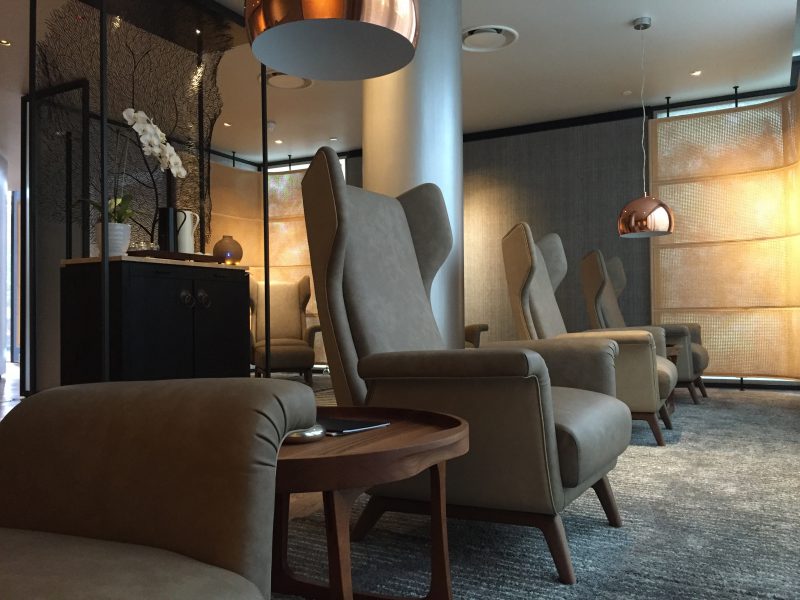 As I step into the centre, I immediately felt at ease and it was a feast for my senses as I was brought to the cosy waiting room for the Personal Wellness Index assessment to   decide on the body treatments that is bespoke to my preference. The treatment that was created for me was called 'A Taste of EOS Wellness Spa' which comes with a Body Radiance scrub, Steam Shower, Renewal Bliss Massage, and Float & Flow massage.
The Treatment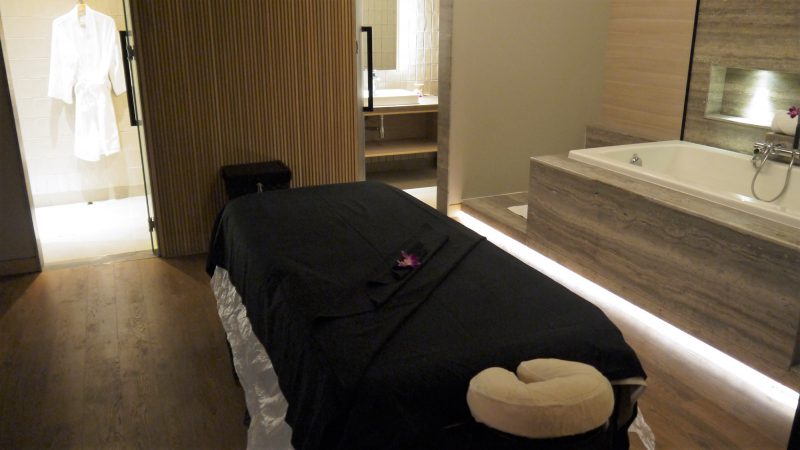 Before any treatments in EOS Wellness, it starts with the Foot Ritual, a soothing beginning where your tired feet gets scrubbed with a mineral-rich sea salt scrub with lemongrass and tea leaves while tea tree and peppermint essential oils will calm your mind for the treatments to come.
With the launch of [comfort zone] recently, my body treatment began with the Body Radiance scrub from [comfort zone], its key ingredient is chia seed which is an anti-oxidant packed superfood that I adore as well. Despite it being a salt and chia seed scrub, it felt gentle on my skin and the scent was subtle so it doesn't disrupt my relaxation mode. Since our skin absorbs a certain percentage on what's put on it, I hope some its benefits got through too.
Here are some of the other body spa products from their spa range.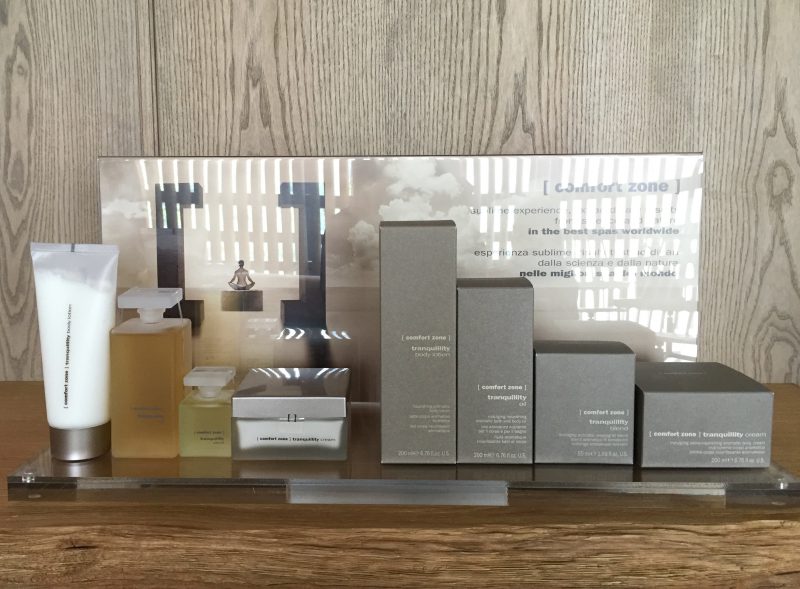 Once I was scrubbed up, I walked to the Steam Shower which was attached to my treatment room to bask in the warm steam for 15 minutes to help the product to soak in further. And as if right on cue, the steam stopped after a period of time which I guessed it's 15 minutes, then I proceed to rinse off the scrub before we start the massage.
During the assessment, I was asked on which parts of my body that the masseuse should pay more attention too during the body massage, I went for my neck and shoulders because writers are usually hard at work and hunching to their laptops. The 30-minute Renewal Bliss Massage was what I needed to loosen those hard knots on my shoulders, the warm massage oil didn't felt heavy so it was comfortable and a relief. After that massage, I was asked to change into a set of clean pyjamas which got me thinking on what's to come during the Float & Flow massage.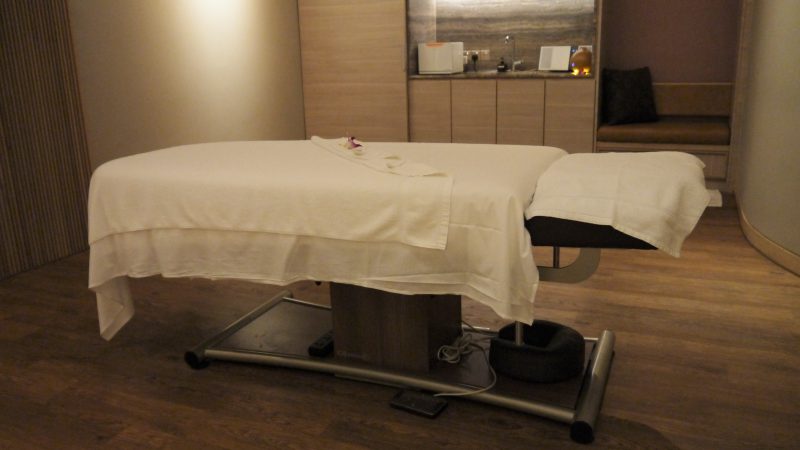 And guys, this was a totally new and unique sensory experience and, one that still gets me wondering till this day. EOS Wellness Spa is the first in Malaysia to offer this unique treatment where you lie on Gharieni's 360° Floating Bed and the masseuse will make gentle turning and swinging movements with the bed, with some stretching in between to replicate the cradling Watsu treatment that helps to trigger a deep relaxation reflex.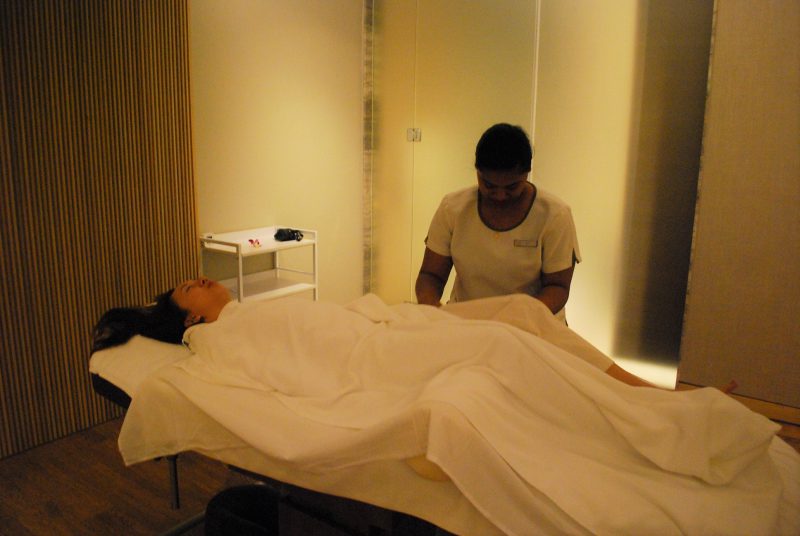 Usually the Float & Flow would last for an hour but since I opted for a 30-minutes Renewal Bloss massage beforehand, there was less tension on my body already. Throughout the massage, the masseuse will ask if you're feeling dizzy from the movements as some customers did experience some form of dizziness. But I was relaxed and mostly overwhelmed with curiosity on how to feel about this new form of massage. It did help to loosen up my body and I felt more spring in my steps!
With my mind and body refreshed, I look back and ponder, which treatment should I spoil myself with next?
Visit EOS Wellness Spa to escape from the hustle and bustle of the city this weekend. Check out Eos-wellness.com to see the treatments that they offer or you can try out 'A Taste of EOS Wellness Spa' treatment that I did or, call them at 03-20232182 or email enquiry@eos-wellness.com to book an appointment.
You're in luck! EOS Wellness Spa is offering you to enjoy 30% off on a la carte treatments (first-time visit) and 30% off on retail products during the same visit, all you need to do is mention "Pamper.my" and show a screenshot of this post to enjoy the deals!
Terms & Conditions:
Mention 'Pamper.my' and show a screenshot of the blog post to enjoy the discounts.
Only for a la carte treatments, not applicable to Signature Series and other promotions.
Advance booking is highly recommended.
Discount is valid for first-time visit only.
The discounts are valid until 31 December 2016.
Follow EOS Wellness Spa on Facebook to get the latest news and offers to treat yourself today!
Read also: Experience Sublime Italian Skincare with [ comfort zone ]
Cover Image: easternandoriental.com