It is the time to rejuvenate yourself to knead away all your ailments. Date your girlfriends and spend some time relaxing at the therapeutic spa and massage in the spa resorts in Malaysia. It will be one of the best things to relax and enjoy some girls secret talks on this long weekend.
The Banjaran Hotsprings Retreat
Experience the true inherent Asian philosophy of wellness and Malay treatments from the traditions of indigenous Malay, Chinese and Indian cultures. They are using award-winning British product and purest extracts for the contemporary spa treatments so that you can rest yourself from the inside out.
2. Taaras Beach & Spa Resort
The luxury beach resort – Taaras Beach & Spa Resort is one of the best names in Pulau Redang. Plan a day for Taaras Special Spa and sunset cruise, another day for other water sports with your girlfriends.
3. Shangri – La's Rasa Sayang Resort & Spa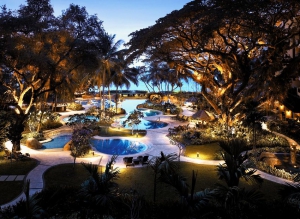 If you like the modern and authentic Malaysian architecture, Shangri – La Rasa Sayang Resort is a perfect resort for you and your girlfriends. Pamper yourself at the spa that serves Chinese and Malay treatments and has some relaxing time far from the busy city life.
4. Philea Resort & Spa
If you don't wish to drive too far, Philea Resort & Spa is an excellent accommodation option at a distance of only 20 minutes drive from the Famous World Heritage site of Malacca. Enjoy your spa time at the pine log accommodation and wooden flooring will give you a tranquil feeling and relax your soul.
5. Damai Puri Resort & Spa
https://www.instagram.com/p/BWJrbKjFjs8/?taken-by=damaipuriresortandspa
Are your girlfriends a beach lover? Enjoy the seaside view from your room with clear emerald water and sandy beach at tropical rainforest at Damai Puri Resort & Spa. It will be a perfect getaway from the city life while enjoying D'Puri Spa Village that offers you and your girlfriends a spa treatment and massage facility.
Featured Image: www.hotelbluemb.com
Read also: 5 Guilty-Free Desserts For Girls Who Losing Weight