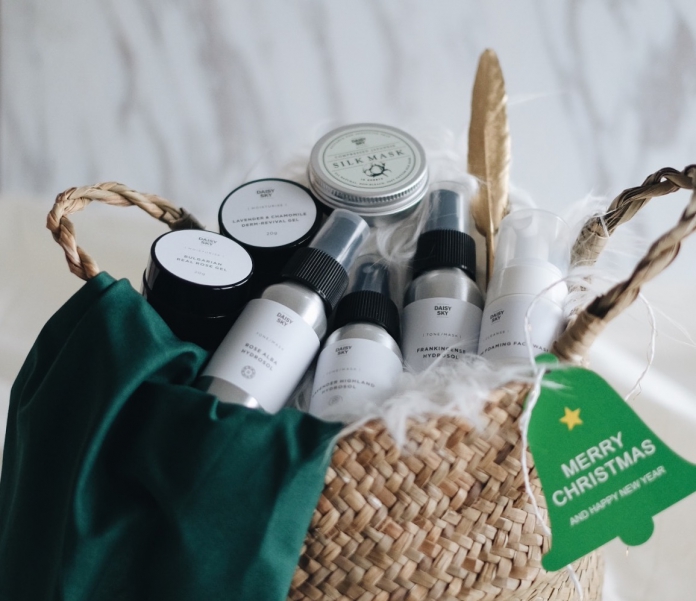 Looking for an all natural, organic, vegan, aromatherapy skincare with zero paraben or additional preservatives to start anew this coming holidays? Daisy Sky Malaysia has the perfect gift set for you!
It's an amazing Jolly Joyful Christmas Gift Set that lets you try out some of the bestselling products from this great local brand, which I personally love too!
https://www.instagram.com/p/BbI4Tg1FiyO/?taken-by=daisyskymalaysia
The Jolly Joyful Christmas Gift Set (worth RM299 in total) is made up of:
3 types of 50ml hydrosol of your choice (We suggest the Bulgarian Rose Alba Hydrosol!)
30ml of our Herb Rhythm Foaming Face Wash (It's gentle on the skin and it makes a great makeup remover too.)
20ml of the Real Rose Gel (Another must-try! It's amazing!)
20ml of the Lavender and Chamomile Derm-Revival Gel
A tin of our compressed Japanese silk masks (10x)
A convenient clear vanity bag for travel
All these skin-loving goodies will be tastefully wrapped in a tissue-filled hard-casing box so you won't have to worry about it getting damaged during shipping and, it even has a gold plated feather which is nice touch you can use for your festive flatlays.
https://www.instagram.com/p/BbIuYtnlftn/?taken-by=daisyskymalaysia
For more information, visit www.daisyskymalaysia.com | FB: DAISY SKY Malaysia | Instagram: @daisyskymalaysia
Read also: Tried & Tested: Daisy Sky Malaysia (Herb Rhythm Foaming Face Wash, Bulgarian Rose Alba Hydrosol & Bulgarian Real Rose Gel)