Driven by a shared passion for the stage, MAKE UP FOR EVER, chart topping Swedish duo ICONA POP and celebrity makeup artist COLBY SMITH bring together the world of makeup and music to reveal the new ARTIST ROUGE campaign. Combining the artists' vision and the brand's expertise, MAKE UP FOR EVER and ICONA POP co-create an exclusive and exuberant video content for the hit "Emergency" highlighting the transformative power of ARTIST ROUGE lipsticks.
"Makeup is so important for us when we are on stage, to do something fun for people. You can become a superwoman with just some blush and a black lipstick. We express ourselves through music–but also through how we dress and how we wear our makeup. MAKE UP FOR EVER is perfect for us because it's edgy and cool–plus there are so many different colors to play with!" – ICONA POP
Resisting the extreme conditions of live performances and reflecting their exuberant personalities, ARTIST ROUGE is an essential tool for ICONA POP. The Swedish group ICONA POP, formed by Caroline Hjelt and Aino Jawo, takes its inspiration from electro house, punk and indie pop music. The two singers, who shot to international stardom with their 3x RIAA certified platinum hit "I Love It" ft. Charli XCX, and opened for Katy Perry, Miley Cyrus and One Direction on their respective tours. Returning to the center stage with their 2015 single "Emergency", the duo joins forces with MAKE UP FOR EVER in all their artistic creations and stage performances, in collaboration with the band's makeup artist COLBY SMITH.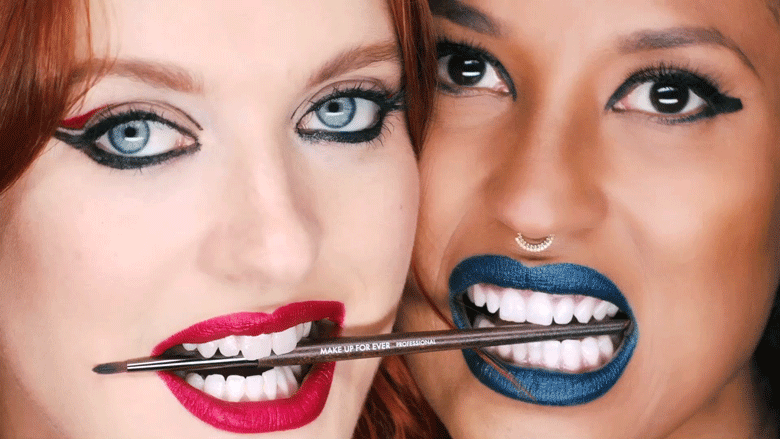 "It's a brand that celebrates artistry, creativity and bold self-expression, and this unique partnership between ICONA POP, myself and the Artist Rouge collection truly brings those to life." – COLBY SMITH, ICONA POP's Makeup Artist 
Featuring 46 intense colors – 31 cream shades and 15 matte shades, ARTIST ROUGE LIPSTICKS offer a spectacular wear and an outstanding comfort. MAKE UP FOR EVER is releasing two limited-edition lipsticks featuring ICONA POP's signature. Caroline chose a velvety matte deep red (#M401), while Aino chose a creamy, dark blue (#C603).