Having clear, beautiful, acne free, glowing and flawless skin is a dream for every woman. There are many over-the-counter branded skin care products that promise glowing results. Eschewing skin care products, others opt for methods or tools, like make-up, to temporarily disguise spots or blemishes which create the appearance of flawless skin and face in minutes. Flawless skin can also come naturally by improving your lifestyle, eating healthier, exercise more and following some basic skincare steps in your daily routine.
Have you ever wondered if there are any amazing beauty tools that could accelerate your beauty routine in your quest for flawless skin and face? Wonder no further as we are going to share with you some tips on using a Beauty Blender to get flawless skin.
About Beauty Blender
Upon first glance, Beauty Blender is a pink sponge that resembles an egg and for the life of me I could not figure out how to use it or what was the big deal of this make-up tool.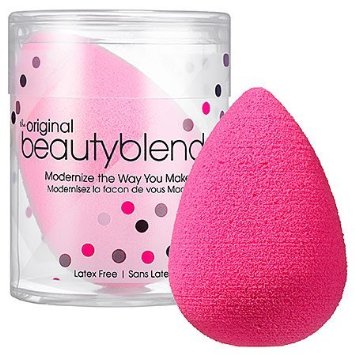 Now an industry phenomenon, you may (or may not) have heard of the Beauty Blender – raved about by most make-up artists and beauty bloggers, this little tool is the key to a flawless skin whenever applying your foundation, or as some may say, when prepping the blank canvas.

I was skeptical at first and I was an advocate of using a foundation brush for all my liquid foundation needs, until my curiosity was piqued and I found myself giving it a go. I can honestly say I'm glad I did and I don't think I'll ever look back.
Friends, meet the Beauty Blender. Here are some key things you need to know about the Beauty Blender and why it needs to be a staple in your make-up kit, in order to get your dream of flawless skin.
Because as much as it might seem like something you would give your 5-year old niece; there are many hidden uses to it that have had me shifting my make-up routine just to make way for it.
5 Tips on How to Get Flawless Skin with Beauty Blender –
Use It Like a Pro
1. Rule No 1 – Don't Rub!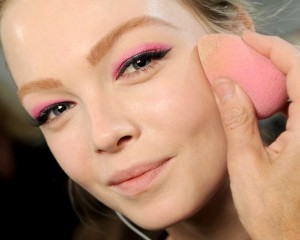 Soak the sponge with water and squeeze out the excess. Dab it in your make up – foundation, tinted moisturiser or cream blush – and dab it along your skin, pressing lightly. Imagine the egg bouncing off your skin. This creates a very natural look as it helps blend the makeup onto your skin without leaving that cakey residue.
The best part about this? You get better coverage with less product and the pointed tip lets you get into every little part of your face – around the eyes, the crevices near your  nose and along your lips.

2. Wet the Sponge before Use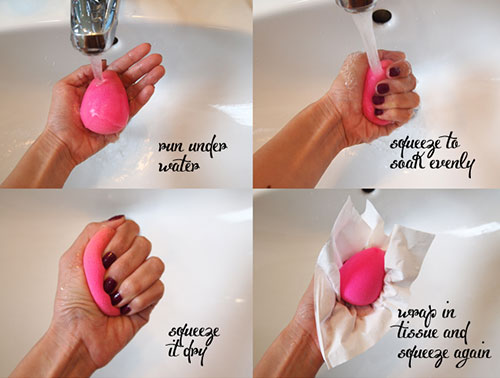 Just why would this be so important? Well, the first time I tried it (I admit I felt like my IQ was being challenged with this tool), I immediately dabbed it into my foundation and it absorbed it right up. It was difficult to get coverage and I thought this was a scam. Until, I realised (albeit a little later) that I had to soak this in water first and squeeze out the excess liquid. Make sure it's damp but not dripping wet. The result? I used less product but had even better coverage.
Always ensure your sponge is damp before use. Wet under water, squeeze excess water and pat with tissue.
3. Apply Your Beauty Product onto Your Hand or a Flat Surface First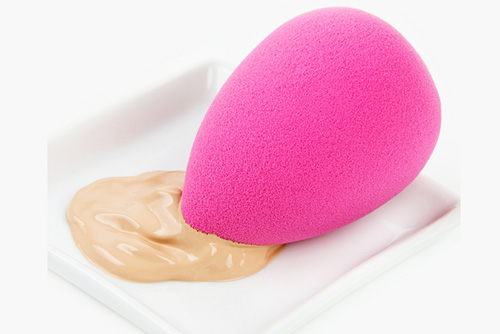 A little tip, to avoid excess foundation onto your sponge, apply the foundation onto your hand or a flat surface first. Then dab your sponge into your product to ensure you have better control over the amount used.
Best to apply your beauty product from the back of your hand or a flat surface, not directly onto the sponge.
4. Apply SPF – Not Just for Make-Up!
How many times have you had a blotchy face tan? I've had to deal with this plenty of times especially around the nose and cheekbone region. Fret no more, this little tool here helps even out SPF coverage. Dip your sponge into the sunscreen and quickly press into your skin. I read about this little trick from a makeup artists' blog and have done away with using my fingers.
5. Skincare Application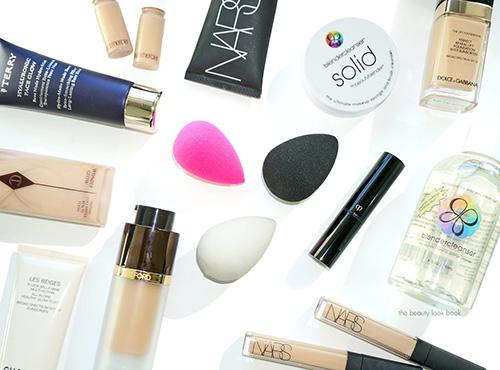 Use it to apply your daily skincare – facial moisturiser, serums, primers – and start your day. It cuts your morning routine time down because it helps spread it out evenly and quickly. Saturate your sponge with water before use to ensure it doesn't absorb your skincare products and dab away. It's gentle on your skin and doesn't tug the sensitive areas – especially around your under eyes. Also ideal for sensitive skin.
Check out the video below to watch the Beauty Blender in action, or click here for the full tutorials on how to use Beauty Blender.
Now that you've been let in on the secret and tips on how to get flawless skin and face with Beauty Blender, get out there and shine, ladies!
– Cover image: beautyblender.com