Hijabistas, P&G Rejoice scientists has heard your pleas and found out that the three main
hair and scalp concerns for Hijabistas today are dandruff, malodor and tangled hair. Hence, to help you to counter this issue to bring you more comfort during this Ramadan season, Rejoice has proudly unveiled its new collection of Shampoo and Conditioner 'Hijab Perfection Series' that comes with a breakthrough 3-in-1 formula!
During a media event on May 3, the science behind the new Rejoice formulas was shared along with interactive science demonstrations by Dr Rebecca Kan, P&G Asia Pacific Haircare Scientific Communications. The new product solves:
Dandruff problem with extra clean anti-dandruff properties
Heat & Malodor with extra cooling from Menthol and refreshing smell of Kasturi flower
Tangled hair by ensuring extra smoothness that lasts all day and hence is the right haircare solution for Hijabistas.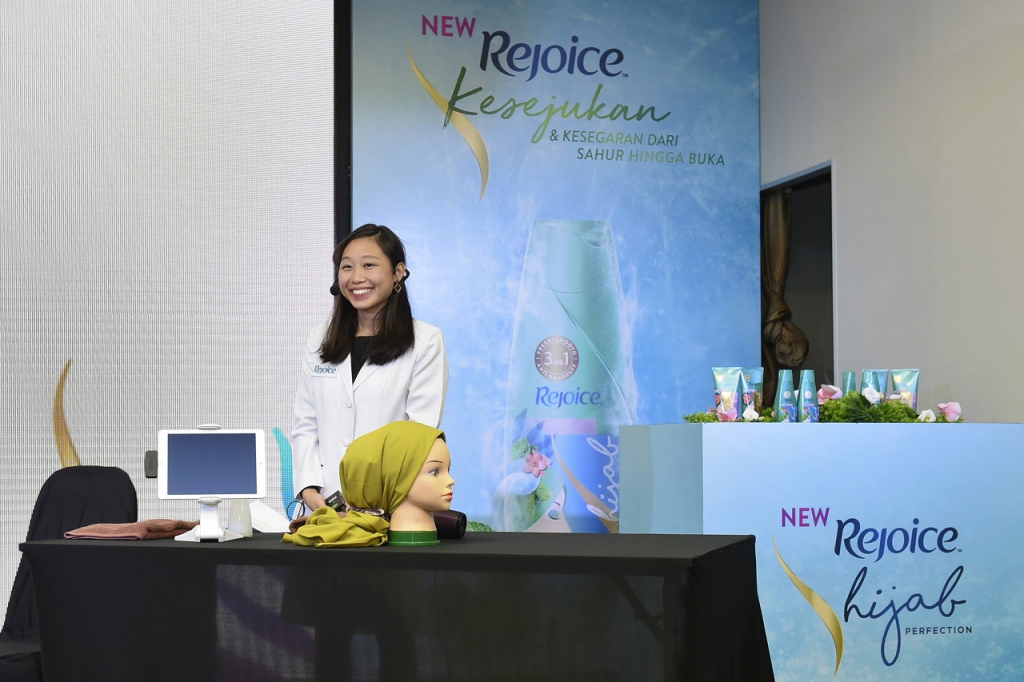 At the same time, Elfira Loy was there to launch the new series being the face of Rejoice during the early stages of her career. "I have been the face of Rejoice brand in early stages of my career and was also popularly known as 'Rejoice Gadis Bertudung Hijau'. I am extremely delighted to partner with Rejoice again to be part of the launch of the new Rejoice Hijab Perfection Series. I am thrilled with how this new product keeps my hair cool and fresh throughout the day. I am also in love with the youthful packaging design that completely symbolizes a modern day Hijabista like me. I would definitely recommend the new Rejoice to all my fellow Hijabistas in Malaysia this Ramadan" said Elfira Loy, Popular Malaysian Actress and Entrepreneur after she unveiled the new range.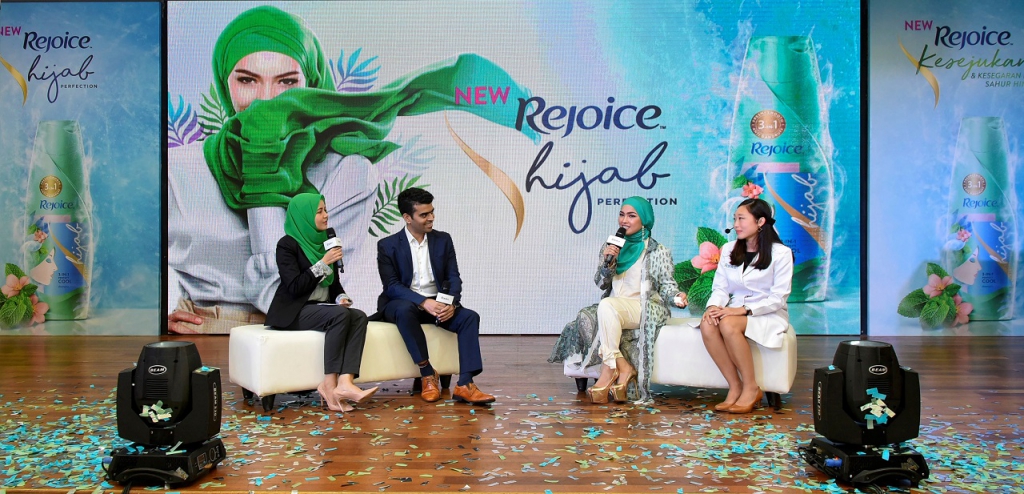 "With Rejoice' s new 'Hijab Perfection Series' of shampoos and conditioners, MYDIN customers can now look forward to an innovative formulation that can finally give them the solution for perfect hair under Hijab. With a breakthrough formula and new age innovative packaging, we anticipate a positive response from our customers with the launch of the new series by Rejoice," said Datin Wira Dr Hjh Siti Hawa Mohd, Director of Mydin Mohamed Holdings Bhd.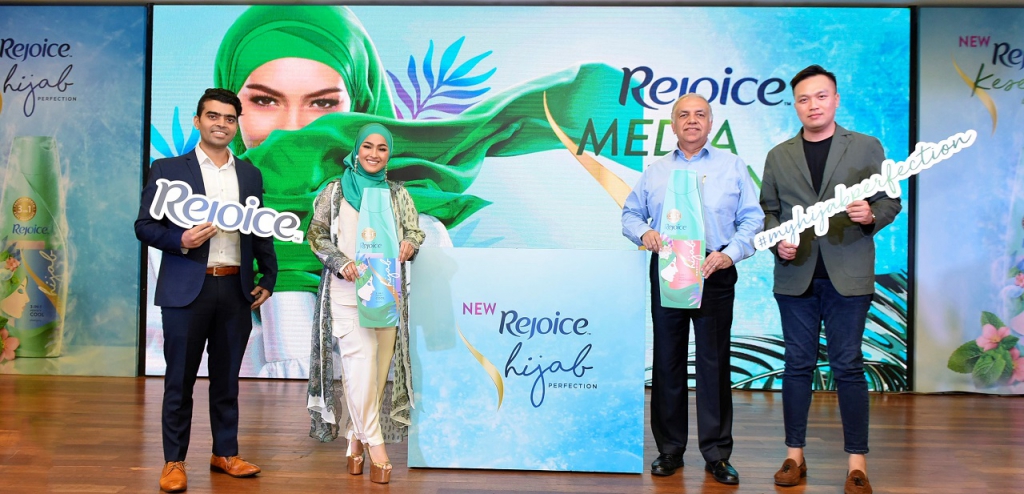 "Rejoice has always been a brand of firsts by launching First ever 2-in-1 shampoo, First ever Cosmetic Anti Dandruff shampoo and also the First ever Hot Oil shampoo. It has always defined the benchmark for superior smoothness and has been one of most loved haircare brands in Malaysia. Continuing our innovation streak, we launch our new 'Hijab Perfection Series' that tackles Dandruff, Heat & Malodor and tangled hair all at one go making it the Perfect Solution for Hijabistas this Ramadan" said Mr. Sahil Sethi, Beauty Care Commercial Director of P&G Malaysia.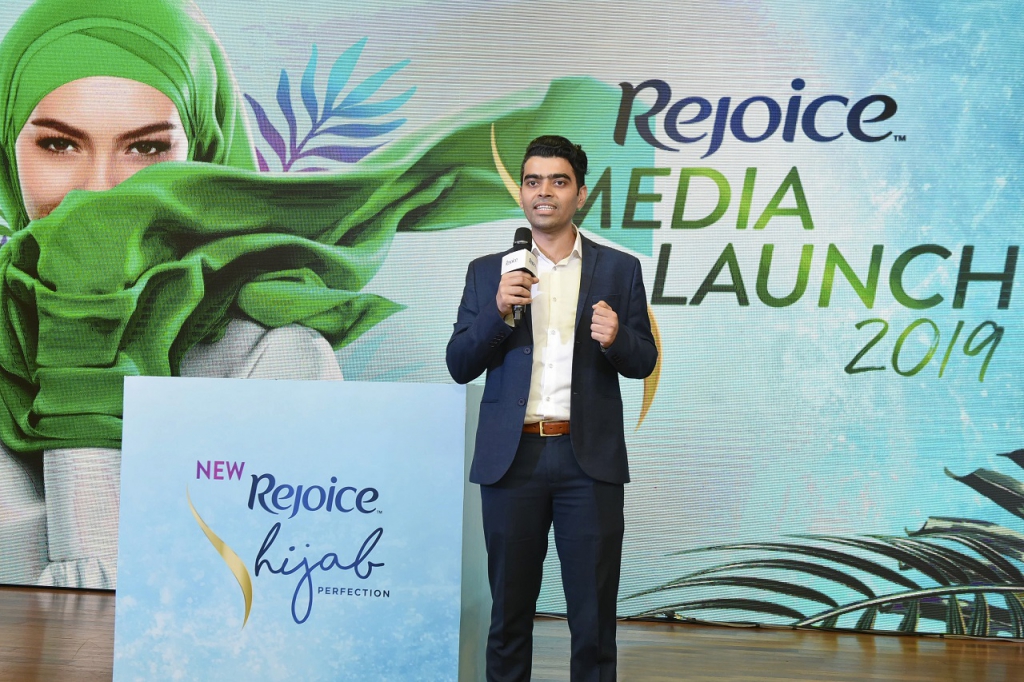 Rejoice Hijab Perfection Series come in two variants for Shampoo, 3-in-1 Perfect Cool (for stronger cooling and ultimate freshness effect) and Perfect Perfume (for long lasting scent intensity). These are complemented by 3-in-1 Perfect Conditioner for smooth and conditioned hair with lightweight feel. This conditioner can be paired with both variants of the 3-in-1 Perfect Series shampoos.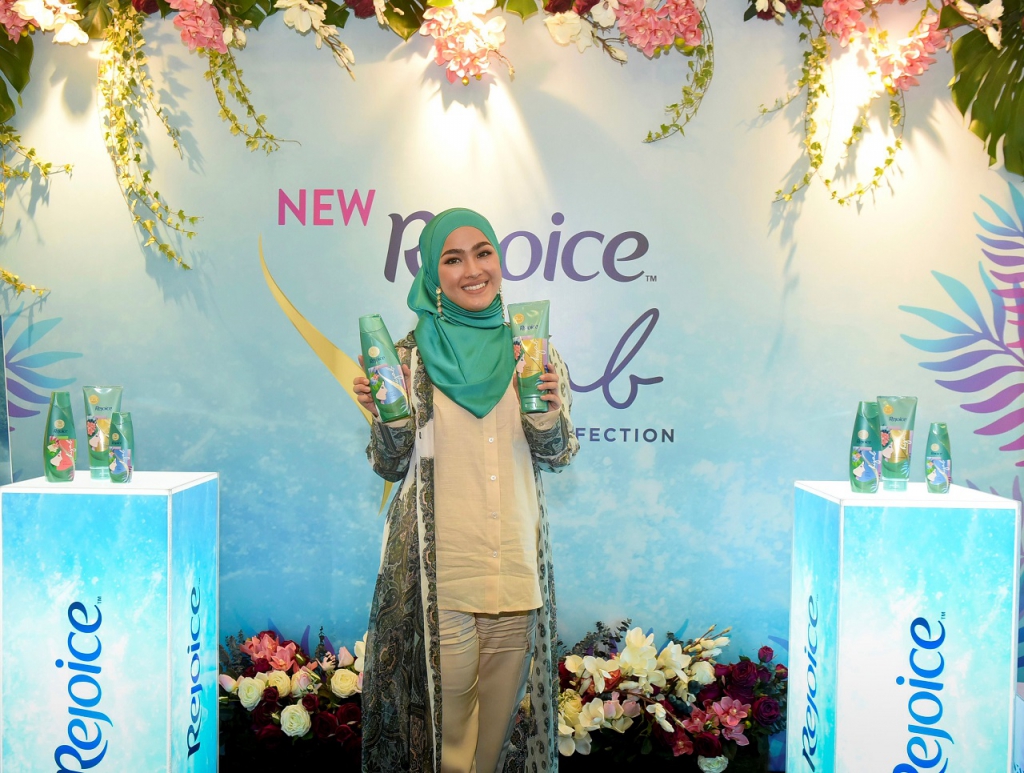 Rejoice 'Hijab Perfection Series' shampoo and conditioner are available in three different sizes with 170ml, 340ml and 600ml. They are available across MYDIN and all other major supermarkets nationwide.
To find out more about Rejoice Hijab Perfection Series, visit Rejoice Malaysia Facebook Page at https://www.facebook.com/rejoicemalaysia/