Sephora has recently revealed its new augmented reality-based features to its award-winning Sephora Virtual Artist application on iOS. Beginning March 13, users can now virtually try on thousands of shades of single and palette eyeshadows, along with the lip colors and false eye lash styles already contained in the app, to create endless unique combinations.
Sephora Virtual Artist also offers Expert Looks to preview inspirational looks, and 3 new Virtual Tutorials for brows, contouring and highlighting. Available today for download on the Sephora App for iOS, these new features for Sephora Virtual Artist are the latest in a series of digital enhancements powered by the Sephora Innovation Lab to customize the retailer's expanding beauty experiences.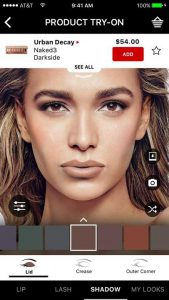 Sephora Virtual Artist Eyeshadow Try On
The new Sephora Virtual Artist Eyeshadow Try On feature enables users to try on thousands of eyeshadow shades by color, brand, and finish, including each individual shade or an entire palette. With just a few taps, users can select up to three shades to place on the lid, crease and outer corner, and instantly determine their favorite combinations. Now users can also save as many of their favorite unique looks to "My Looks" and share up to four different combinations with friends.
Sephora Virtual Artist Expert Looks 
Inspiration is just one click away with this new Virtual Artist feature. Choose from seven different on-trend looks created by Sephora's experts, including Bright Lip & Cheek, Smoky Eye, and Cut Crease. Begin by selecting a look and one of four skin tones, and have it instantly overlaid onto your own face with a 3-D live view. Share the look and shop the curated list of products to recreate the look on your own.
Sephora Virtual Artist Tutorials 
Learn how to create the most advanced, trending looks with Sephora Virtual Artist's easy to follow, step-by-step DIY virtual tutorials, including the three newest options: Brows 3-Ways, Contouring, and Highlighting. Each step within the tutorials is customized to and animated on the user's own face using the state-of-the-art 3D Live view. Exclusive features include Split Screen, a slider that shows your face before and after the virtual makeup is applied, exclusive Pro Tips for each step in the tutorial, and a list of product recommendations to shop the look.
Sephora Virtual Artist with the new Eyeshadow Try On, Expert Looks, and Virtual Tutorials are available on the free Sephora App for iPhone and on SephoraVirtualArtist.com now. Follow #VirtualArtist #InstaMakeover for more.
Read also: Get the Newly Launched Sephora Colorful Skincare Collection Today