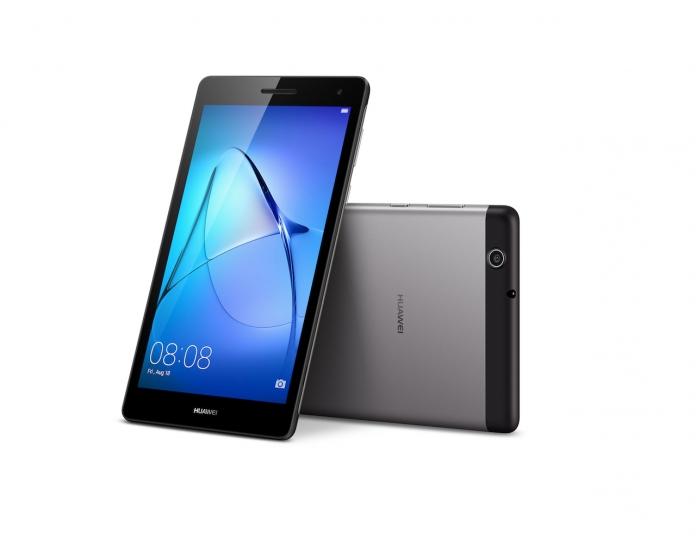 Experience the world of fun as HUAWEI, the second largest smartphone brand in Malaysia, announced today the arrival of the HUAWEI MediaPad T3 7. Retailing at RM499, the brand new HUAWEI MediaPad T3 7 can be purchased at HUAWEI Experience Stores and Display Zones. The 7-inch IPS display designed in HUAWEI MediaPad T3 7 offers customers who enjoy large-screen viewing a visual prowess at an affordable price. Additionally, the Kids Garden application enables children to strike a balance with outdoor activities, as it empowers parents with greater control over their children's time spent on the tablet.
Sleek and Stylish Masterpiece
HUAWEI MediaPad T3 7 is developed to stimulate your senses through a slim and stylish design. Delivering an ultimate experience in both visual-appeal and sensory, the HUAWEI MediaPad T3 7 comfortably fits into one hand. The look and feel of the world will be elevated through its vibrant 7-inch IPS display (resolution at 1024 x 600 HD) with an ultra-narrow 6.1mm bezel design.
Weighing only 245 grams, the HUAWEI MediaPad T3 7 feels like an object from the future. All the powerful features are packed inside a compact tablet measured at only 8.6 mm in thickness. Coupled with the solid piece of aviation-grade anodised aluminum and well-rounded unibody design, the HUAWEI MediaPad T3 7 surprises and delights users with its elegant form and extraordinary functions, bringing the world to you in the most stylish manner.
Efficient and Easy-to-Use 
Running on HUAWEI's home design of EMUI 7.0, the HUAWEI MediaPad T3 7 harnesses the power of Android M (Marshmallow) to offer an easy-to-use and peace-of mind user experience. It is powered by a 1.3GHz quad-core Spreadtrum SC7731G processor with 2GB of RAM and 16GB internal storage, expandable with a microSD card supporting up to 128GB. The tablet is constructed using the power of the latest generation 2.4GHz Wi-Fi, ensuring a seamless flow of data and promising a stutter-free web surfing experience.
For users who enjoy photography, the device comes with a 2MP fixed focus lens in both the rear and front camera, enabling users to take their entertainment to the next level with this tablet. The HUAWEI MediaPad T3 7 holds a 4,100 mAh battery bank that will power your media needs throughout the day. Furthermore, this environmental-friendly tablet has earned the ENERGY STAR® certification, claimed to prevent greenhouse gas emissions by meeting strict energy efficiency requirement.
Fun through Kids Garden
The HUAWEI MediaPad T3 7 is great for families. Through the Kids Garden application, parents can worry less on the long hours spent on the tablet, especially for their children. The smart app access and content control allow parents to adjust the usage duration of the device and provide a wealth of information in a safe parent-supervised environment, which will not compromise the children's outdoor activities and studying time.
Pricing and Availability
Retailing at RM499, the HUAWEI MediaPad T3 7 is available in Grey, and can be purchased at your nearest HUAWEI Experience Stores and Display zones.
For more information, visit consumer.huawei.com or facebook.com/HuaweiMobileMY.