I suffer from dry hands, especially after spending long hours in the air-conditioned room, so for me hand creams are essential. Recently I have tried and tested L'Occitane Shea Butter Hand Cream and Crabtree & Evelyn's Caribbean Island Wild Flowers Hand Therapy and would like to share with you my experience with these two hand creams.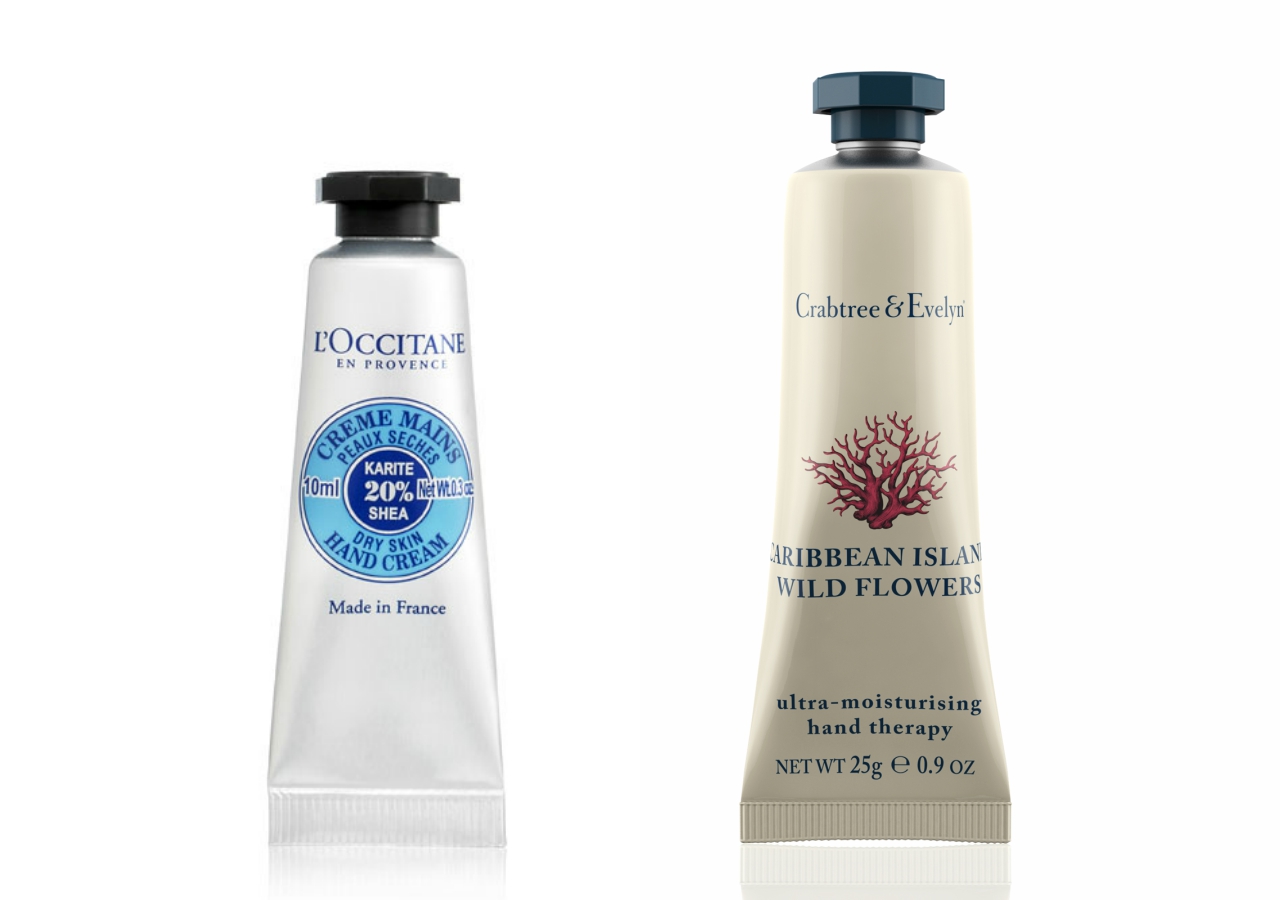 First Impressions
Scent
I simply adore the scent of Crabtree & Evelyn's Caribbean Island wild flowers. It is how I imagine an ideal garden in spring would smell like! The aroma is much gentler, compared to L'Occitane's hand cream, which has an intense powdery fragrance that is much too strong for me.
Packaging
Both hand creams have a minimalistic and stylish design with a travel-friendly sized tube. Aesthetic-wise, I prefer L'Occitane's over Crabtree & Evelyn's. The futuristic light-reflecting silver played off cleverly with the classic design.
My advice is to keep these darlings in a separate pocket from bobby pins or keys because these tubes are vulnerable to sharp edges.
Performance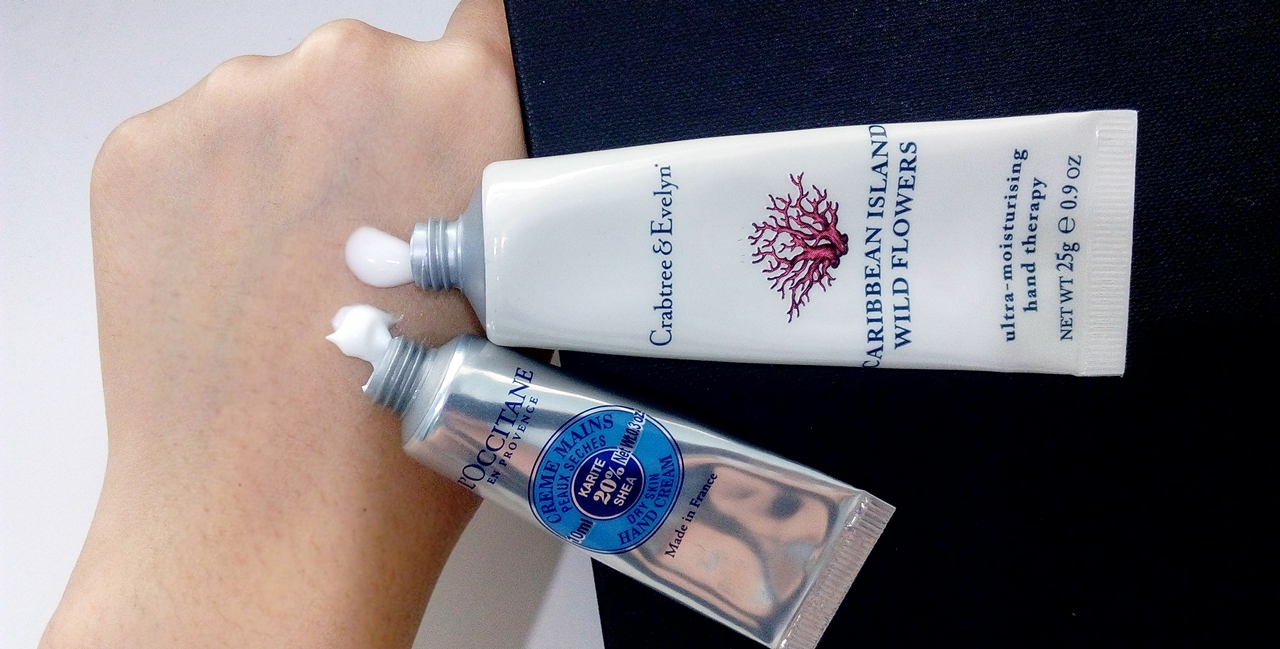 Texture
It is no surprise for L'Occitane's hand cream to have a thicker consistency, seeing as it contains 20% Shea Butter. It has an opaque and paste-like appearance. Crabtree & Evelyn's, on the hand, has the usual hand cream/lotion texture.
To test the performance of both products, I use the hand creams simultaneously (L'Occitane's on my right hand and Crabtree & Evelyn's on my left). Quick-absorption is one of the more important features of a hand cream that I'm always on the lookout for because I want to resume doing whatever as soon as possible and these darlings give me just that!
Immediately after applying, I find that L'Occitane's took a longer time to sink-in than Crabtree & Evelyn's, probably due to its thick texture. Both hand creams absorb relatively quickly and very thoroughly. I could get back to my work in a jiffy!
There is no greasy residue on both my hands, even though L'Occitane's hand cream had a rich consistency initially. Just a few minutes later, I notice the wrinkles on my hands lessen (more on my right than my left). Both my hands look and feel smoother.
Our Verdict
My experience with both of these products was marvelously pleasant. It was quite difficult for me to choose between the two since they are quite on par with each other in terms of performance.
I would recommend L'Occitane Shea Butter Hand Cream to those who seek out a more powerful skin-hydrating product. Ladies who are frequently on flights or fixed with an office routine would definitely love the immense lasting effect it has. Although, the product leans toward the pricier side, the result made it worth every penny.
Crabtree & Evelyn Caribbean Island Wild Flowers Hand Therapy would be a fabulous companion for those who wishes for a regular dose of hydration. It works wonderfully as a daytime hand cream with a tranquil scent that gets your day going. Although lightweight, it is certainly more commendable than many of the products out there within similar price range.
Read also:
Tried & Tested: Innisfree Green Tea Seed Serum;
Tried & Tested: Dr. Morita Hyaluronic Acid Moisture Essence Facial Mask