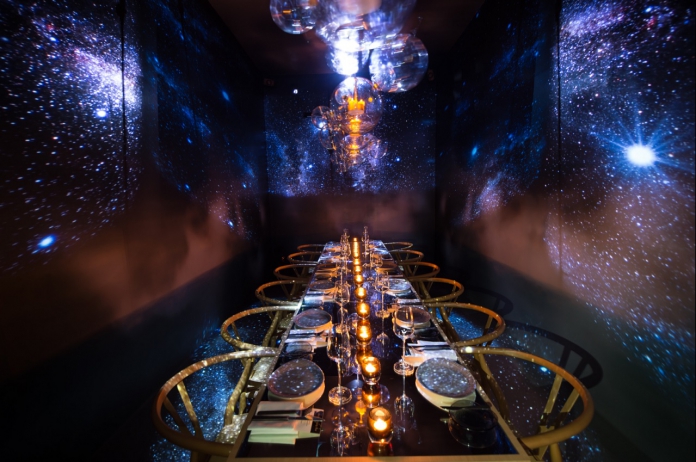 Ever wish to dine under the stars without the noise pollution and crowd? Sheraton Imperial Hotel Kuala Lumpur's "Find Your Lucky Star" Pop-Up Restaurant ticks off all of the boxes and more. It's a must-go!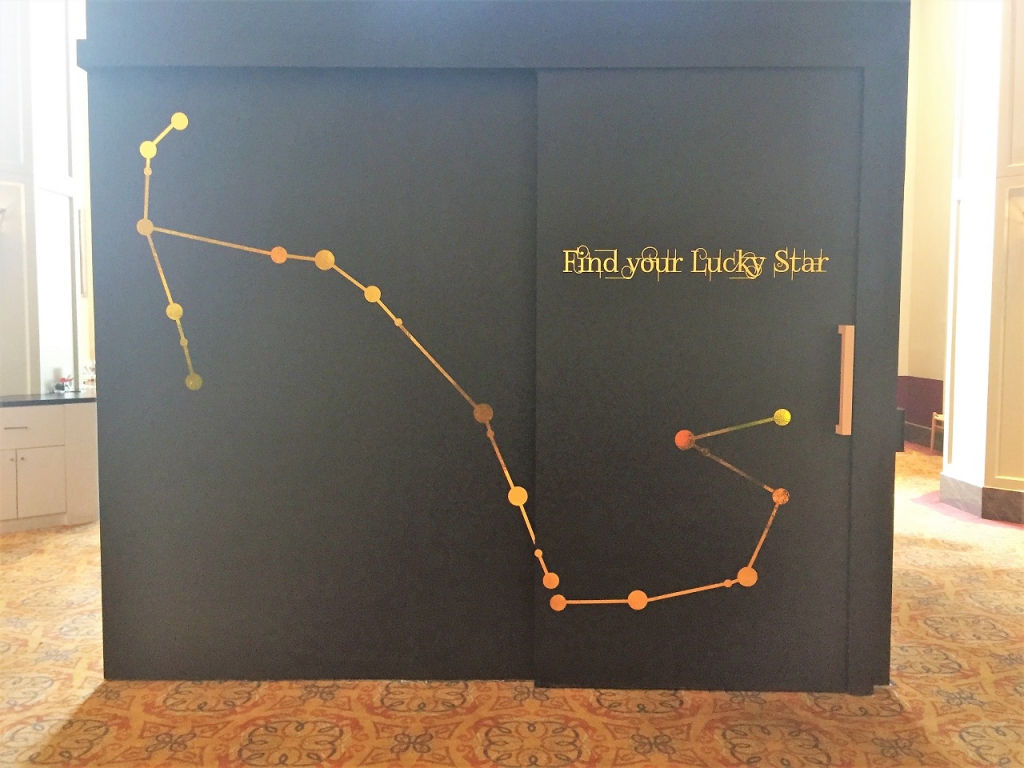 For the first time in Sheraton Imperial Kuala Lumpur, this one-of-a-kind dining experience concept was created by multi-award-winning global interior designer, Emma Maxwell. And I was told that it took about 72 hours to build the installation.
As you enter the "Find Your Lucky Star" Pop-Up, you'll be greeted by the night sky, then, as you go through your course, more stars will appear and shooting stars too! Don't forget to make a wish! With only 12 seats available in this communal dining style table and an accompanying playlist of music that sets you in a cozy mood but with a sense of wonder.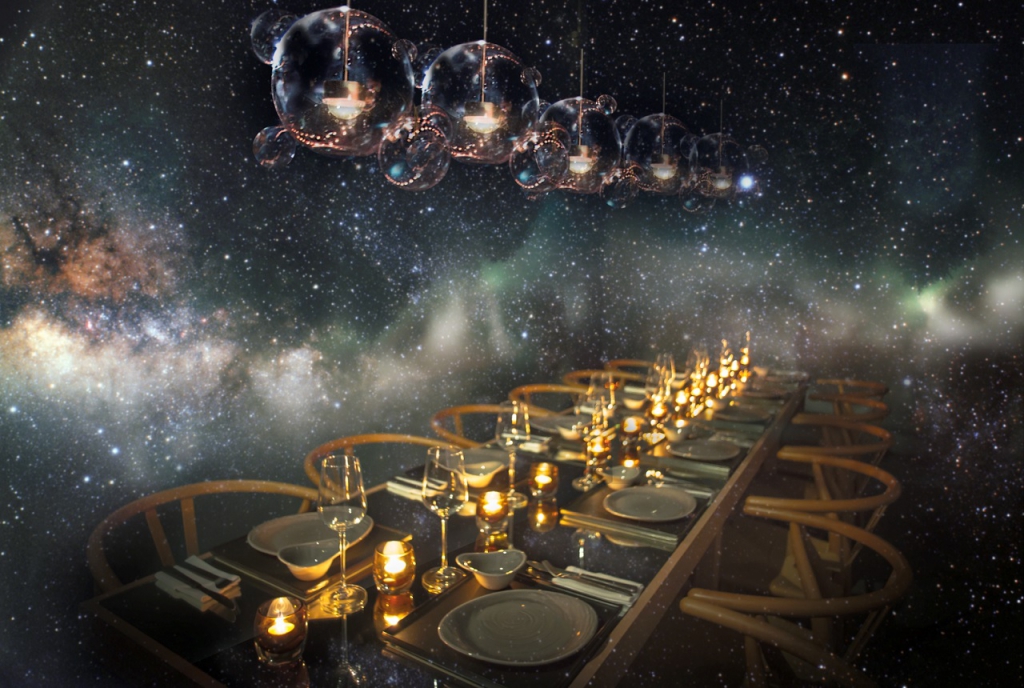 You might wonder, is it similar to Dining In The Dark?
Nope, you'll be able to see your food and utensils though, not as clearly due to the candlelight but there's always your phone's flashlight which is how I managed to snap these delicious shots of the 4-course Lunch menu which I'm reviewing.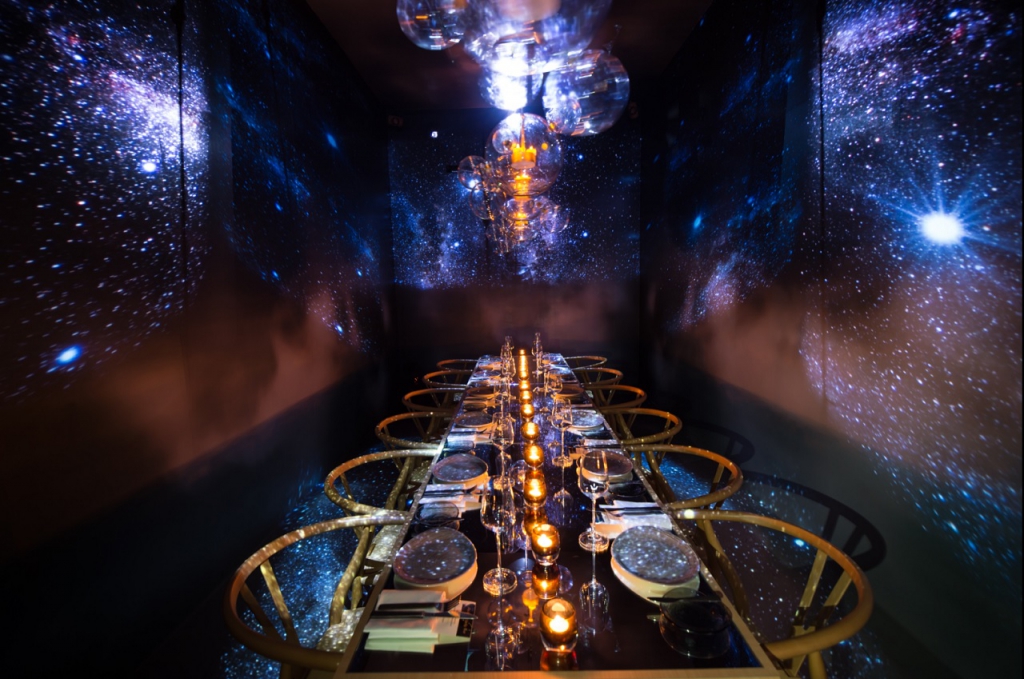 Here's a look at the exclusive 4-course Lunch menu created by Chef Gaetano Di Stefano of Villa Danieli.
Starter: Roasted Beetroot soup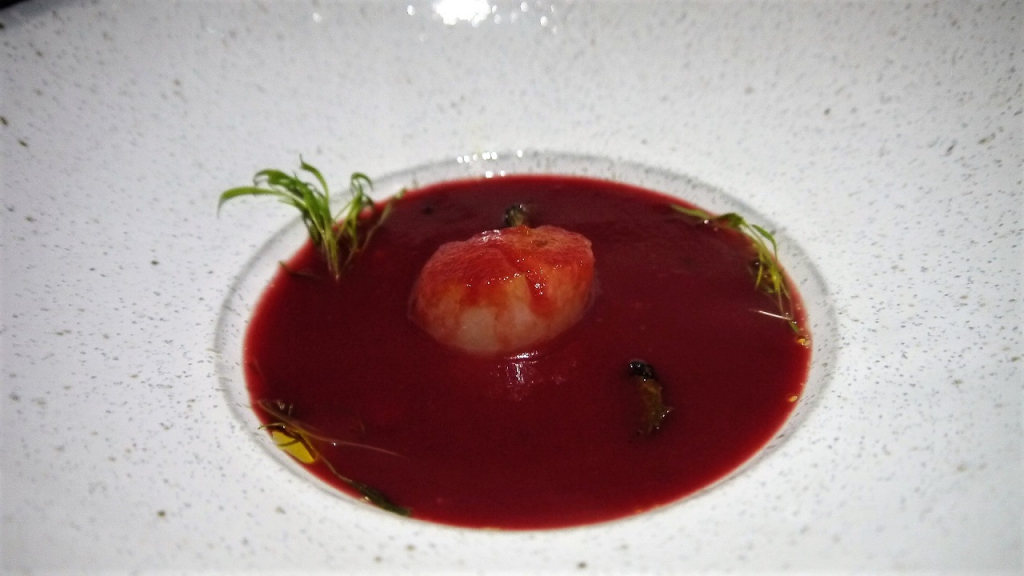 Wine Pairing: 2016 MAZZEI Belgvardo Vermentino di Toscana
Mocktail Pairing: Sparkling Bellini
The waiter will pour this steaming hot, subtly flavoured roasted beetroot soup onto the plate, enveloping the perfectly cooked grilled scallop, and scattered black truffle bits. I love how there wasn't any earthy taste that comes from beetroots and there was a slight texture from the fibres that brought more dimension to the soup. The wine matches the freshness of the scallop and gave the dish an added fruity taste and so does the mocktail.
Main: Slow roasted beef cheek with Modica saffron risotto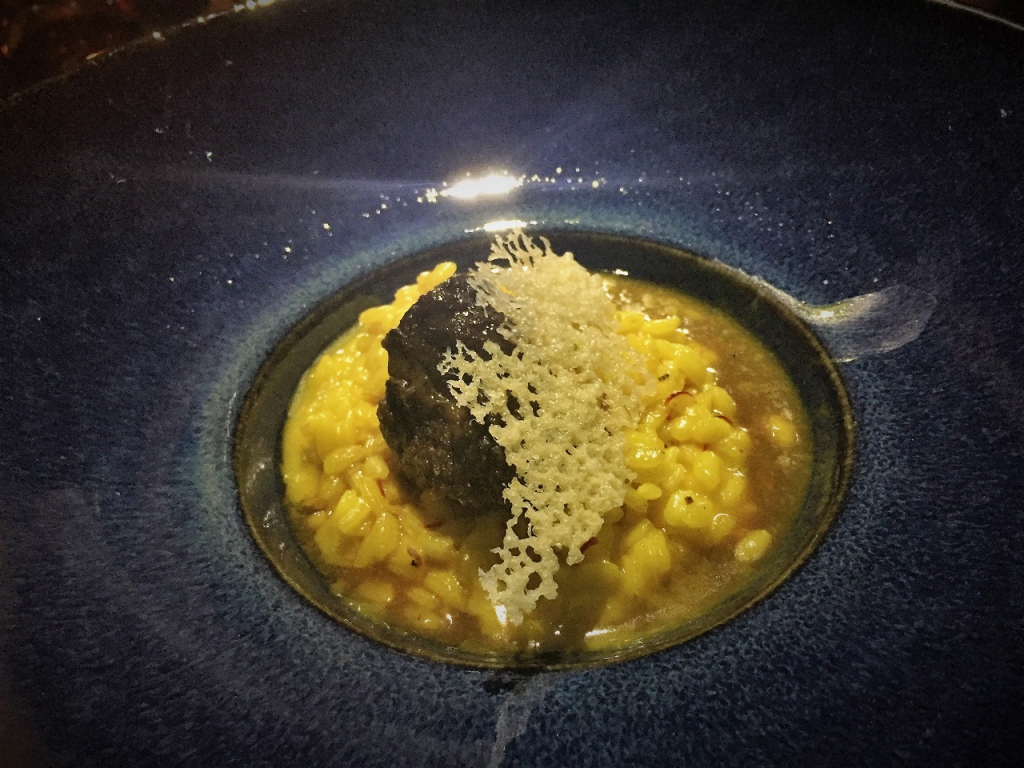 Wine Pairing: 2013 MAZZEI Fonterutoli Chianti Classico DOCG
Mocktail Pairing: Cranberry Apple Punch
Flavourful, tender yet juicy beef cheeks that tear easily went well with the lightly flavoured saffron risotto. The risotto was slightly overcooked though. The red wine pairing brought an extra sweetness to the dish, so did the mocktail.
Main: Baked Italian Turbot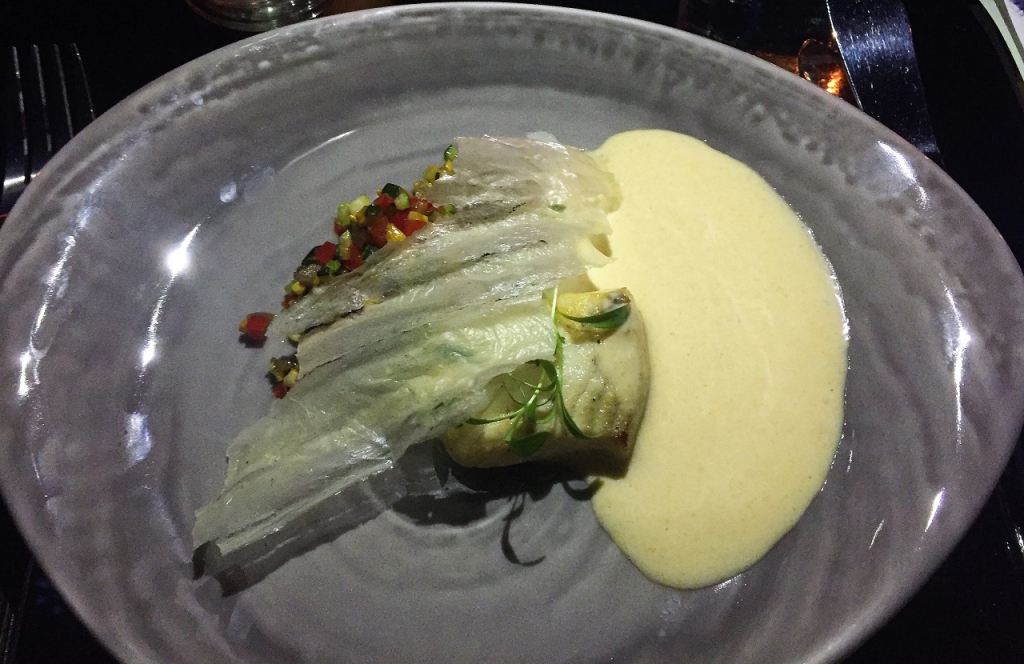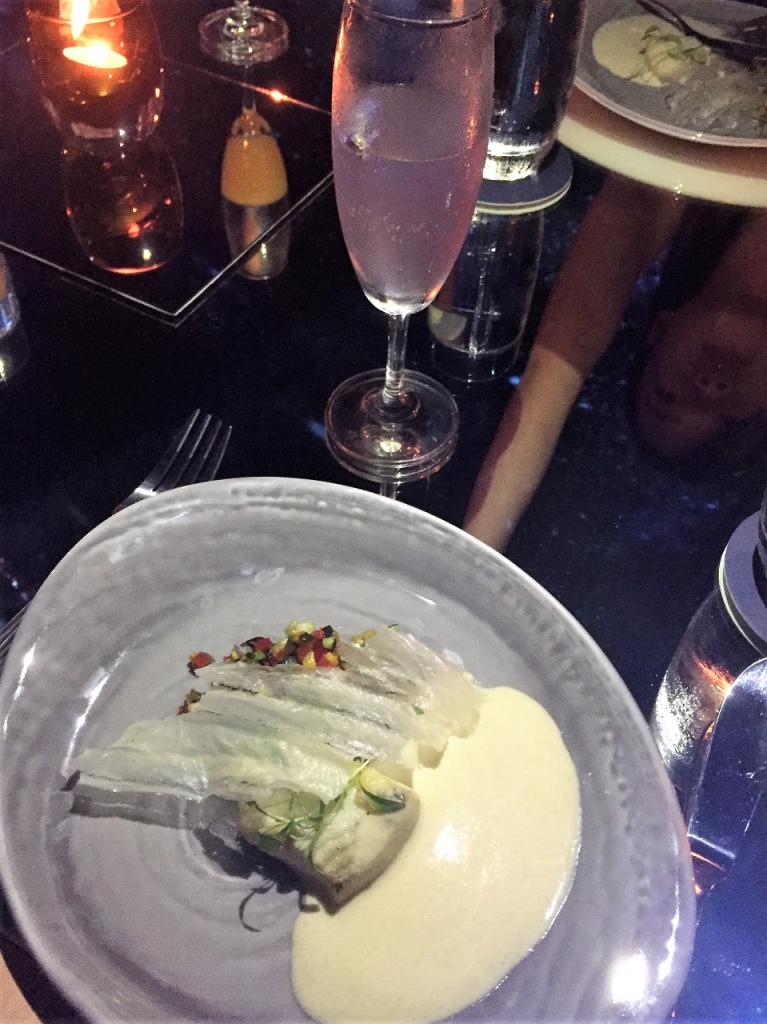 Wine Pairing: 2013 MAZZEI Fonterutoli Chianti Classico DOCG
Mocktail Pairing: Lemon Lavender
The turbot was cooked to perfection and when eaten together with the Mediterranean vegetables and freshly sprayed on sea urchin foam, it was heaven in my mouth. The sea urchin foam gave the added richness that brought the other elements together. I felt that the red wine didn't really go as well with this dish, it could have been better with the previous white wine that was served with the soup. The mocktail, however, added a touch of freshness to combat some of the richness of the dish and the lavender flavour was just right.
Dessert: Green Apple Tarte Tartin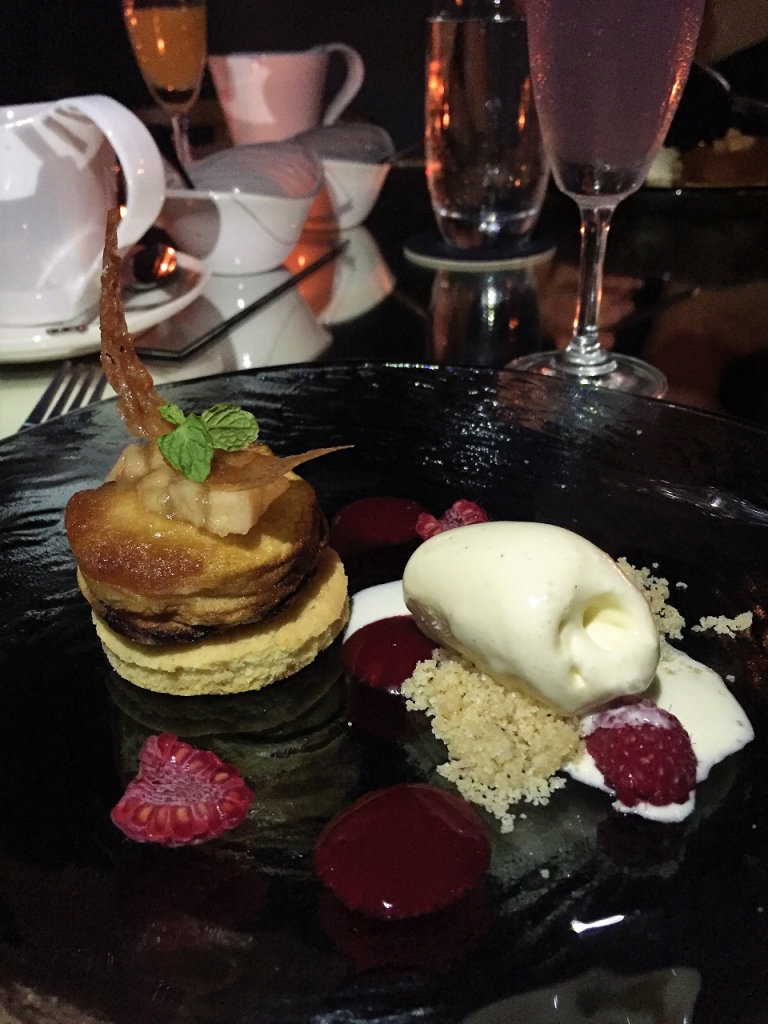 Made in-house, the vanilla ice-cream balanced out the tartiness of the crispy green apple pieces of the tarte tartin. It was a refreshing end to the Lunch course.
Petit Fours with coffee or tea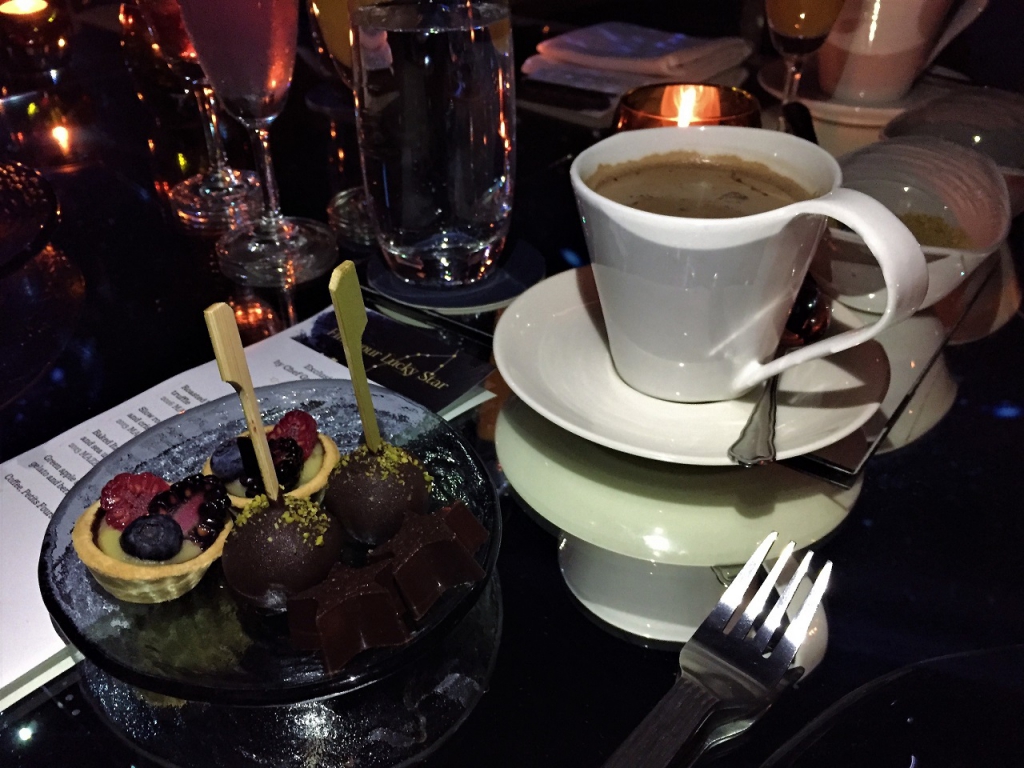 The petit fours consisted of handmade milk chocolate with nuts and fruit tarts which I thoroughly enjoyed as well. Like usual, you have to option to have coffee or tea with it them.
Verdict
If you want to take your usual office lunch to the next level, you can't miss this out! It'll be a nice way to de-stress before moving on with the rest of your workday, as you enter into the box of starry skies and have elegantly plated, delicious Italian fusion dishes with accompanying mocktails or wine (if you can keep it in control). I'm a fan of the Roasted Beetroot soup and Baked Italian Turbot dishes. As for drinks, the accompanying wine for the soup was perfect, and the accompanying mocktails were great too as it was not overly sweet and matches with the dishes just right without overpowering the flavours. Sheraton Imperial Kuala Lumpur might extend this unique dining experience until next year too so we'll keep you updated when it happens.
With limited seats of 12 persons per session for a limited time from 12 to 29 December 2017, the "Find your Lucky Star" experience is available at RM 238 nett for a 4-course lunch with wine pairing or RM 188 nett with mocktail, and RM 438 nett for a 6-course dinner with wine pairing or RM 388 nett with mocktail.
Enjoy 15% discount for SPG, Marriott Rewards and Club Marriott members, as well as for group bookings of 12 persons (blackout dates apply). There will only be two sessions per day with a minimum of 2 persons, guests are encouraged to call in for early reservation. For any further inquiries or reservations, please call +603 2717 9027, e-mail to LuckyStar@sheraton.com or visit www.pavilionslounge.com/, http://www.sheratonimperialkualalumpur.com/.
Read also: "FIND YOUR LUCKY STAR" AT Sheraton Imperial Kuala Lumpur Hotel