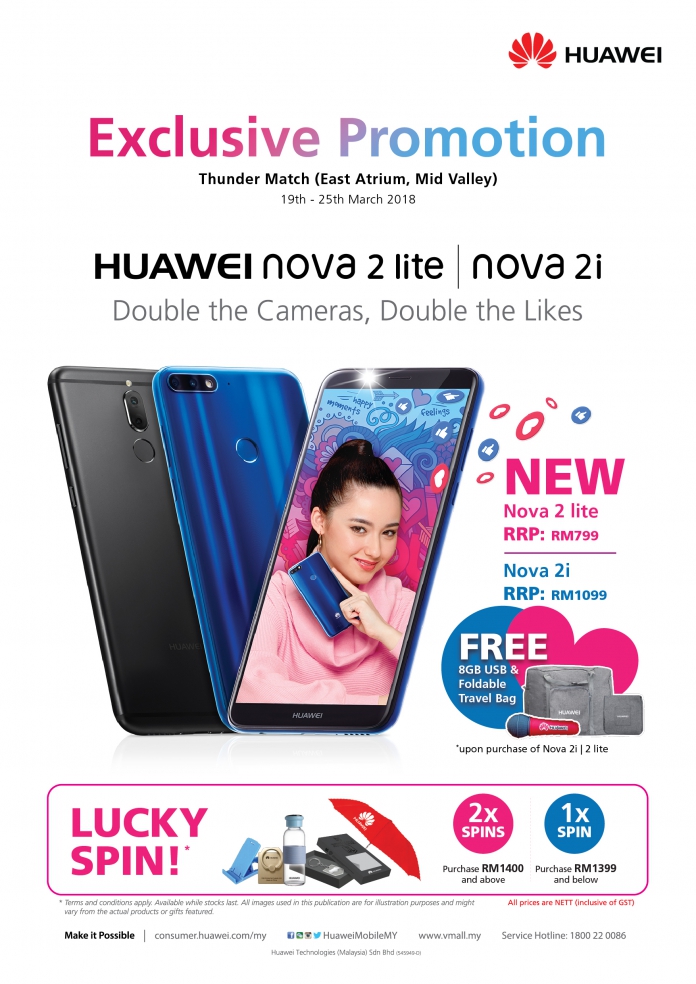 A total of over 700 units of HUAWEI merchandises merchandises are available to be won at HUAWEI booth in East Atrium, Mid Valley Megamall, from 19 – 25 March 2018. The attractive merchandises ranging from HUAWEI umbrellas, glass bottles, phone mounts and U-rings. On top of that, for every purchase of nova 2i and 2 lite smartphones, limited edition goodies of travel bags and 8GB USB will be given away (terms & conditions apply).
Customers who spend a certain amount will be eligible to participate in the lucky draw to win the merchandises. Fashioned after the lucky spin wheel, customers who spend RM1,399 and below will be able to spin the wheel once to get a HUAWEI merchandise, while customers who spend RM1,400 and above will be able to spin the wheel twice to obtain the merchandises.
Furthermore, customers are welcomed to experience the nova series at the roadshow and return home the print out with a nice photo sleeve.
For more information visit consumer.huawei.com or facebook.com/HUAWEIMobileMY.
Read also: The Limited Edition HUAWEI Mate 10 Pro Pink Gold Arrives In Time for Valentine's Day