Today is Valentine's Day! It is the day full of love and romance where you can see couples wearing couple shirts or holding each other like they never before. If you still can't figure out what to gift for your girlfriend, we have compiled this 3 gifts that your girlfriend would like! Here are your 3 last-minute Valentine's Day present ideas, read more!
Laduree Macaroon
https://www.instagram.com/p/BfBNdhclGVZ/?taken-at=129724821020672
A macaroon is a type of small round biscuit typically made from ground almonds, coconuts, nuts and sometimes flavourings, jam or a chocolate coating. As Laduree Paris has just opened their store in Malaysia not long ago, we bet your girlfriend will feel very sweet and surprise when you buy Laduree's macaroon for her.
2. Godiva Chocolate
Who doesn't like chocolate especially if it is Godiva? Buy a box of Godiva chocolate and send it to her office when she work! How sweet is this surprise, right girls?
3. A bouquet of dry flower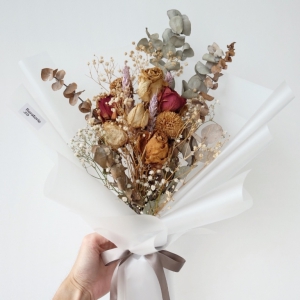 As giving a bouquet of flowers is too common, why not gift her with a bouquet of dry flowers? It is equally beautiful and most importantly it can store longer too! Let's forget about red roses, dry flower bouquet is what girls secretly wish for right now!
Featured Image: www.happenings.lpu.in
Read also: Top 5 Cafes To Visit On This Valentine's Day