In conjunction with the Breast Cancer Awareness Month in October, XIXILI hosted its 11th annual XIXILI Breast Cancer Awareness Campaign Event themed #XIXILIstandupforPink at the Mid Valley Megamall, South Court Ground Floor from September 28 to October 2, 2016.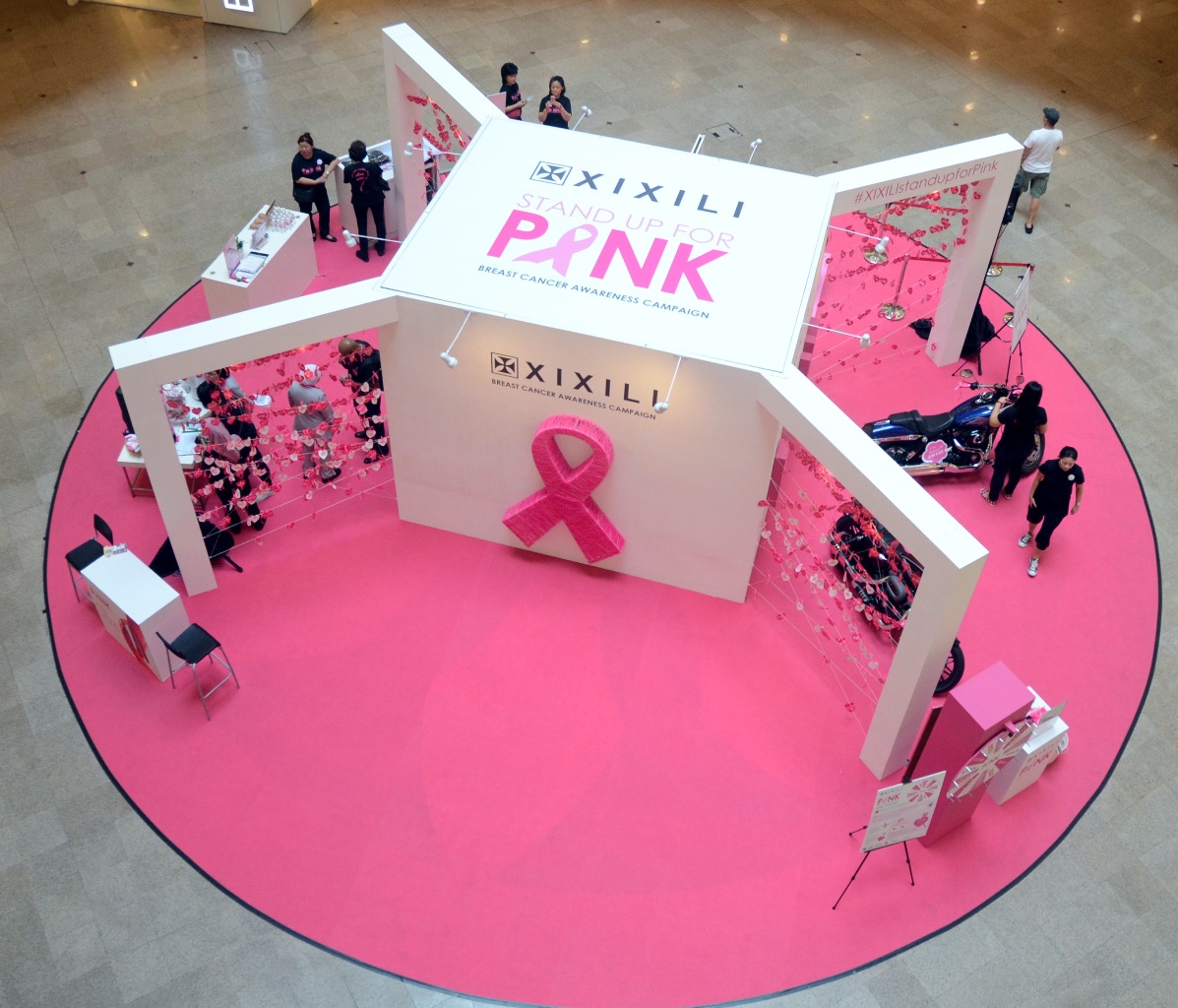 This year, XIXILI teamed up with the Breast Cancer Welfare Association (BCWA) of Malaysia to raise breast cancer awareness and to raise fund for the good cause of BCWA. The 5-days event saw an influx of positive engagement from shoppers of all ages as they pledged their support for PINK and took part in the interactive on-ground activities.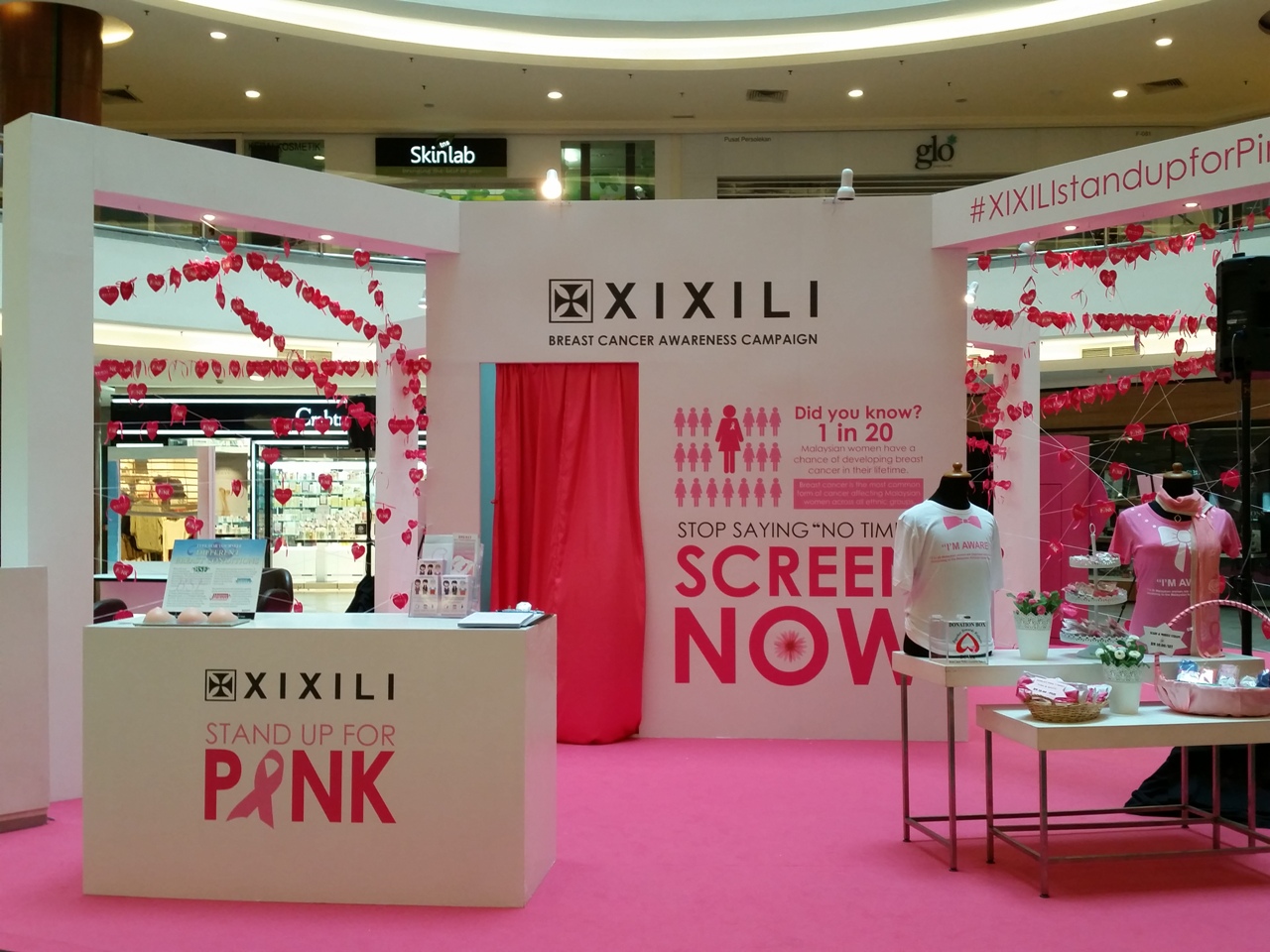 1 in 20 women have a chance of developing breast cancer in their lifetime and breast cancer is the most common form of cancer affecting Malaysian women across all ethnic groups.
Consultation booths with silicone breast dummies, manned by breast cancer survivors themselves and a team of nurses were set up at the event to educate shoppers on the methods of performing the monthly Breast Self Examination (BSE). All female shoppers were also encouraged to take the opportunity to undergo a complimentary Clinical Breast Examination (CBE) by the on-site certified professional nurses of BCWA.
Dr. Evelyn Ho, a practicing Consultant Clinical Radiologist from Ramsay Sime Darby ParkCity Medical Centre, also paid us a visit to host a public talk on breast cancer myths and to provide medical advice on breast health care to shoppers.
A total of 662 shoppers were educated on Breast Self-Examination (BSE), whilst 601 female visitors undertook the Clinical Breast Examination (CBE). Over RM10,000 was also raised from public donations, Pink Merchandise sales and Charity Dry Hair Cuts.
Pink Walk Parade 
This slideshow requires JavaScript.
One of the main highlights on weekend was the Pink Walk parade featuring breast cancer survivors together with the media friends and bloggers. The breast cancer survivors looked gorgeous and sparkled with hair and makeup by our Hair & Makeup Partners, Number76 and shu uemura.
Charity Dry Hair Cut  
This slideshow requires JavaScript.
Sharing the same beliefs in raising breast cancer awareness, Number76 initiated a fundraising activity by offering a dry hair cut service, by their senior stylists, for shoppers who made a donation of RM15 or above to BCWA. With the overwhelming response, a total of RM5535 was raised from 369 shoppers in the 5-day event; a new record that has surpassed last year.
Kiss & Pledge Lip Service
Guests also enthusiastically took part in shu uemura's Kiss & Pledge, by donning their favourite shade of pink lip balm, kissing on a heart-shaped pink card and tying it to any one of the 4 string-walls to pledge their support for pink.
Related: XIXILI Stand Up For Pink Breast Cancer Awareness Campaign 2016 | Sep 28-Oct 2, Mid Valley Megamall