Sunway Medical Centre (SunMed) is collaborating with the National Kidney Foundation of Malaysia (NKF) for the 30 Days to Happy Kidney Campaign with aims to increase awareness on caring for the kidneys among Malaysians, and also to raise funds to benefit NKF.
The Happy Kidney Campaign which launched end of last year has been now extended to March 6, 2016 from its initial closing date on January 17, in order to raise more funds to NKF who needs as much as RM30 million in funding per year in helping over 1,600 patients annually. Currently, the campaign has raised over RM10,000 from the public.
Sunway Medical Centre will be matching, dollar-for-dollar, any donation that is made by the public to NKF through its 30 Days to Happy Kidneys Campaign until March 6. Donation can be made at Sunway Medical Centre or online at peoplegiving.org.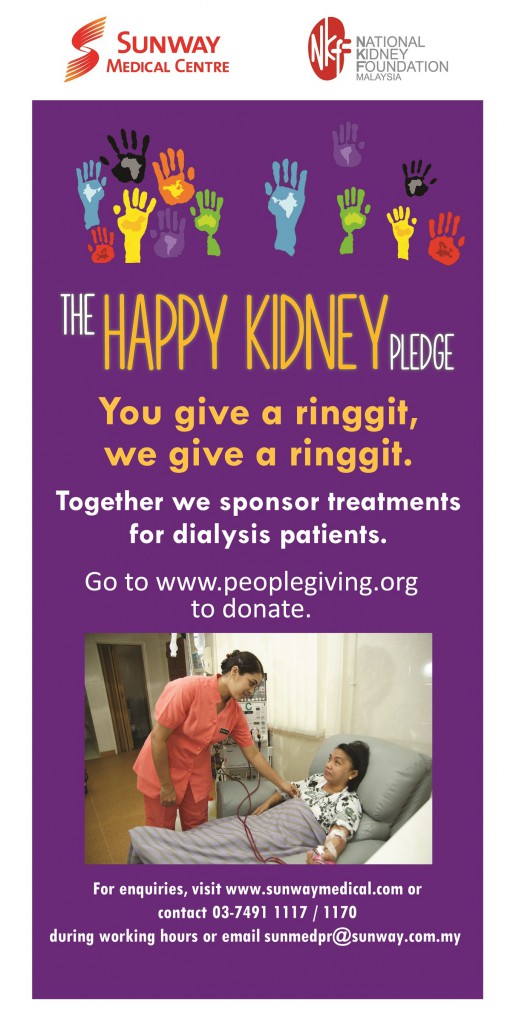 At the end of the fundraising period, Sunway Medical Centre will present to NKF a total sum that is double the funds raised from the public – combining the public donation and Sunway Medical Centre's donation.
This is a great time to get your donation in – every dollar you donate will be worth two!