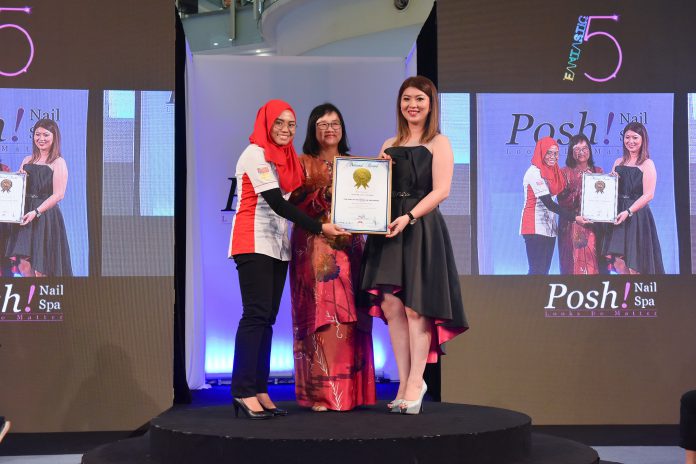 POSH! Nail Spa celebrated its 5th Anniversary with Fantastic 5 Gala Night held at Nu Sentral, Kuala Lumpur. Honoured guests and shoppers were treated to the 1st Nail Fashion Show in Malaysia which was officially recognised by the Malaysia Book of Records on the same night. The Nail Fashion Show is an exciting crossover between super-talented Malaysian Fashion Designers including Melinda Looi, Orson Liyu, Leslie Variyan for Variante, Carven Ong and Celine Ooi for ELEUSIS, collaborating with POSH! Nail Artist for Nail Art show to remember!
Here are closeups of some the nail art designs! Which is your favourite?
The Fantastic 5 Event at Nu Sentral begun on Wednesday 12th October 2016 and ends today, 14th October 2016, don't miss out on your chance on getting a quick manicure for only RM18 at "Manicure for a Purpose" booth and a Nail Art printer where you can personalized nail designs and print directly onto your nails. There will also be special Tshirts designed by the Malaysian Fashion Designers for this event, sold at RM50 per piece to further raise funds for Pink Unity.
POSH! Nail Spa opens daily from 10AM till 8PM with outlets located at TTDI; SS2, Petaling Jaya; Parkson, Nu Sentral and Damansara Heights.
For more details, please visit www.poshnailspa.my.
Follow POSH! Nail Spa on:
Facebook / Instagram / Twitter
Read also: POSH! Nail Spa Celebrates 5th Anniversary with Good Deeds for Pink Unity