During the festive period of Chinese New Year (CNY), we tend to find ourselves eating more unhealthy foods such as festive cookies and snack foods. The uncontrolled or excessive eating coupled with reduced exercise during the CNY celebration can lead to wight gain that can cause various disease such as heart disease, diabetes and hypertension. Here are some tips provided by Ministry of Health Malaysia (MOH) on how to prepare healthy meals during the Chinese New Year.

8 Tips for Preparing Healthy Chinese New Year Dishes
Serve a variety of vegetables as it contains a lot of vitamins and minerals needed by the body.
Serve foods high in fibre such as brown rice or whole grain breads, which are also contain vitamins and minerals.
Serve fish rather that red meat such as beef and pork because fish contains less fat and cholesterol.
Prepare lean meat or remove the visible fat or the skin of the poultry.
Use natural herbs and spices or dried fruit to replace the use of sugar, salt and sauce in cooking.
Serve fresh fruits as better choice dessert.
Reduce sugary drinks and make sure to consume enough plain water everyday during the festive period.
Prepare foods using healthier cooking methods such as boiling, grilling, steaming or stir frying with less oil to reduce oil and fat consumption.
Healthy Chinese New Year Recipes
Here are two healthy CNY recipes that can be easily prepared by airfryer such as Philips Airfryer TurboStar that can help to cook foods with up to 80% less fat without compromise on taste.
1. Steamed Fish Fillet in Chinese Style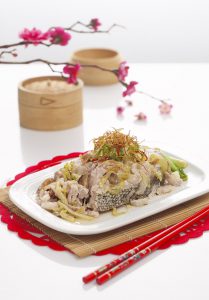 Ingredients
1 slice (200 g) Fish (group)
2 pcs Dried Chinese mushrooms, soaked and shredded
1 tbsp Ginger shreds
30 g Pork belly, shredded
1 pc Pickled sour plum, tear into pieces
20 g Ham Choy (Salted green stems), soaked and shredded
1 stalk Spring onion, cut into sections
Marinade (A): 1 tsp light soy sauce, ½ tsp sugar or to taste, 1 tsp salt, ½ tsp pepper, 1 tbsp sesame oil and 1 tsp organic Extra Virgin Olive Oil.
Garnishing: Some Crispy fried ginger shreds and some Chili pieces, finely shredded.
Method
Mix ingredients to create marinade (A)
Clean fish slice and rub with marinade (A).
Place marinated fish on a piece of aluminum foil.
Spread belly pork, salted green stems, mushrooms, ginger and sour plum and spring onion over the fish.
Pour remaining marinade ingredients over the fish.
Wrap up the aluminum foil into a neat package.
Fill up water in the cooking basket up to level of the wire mash. Placing the fish packet into the basket, slide the basket into the Philips Airfryer TurboStar.
Steam the fish packet at 180° C for 15 – 20 minutes or until fish is done when pricked with a fork.
Transfer fish to a serving plate and add garnishing.
2. Steamed Prosperity Chicken with Lotus Roots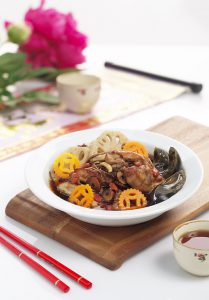 Ingredients
3 pcs Chicken drumsticks, chopped into bite- sized pieces
8 g Yong Sum Soe (Ginseng roots), soaked into 200 ml water
5 g Ginger, shredded
3 pcs Red dates, sliced
1 tbsp Kei Chi (Chinese Wolfberry)
2 no Preserved century eggs, cubed
150 ml Water
1 pc Aluminum foil
60 g Lotus roots, sliced and boiled till partially cooked
35 g Carrot slices, blanched
Seasoning ingredients (A): 1 tbsp Light soy sauce, ½ tsp pepper, ½ tsp sugar, 1 tsp chicken stock powder, 1 tsp sesame oil, 1 tsp organic extra virgin olive oil and 1 tbsp corn flour.
Method:
Marinate chicken with seasoning ingredients (A) and set aside for at least 1-2 hours.
Combine marinated chicken with ginseng root, red dates and Kei Chi.
Arrange marinated chicken mixture and lotus root in a heatproof dish. Pour in water to mix. Cover the dish with a piece of aluminum foil.
Place the heatproof dish in the wire basket. Fill up water in the cooking basket up to the level of the wire mash.
Slide the basket into the Philips Airfryer TurboStar and set the temperature at 180° C. Steam for 30-35 minutes.
At the final 15 minutes of cooking slide the basket out and add century eggs and carrot then continue to steam until chicken is done.
Should chicken is not up to desired texture; continue to cook for another 5 minutes.
To Prepare the Pastry Puff Blooms:
Roll out pastry lightly then cut into desired shapes. Place a ball of lotus paste (20 g each) in the centre. Put another piece of cutout round on top.
Brush the sides with a little egg wash, use a fork to press round the sides to seal the lotus paste. Add a sprinkling of mixed white and black sesame seeds over.
Arrange the puff pastry on the Philips Airfryer TurboStar basket wire net. Slide the basket into the airfryer. Bake at staggered temperatures.  Start off with 160°C for 10 minutes.
Increase the temperature to 180°C for 5 minutes and at the final stage of baking time increase the temperature to 200°C for about 2-3 minutes or till puffs are golden brown and crispy.
Read also: 5 Healthy Eating Tips at Lunar New Year