Two new Carbon G-SHOCK series, the GA-2000 and GWR-B1000 Gravitymaster both employing the Carbon Core Guard structure, which also known as the "third generation of toughness", were introduced for the first time in Malaysia at a week long Casio Malaysia exhibition at the Centre Court (CCGF) Mid Valley Megamall from April 8th – 14th, 2019.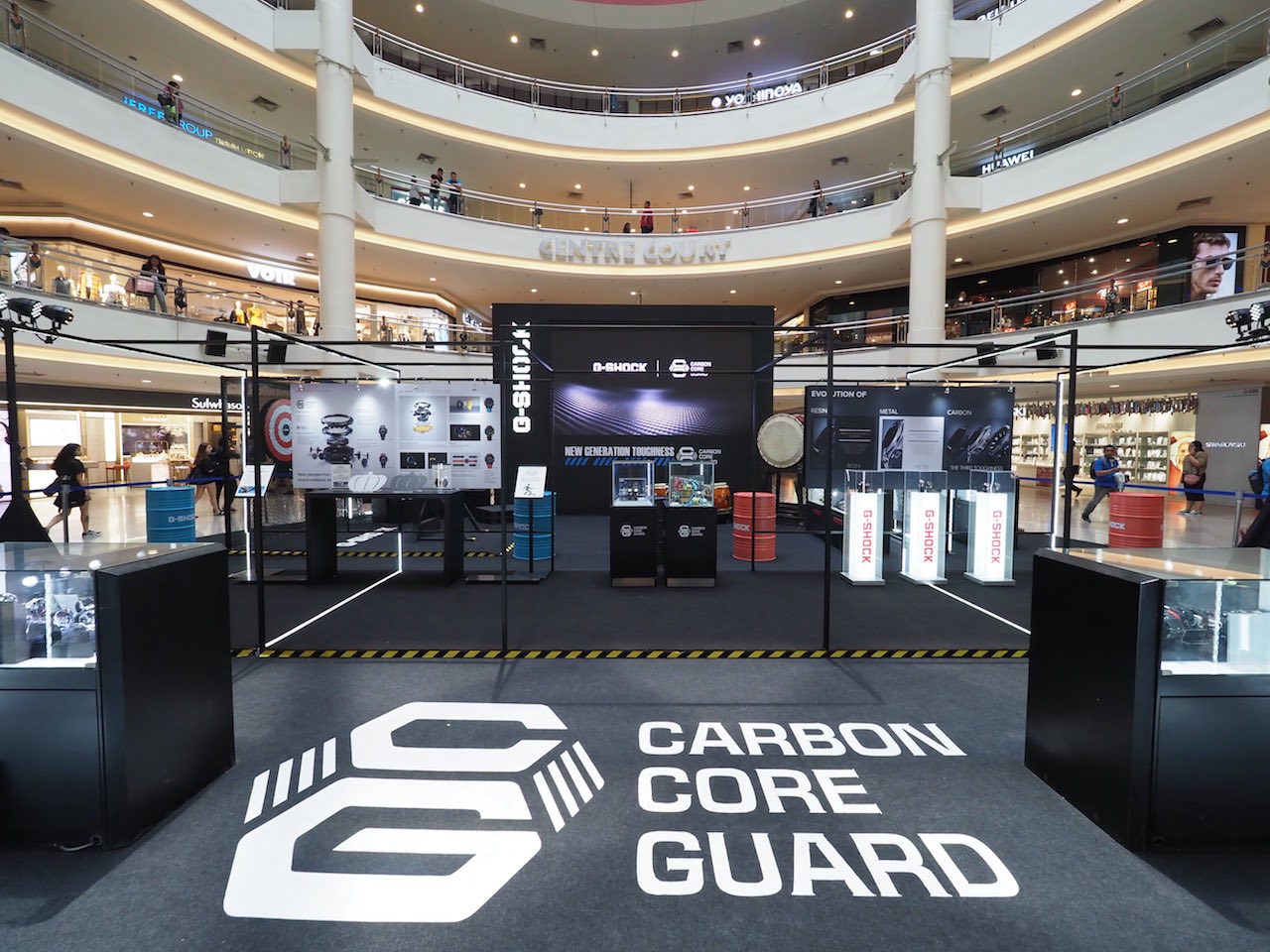 Carbon fiber is hard, strong, light, strong against thermal change, strong against time and strong against deformation. In essence, carbon fiber merges the lightness of resin with strength surpassing metal to revolutionize shock resistance.
GA-2000
Taking Casio's G-SHOCK ultra tough reputation to the next level and sporting a new urban outdoor style with a sleeker look, the analog-digital GA-2000 with Carbon Core Guard structure includes notable features such as a carbon fiber-reinforced case, guardless buttons, front light button, a double case back structure, and multi-color resin bands. Another unique feature of the GA-2000 is that unlike other G-SHOCKs the bands can lay completely flat with the case and are easily removable using a slide lever without special tools. The new shock resistant structure marks an important advance of G-SHOCK core technology, making this model the new standard bearer of the G-SHOCK lineup.
GWR-B1000 Gravitymaster
The lightest Gravitymaster ever, the GWR-B1000 Gravitymaster with a new carbon monocoque case, is incredibly tough but light at the same time. Designed for the severe environments faced by pilots, this new timepiece delivers an even higher level of toughness through the use of the same carbon and titanium materials found on modern aircrafts. The GWR-B1000 Gravitymaster comes with an array of premium features, including 52 layers of carbon sheeting bezel, a carbon fiber insert band, and scratch resistant sapphire glass which enhances readability. The watch also utilizes tough solar technology, atomic timekeeping, Bluetooth enabled and features full auto double LEDs which automatically illuminate in dark conditions.
Read also: Casio's New G-SQUAD Series Combines Step Tracking and Workouts Functions with Stylish Looks