Bananas are one of the most nutritional fruits readily available all year round in Malaysia. Packaged by its nature, bananas are convenient to eat on the run, and their soft texture and natural sweet taste makes them an ideal food for everyone from infants to elders.
Based on the nutrient data provided by USDA's National Nutrient Database, banana per serving* contains (approximately):
Vitamin B6 – .5 mg
Manganese – .3 mg
Vitamin C – 9 mg
Potassium – 450 mg
Dietary Fiber – 3g
Protein – 1 g

Magnesium – 34 mg
Folate – 25.0 mcg
Riboflavin – .1 mg
Niacin – .8 mg
Vitamin A – 81 IU
Iron – .3 mg
*Percent Daily Values (%DV) are for adults or children aged 4 or older, and are based on a 2,000 calorie reference diet.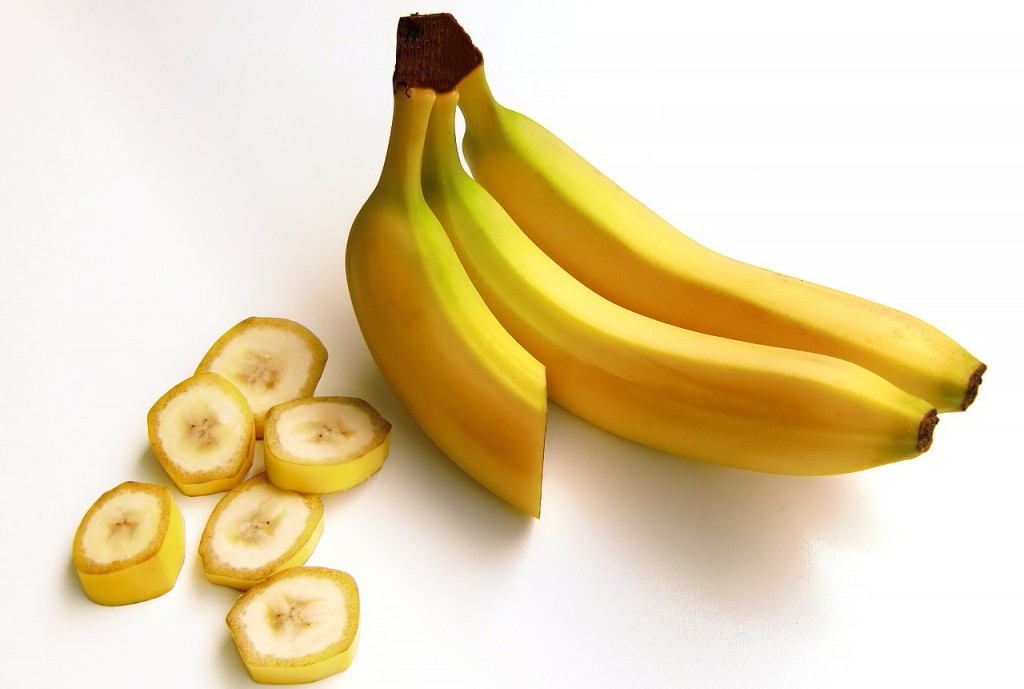 Healthy Benefits of Eating Bananas
From the above nutrition chart, we can see that bananas are a good source of both vitamins and minerals, as well as fiber. What does each of these nutrients contribute to our health? Check below below the healthy benefits of eating bananas regularly:
1.  Prevent Depression
Bananas help overcome depression due to high levels of tryptophan, which is converted into serotonin in the brain and thus elevates mood and make us happier.
2.  Improve Bowel Health
Bananas are a good source of dietary fiber. Bananas are high in soluble fiber which helps prevent constipation and helps to restore and maintain regular bowel function. Bananas also produce digestive enzymes to assist in absorbing nutrients.
3.   Reduce Blood Pressure and Risk of Heart Disease
According to the New England Journal of Medicine, eating bananas as part of a regular diet can cut the risk of death by strokes by as much as 40%. Bananas contain Vitamin B6 which helps to regulate blood glucose levels, and it high Potassium helps the body's circulatory system deliver oxygen to the brain, helping maintain regular heartbeat and proper water balance.
4.   Energy Booster
Bananas are energy boosters, best snack option. They supply proper carbohydrates necessary to replace the muscle glycogen (muscle sugar) used.
According to the Japanese Scientific Research, a full ripe banana with dark patches on the yellow skin produces a substance called TNF (Tumor Necrosis Factor) which has the ability to combat abnormal cells, and inhibit the production of tumors. The more darker patches it has the higher it immunity enhancement quality.
Hence, the riper the banana the better the anti-cancer quality. A yellow skin banana with dark spot is more effective in enhancing the property of white blood cells than a green skin banana.
The vitamins B6 and B12, and the potassium-magnesium combination found in bananas has a profound effect in helping the body recover from nicotine withdrawal of one who is trying to quit smoking. The vitamin B and other minerals of bananas could lessen the effects of nicotine withdrawal both physically and physiologically.
7.   Improve Brain Power
Bananas contain Potassium which helps to improve learning ability because it makes the pupils more alert. Students find they have more brain power and do better on exams when they eat bananas at breakfast and lunch.
8.   Prevent Anemia
Bananas are rich in iron and can help individuals with anemia. Iron rich foods, such as bananas help stimulate production of hemoglobin in the blood.
9.   Prevent Ulcers
Eating bananas regularly helps to prevent stomach ulcers as bananas have an antacid effect as well as a compound namely protease inhibitor which is known to keep the stomach safe from harmful bacteria leading to stomach or gastrointestinal disturbances.
10. Healthy Hair
Bananas is rich in potassium, natural oils, carbohydrates and vitamins which help in softening the hair and protects the hair's natural elasticity preventing split ends and breakage. Bananas create manageability, shine, growth and control dandruff.