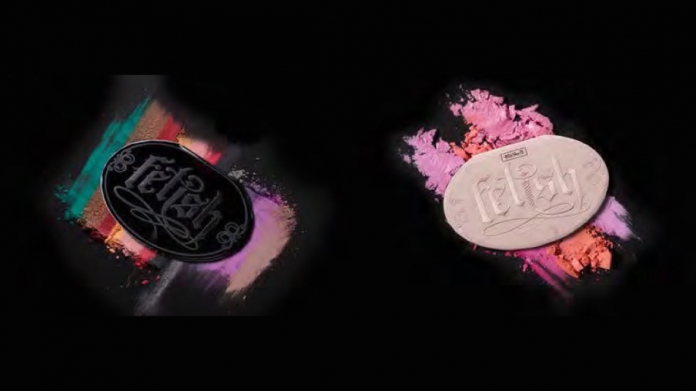 Inspired by the fashions and fantasies of fetish culture, the new Kat Von D Beauty Fetish Collection empowers you to explore your beauty desires with brand new shades, textures and finishes in a super limited-edition collection.
The collection incorporates elements of fetish fashion in its unforgettable packaging, like wrapping palettes in a touchable high-shine, latex-like material with tonal stitching and a metallic red logo detail. Kat even hand-sketched the lettering in the Fetish logo, with the letter "i" drawn to resemble a whip.
Complete your holiday gift list with the perfect nude lip wardrobe to the ultimate eyeliner obsession. Best of all, it's all wrapped up in collectible packaging that incorporates Kat's original artwork for a truly special touch.
Kat Von D Beauty Fetish Eyeshadow Palette (RM240)
This is the eyeshadow palette beyond your wildest fantasies: an ultra-desirable, limited-edition collector's palette with 24 boundary-pushing yet surprisingly wearable new shades with colors, finishes and shade names inspired by the textures and toys of fetish culture. The sensorial selection of matte, glimmer, metallic and mega-glitter shadows delivers intense pigmentation and superior blendability for a mind-blowing experience you'll crave again and again.
Kat Von D Beauty Fetish Blush + Highlighter Palette (RM175)
Discover a blush and highlighter palette that will leave you flushed and glistening. 3 Metal Crush Extreme Highlighter shades, including two that are exclusives to this palette, are paired with 3 coordinating shades of NEW Everlasting Blush. You'll be the first to get the exclusive preview of the brand's innovative long-wear, mega-pigmented yet super-blendable new blush formula.
Kat Von D Beauty Best of Nudes Mini Studded Kiss Crème Lipstick Set (RM175)
Find the perfect nude for every mood, skin tone and attitude with this 6-piece, limited-edition collection of mini Studded Kiss Crème Lipsticks. Featuring our most iconic and best-selling neutral shades, this set has a perfect shade for any complexion and every look. Choose from Bow N Arrow, Ophelia, Hawkwind, Sanctuary, Crucifix and Piaf, a selection which encompasses a wide range of tones from fawn nude, to blush, to rich brown. Studded Kiss Crème Lipstick's vegan, high-pigment matte formula delivers crazy-comfortable long wear with a satin-matte finish that feels smooth and cushiony on the lips.