Shizens, a Korean skin care and cosmetics brand, believes everyone has a unique natural beauty that should not be concealed but to be revealed. The Shizens VISAGE Collection offers a good combination of skincare and make-up products – 3 skincare and 6 make-up products – to provide you a complete skincare plus beauty enhancement solutions without much effort.
Skincare Solution
Time Resistance Essence is an anti-aging essence with skin regenerating Ceramide III to keep skin firm, toned, brighten, nourished, and moisturized deep inside the skin cells. Time Resistance Essence is also effective in strengthening and supporting the renewal of skin's natural protective layer and forms an effective barrier against moisture loss. 
Whilst Time Resistance Night Cream will act as the next regimen – to moisturize skin and lock in the essence for best firming result.
Both the Time Resistance Essence and the Time Resistance Night Cream are to be used after cleanser and lotion.
Look Enhancement Solution
The 6 make-up items, including Natural Pore Nutrient Foundation PRO, Hue- Duo Eyeshadow, Aqua Eyeliner (Black), Aqua Eyeliner (Brown), Aqua Pore Perfection, and Smack Lips, will be able to enhance your look naturally.
Step 1: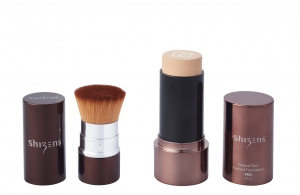 Apply Natural Pore Nutrient Foundation PRO on whole face as a make-up base. This extremely light weight, sheer and silky foundation is 100% talc-free to create make-up against fine lines and pore imperfection. The essential moisture essence in this product imparted with Vitamin E further pamper skin with a touch of moist and silky smooth sensation.
Step 2:
To achieve an alluring eye makeover with Shizens brand new Aqua Eyeliner, followed by Hue-Duo Eyeshadow. Aqua Eyeliner is a cushion type liquid eyeliner which is smudge-proof and long-wearing up to 8 hours. Its lightweight and quick-drying formula allowing you to glides on to lids in a fluid stroke. The cushion sponge allows the complimentary brush to fully saturated in rich and highly pigmented liquid eyeliner for smooth and even application.
Step 3: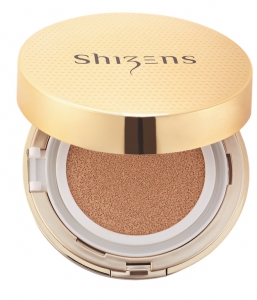 Aqua Pore Perfection serve as shading to achieve a more defined look. The content of Vitamin A, E and F in this product may stimulate the immunity for a healthy skin glow, retain the natural moisture of skin and reflect the damages from UVB ray.
Step 4: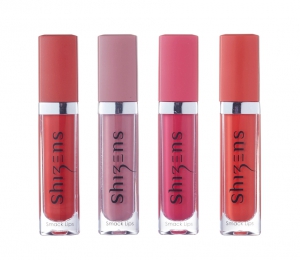 The VISAGE look end perfectly with Smack Lips, which is a long-wearing and stunning matte lip color. Smack Lips enriched with coconut oil and sunflower butter to lock in moisture in your lips thus prevent skin peeling.

Step 5:
Apply as finishing product to lock- in your make-up while serving as ultimate instant lifting agent. Ultimate Potent helps to even skin tone that promotes a smooth and youthful appearance. This fantastic product has two way usage, it can be used as part of skincare regimen (after toner and essence) or use after your completed makeover.
Find out more on shizens.com.
Read also: Skin Firming Essence from Shizens