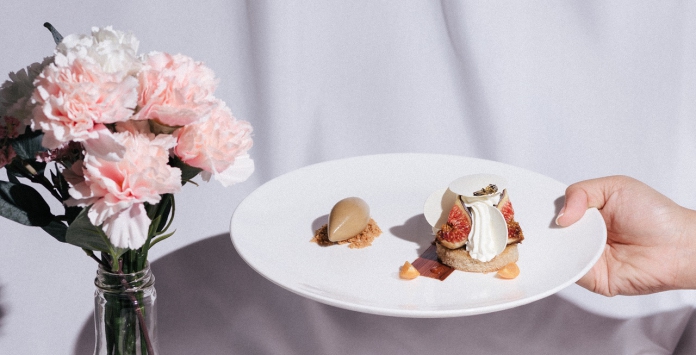 Mother's Day is just around the corner and if you want to treat to a delicious dinner with a nice city skyline view to boot, Nobu Kuala Lumpur is where it's at. Nobu Kuala Lumpur's Executive Chef Philip Leong and his culinary team has created a special Mother's Day 7-Course Omakase Menu that will give her an unforgettable dining experience.
The special Mother's Day Omakase menu is available from 3rd to 12th May 2019 and is priced at RM500++ per person.
Course 1: Seared Bonito Tataki
This was a nice start to the meal, the Bonita Tataki melted in the mouth thanks to the searing process and the coriander dressing helped to remove any fishy taste. The pieces of grapefruit and fried lotus root pieces gave the dish a nice bite too.
Course 2: Unagi with Steamed Sweet Potato Rice
The only rice dish you're getting in this course and it's sweet and light with two pieces of grilled unagi and bits of sweet potato in rice underneath it.
Course 3: Fluke Sashimi
Seasonal fluke sashimi gets a refreshing take with the braised dashi zucchini and spicy lemon dressing. Stir it all together to get a bite of everything.
Course 4: 'Cauliflower Steak' with Smoked Salmon
Slightly torched salmon slices resting on a bed of healthy 'cauliflower steaks', drenched in sweet pomegranate sauce, and topped with some ikura and pomegranate seeds for a burst of savoury and sweet.
Course 5: Wagyu Short Rib Quinoa Donburi & Wagyu Foie Gras Gyoza
Call this the star dish out of the entire course, the wagyu short ribs were so tender and flavourful as it's cooked in Sansho Teriyaki sauce. Save the Wagyu Foie Gras with the Butterfly Pea Ponzu for last so you can savor the creamy foie gras inside the gyoza.
Course 6: Inaniwa Chuka
This light dish was a nice end to the savoury dishes. Inaniwa noodles are resting in an subtle tasting edamame soup.
Course 7: Walnut Almond Financier & Kuromitsu Ice-Cream
A delicious dessert awaits at the end of the 7-course meal! The fresh figs added a nice bite to the nutty financier that was sweeten with the Kuromitsu (Brown sugar) ice-cream.
Verdict
This omakase menu was delicious from start to finish! The flavours of each dish were appetizing without making it heavy on the belly so the ladies would enjoy this course. My favourite dishes are the Seared Bonito Tataki, 'Cauliflower Steak' with Smoked Salmon, and the Walnut Almond Financier & Kuromitsu Ice-Cream.
For more inquiries and reservations, call 03-2164 5084 or Whatsapp 019-3895085.
Visit Nobu Kuala Lumpur's Facebook & Instagram for the latest updates.
Read also: #PamperEats: Nobu Kuala Lumpur's Hanami High Tea & Special Easter Desserts Menu