The World is celebrating Earth Day today inviting people to get planting to save the earth in tandem with theme of this year – "Trees for the Earth".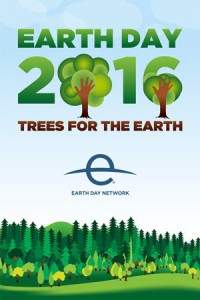 World Earth Day | April 22
World Earth Day is an annual event that's commemorated on April 22 every year with aim to creating a mass environmental movement.  The earth day was first celebrated in 1970, and is now coordinated globally by the Earth Day Network, and celebrated in more than 193 countries each year.
The missions of this year's campaign include to combat climate change and to mitigate air pollution by planting more trees, with ultimate goal to provide communities a long-term economic and environmental sustainability.

Why trees?
Trees can absorb excess and harmful CO2 from our atmosphere. In fact, in a single year, an acre of mature trees absorbs the same amount of CO2 produced by driving the average car 26,000 miles. Furthermore, trees absorb odors and pollutant gases (nitrogen oxides, ammonia, sulfur dioxide and ozone) and filter particulates out of the air by trapping them on their leaves and bark.
Global warming and climate change as well as air pollution issues are perhaps the greatest threat to our planet and have affected our daily life now. All of us have a responsibility to take care of our planet, the place we stay and call 'HOME'.
Let's get involved and join the movement in protecting our planet, Find out the acts of green you can contribute to help achieve the mission of the campaign: earthday.org/take-action
#trees4earth