It's almost time for the final countdown to the end of 2015! What better way to welcome New Year 2016 than by hitting the town for the countdown party with the big crowd and catching some stunning fireworks?
Malaysia has plenty of New Year Eve celebrations just like other places in the world. We have rounded up here some of the happening New Year countdown spots around Malaysia, where you can have a blast with your family and friends on this New Year Eve!
Best Places for the Final Countdown to 2016 in Malaysia:
3…2…1…Happy New Year!
Klang Valley
1. New Year Countdown @ Dataran Merdeka Kuala Lumpur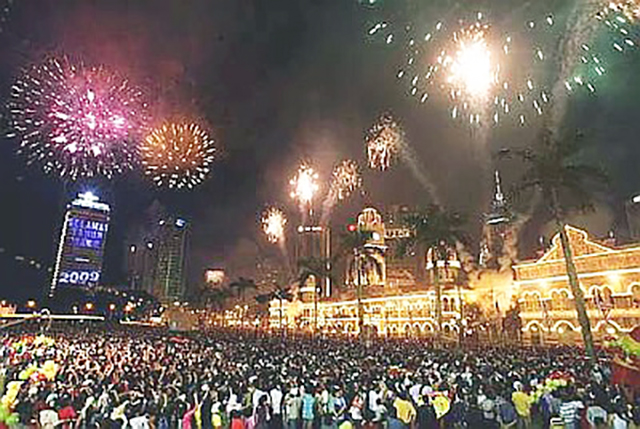 2. New Year Countdown @ KLCC Park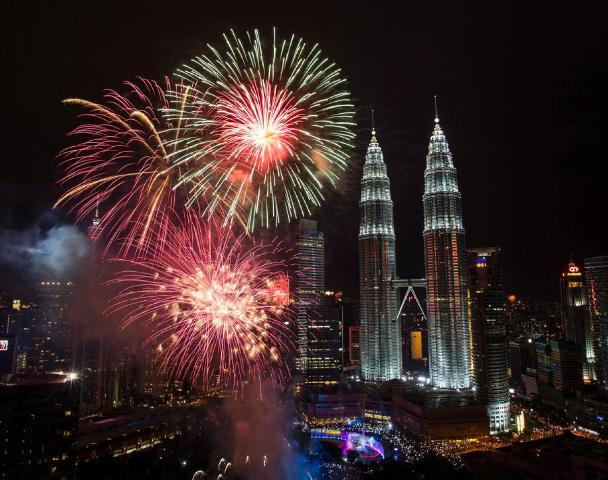 3. New Year's Eve Countdown @ KL Tower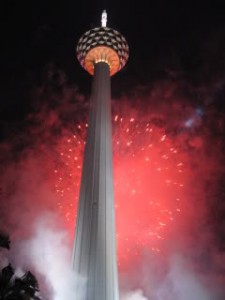 Activities include:
– Midnight Countdown;
– Cocktail Buffet;
– Balloon Release Wishes;
– New Year Toast;
– International Pop Songs;
– Flash Mob;
– Free Party Parks;
– Photo Folder Souvenir
Observation Deck – RM98 per adult and RM78 per child
Open Deck – RM268

4. New Year Countdown @ Pavilion KL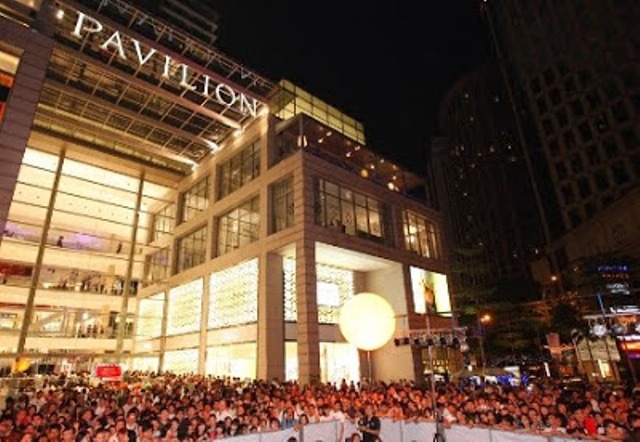 5. New Year's Eve 2015 Countdown Party @ Avenue K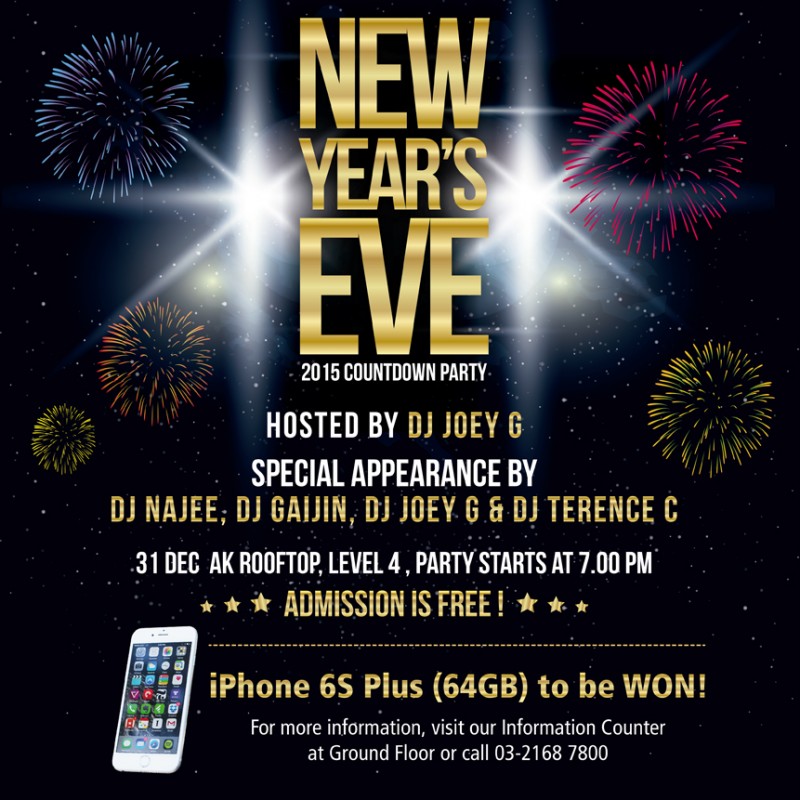 6. Starlit Countdown New Year Eve Street Party @ The Curve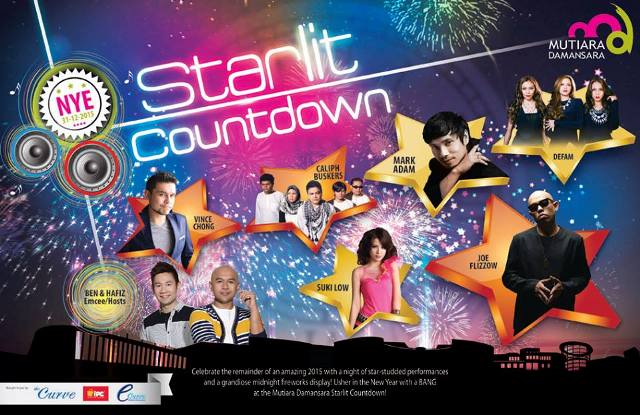 7. 2016 New Year Countdown Celebration with 3 Asian Divas @ Arena of Stars Genting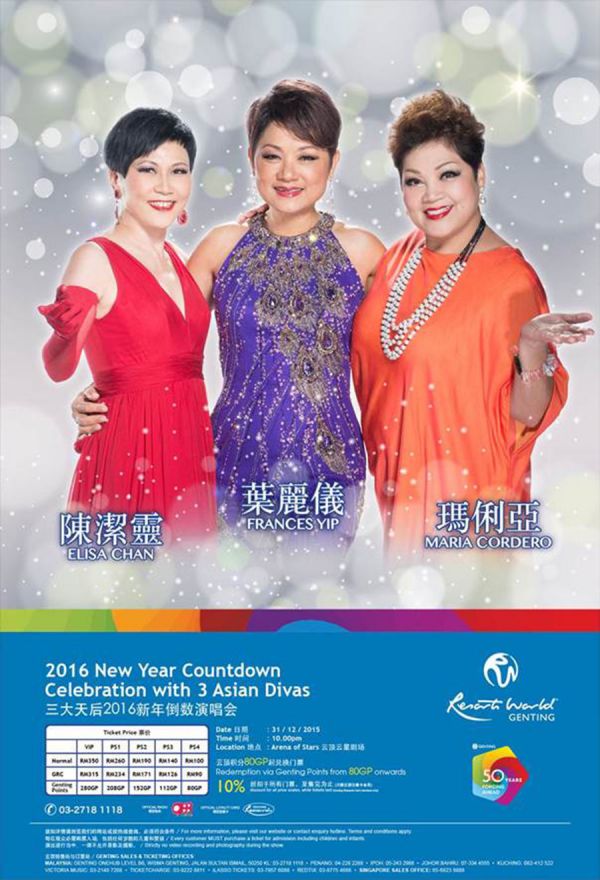 Penang
1. New Year's Eve Countdown Party @ Festive Square, Gurney Paragon Mall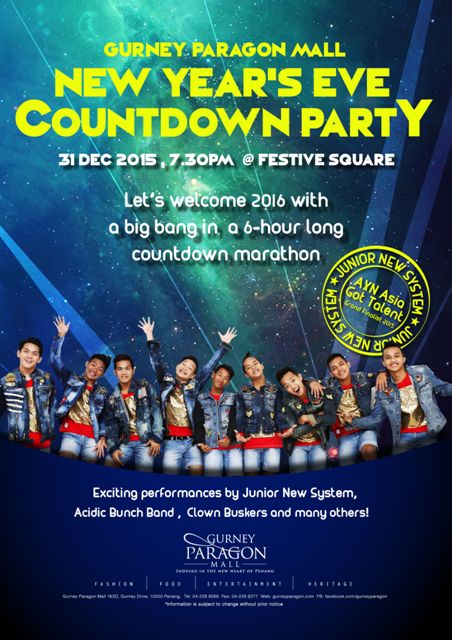 The countdown event starts at 7.30p.m. with a lineup of activities, which includes live music and entertainment, clown buskers and a midnight countdown complete with the appearance of Junior New System, the all-Pinoy dance group who secured a spot in the grand finale on AXN's Asia's Got Talent 2015.
2. Queensbay Mall New Year Countdown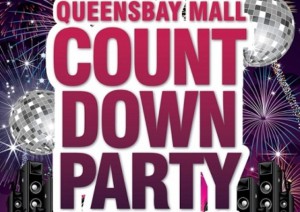 Queensbay Mall will be ushering into the New Year 2016 with a stellar burst of fireworks, partying and a lot of fun. The night will kick off 7.00pm with fun games and entertainment, live band and non-stop music by DJ Tchuno, busking and fire dance street performances, gold man live statue and children's inflatable games.
3. New Year Countdown by-the-sea @ Straits Quay Promenade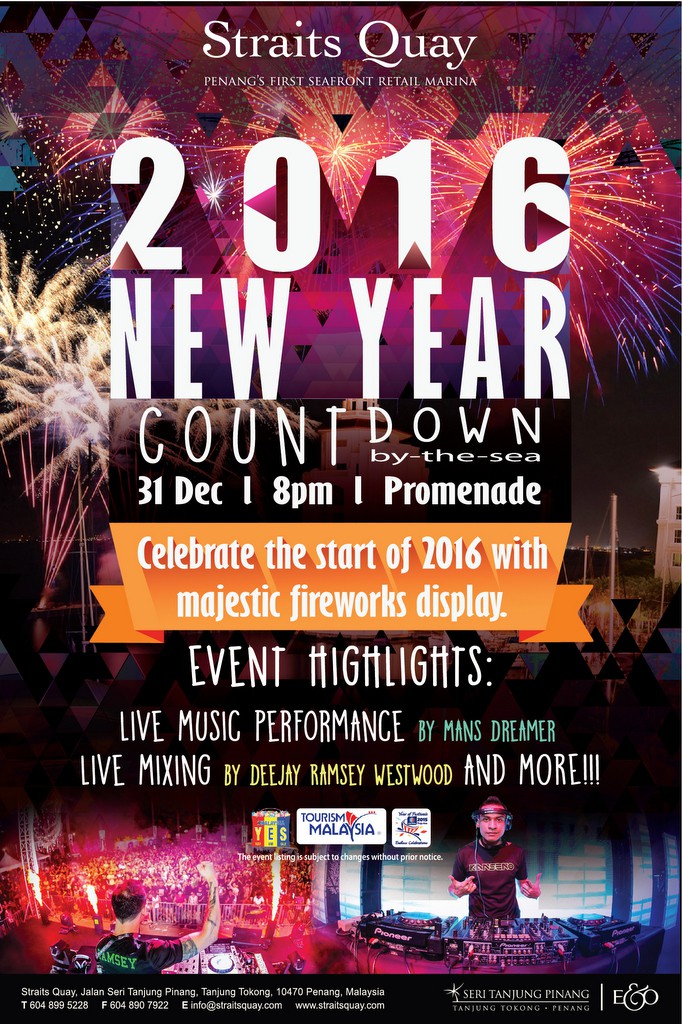 The countdown party at Straits Quay Retail Marina will start from 8pm, featuring deejay Ramsey Westwood, a LED Modern and Robot Dance that features unique hip hop dance choreography and the Mans Dreamers band. The countdown to 2016 will be ended with the majestic fireworks sparkle over the night sky by the marina at the stroke of midnight.
4. The Penang Waterfront Countdown To 2016 @ Whole stretch of Karpal Singh Drive & Automall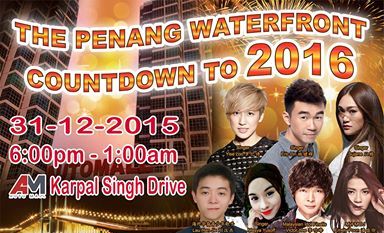 The celebration will begin from 6.00 p.m., highlights include celebrity stage performances, super cars display, dances, mascots appearance, photography competition, face painting, along with a 100-stall flea market. The celebration will also see the releasing of 3000 well-wishes helium balloons, culminating with a six minute fireworks display at midnight.
5. New Year Countdown Fiesta 2016 @ Auto-City, Juru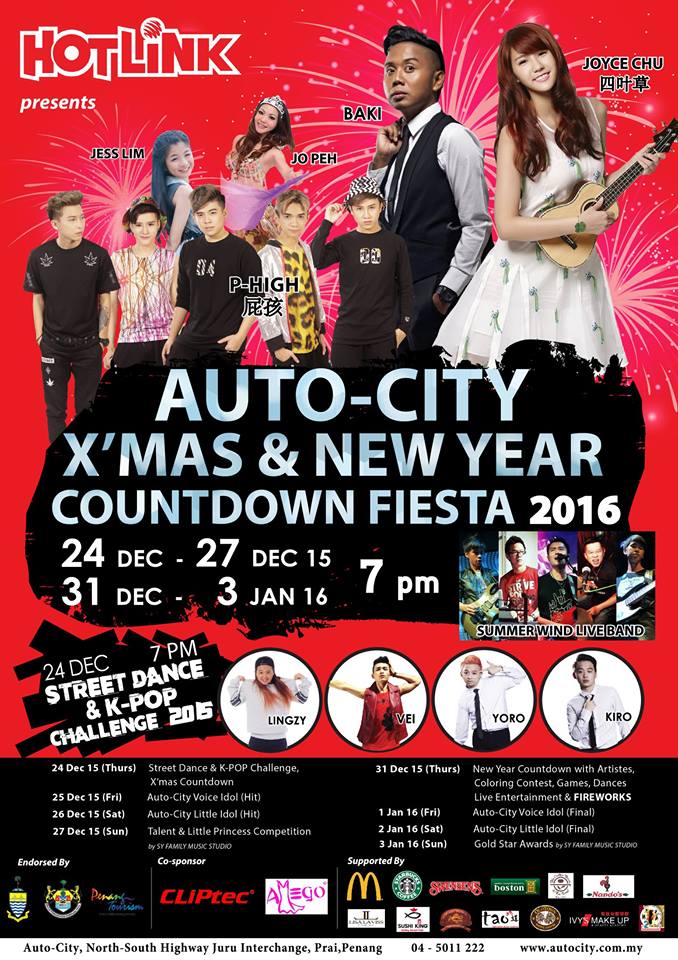 Prepare to be dazzled by spectacular fireworks at Auto-City and  enjoy the beautiful night with the performance by famous musicians, Joyce Chu, P-High and hosted by Baki Zainal from 8TV. There will be singing competition, Street Dance & K-POP Challenge 2015, coloring contest, exhibition booth and etc, to add the excitement of the night!
6. KBJ 2016 New Year Countdown Party @ Promenade Area, Kompleks Bukit Jambul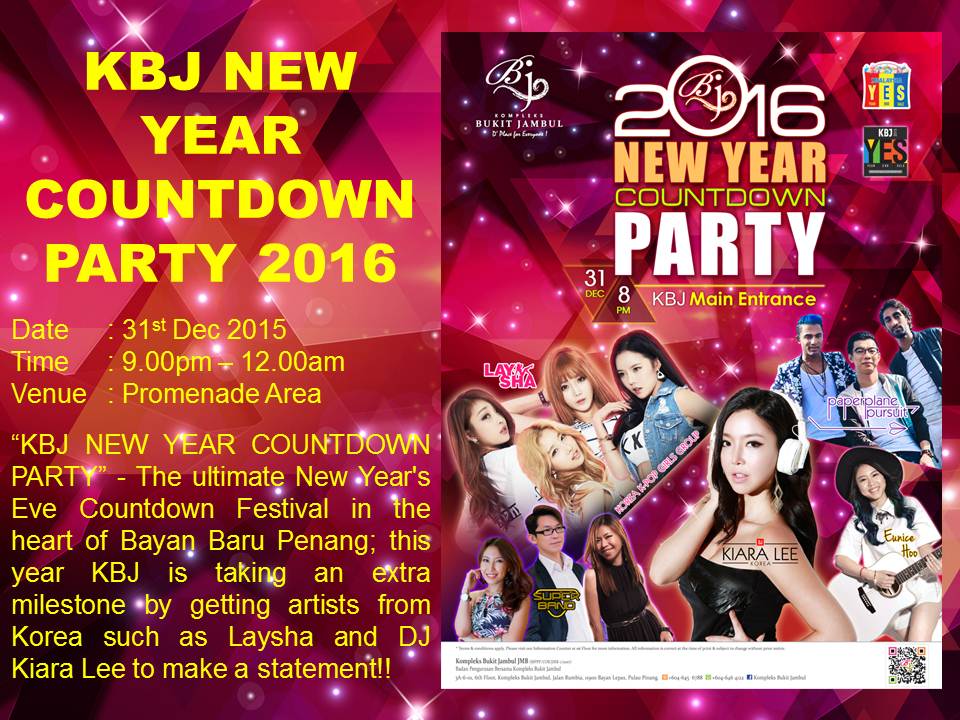 KBJ 2016 New Year Countdown Party with Korean Group Laysha  & DJ Kiara Lee. Paperplane Pursuit, Eunice Hoo and Super Band will also create a happening night to usher in the New Year. Fantastic Fireworks display will light up the sky too!
Malacca
1. Sambutan Ambang Tahun Baru 2016 @ Dataran Pahlawan, Banda Hilir Melaka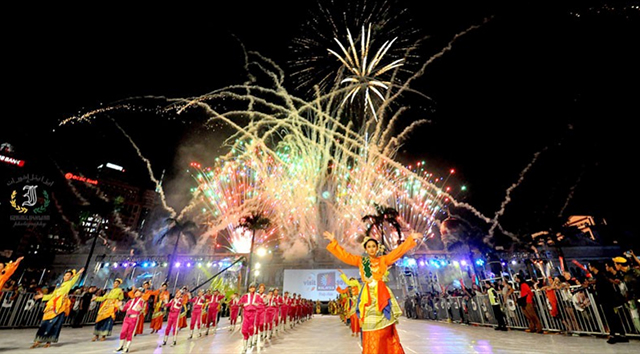 Come to the town's most celebrated carnival from 8 p.m. onward where you can enjoy funs, fireworks display and music all night long as we countdown to the New Year 2016.
Johor
Sutera Mall 2016 Countdown Party @ East Car Park (Opposite Main Entrance)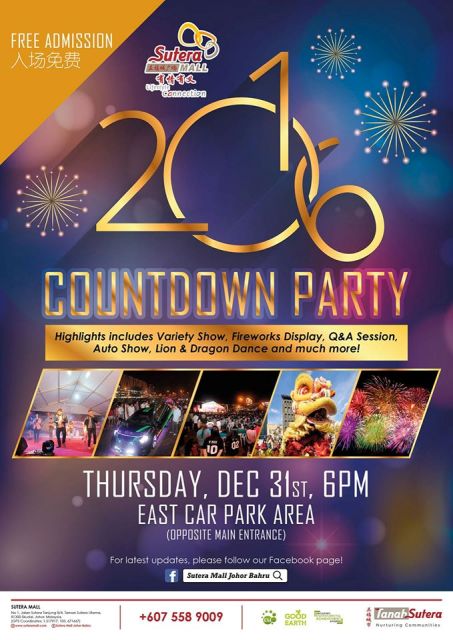 Sarawak
Countdown 2016 @ Boulevard Road, Sibu Jaya New Township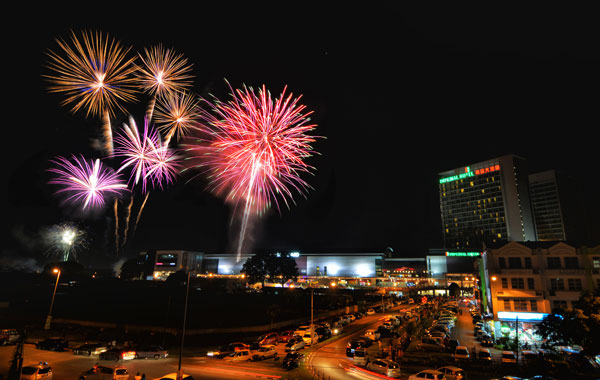 Organised by Sibu Rural District Council (SRDC), the 'Countdown 2016' will begin at 6.30pm on Dec 31 at Boulevard Road, Sibu Jaya New Township. It will feature entertainment by four popular Iban artistes, namely Urai, Florence Lo, Dara Halena and Tony Engkabi, together with two Chinese artistes and one Malay singer as well. Apart from the invited artistes, SRDC has lined up several colourful multi-cultural presentations throughout the event. The fireworks display, which will take place at midnight, will be the highlight of the evening
Related: Top 15 Places To Celebrate New Year's Eve In Malaysia To Welcome 2017