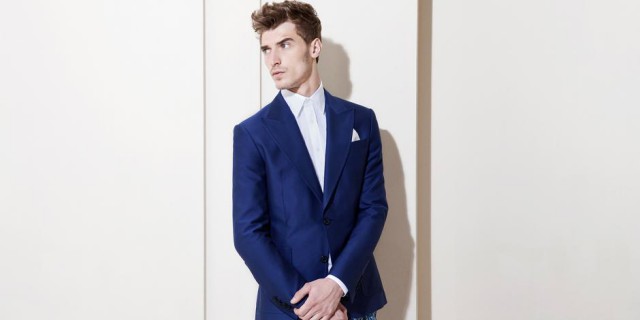 In the scene of constant revival of dressing, staying on top of the game is key. Be it work or play, a man's sense of style should not be compromised. Build the foundation of a perfect wardrobe with classic numbers that won't quit (or split) on you in the long run with our essentials edit that every man should have in his closet.
1. The Sartorial Suit
Yes, the time has come and that time is now. Invest in a well-fitted suit, preferably tailored or a ready-to-wear from high street brands such as Topman, H&M or Zara and charm in neutral shades like black, navy blue or grey.
(credit: Zara & Topman)
2. The Basic White Shirt
Because a man can't simply live without a plain button-down Oxford shirt. A timeless staple, this classic piece straddles the smart/casual line making it a versatile item that can be paired with almost everything from jeans to chinos.
(credit: Topman, H&M)
3. The Comfy Jeans
Every man needs a good pair jeans and choosing your perfect pair is crucial. Pick one that is comfortable to move around in with just the right amount of stiffness. A pair of black skinny or a slim-fit in dark blue keep it classy and laid-back – great for a day out.
(credit: H&M, Zara)
4. The Go-To Sneakers
When it comes to sneakers, comfort is key. Look for a trusty footwear that goes easy on your soles. Don't be scared to wear them out, the worn-out look is, after all, a thing.
(credit: Zalora)
5. The Cool Shades
Suitable for every face shape, the 'Wayfarer' or the 'Aviator' is your new best friend. Stay shady under the sun with the coolest lenses for the modern gentleman.
(credit: Zalora)
6. The Casual Chinos
For the discerning gentleman with a growing penchant for style and quality, a pair of chinos makes for a great alternative when you need a break from your usual bottom situation. Take it up a notch with a cuffed finish for a nonchalant vibe on the weekends.
(credit: Zalora)
7. The Leather Belt
Whether you're suiting up for a formal soiree or weekdays at work, the right belt puts your whole look together with that ideal finishing touch. And may we add that leather is the way to go?
(credit: Zalora)
– Cover Image: Zara
Read also: Women's Style: Top 10 Wardrobe Essentials You Need