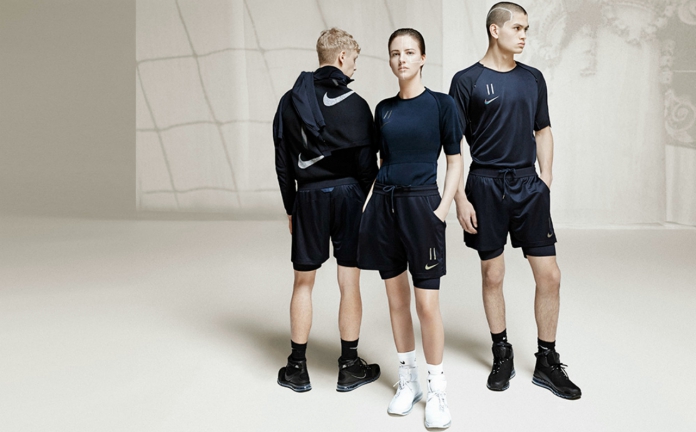 In the spirit of the upcoming 2018 FIFA World Cup, which will take place from June 14th until July 15th in Russia, Nike introduces two capsule collections designed by OFF-WHITE Founder, Virgil Abloh and artistic director of Dior Homme, Kim Jones.
Nike x Off-White "Football, Mon Amour" Collection
Football made up a good portion of Abloh's teenage years (the designer was a cup-winning defender) so naturally he took a step back to reminisce the good old days where he would listen to hip-hop songs on the way to soccer matches and brought those memories to the drawing board. The collection screams Abloh even from afar: inverted-comma statements and dotted accents on every piece, turning the otherwise sporty gears into something that you could wear off-field.
"The great thing about the vocabulary and history of football is that aesthetically it has its own look. I was always inspired by the way European teams have a sponsor printed over the chest. When I was working on this collection, I wanted to celebrate the different variants of typography" said Abloh.
The Flyknit Zoom Fly, a hybrid sneaker between Nike's Zoom Fly SP and Mercurial model is said to be a star of the collection. "I wanted to communicate where a player strikes the ball. So, I put dots on the boot; if you're going to strike the ball, your foot/eye coordination is basically the only variance of chance. That's what the collection started with, these running shoes that mimic the same as your actual boot on the pitch so that you started subconsciously training all the time. Then I just applied that aesthetic from the bottom up," he added.
The Nike x Off-White "Football, Mon Amour" collection launches on June 14th on nike.com and at select retail locations globally.
Nike x Kim Jones "Football Reimagined" Collection
Contrary to Abloh's visceral approach, Jones experimented with the cerebral side of the spectrum. Football short, jersey and pre-match jacket are redone in new silhouettes that echo London's punk style in the '70s and '80s, thus, redefining the uniform of the game itself by marrying avant garde tailoring with sport tech.
"That whole punk era was all about proportions that gave power to the wearer. I was inspired by the idea of DIY of the time — cutting up and putting things back together — to create something new," said Jones.
The Nike x Kim Jones "Football Reimagined" collection drops on June 7th on nike.com and at select retail locations globally.
Read also: adidas Home Kits of Germany, Japan, Colombia, Argentina & Mexico For 2018 FIFA World Cup Russia Revealed