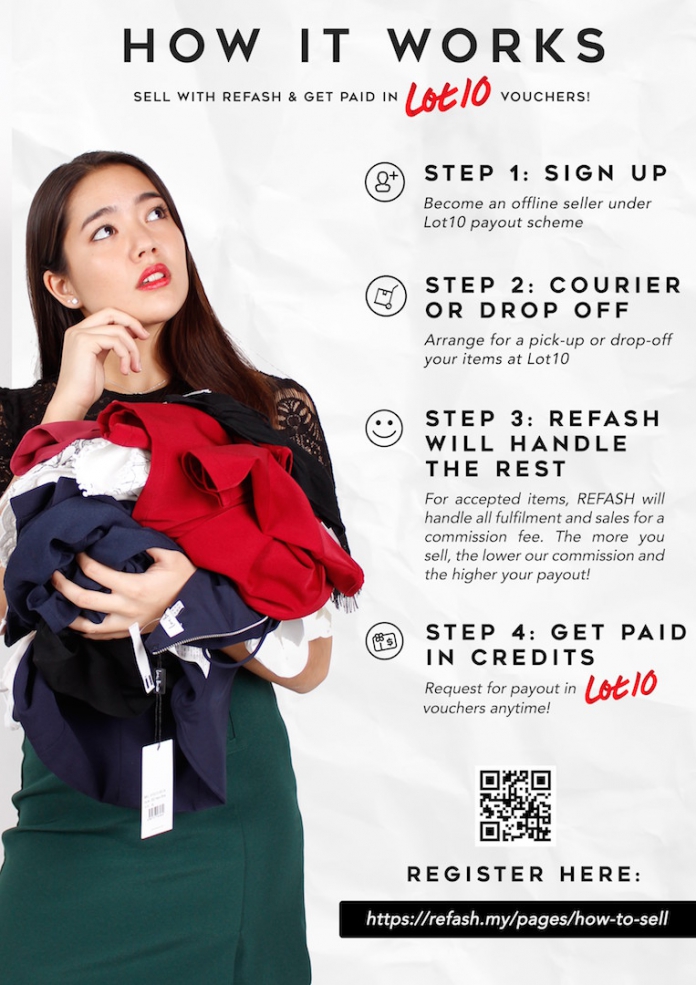 In support of its commitment on the  Earth Hour, a global "lights off" movement organised by the World Wildlife Fund (WWF), Lot 10 shows its support towards environmental sustainability by expanding its audience while championing sustainable fashion and increasing recycling efforts for environmental preservation.
This year, Lot 10 teams up with two strategic partners: Raffles College of Higher Education and REFASH, a Singaporean omni channel marketplace for buying and selling womenswear, for the Sustainable Fashion initiative, which aims to educate the public on options they could do with their unwanted fashion pieces, giving it a new lease of life.
Following the success of their initiative in Singapore, REFASH will now accept drop-offs of preloved apparels from Malaysian sellers, to save millions of clothing from ending up on landfills each year. As the first REFASH drop-off centre in Malaysia, all sellers can repurpose their unwanted clothes at Lot 10's Cheerleaders Counter starting 19th March 2018. Sellers will have to create an account on REFASH's website refash.my and can use it to check the status of their items as well as the price it was sold at. Later, they can cash back Lot 10 shopping vouchers.
REFASH will also host a Green Fashion Week showcase from 21st to 25th March 2018 at Atrium A of Lot 10. The showcase will feature items worn by top media personalities from Malaysia. In line with REFASH's mission to continuously give back to the community, 100% of the earnings will be donated to YTL Foundation. REFASH will extend their showcase until 4th April 2018 by organising the largest sustainable fashion showcase at Concourse featuring more than 5,000 pieces of like-new apparels from high fashion brands pre-owned by Malaysian women.
Another highlight of the Lot 10's Earth Hour campaign is the Sustainable Design Exhibition by Raffles College of Higher Education which will happen at the Concourse of Lot 10 from 22nd to 25th March 2018. The 4-day exhibition showcases bespoke sustainable design from a group of Raffles College's sustainable design team, Jewellery Department and its alumni. Among the many final projects from the sustainable design group that will be on showcase are jewelleries made from upcycled bottles, SheShe by Maudy Lengkong & Margaret Tan Lian You, a sustainable label which creates upcycled textile and plastic waste, Umi no Koibito by Elaine So, Wong Rou Xin and Ardeshir Hamedani, multipurpose bags Erratic by CL created by Lily and Chloe Tang, jewelleries made from electronic waste NC2018 by Nash and Chicheng, as well as sustainable soap M2 by Miko & Ming. Stunning accessories made of sustainable materials Wedding Floral by Wei Wei, daily wearable accessories made by brass and PVC Love Triangle by Bernice and acrylic jewelleries based on geometric shapes of architecture The Ageo by Cara Khooi. The alumni line-up comprises of three young designers – upcycled fashion label SLvtn by Chok Vi-vien, fashion jewellery crafted from traditional hand painted fabrics Wild Whimsies by Evelyn Goh and environment conscious label Dual by Sharifah Nurfidah.
Shoppers can participate in the Earth Hour by donating their unwanted clothes at the mall's three Recycle Bins located on Level G, Level 2 and Level 5. In addition, Reebonz located at Level 2 will be hosting their first White Glove Collection Drive to encourage people to bring in their preloved designer items for consignment from 24th to 25th March 2018 at 2pm – 6pm. Customers will be able to get advice by Reebonz's in-house Ateliers and experts during the 2-day event. All consignees will receive RM100 voucher in addition of 10% discount storewide. To help reduce waste, H&M is encouraging shoppers to bring in shopping bags of their old clothes to their store. In exchange, shoppers can get a 15% off voucher on one item for their next purchase.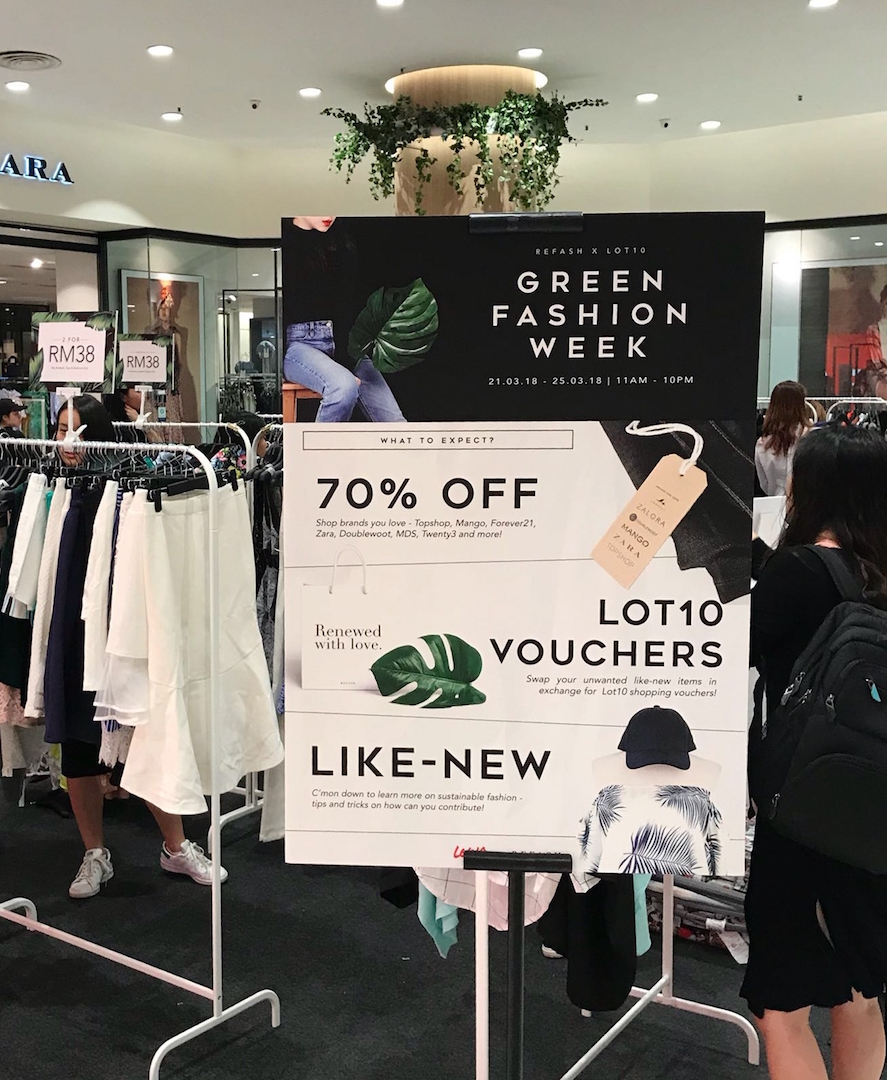 Participating at this annual event, Lot 10 will be joining more than one billion people across 178 countries to continue its support for Earth Hour on Saturday, 24 March 2018, from 8:30pm to 9:30pm, by switching off non-essential lights including its facade's decorative lights. The tenants will also be participating by turning off their lights in their respective stores.
Read also: J's Gate Dining Lot 10 Offers An Authentic Taste of Japan